Consumer Reviews and Complaints

Purchased the Kohler Submerse Bathtub K-R825-LA for our bathroom remodel 2016. In less than a year tub cracked in drain area and caused extensive water damage to kitchen ceiling. This particular tub cannot be patched and cracks cannot be replaced due to how thin the tub is. After much research we found that we were not the only customers that purchased this tub and had this exact problem happen to them. We contacted Kohler to ask them to help with damages that faulty tub had created. Kohler customer service asked for photos and bid information on fixing the bathroom. After two months Kohler said they would replace the tub but we would have to go through their insurance, Gallagher, for water damages and replacement of tub as well re-tile of the damage that would be done with the removal and install of new tub.
Kohler had us purchase the replacement tub of their choice and pay for it which was close to three times the cost of original tub, also they would not pay for it to be delivered to our home. After over a month and several follow up calls and emails, a check did arrive for the replacement tub. As far as Gallagher's handling the water damage and install cost, we have sent them bids, pictures and over twenty five emails and numerous phone calls. We have received nothing, just the run around. We finally had to claim on our homeowners insurance and pay a deductible as well as pay for anything that is not water damage. That would include the install of tub as well as tile work that would be damaged in the tear out and install. We purchased a Kohler product believing that they were a reputable company and their products were well made. We have found differently and would encourage anyone to think twice before purchasing a Kohler product.

I am a licensed Plumber. Been one for 25 yrs. These faucets are complete rubbish. They leak even when brand new. And never should have been approved for sale to the consumer market place. I am in the middle of replacing two of these complete shower faucets for free for a regular customer at a cost to myself of $1,700.00. After replacing the cartridges 3 times a 60 bucks a pop x 2 over the past 5 months I am replacing them with Moen faucets. Cause those cartridges WORK!!!
The People at Kohler should all be bent over and let a Soccer Hooligan Kick them all in the ass just before they are all sent to the unemployment line! HOW can something so expensive be such a piece of useless Flawed crap. From the first ones I saw 20 yrs ago to them now they are garbage. Half the time the Hot and cold are mixed up and have to be flipped. The handle is always choppy, the hardware rots within a year. And the Cartridges go bad in a month or two.

I purchased the Simplice kitchen faucet (K-596-VS) from a Kohler showroom based on its appearance and the DockNetik magnetic spray head docking feature. The first unit was missing a part and couldn't be installed so it was replaced. The 2nd unit was installed and later found to be missing the DockNetik magnetic lock feature so the spray head just hung loosely. I was told to contact Kohler customer service and they sent a 3rd replacement faucet which did have the magnetic feature, but I was told I had to pay for the plumber to replace it out of my pocket. The plumber charged $350 so the Simplice actually cost me $600+!!! Based on my experience I suggest you look at other faucet manufacturers for better quality and price.

A new Kohler kitchen faucet fixture was professionally installed 4 1/2 years ago; the fixture was a removable nozzle type. This was used for normal household use. The nozzle head separated from the hose because of a defective plastic fitting. The Kohler decision makers conclude that cheap plastic parts are superior to durable brass parts. Kohler, like General Motors, used to be a vaunted brand; it took many years for GM to get onboard with that idiotic quality thing - after losing significant market share. After reading several of Consumer Affairs reviews on Kohler, it is evident to me that Kohler is on the same type of slippery slope. Aesthetically, Kohler makes a good looking product; but they have forgotten that plumbing fixtures are considered durable goods.

I have several plumbing fixtures from Kohler: kitchen sink faucet, bath and shower fixtures. When the kitchen faucet was about 8 years old it started leaking water from just below the handle. I phoned Kohler customer service. They were very helpful and sent out a part which I replaced myself, and the faucet has functioned perfectly ever since. Bath faucet also had a problem at about age 8-9 years; same story. Customer service was great, sent me a part (free of charge), and all is well. Right now we are having a problem with the shower faucet. After googling and not finding a way to fix it, I phoned Kohler today (6/13/17, 2 pm) and spoke with Jennifer. She was - like all the other representatives I've spoken with at Kohler - polite, friendly and helpful. She is sending new parts, which should arrive in a couple of days. The other times that parts have been sent, everything arrived in a timely fashion, so I hope and expect the same this time as well.
I really like Kohler products and love their lifetime warranties!! Terrific customer service is a huge plus too. I will definitely be purchasing Kohler products when we build our new house in the year or so. I have no affiliation with this company but wanted to post a positive review because, having read hundreds of customer reviews of plumbing products, appliances, etc., in planning a new house, I am aware that people always want to vent rage and frustration if they have a terrible experience (me too! ); but most of us don't take the time to write a review if things go as expected!
It's hard to get an objective opinion of a product or company if only the frustrated people review it. How many happy people are out there but haven't publicly mentioned that their fridge/shower/toilet has worked just fine for years? Impossible to know. Anyway, thank you Kohler, for consistent results. I don't mind having minor repairs after almost a decade of HEAVY use, if they are this easy to deal with.
How do I know I can trust these reviews about Kohler?
885,230 reviews on ConsumerAffairs are verified.
We require contact information to ensure our reviewers are real.
We use intelligent software that helps us maintain the integrity of reviews.
Our moderators read all reviews to verify quality and helpfulness.
For more information about reviews on ConsumerAffairs.com please visit our FAQ.

After purchasing a Neo-Angle Kohler/Sterling shower insert (Model 2375-42-G05) I have had nothing but problems with the product, as well as working with Kohler and their insurance company (Gallagher Bassett) to get it resolved. After having my bathroom remodeled and using the shower for about 2 years the base cracked around the drain due to a defect. I reported it to Kohler in Jan 2016 and was told they had my purchase on file and I would get a call from their corporate insurance co (Gallagher) for resolution.
4/2016: After two follow-up calls to Kohler, I received an email and a claim form from Judith (my claim rep) at Gallagher. They requested complete information regarding the unit including photos, installation information, and even requested I return the shower to Kohler – really? Upon speaking with Judy, I was told that she would check with Kohler and they would send an adjuster out as soon as one was available. 5/20/16: As requested, I sent several photos, receipts and an estimate for the repair. I received an email saying Kohler will only send an adjuster out when the shower is removed/repaired and that I should contact my own insurance to file a homeowner's claim.
10/2016: Received email from Gallagher that a new claims handler has been assigned (Robert) to my claim and after speaking with him I was asked to get an estimate and to send him photos of the damage. 11/2016: I resent the photos, damage, and the estimate to them to again review. 1/2017: Received email from Robert saying he should have an update in a few days… 2/2017: No response - sent Robert a follow-up. 3/2017: Received email from Robert saying "they will still need to have me have someone come out to remove and inspect the base".
4/2017: Received email from Gallagher that a new claims handling adjuster has been assigned (Tracy) to my claim and asked if this claim was resolved. 5/2017: Sent response that it had not been resolved and I've been without an upstairs shower for over a year! Tracy responded to my email asking again for photos of the damage and suggesting that I again contact my homeowners for the claim. I sent a response that I'm having the shower removed so that Kohler can send an adjuster out to inspect it and settle my case. Tracy responded that it is not necessary for them to send an adjuster and photos will be fine. Argh!
5/2017: Received an email from Gallagher that a new claims handling adjuster has been assigned (Jose) to my claim and please send photos to him for review. 6/2017: Sent Jose photos of shower base removal, drain defect and wall damage. Received a prompt response asking for (you guessed it) more photos! Will send – one last time the same photos I've sent several times already. I thought Kohler stood by their products?

The urinal PATIO k-18645T-Y-0, PATW urinal and sensor K-8791T-C01-CP are installed in the 4th week of March 2017 in our Richmmount Industries Ltd MD Personal Toilet. Since day one the functioning of this urinal is not good. There is no water disposal before use and very less quantity of water is released after use. The people are using tumbler to pour water after use. Kohler people on call visited twice/thrice but could not solve the problem. The technician says existing 25' water head is not sufficient and hence go for pressure pump. Under same water head in General Toilets, 3 Hindware urinals are functioning very well with before and after water release for cleansing . It is suspected that there is Sensor problem. Higher level Kohler people may realise this fact and take necessary urgent action to rectify the problem ASAP (today's date, 31-5-2017).

I purchased the walk-in bathtub from Kohler, via Bath Planet (which seemed to have the same telephone connection in my area). I did not "haggle" over the price, but just asked what it would cost and when it could be installed. When it was finally installed, after significant delay, there were several problems. The first was that I couldn't get them to come and fix anything. For a dripping shower attachment, when the person finally showed up, he said it needed a new washer - a "special order" washer. That took several weeks to obtain and install. I originally asked about additional grab bars for a disabled adult and was told it would be no problem. They were never put in. Months later, I am still waiting to hear from Kohler about this installation; and my family member fell again.
The bathroom still reeks of sealant, and it was applied sloppily - even dripping onto my sink. The drain required two trips to be installed properly, and one faucet remains loose. They are always going to "get back" to me, but the bottom line is this: the installation was late and poorly done, and the followup is almost nonexistent. I would NEVER recommend Kohler or Bath Planet to anyone - in fact, I would strongly suggest any potential customer avoid these companies completely.

I am a contractor with over 9 years experience. I just completed a total remodel on a house. I used Kohler's shower/tub combo faucet. I tested the system prior to tiling (as anyone with experience would do). I then tiled the entire tub area to the ceiling. I installed the Kohler items and when I tested it again water would come out of the shower head when using the tub filler. I then spent 3 hours disassembling and reassembling the tub filler without any success of remedying the issue. I finally called Kohler. I was instructed that it requires copper pipe fitting and will not work with pex piping. I ripped the drywall out of a finished closet and re-plumbed the shower head with copper. It still didn't fix the issue after 11 hours of labor.
Kohler decided that the valve was bad at that point, and mailed out a valve. I put the valve in, it reduced the problem, but it still existed. I finally just reduced the water pressure coming into the house at the main to fix the problem. This unit was so sensitive to water pressure that it would also blow out a gasket in the tub filler when the stopper was pulled in order to engage the shower head. This product in particular is very poorly designed and very cheaply made. The kitchen faucet is starting to make a high pitched noise when used. As a professional contractor, I will never use their products again. I communicated all of this with them and they chose to do nothing.

We had an American Standard for 10+ years and loved it. When we moved, I bought another one, but returned it because I mismeasured the seat height. I bought a seat-height Kohler, instead. The box claimed "Clog Free". Well, less than a week after we had the toilet installed, it clogged! Due to the new-but not improved-design of the hole, our old, but faithful, plunger would not work. We had to call a plumber to come and unclog the toilet! I regret not sticking w/ American Standard and when we remodel the bathroom, we just might invest another $200 to replace the clogging Kohler.

Have had bad experience with Kohler twin cylinder motor 25HP and 27HP. At 500 hours the 25HP locked up! Thought we lost a connecting rod, or crankshaft. Replaced with new motor 27HP. Upon disassembly, found magnets had come loose from flywheel and locked up on stator. 4 years later, the new motor has 550 hours and the same thing happened. The magnets on the flywheel come loose and locked up on the stator.
I called Kohler reps Gardner-Connell, LLC, the company I purchased motor from $2000.00. Spoke with John, explained how this is a re-occurring problem for me and that many other similar complaints are on the web. John's response was "the warranty had run out and he doesn't read the web". Buyers beware. These motors are common on many zero turns and other small implements. Cost to repair $600.00. We have hundreds of pieces of equipment in our rental fleet. No more Kohler.

I live in Bermuda. Most time I do not have the luxury of, just run down the road and buy another one. I rebuilt our entire kitchen. No small feat. I replaced everything with quality products. Our Kohler White cast iron enamel coated kitchen sink however, is very disappointing. It scratches easily and often. We use a plastic white tub in it to wash our dishes, so as not to scratch the sink. Then we have a colour problem on the bottom of the sink because of the plastic, then while washing the colour off we scratch the sink. Now, we have small black dots arriving to the sink party which cannot be removed by washing, so, they must be coming from the inside to the out.
I am extremely disappointed in this product. Few people know of the sacrifice we have made to purchase American made products instead of cheap Asian knockoffs. I admit I have not followed up on this through our local Kohler salesman. When I do, I'll be back to let all you guys know what happened. THANK YOU FOR MAKING THIS PAGE AVAILABLE TO ME...

I am a custom home builder and use several different brands of plumbing. We often use Kohler. They have a lifetime warranty on all their products for original owner, as do most companies such as Delta or American Standard. In the past these 3 companies have been great re their warranty. In the several year Kohler stands out as the weak link. When we had customer warranty issues recently, many parts have been back ordered for weeks or months. Their CS line often hangs up automatically saying due to excess call volume please call back later. When our staff gets through, their delivery timeline is never even remotely accurate, often by more than 30 days. So we buy the parts our self to keep our customers happy, then put their replacement part in inventory eventually when it arrives. It works, but is bad business on Kohler's part. Delta and American Standard always get their parts to us with 24-48 hours; Delta is the BEST for warranty.
We have no idea what has occurred at Kohler, but are using less of their products recently due to poor CS. We warn our clients that Kohler's CS has deteriorated, and encourage them to select other brands. Kohler products are good, but their follow up has deteriorated. Every mechanical part has a potential of failure, we know that, but reputable vendors should take care of it immediately. WE DO!

I tried to return an item that I order and I was made aware of your method of returns after inquiring and demanding to talk to a supervisor. First I was told not to return it but to give it to Habitat for Humanity. I insisted on returning the items to you and asked to speak with a supervisor. She told me that I would be charge shipping and handling and be refunded the $33.90 I spent on the item. I demanded to know what the total would be and finally she told me there was a $7.99 plus $6.00 fee. I told her on the order verification list states that the shipping and handling was $4.32. I think Kohler needs to explain all your charges before customer order. It's a scam.

No matter what Kohler product I've bought, the item failed and NO ONE ever has parts to replace cartridges nor does Kohler even stand behind their items with good warranties. KOHLER is the WORST company I've ever had to deal with from construction to the maintenance end. They don't care about their customers nor do their have any interest to improve their service. I base that on my horrible lifelong experiences with this company. The worst of the worst. No way I would install a KOHLER product in my home or office ever again. It's Moen or American Standad or ANYTHING ELSE BUT KOHLER! I've had cracked sinks, failed toilets, failed faucets after relatively little time of use with NO BACKUP whatsoever!!!

We purchased this Kohler Memoirs 1418-V Whirlpool tub ($10,000) last July of 2016. The tub was installed in October of 2016 and never worked right. For what this tub cost, the customer service should be far more responsive than it has been... Kohler couldn't care less if the tub will ever work properly or follow up on the warranty to replace the parts. They have been giving us the run around since last October - making excuses on the part needed, trying to contact plumbers that are 8 hours away to install a part, which none of them wanted to do. Now it is March 1st, 2017 and still no reply, no follow up, no nothing.
I have spent hours of my time on the phone with these idiots trying to get them to give me a real update on when I can expect the parts to have my plumber install. They give more excuses, tell me they'll call me back or confirm that the part has shipped and nothing... We will probably end up suing Kohler for the cost of the tub. I would avoid Kohler at all costs and find a different manufacturer for a whirlpool tub. Not worth the money and horrible customer service without any resolution or follow through.

I purchased a Santa Rosa toilet in December. I was disappointed in the power of the flush. That week after Installation I noticed that it was filling on its own. My plumber suggested that I put food colouring in the tank to see if it leaked. Less than 30 minutes, there was red colour in the bowl. Kohler sent a new part. it did not work. Yesterday, I received a new part. This is now two months later!
There are no instructions and I am expected to pay to have it installed. I have to shut the water off to the toilet at night as it wakes me 3-4 times a night. Tank empties to one inch depth. Kohler says that this is common as parts dry up in a store. I find this unacceptable for a brand new item. Toilet was purchased at Lowe's. They do not deal with this. Today, I am going to ask about returning it! Of course, at my cost to remove!

Five years ago my husband and I remodeled our kitchen. We purchased Kohler products because we thought the name was associated with quality. After five years of use, last night our faucet broke in half in my hands. Needless to say, water sprayed everywhere. Keep in mind that we have a family of three and my husband and son are rarely in the kitchen. When I purchased the faucet, never did I assume it would break after five years. A cheap product and disappointing purchase.

I purchased 3 Kohler Elliston toilets from Lowe's in 2016. All had a new design flush value system and the water kept running after flushing. I contacted Kohler and they shipped me only 2 (instead of 3) replacement valve kits. I had to hire a plumber to install and the same problem with both. Plumber said it is a design flaw. Can't get through to a live person at Kohler anymore. I sent an email demanding replacement and cost of plumber. Bet they say "no".

I had an issue with a Kohler toilet that I purchased from Home Depot. Both Home Depot and Kohler customer service (Meli) were outstanding to work with. They were friendly and addressed my problem to my complete satisfaction in a very timely matter! Thanks! I'd buy from them again w/o any reservation!

Do not ever buy a Kohler product!!! I bought many products when we renovated our house 3 years ago and we have had constant problems with our kitchen faucet. It has been leaking for 2 1/2 months. While these things happen, there is no excuse for the poor customer service provided by the company. They are very difficult to reach by telephone and when you do get them, they are charming and give loads for excuses and say they will call back, but very rarely do. A new faucet was due to be shipped within 14 days - it is now 2+ months and it still hasn't been shipped and they still continue to make excuses. Stay clear of Kohler products. Their service is shockingly bad!

I bought a $x000 Kohler brushed nickel bathroom faucet set from Faucetdirect.com for a new marble bathroom. Upon installation the transfer valve leaked internally. I have 40 years experience as an engineer, so I correctly installed the unit, not using hot solder that could damage the valve, but used male fittings with Teflon tape, so as not to damage the valve. The valve immediately started to leak. Faucetdirect said the valve was under warranty from Kohler and for me to call Kohler direct.
I called Kohler customer service and that was a total waste! This was a quality issue with a new piece and not a 10 yr old installation!!! There was no effort to replace the unit, only for me to repair it! On two occasions I called trying to get the repair part shipped. BOTH times I was told THAT they were IN stock AND THEY would ship it out immediately! Well, of course that didn't happen! Their people made no effort to expedite a solution for me, which shocked me since it was a quality issue with a new part They give you a website to look at your order and all customer service reps do is to parrot repeat the information back to you. Well guess what, I can read!
I have been waiting 2 weeks now for them to ship out an o-ring type seal to me. I have my own o-ring seals as an engineer, but this one is a special beveled flange type that I don't have. In addition they change the date of the proposed shipping to you just when it's due, but of course there is no original date on your purchase order, so this way they are not held accountable, and you can't show the delay! I have been in a professional environment in Fortune 50 companies for over 40 years and this is the POOREST EXCUSE for a customer service department I have ever seen in my life! I will never buy Kohler again, and will let everyone I possibly can tell, know how bad their service is! I am going to Home Depot now and buy Delta or American Standard!

Thanks Kohler! I thought that by spending precisely 2 times the amount of money on a toilet, and by relying on an old reputable name like "Kohler", that I would be good to go. NOT. Dear Kohler people, This isn't rocket science. The opening at the bottom of the bowl should be slightly "smaller" than the opening at the exit (where the toilet bolts to the floor). Take an educated, logical guess at exactly "where" most clogs occur in this new "power flush" design! You guessed it. Right where a toilet auger can just barely reach it - at the floor level. In one year alone I have spent HOURS unclogging... When I contact Kohler I get a form letter that is completely useless. Customer service is a form letter...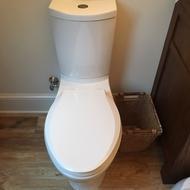 I bought a Kohler toilet when I renovated my house about 3 years ago. I almost never write reviews, but this toilet is so bad. I want to warn people! It's constantly running! I've different plumbers out to fix it at least 4 times and they'll replace a seal or jiggle something and within days or hours it's running again. It's a more expensive model too because it's elongated or something so it's even more frustrating that it doesn't work.

We purchased a Kohler Pedestal sink (large size) for our bathroom remodel. The sink was approx. $1,000. After just 5 years, I noticed a small black scratch on the back of the sink (not due to scrubbing with abrasives). When I called customer service, they told me there was no way to fix it. It way out of warranty and it was a common problem. I was then told to buy a new top to the tune of over $500. After 8 years, it looks like a spider web at the back of the sink. My husband's builder grade plastic sink is in perfect condition. If this is a common problem, the sink should have been recalled. Don't buy Kohler. They could care less about their product.

I'm a licensed master plumber and I felt I should advise people to steer clear from any Kohler products! Their plumbing products are over-engineered garbage and would never sell any of my customers anything Kohler. The only thing Kohler is good for is replacing it with a Moen product. I have a customer with a 7-year-old thematic shower valve that is now discontinued by Kohler and now this homeowner will have to have me open wall to replace entire valve. This is unacceptable! I'm now going to be replacing it with a Moen. They have a lifetime warranty. I've had customers with 25-year-old homes that originally came with Moen fixtures and have called Moen and received free replacement parts! So don't waste your money thinking if it's Kohler it's the best because it's not. Any good plumber if honest will tell you they hate Kohler for many reasons aside from mine. Thanks and good luck!

I have ordered a bathtub faucet for my new bathroom and the system came incomplete. There were 5 connector pieces missing from the original box. Lousy quality control. Additionally, the plumbers could not complete the job. A request and order for the missing parts was submitted 3 1/2 weeks ago and the missing parts still have not been delivered, though promises 4 times of delivery... Which never happened. I personally called Kohler, since the store that I ordered the system got no satisfactory results, and I got a 20 minute runaround from the girl from customer service. Obviously she did not give me service.
I am very angry, frustrated and disgusted with the lack of service and the poor incomplete shipment. I expect someone to call to give me some satisfaction on the delivery of the parts. Lastly, the plumbers cannot complete the bathroom and cannot return for another week because they have waited for the final install as the parts to come never ever arrived. I expect someone to follow up with this and get in touch with me. I am a very very very dissatisfied customer. I used to think that Kohler was the best out there, how wrong I was...

I purchased a black toilet with black seat 4-5 months ago. Two weeks ago, the toilet seat cracked. Two days ago it broke apart. I have been trying and trying to reach Kohler but I am giving up. I have also considered Kohler to be a top notch company with good products but this is making me change my mind. Unfortunately, I can't find the receipt so can't provide any info as requested below. What I'll probably do is forfeit the price I paid for the toilet seat and try to find another brand to replace this one as I'm not sure I'd trust the replacement.

One week after we installed the sink a very piece of the porcelain broke off exposing the cast iron. Kohler will replace the sink, but not pay for the second install which is very costly because it is undermount. Now I am very anxious about reinstalling a Kohler porcelain sink if they are so poorly made and am out a lot of money for second install because of a poorly made Kohler product.

Kohler has since sent me a replacement faucet. While it was a nice gesture, the problem persists. I am now in the business of constantly cleaning the faucet, the handles, and the shower fixtures as they are all a matching set. Luckily this is a guest bathroom so it only sees use when someone stays over. By now we have remodeled the master bathroom - no Kohler products there, satin nickel or any other finish.
Original Review
We have just finished a 2 bathroom remodel. For one of the bathrooms we used Kohler faucet and shower components (spout, rite-temp valve control, shower head) - all in Brushed Nickel. Unfortunately after they have been installed I realized that they turned spotty (dark, almost black stains). Using a Kohler recommended cleaner (Green Works All-Purpose) and a soft microfiber cloth, I proceeded to clean the fixtures. To my horror, the stains are more stubborn than I am. No matter what I do they will not come off completely. I clean, then dry, then 5 minutes later some of the spots return.
A renovation of substantial cost and I have ugly, abused looking bathroom plumbing fixtures. I do not know if anyone else experienced the same, but would love to hear some experiences and remedies. I also used 50/50 vinegar/water solution as Kohler suggested. Kohler claims this is not something they have ever heard of and the fixtures are likely responding to oils, possibly in my skin. My husband says we will keep me over the faucet!
Compare Bathroom and Kitchen Faucets
Company Name:

Kohler

Website:

http://www.us.kohler.com/us/