Consumer Complaints and Reviews

I have ordered a bathtub faucet for my new bathroom and the system came incomplete. There were 5 connector pieces missing from the original box. Lousy quality control. Additionally, the plumbers could not complete the job. A request and order for the missing parts was submitted 3 1/2 weeks ago and the missing parts still have not been delivered, though promises 4 times of delivery... Which never happened. I personally called Kohler, since the store that I ordered the system got no satisfactory results, and I got a 20 minute runaround from the girl from customer service. Obviously she did not give me service.
I am very angry, frustrated and disgusted with the lack of service and the poor incomplete shipment. I expect someone to call to give me some satisfaction on the delivery of the parts. Lastly, the plumbers cannot complete the bathroom and cannot return for another week because they have waited for the final install as the parts to come never ever arrived. I expect someone to follow up with this and get in touch with me. I am a very very very dissatisfied customer. I used to think that Kohler was the best out there, how wrong I was...

I purchased a black toilet with black seat 4-5 months ago. Two weeks ago, the toilet seat cracked. Two days ago it broke apart. I have been trying and trying to reach Kohler but I am giving up. I have also considered Kohler to be a top notch company with good products but this is making me change my mind. Unfortunately, I can't find the receipt so can't provide any info as requested below. What I'll probably do is forfeit the price I paid for the toilet seat and try to find another brand to replace this one as I'm not sure I'd trust the replacement.

One week after we installed the sink a very piece of the porcelain broke off exposing the cast iron. Kohler will replace the sink, but not pay for the second install which is very costly because it is undermount. Now I am very anxious about reinstalling a Kohler porcelain sink if they are so poorly made and am out a lot of money for second install because of a poorly made Kohler product.

We have just finished a 2 bathroom remodel. For one of the bathrooms we used Kohler faucet and shower components (spout, rite-temp valve control, shower head) - all in Brushed Nickel. Unfortunately after they have been installed I realized that they turned spotty (dark, almost black stains). Using a Kohler recommended cleaner (Green Works All-Purpose) and a soft microfiber cloth, I proceeded to clean the fixtures. To my horror, the stains are more stubborn than I am. No matter what I do they will not come off completely. I clean, then dry, then 5 minutes later some of the spots return.
A renovation of substantial cost and I have ugly, abused looking bathroom plumbing fixtures. I do not know if anyone else experienced the same, but would love to hear some experiences and remedies. I also used 50/50 vinegar/water solution as Kohler suggested. Kohler claims this is not something they have ever heard of and the fixtures are likely responding to oils, possibly in my skin. My husband says we will keep me over the faucet!

Faucet cartridge started leaking. After spending hours trying to call Kohler (This is the only way to contact them. There is no email address on their website), decided it will be cheaper just to buy a new part in Home Depot for $15. Kohler, you owe me $15!
How do I know I can trust these reviews about Kohler?
633,951 reviews on ConsumerAffairs are verified.
We require contact information to ensure our reviewers are real.
We use intelligent software that helps us maintain the integrity of reviews.
Our moderators read all reviews to verify quality and helpfulness.
For more information about reviews on ConsumerAffairs.com please visit our FAQ.

I purchased two Kohler Cimarron comfort height toilets. Nine months after the purchase and installation I got a phone call from the city telling me my water meter was spinning out of control and I had used 55,000 gallons of water in less than 30 days!!! I normally use under 2000 gallons. The problem was a flawed and defective fill valve. There had been no sound of running water and no movement in the bowl or the tank, unlike a traditional flapper type toilet and as everything happens inside a virtually closed valve, I had no way of knowing it was running. My water bill came to over $700.00!!! I am senior and living on a fixed income and this is devastating.
Lowe's replaced the toilets with American Standard after the plumber warned me Kohler have a lot of problems. Along with getting store compensation from Kohler, Lowe's put a lot of effort into negotiating with Kohler to compensate me for the excess water bill which was due entirely to their faulty product. I have documentation to back up the amount in excess beyond my regular water bill which averages $20 per month. Kohler refused. So Lowe's offered me $200 to help towards the cost something they did not have to do as they had fulfilled their obligations. Kudos to Lowe's for their support! Avoid Kohler products unless you want to face what I have. Horrible product, total lack of concern for their customers.

I'd give them 0 stars if I could. Bought a expensive Jet Tub. Panel on front unacceptable! Not what was shown on floor model in plumbing warehouse. See pictures below. You be the judge. They have now sent three out. What a joke. My plumber didn't want to put in the KOHLER faucets I bought. Nothing but problems with them. Thank God I returned them! Never again will I buy KOHLER!!!

Do not ever ever buy this toilet! Model K-3588-0. The toilet seat has been falling off since it was installed. When I called Kohler they told me to silicone the damn seat and that there was no fix! They told me this is an ongoing problem! Don't you think you would stop making such a piece of trash? No, they continue to sell this! I spent $1600.00 on this piece of trash and you think they would at least fix it or replace it. I will no longer be a Kohler customer! Do your homework and read reviews on this company as they are not great!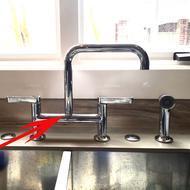 I remodeled my kitchen 2.5 years ago and had a new Kohler faucet installed in my kitchen. It started leaking between Christmas and New year's. When my plumber came on the 4th Jan, he said that it would be best to order the parts directly from Kohler. I called Kohler (on hold for a very long time) and was told to send an email, which I did right away. After a few days of nothing, I called Kohler again (on hold for only 10/15 minutes this time) and was asked to send another email. The next day, I got a call from Kohler saying that one of the parts was on backorder and should be in stock in 1 week and would be sent right away. Today, 2 weeks later, I went online to check the status on the order. It says estimated dispatch date is 10th Feb - almost 4 weeks from the date she told me 1 week. I will definitely think twice before ever buying another Kohler product. What awful service Kohler!!!

Kohler has agreed to a complete refund on my faucet and to determine if I'm entitled to be reimbursed for any damage the faucet caused. If they do follow through, then I will be pleased with the outcome.
Original Review
Remodeled our kitchen in 2011 and replaced the faucet with a Kohler. Shortly after installing it started leaking. They sent replacement parts. Tried two more faucets, same issues with leaking. They blame it on hard water, but my inexpensive faucet of 13 years worked fine. I told them I no longer want a Kohler product and they refuse.

I purchased a Kohler kitchen faucet, model #R72511-SD-CP, and had it professionally installed. Within one week the handle came loose and fell off. I couldn't reach Kohler by phone, only by email. Received a reply from my message saying they were having a problem with that model and they would send a replacement handle. I should receive it within 10 weeks. Just received a message that my handle has shipped but the link to view the handle they sent doesn't work. I'm pretty disappointed. I bought a brand name fixture in the hopes that it would actually work well over the long haul and, if there was a problem, I could reach Customer Service to have it fixed. Thumbs down Kohler!


Purchased an expensive Kohler faucet, and less than 6 months of usage the handle comes loose and falls off. Turns out it's just a mini screw that attaches the handle to the faucet, and the fit is designed loose. I've tried screwing it back on but the threads are worn. This is extremely poor engineering considering the handle is used on a daily basis. I'm no engineer, but I can see this faucet handle fail a mile away.

As many do before purchasing on-line they read reviews of the company. Likewise, we read many reviews about Kohler; many not so flattering which gave us cause for not contacting them. But we decided to call anyway. In our case the Kohler shower handheld faucet was purchased several years ago and the cradle that holds the shower wand had broken recently. We contacted their customer service and explained the situation on 10/19/15. The rep suggested photos of the broken cradle assembly be sent to their customer service website, which were provided.
On 10/20 they requested some additional information about the model. By 10/22 we had an acknowledgement that a confirmation number had been generated and on 10/24 a replacement part had been shipped. The replacement part was received on 10/29 and on 10/31 the new cradle was installed. The newer replacement cradle was improved with a thicker hold area to support the wand. It works fine. The overall time was 10 days. Our experience with Kohler to provide excellent customer service was well received and based on their service we will purchase their products when the time comes.

Purchased a $300 faucet, lasted just past the warranty. After numerous calls they agreed to replace the faucet. The new faucet has lasted less time than the first. The replacement was at no cost, however when we tried to remove to install a new faucet it was next to impossible. My advice is it run from any Kohler kitchen faucet. Nothing but leaks and headaches.

Not only has my kitchen sink from Kohler fallen apart in two areas (the faucet head and the handle has fallen off entirely) it is a month later, after 8 phone calls, 5 shipments of the wrong parts, and over 200 of wasted dollars that I am ready to just tear the sink out altogether and replace it. Not only do they not have any functional, specific instructions for me to reassemble my sink, it seems that having to explain all of the tiny nuts and bolts (literally) over the phone is nonsense. I have ended up ordering the same parts multiple times, until finally today did someone even help me figure out what the proper color of my sink is. That is the least of the problems, it was only in my second to last call that the representative I spoke to was able to fully explain how the sink handle attaches and that the problem I am having is one of my pieces is stuck in the handle.
So, now I know I have to order a whole new handle kit, as well as spline adapter. This process could have been solved in one phone call - the one I made a month ago, but each time I call I speak with a different person, even when I have asked to speak with the old representative, and it seems the intelligence level of these reps is low to nil. They end up telling me to order different parts and send me a perfunctory "how to" e-mail that uses a sink faucet that looks nothing like mine. Needless to say, the kitchen sink is possibly the most used faucet in my household and I have been having to deal with one that has no handle for the past two months at this point. Very bad quality product, but even worse customer care.

We purchased a home in 2011 and decided to replace all three toilets in the home with new Kohler toilets. We were having trouble with leaking and we changed the guts a couple of times and decided to go new. We thought Kohler was the best. LOL. We expected Kohler to be an awesome product and we would be worry free for years. Well just before the three year mark my water bill had an increase of 100% so I looked to the toilets. I found a seal in the guts of the toilet - bad.
I Called Kohler and she said there is only a one year warranty on this product. I can buy replacement parts and she says it's better and thicker than the one with the original toilet. Really, I have to go through this again. I have not had any luck with changing any guts in a toilet and now I have one dysfunctional toilet and only a matter of time before the other two go. This is crazy. Now I have a decision - try replacing the part and perhaps go with another toilet and replace them as they fail, ugh.

My Kohler Arica Shower Model K 705250 installed about five years ago is now worthless for lack of a $10 part. A part which is subject to wear and breakage. This is the second complaint about this part on this website, so I wonder how many others are in the same fix. Kohler told me it is discontinued - and to search the Internet for the part. I did that with no luck. Looks to me like another American company going down the drain. I certainly will not be installing any more Kohler products.

We did a kitchen remodel a year ago and chose a black Kohler undermount sink for our kitchen at considerable expense. Within a few weeks of it being installed it began to show scratches. I called the store I bought it from and they contacted a salesperson for Kohler. I was told to use their protective sink grid to protect the finish on the sink. A year later after religiously using the protective grids the sink is AWFUL showing many scratches. My husband and I have been extra careful when washing dishes this past year since the sink started showing scratches so quickly. I read a lot of reviews about the black kitchen sink recently and very few of them are positive. My expectation was the sink would function as a kitchen sink not as something pretty to look at. I am now saving to replace the sink. Kohler, don't sell products like this that won't function as it is supposed to and disappoint your customers.

I called to complain that my bathroom white enamel sink was rusting and peeling around the overflow hole. At first the customer service person, said I might have hard water; but we have two sinks installed at the same time and the other sink did not have the same problem. Then she indicated it may be my cleaning product. However when I told her that I found complaints for the same problem on this site, then she offered to send me a new sink. I am pleased and I have this site to thank.

I have a lawn tractor that came with a Kohler engine purchased in the spring of 2015. After only 48 hours of use the starter drive failed. I tried to just purchase the part and go on since I knew that taking it to a service center would take forever. The part is not available separate from buying a whole starter for over $150.00. Knowing that the starter drive was poorly designed (I had it in my hand) and was going to be a source of continuing grief, I did not want to go there. So I decided to go through the channels to get it done their way. I found out that almost no service center will do work for Kohler due to their policies on accomplishing warranty work.
To make what could be a very long story short, I would have been without my machine for over two months. And all that with no assurance that it would "qualify" under their convoluted policy. I decided to take on the repair myself and was able to glue... yes, glue it back together, the way they put it together in the first place. I doubt that it's fixed for the last time since there is far too much stress on the starter drive to survive long term with the design they used. I will never purchase another piece of equipment with such worthless warranty/parts availability situation. I am assured by numerous service centers that Briggs & Stratton is far more user-friendly.

So here we are at client's home ready to start installing Kohler products - started with new faucet. What we experience is they went cheap on quality of design and material on water service lines from service valves to bottom of faucet. These lines are manufacture defective from the very start. They actually create a pinch / collapse point to themselves when tighten down the connectors to valves - worked on one line for 30 mins to try and get this to stop. It's a poor quality material. Called customer service at Kohler and their response is "either we send you new lines or you return complete faucet."
So my thought after speaking to them when they told me there was a parts updated number to faucet - but would not tell me why and what part was the updated number for. It's like they are hiding the problem or problems with their products. If I take this out to return - no more Kohler products. If clients wants Kohler they pay double for install and I will tell them reason why.

Installed new sink purchased from Home Depot. After 1.5 years in place, I noticed black spots coming through across the lip at the front of the sink. No harsh cleaning products used...but it's PORCELAIN. IT'S SUPPOSED TO LAST FOREVER with normal use. I thought that I was purchasing a quality brand product, but Kohler has proven to be overpriced, poor quality products (I also have a Kohler toilet with poor porcelain coating).

Today I noticed a small fracture line starting in my two year old Kohler Tahoe 2895 bathroom sink. Bought this sink because I thought I was purchasing quality but looks like this was just another of the many faulty products that I have needed to purchase. The Delta faucet that I purchased with this sink is not holding up and is corroding. Something about the two year mark. I work hard for my money and just don't want it going down the drain like this. My question is, why is the quality so bad these days? In recent years I have noticed that a lot of my hard-earned money has been spent on products and services that do not match the advertised reputation that sold me on them. I am now shopping for a new sink for my second bathroom and until I noticed this problem with the Kohler sink I was going to put my money down on a second one very soon. Glad I saw this problem before I made that mistake. Very unhappy, Kohler! Shopping again.

I am doing a complete bathroom gut/renovation. I purchased all Kohler products - sink, toilet, shower head and fixture with hand wand and transfer valve. We received our polished chrome fixtures and quickly discovered the shower head didn't have the right threads for the neck plus it was scratched. Leads me to believe someone returned it prior due to damage and they sent it out again. Sent it back -- returned the old and got a new one -- better. Then, install the toilet, put the toilet seat on and it doesn't line up. If you have it screwed in correctly, it hangs a 1/8-1/4 inch off the bowl to the left. Go to Home Depot to see if there is another seat and notice their comfort height Cimarron toilet on display is doing the same thing. Mention it to my neighbor and hers is the same. Really?!? Then our trim kit was missing the beauty ring and set screw. So had to order another trim kit/handle and expedite delivery.
So tonight the plumber is back and the transfer valve which should have 3 positions and was defective. Only 2 work! It was installed weeks ago before the tiles were put on so the plumber had to cut it out. He is planning to come back in a couple of days so we'll see how that goes! I have Kohler fixtures throughout my home and have NEVER had these problems before. This is extremely disappointing that Kohler has fallen down on quality control!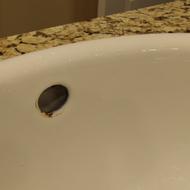 I have two Kohler bathroom sinks installed less than two years ago. There is rust around the overflow on one of the sinks. We have lived in the house for 16 years and did not have any rust in the sinks that were replaced with Kohler. I mailed a letter with details and a photo of the sink to Kohler. Kohler maintains that the rust was caused by a "particulate of some kind" from the environment and is not a fault of the manufacturing or Kohler's responsibility. In essence, Kohler does not stand behind its guarantee of enameled cast iron sinks.

I won't ever purchase from Kohler (or Whirlpool for the same reason) because you can't get your product serviced after 7 years. Imagine that you build a shower around a shower door (or install a built-in refrigerator, as per my experience with Whirlpool) and a contractor comes in to install a new ceiling fan and accidentally breaks the shower door. No replacement parts, nope. I need #948302, which is a small gray part designed to hold the bottom of the sliding glass shower door in place, but I can't get a replacement.
I hate to say this, but European manufactures seem to offer customer service with a long term perspective. I will never purchase a Kohler product again. I buy products that I expect to last and expect the company that I purchase them from to have a long term perspective about customer service. Happy to pay more to get this. Quality is generally better too.

My wife and I bought a brand - new house, moved in in August, 2014. My oiled - bronze kitchen faucet started leaking at the handle. I took the handle off and tightened the plastic nut (after cleaning up the giant mess under my sink) and all was fine. I chalked it up to the faucet getting jostled around in the building process. Two weeks later it's happened again, only this time I wasn't around to notice it. My kitchen is flooded, my sink cabinet is ruined and I'm so mad I could spit nails. I'm throwing this piece of garbage into the trash can where it belongs and I'm making my warranty people replace the cabinet and the faucet, but I will refuse anything that comes from Kohler. Garbage, garbage, garbage.

Built my home in 1989 with a Kohler Lakefield Black Kitchen Sink. Recently replaced my old sink (since it was getting dull and had no shine) with a new Kohler Lakefield Black Kitchen Sink. In less than a month the finish on the bottom of the bowls were getting dull. To protect the finish I used a mat when I washed pots. I was told that by Kohler that using the mat on the bottom of the sink when washing pots caused the finish to dull. Kohler refused to stand by their warranty and would not replace my new sink. Now $700 later, my new sink looks the same as my old sink. Kohler should have stood by their warranty which they did not. I also see that that the sink was taken off the website. Maybe there was something wrong with the manufacturing of this sink.

Hot water faucet was leaking. Devonshire model 4" center lavatory faucet. Checked website, found out part numbers not available. Called Kohler direct and was told on May 26, 2015, that the order would be processed and sent out in five working days. Checked status on June 3, 2015, to find ship date scheduled May 29. Called customer service where I was told it would be SEVEN TO TWELVE business days before shipping. Apparently Kohler is clueless about the water problem in California. Wouldn't be so bad were it not for the fact house builders didn't put shut off valves in system, so in order to stop a constant stream of water leaking out of valve, one has to shut entire system down. Would have been nice, to say the least, if Kohler had stocked items needed and under warranty. This isn't what I consider even remotely good customer service and leads me to the conclusion hell will freeze over before I buy another Kohler product.
Company Name:

Kohler

Website:

http://www.us.kohler.com/us/