Consumer Complaints and Reviews

Our oven wall unit (double) changes temperature and fluctuates from baking to broil. We have been very fortunate there has not been a fire. The computer board has been replaced twice. I will NEVER purchase another Jenn-Air product. We never recommend the brand and consider their appliances bottom of the line, not top of the line.

We replaced a Jenn-Air oven in the house we bought with a $5,000 Jenn-Air oven/microwave five months ago; and it's now a dangerously, defective unit that Jenn-Air customer service will not fix or replace. When my kids make EZ-Mac or my wife steams veggies, the steam causes the computer control panel to randomly change temperatures and turn on/off. This includes randomly turning on/off and changing temperatures for a significant amount of time after we try to but cannot turn it off.
A week ago, my wife tried to roast veggies, and the oven turned itself up to 550 degrees (max. temperature) before shutting itself off after 20 minutes without any ability to turn it back on. Separately, I have recorded on video the microwave pressing random buttons and turning on and off by itself more than 15 minutes after I had prepared some mac and cheese.
Jenn Air had us bring out techs on two separate occasions. The first tech told us this is a significant issue and that Jenn Air had already discontinued the model despite it being new when we bought it, and he said there is no fix. After the second tech came out, he also said there was nothing to do other than replace the unit. I'm not sure what they reported back to Jenn Air but we just received an e-mail indicating that they reviewed our video evidence and they say that the performance is in spec!
I'm contacting a lawyer tomorrow as this thing is going to burn my house down... especially if one of my middle school children uses it when my wife and I aren't home and don't know to open the oven and microwave door after using to prevent it from turning on. I will never buy Jenn Air again - both because of the poor, poor quality and the even worse customer service. If anybody wants to see videos, I'm happy to share them.

Installed brand new in October 2015 in a vacation home. Used exactly 4 times before the touch pad shorted out. Serviceman shows up without the part. Totally defective product and all I can hope for is a repair for "I don't know when" rather than a replacement of this inferior product.

Jenn-Air Professional gas/electric. Works well, 6 burners, electric griddle, powerful vent hood. Cleaning it is time consuming. Otherwise I am quite happy with it. The particular range top I purchased several years ago lists for about $4000. I paid slightly more than half for a new previous year model. All professional/top line appliances are expensive.

Jenn-Air dual fuel range, the cooktop is gas and the ovens are electric. I chose it for that reason plus it has two ovens - a large one on the bottom and a smaller one on top. Love the smaller oven on top. I use it most. Love the five burner cooktop with the control dials on the top side. Continue to wonder about the accuracy of the big oven, however, and I have trouble lifting things out of that lower oven. ALWAYS buy a cooktop with dark burner covers or you'll be cleaning it daily. If you have back problems, don't get an oven that practically sits on the floor.
Low quality is a deal breaker, as is unnecessary features (I'm a cook so I know what I need). I want something that looks good but not too 'trendy' so that I'll get tired of it. Also, I look for easy maintenance/cleaning. We paid about $1500 for this Jenn-Air dual fuel range but I have used it heavily and still enjoy using it. It has enough burners, and I love the double oven with the small oven on top.
How do I know I can trust these reviews about Jenn-Air?
611,030 reviews on ConsumerAffairs are verified.
We require contact information to ensure our reviewers are real.
We use intelligent software that helps us maintain the integrity of reviews.
Our moderators read all reviews to verify quality and helpfulness.
For more information about reviews on ConsumerAffairs.com please visit our FAQ.

5 burner double oven. I love it because it's a gas cook top and the ovens are electric. The smaller, upper oven is perfect for two people and I have the larger for crowds. The larger oven has a proofing and drying feature and also convection!!! I love the versatility. The only thing I don't like on the cook top, there is a lid at the back which limits the size pan you can use on the back burners. I bought mine on craigslist. I cleaned it up and it's awesome. I want something to be a good value and last. I love my Jenn-Air. I bought it for $350 off of craigslist. They don't make this model anymore so I can't really steer anyone to a particular model. I will say that it's definitely durable!

Just remodeled our Kitchen Nov 2015. I was so excited to have new ovens after 20 years of my old double ovens. I also thought Jenn-Air was top of the line. I used the self-cleaning mode after having my oven 3 weeks. Milk had spilt on the bottom from baking scalloped potatoes. Nowhere in the user guide does it say "When you self clean your oven, it is going to discolor the glass doors and change the color on the bottom of the oven."
I contacted Jenn-Air. I have only had my oven 2 months. They said too BAD. It's not their fault the oven glass is discolored as well as the bottom of the oven. I am ready to cry... I now have to look at this dirty glass and discolored bottom for the next 20 years... So beware it's a design flaw. Any smoke will get between the 2 panels of glass and there is no way to clean them unless you pay for a service man to clean them. 2nd, never use your self-cleaning mode because it ruins your oven. I guess I should bought the cheapest oven and used EZ-Off...

The upper oven will lock spontaneously. Serial #17953138GE, Model JJW8630DDW. This locking has occurred four times over the life of oven. Latest yesterday. First and second times was advised to call for repairman. $86 plus parts. Third time a Jenn-Air tech person had me start the "clean" function, then turn oven off. This worked. Yesterday called Jenn-Air for advice and was told to try the "turn on clean" then turn off. Did NOT work. This history shows the quality of unit is POOR at best. Now I am left with repair the unit again or purchase new unit. I would NEVER advise someone to purchase Jenn-Air products.

Purchased a new home June 2013 with all Jenn-Air appliances. So far have had to replace the motherboard on the refrigerator (under warranty) and now the board in the oven needs replacing. I was running the self cleaning function three days ago for about the third time and error messages popped up. Just diagnosed that the processor needs to be changed. Reading these reviews have me worried about whether it will be a permanent fix. Jenn-Air needs to issue a national recall and install quality circuits! Not sure why its taking them so long. Will not replace or purchase any product associated with this company or its parent.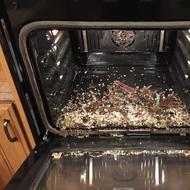 Our 2011 Jenn-Air wall oven has exploded (glass in door) both times the self-clean feature was utilized. The first time was 18 months ago and the glass had to be replaced. We tried it again and the same thing happened, 15 minutes into the short cycle. This happened the day before Thanksgiving, at of course a tremendous inconvenience. Jenn-Air will cover the part but not the labor which they say will be $75-200. Obviously there is an issue with this product as in over 30 years of cleaning ovens I have NEVER had this happen on any other unit. We are extremely dissatisfied with the product and with Jenn-Air's refusal to take full responsibility for total repair and compensation.

15 months ago I remodeled and spent $12,000 on what I thought were quality appliances. My Jenn-Air wall oven failed on my first attempt to use it with a fault code F8E0 (low fan speed/underspeed). I have since had this occur 3 times. I'm hoping to have it repaired for the holidays. Glad it occurred prior to Thanksgiving turkey time. I had the roll out shelf repaired so it can actually handle a turkey without falling out of the oven. I am so disappointed with these products. I would never recommend a Jenn Air product.

I am so disappointed with my Jenn-Air double wall ovens. They are just 14 months old and I have already had 2 service calls for the same problem. I am told that it is a common complaint and nothing can be done. When the oven is opened it does not return to its set temp without manually resetting it. Tonight it would not heat up again AT ALL. It stayed at 170 for 45 min without gaining any heat. I finally gave up. Now I am looking at a 3rd service call for an oven that is almost brand new (not counting the service call for the latest recall on the racks). Not what I bargained for.

Have a Jenn-Air wall oven, the smaller of the 2 went out after I used the cleaning cycle. This oven is 2 yrs. old. They tell you to take it to a repair shop. I bought what I thought a product that would last. I think Jenn-Air is living on the past. I had one of their dishwashers which was also 2 yrs. old and had to replace it. I would never buy any of their products ever.

We remodeled our kitchen 1 year ago and purchased a full kitchen of Jenn-Air products. We used the self clean feature for the first time and 15 minutes into the short cycle we heard a pop and the glass in the door had shattered. Jenn-Air was a quality product until Whirlpool bought out Maytag. Whirlpool products are garbage.

We purchased Jenn-Air Wall Ovens $6000.00. Within 2 months the ovens would not work. Error message and would turn off. Service man would not come out as we live 90 minutes out of Saskatoon. No mention of this when we bought it. We paid to have a fan replaced. It worked for a few months then stopped again. We had the other fan replaced It worked for a day. Jenn Air does not stand behind their products. Do not buy these new, Jenn Air products that are electronic. They do not work and you will not be able to get them fixed.

My ovens are 3 1/2 years old. I keep experiencing codes of "low fan speed over speed" and "low fan speed under speed", and my ovens shut down. This has been going on for 7 months. I have had at least 12 service calls from Sears. Replaced 2 main boards, and the fans in each oven 2 times. The ovens still don't work. The in house techs say it could be poor ventilation, but the on-site service tech says ventilation is fine. I called Jenn-Air. They said since they are more than 1 year old, they are not responsible. When I remodeled my kitchen in November 2011, I spent more than $13,000 on 6 Jenn-Air appliances. I thought they were to be top of line. I had service calls, during the first year, 3 of the 6 appliances. I am at my wits-end. The service techs are coming, again, tomorrow. I don't hold much hope that my ovens will ever work. Cannot recommend Jenn-Air!

Jenn-Air makes the absolute worst oven I have ever owned. I do a lot of baking and the ovens do not cook evenly. I have had many service calls and nothing can be done to fix it. I had the worst experience dealing with customer service. They were very rude and could care less. Never again would I purchase a product from Jenn-Air.

I have owned a Jenn-Air range (model number JDR8895AAS) for 7or 8 years now and this is the second control panel that has died on me! And this range is at our vacation home and gets very little use! They have a flaw in their design where pots on the back burner(s) deflect heat up to the control panel causing it to melt/malfunction! The panel is over $300 online. I thought Jenn-Air was a good solid brand. However, after reading so many reviews with the same problem, I will steer clear of Jenn-Air in the future. In fact, I believe I'll not replace the control panel this time and replace the range with a brand that won't melt itself! (To be fair, I haven't contacted Jenn-Air to see what they have to say. But I'm so far out of warranty that I won't expect much.)

Last night while cooking a pizza, the Glass door fell off my Jenn-Air wall oven hitting me on my right foot and shattered in a million pieces!! My foot was bruised and Pizza ruined by Glass shards!! Took my wife and I an hour to cleanup glass from all over the kitchen and haul out broken door and trash the once great looking PIZZA.. I am really ticked after this door fell and since have read about several cases that are the same!!! Why, I ask, does Maytag not do a much needed recall on their very poor door hinge design??? M M Lead Engineer!!! Never will I buy this name brand again!!!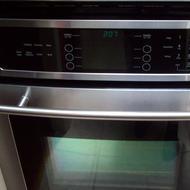 Jenn-air microwave oven combo - We had purchased this unit awhile back 2005. As soon as we received it we liked the way it looked in our newly remodeled kitchen. We hadn't used the oven for quite some time after purchase, as we eat out 99pct of the time. When we tried it we noticed the oven door didn't close all the way. After starting the oven it stayed open about 1/2 inch after using a few more times. We contacted Jenn-Air. A rep came out and said "sorry that's the way it is" and told us "don't worry it still holds the heat in" and after a few words he left. Our oven still looks like brand new. We now use it just to heat up pizza as it is annoying. The light stays on and the door stays open 1/2 in. It is sad we paid a lot of money for this piece of junk.

Bought a top of the line Jenn-Air double wall oven and the doors on both units have never really closed tight and now they won't close enough to heat without a bungee cord. The oven lights stay on all the time, so I had to pull the bulbs. The oven got very little use and even less now. I think the oven is 9-10 years old and I've known for 5-6 yrs about the problem, now I'm just mad.

We moved into a home where the kitchen was completely outfitted with Jenn-Air appliance. The wall oven JJW9530DDP is the worst oven. When baking, the oven smokes up so badly it sets off the smoke alarms. It took forever to get that smoke smell out of my house. Also, the digital system is horrible and counter-intuitive, especially for someone who enjoys baking. The temperature was never accurate either.
One day, for no reason, the oven went dead. I had an electrician check the circuit and power. The oven was getting power, but the front panel was dead. No way to trouble-shoot it because the digital panel was out. Also, the front glass (even though rarely used) had a large amount of degradation. All in all, Grade F. We're going with more reliable company and counting this oven as a monetary loss. Watch out buyers!

Jenn-Air JJW9530DDS - Bought 2 of these several years ago and had several problems from the start. Not heating properly, not maintaining proper temperature, doors not closing, convection fan not working, buckled sheet metal in the bottom. Absolute junk. I will never knowingly buy another product produced by Jenn-Air or the parent company Whirlpool or any of its other subsidiaries.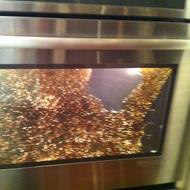 We bought an entire kitchen of Jenn-Air products in 2012 and have had constant problems. Tonight while self-cleaning the oven the inside glass door exploded 35 minutes into the cleaning process. This follows multiple repairs to the double ovens, multiple repairs to the microwave, and at least one each to the dishwasher and refrigerator. Worst products ever.

I purchased this oven in a package from a local dealer brand new (and not cheap). I thought I was getting a top of the line product but it has had several issues over the years. The oven does not cook at the temp indicated on the control panel, but is 10-15 deg. hotter. Several months ago the control panel started having issues. It would randomly shut off and turn the oven off. I have discovered that it is heat related and when it cools off, it will come back to life, so you are screwed if it shuts off while you're in the middle of baking something. It is a real POS and I would never purchase a Jenn-Air Product again. The replacement part costs as much as brand new oven, which is what I will be doing sometime soon, but never a Jenn-Air.

I installed a double wall oven model # (JJW2730WS00) in May of 2011. Within days, the handle of the top oven came apart. I could see that it was an assembly error. I tried to fix it and finally resorted to Gorilla Glue. Fast forward several years. October of 2014, I decided to clean my lower ovens for the first time. (I cleaned the top one maybe 2 times without incident.) When I returned home after several hours, the inside glass of my oven had exploded. There was glass everywhere! When I called Jenn-Air to lodge a complaint, they wanted the model and serial number. But because of another mess up on Jenn-Air's part, the sticker with the serial number is completely obscured by the frame that holds the oven in the wall. Jenn-Air can't do anything without the serial number, and we can't read it. Tough luck for us.

When I bake in the oven, I turn the oven off and it continual to cook. It takes a while before it finally turns off. Have any suggestions on what to do? I've had it a little over a year now.

Same problem as others. Circuit board failure AGAIN! Grease between glass and no way to clean. I thought I was purchasing a top of the line product. FAIL

We remodeled our kitchen 2 years ago. We bought all Jenn-Air product. The double oven is the biggest piece of crap. I hardly use my ovens but I cannot tell you how many times the electrically are completely messed up. I have had so many messages saying, "this product is broken and can't be used, call Jenn-Air". I cannot depend on it EVER!!! Again, I don't hardly use it. For sure you can't use the 2 ovens at once. A few months ago I used the cleaning feature. Sure enough it blew out the windows. Of course the one yr warranty was up so it was on our dime. So after owning it for a little over 1 yr we had to pay for 2 maintenance calls and new oven windows.
The maintenance guy didn't even help get the glass out of the doors. I had glass EVERYWHERE! Tonight I tried to broil and once again I got that message. As usual when this happens, you cannot get the damn oven to turn off. I had to turn it off from the main electrical panel. This is the biggest piece of crap!!! Don't get me started on my new dishwasher. Another piece of crap. You better not get anything in that trap. You can plan on it leaking and warping the beautiful new hardwood floors. I absolutely hate Jenn-Air. Customer service and maintenance is so horrible! Again, let's just say the double ovens have never worked.

I have a Jenn-Air gas stove. It is 10 years old. The glass door fell off completely, hit the ground, almost got my toes. I am furious. It looks like it was just glued on, cannot be fixed. I have also changed the knobs about 20 times. They are made of plastic, they break often. I am so exhausted. Never again will I purchase Jenn-Air, oh and also replaced the electronic panel once.
Jenn-Air Wall Ovens Company Profile
Company Name:

Jenn-Air

Website:

https://jennair.com/