Cost to replace a dishwasher
From labor to the new appliance, here's what to expect



Written by

Edited by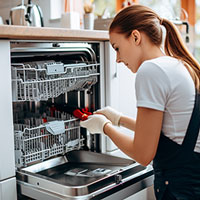 Installing a dishwasher in your home can cost anywhere from $370 to $3,500. This cost varies depending on whether you need to hire professionals and the extent of the work needed to accommodate your new appliance. The price of your new dishwasher also plays a big factor in the cost.
We talked to 18 appliance specialists around the country about pricing. You can expect to pay about $150 to $350 just for the removal of your old dishwasher and the new installation — not including the price of the dishwasher itself. Some companies will include the hauling away of your old one at this price, while others may charge $20 to $40 extra.
---
Key insights
New dishwashers can cost anywhere from $300 to $2,000, with labor costing $70 to $500.
While there are several types of dishwashers, built-ins are the most common.
If you're doing a simple swap and are handy, you may be able to cut out the labor cost by doing it yourself.
Cost of a new dishwasher
You can expect to pay $300 to $2,000 for a new dishwasher. Dishwashers come in a variety of price ranges, so it won't be difficult to find something within your budget. Each price range offers different types, features and cleaning capabilities. Naturally, the more you spend, the better the cleaning capabilities are, but even a budget dishwasher should get the job done and is better than hand-washing.
Here's what you can expect at each price point.
| Type | Average cost | Features |
| --- | --- | --- |
| Budget | $250 to $400 | Plastic tub, adjustable racks |
| Midrange | $400 to $750 | Stainless steel/plastic tub, more cleaning features |
| Luxury | $750 and up | Custom finishes or cabinet integration |
Budget dishwashers
In this price range, you're looking at basic models. They'll get the job done, but don't expect a ton of fancy features. You'll likely get a plastic tub instead of stainless steel, and maybe a couple of different wash cycles.
These dishwashers are OK at cleaning but may struggle with stuck-on food. You might have to pre-rinse your dishes or run them through a second cycle to get rid of all the gunk.
Lower-end models are often louder than higher-range models. This might not be a problem if your kitchen has a door, but those with open-concept homes should probably go for a dishwasher that's a little pricier.
Midrange dishwashers
An Energy Star-certified dishwasher only uses about 3.5 gallons of water per cycle, saving you about 3,850 gallons of water during its lifetime.
Stepping up to the midrange, you'll see some nicer features, like stainless steel for tubs, more wash cycle options and even some smart technology.
These dishwashers are usually better at tackling tough food stains than even the luxury models. Many come with specialized jets, wash settings and arms that ensure a more thorough clean.
Luxury dishwashers
Luxury dishwashers come with all the bells and whistles — customizable racks, numerous wash cycles, hidden controls, quiet operation and smart-home compatibility. Some even have interior lighting and specialized wash zones.
Top-of-the-line dishwashers also come in a broader range of colors and finishes. You can find eye-catching colors, like blue and red with bronze handles, or models designed to look like they blend in with cabinets.
» GET FINANCING: Where to get a personal loan
Type of dishwasher
When you're shopping, you'll notice the type of dishwasher affects the cost as well. There are four main types.
Built-in
This is the most popular type and blends in next to your sink and cabinets. Because it's nestled between the cabinets, it puts out less noise. The standard size is 24 inches, but you can also find a compact 18-inch model for smaller spaces.
Drawer
As the name suggests, this dishwasher is divided into two sections and pulls out like a cabinet drawer. It's not quite as common, but it may be a good idea in a small space or for people who want to run smaller loads. Because of their design, they can be quite expensive.
Portable
A portable dishwasher is free-standing, so it won't fit under your cabinets. This compact unit will need to be hooked up to your sink every time you want to use it, though, making it less convenient if you need to run a cycle several times a week.
Countertop
This type of dishwasher is similar to a portable one, except it's small enough to fit on top of the counter. As with a portable dishwasher, you'll need to hook it up to the sink faucet when you need to use it. But you won't be able to fit many dishes in it.
Dishwasher installation costs
While you might be focused on the appliance's price tag, some other costs factor in to your dishwasher replacement. Let's break down what you might be overlooking.
Labor and remodeling
Labor usually costs $70 to $500. This range is due to complexity. Some jobs just need simple adjustments to the kitchen to make the new dishwasher work, while others need massive renovations. New countertops, ventilation, molding and more may be needed.
» PLAN A REMODEL: Home remodeling ROI: costs vs. value
Old dishwasher removal
Uninstallation and disposal can run from $120 to $150. You may get it for free, though. Many big-box stores will include removal and disposal in their installation fees. Make sure to ask so there are no surprises later, and see if eco-friendly disposal is an option and if there's an extra fee.
There are a couple of other free options. Your local trash service may pick up and dispose of the dishwasher for free. Some cities have specific drop-off points to take large appliances for disposal.
Plumbing and electrical
If you're putting your dishwasher in a new location or upgrading to a larger model, your kitchen may need plumbing and electrical work. It's a good idea to hire a plumber or electrician for this.
Professionals will check for things that most homeowners won't. For plumbing, the plumber will check the water supply line, drainage system and other problems. For example, a plumber may also want to replace the short water feed lines that connect your dishwasher to the main water supply lines in your house.
"These flexible water lines need to be inspected frequently and replaced every five years with durable braided stainless-steel hoses, which are more long-lasting than plastic ones," said Fant Camak, a real estate agent in Spartanburg, South Carolina.
Permits
Your city may require permits to install your dishwasher if new electrical or plumbing is needed. The price of a permit can vary depending on your location and what you need done.
DIY vs. professional installation
If you're switching out a dishwasher roughly the same size and type as your old dishwasher, you can probably do it yourself to avoid any installation fees. If your kitchen needs to be modified, go with a professional. They know what permits you need and have technical knowledge to prevent shocks, leaky or backed-up pipes and any other potential issues.
Here are the costs you may run into if your kitchen needs some renovation and you hire a pro:
New plumbing: $1,270 to $3,200
New outlets: $130 to $290
New countertop: $25 to $120 per square foot
New kitchen island: $100 to $2,000
If you have a home warranty, the replacement and installation of your dishwasher may be just your deductible, so that's the best way to go if you have any doubts. Check if your dishwasher is covered, and see if there are any caps or limitations to the installation.
FAQ
How long does it take to replace a dishwasher?

A pro can do it in around an hour, while a homeowner may be able to achieve it in a few hours. If any kitchen modifications are needed — such as new electrical or plumbing — this will add to the installation time.
How long do dishwashers last?

The average dishwasher lasts 10 to 12 years, though it depends on the model, how well you take care of it and how much you use the appliance.
Is it cheaper to repair or replace a dishwasher?

It depends on what's wrong with it. For example, if the rubber gasket around the door needs replacing, that's a cheap fix. If your dishwasher is fairly new, it also might be under manufacturer warranty.

On the other hand, if the electrical system has a short, that could be more expensive, and you may be better off just getting a new dishwasher.
What size is the average dishwasher?

For an under-the-cabinet model, the average size is 35 inches tall, 24 inches deep and 24 inches wide. Make sure to measure the area where your new dishwasher will go, though, to be sure you get the right size.
Do home warranties cover dishwashers?

Yes, most home warranties cover dishwashers in their basic plans. One of our reviewers from Nevada had both her washer and dishwasher stop working. While a repair technician was able to fix the washer, they determined that the dishwasher needed to be replaced, and the reviewer was given a check to cover the cost.

A provider may not cover more expensive upgrades or extensive repairs that exceed the coverage limit. Also, don't forget to check for any exclusions. Most parts will be covered, but some companies may exclude the racks and utensil baskets. Any limitations will be in the contract.

» COMPARE COVERAGE: Best home warranty companies
Bottom line
Getting a new dishwasher can make the tedious task of hand-washing so much easier. But remember, there are hidden costs beyond the appliance. Unless you're confident installing a replacement dishwasher yourself, you'll need to factor in labor and old appliance removal — along with any potential kitchen remodeling costs and permits.
With careful planning, you won't be caught off-guard and can enjoy the new addition to your kitchen without any financial stress.
---
Article sources

ConsumerAffairs writers primarily rely on government data, industry experts and original research from other reputable publications to inform their work. Specific sources for this article include:

HomeAdvisor, " How Much Does Dishwasher Installation Cost? " Accessed Oct. 1, 2023.
Did you find this article helpful?
|
You're signed up
We'll start sending you the news you need delivered straight to you. We value your privacy. Unsubscribe easily.