Consumer Complaints and Reviews

I built a new house with about 40 windows and doors all Andersen. Most had seal failure within ten years the terratone vinyl frames. Cracked the sent epoxy and paint to cover it up. Looks horrible. The French patio doors had vinyl peeling off the outside due to glue failure. Their customer service representative Rannae ** was the worst person to have represent the company. She knew the company screwed up my replacement frame that was sent due to the old one cracking. They sent a frame for 2x4 walls and not 2x6 walls and refused to send the extension jambs. I would have fired her on the spot. My son just bought a new Andersen patio door for his house that he will be returning due to my experience. I will never buy Andersen windows again.

My 1988 Andersen casement window screens were old and could use replacement. I have seen the TruScene upgrades and made the mistake of ordering a set via Home Depot. I did that because they are cheaper that way. I still think the set that I received one week later came from China. I suspect UPS took the time to gently bend the frames and knee jerk the top of the cardboard. This did not affect the careless assembly of the screen from Anderson. The screens were almost 1/4 inch narrow at the middle which means they would not latch properly. They go back Friday. In fairness to the careless workmanship the materials they are using is flimsy compared to the 1988 frames.

I used the 100 series on a new home in Sedona, AZ. The sliding 8' doors are so heavy they require two hands to move. The dark bronze exterior causes the plastic trim pieces to slip down causing the sliding screen to jam and eventually break the wheels. A west facing casement window warped, it has a 1" bow in the middle. The plastic seal along the edge warps. Anderson sent out a tech, he worked on some of the problems but they are reoccurring due to the poor engineering and design. There are some excellent window manufacturers, Anderson is not one of them.

I have had my Andersen Patio Door Series 100 Sliding Glass Door for about 10 months. The weatherstripping is coming out and the locking mechanism has become very hard to operate. I contacted Andersen today and their position is that while parts are covered by the warranty, labor to fix the door is not. They said they will send me the parts, and also email me a "how to" video, and I can fix it myself. Alternatively, they will arrange for a technician for $200.
They do NOT cover labor costs at all, even when the customer has had the product for less than a year. I would have expected them to honor their product, and provide any necessary labor costs if within the first year. But they said they never warranty labor. Seems strange when the product is relatively new, and the problem is due to a deficiency in their product. Just be aware they don't fully stand behind their product.

I recently purchased an Andersen Door with insect Screen. The lock they sent with the door had a problem with the tumbler. The snap in plastic retainer system is flawed that's used to keep the glass/Insect screen on the door. They are flimsy and they do not stay in the grooves to keep the glass window or the screen door secure. Andersen should use the metal screw fasteners. The plastic retainers are cheaper to manufacture however, it affects the final outcome which is poor. All customer service will do is send you all the same equipment that is useless. Now I have a door that doesn't secure the insect screen nor does it secure the storm glass. Now I'm left to "Jerry Rig" the door every season to get the results I want... Bad Bad Product...
How do I know I can trust these reviews about Andersen Windows?
825,614 reviews on ConsumerAffairs are verified.
We require contact information to ensure our reviewers are real.
We use intelligent software that helps us maintain the integrity of reviews.
Our moderators read all reviews to verify quality and helpfulness.
For more information about reviews on ConsumerAffairs.com please visit our FAQ.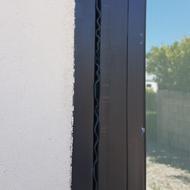 Oh Boy. Don't even know where to start. All I could say is their product is cheap quality and their warranty is a complete joke. I spent 30k on windows And patio doors. Less than a year it's all falling apart. Window seals are failing due to exposure to direct sunlight and Andersen advised me that is not covered under warranty. Issues with locks, issues with rollers... Complete crap...

Canadian and American sales reps came in to see me. We had a great meeting. Lots of samples, pictures and videos. Huge price tag... Was shocked at first. Then the discounts kicked in. So I went for it. 4 windows and a sliding door. The second measuring guy came to verify sizes. 6 weeks later they were installed by two guys. The inside framework done to perfection. Beautiful. The Guys were awesome. It took all day. This will be my window go to company from here on in. Windows and door are awesome.

Never! Again never buy Andersen Windows, basically rotted due to a design failure. When the two sashes come together on gliding windows, there is a foam gasket on the bottom of the seal which holds water and over time the wood wicks it up causing severe rot! 6 windows, 12 panels ruined in 8 years. Customer service is ridiculous... total of four different reps, on phone for a total of 3 hours over a 2 week period, multiple emails... Andersen deserves 0 stars. Buy Pella.

Our builder used Anderson Windows in our 2012 Inverness Home. The seal failed on one of their windows. They are charging us $20 to ship the window to our house and $350 to install. Pretty good scam if you ask me. Kind of kills any incentive to produce a quality product. Shame to take advantage of retirees. I wish them the best karma available.

My wife and I studied replacement gliding doors for months before deciding to go with an Andersen E-Series (Eagle) LH Gliding Door. When it arrived, the screen door was bent inside the carton, there were multiple deep scratches on the extruded aluminum exterior, and the stile on the interior of the moving panel had black marks under the paint, that could be seen through the paint finish. It was like a dark spot on the wall that gets primed with a defective primer, and the "holiday" shows right through the finish coat of paint.
The moving panel was ordered with a keyed lock that was not installed on the door when it arrived. Andersen sent us a replacement screen door that was shipped on a wooden contraption that would carry a riding lawn tractor, and it too revealed scratches on the powder coat finish right out of the box. They tell us that there is "No way" something like this could ever leave the Andersen factory, and we say, "Pure bologna." They don't want to spend any money to resolve this, nor do they wish to do anything about it. We remember the old Eagle Window Company and they made a legendary product. We remember the original Andersen factory that was located in Kentucky too. We will also remember that Andersen has now sunk to the lowest level they can go. We will never buy or recommend another Andersen product, ever!

I hope that at least one person reads this and doesn't buy from these guys. I would be embarrassed to call myself a company. Not once, not twice, but 3 times these guys let me down!! Lifetime guarantee. Ya right. They use every technique in the book, from "that wasn't us who gave you that guarantee" to "you should just upgrade". Seriously. Please don't buy from these guys. They are a disgrace to the business world. Don't believe anything they say. Windows may be good but no warranty or guarantee.

I purchased RBA 7 windows and three doors in January and was told it would be 6-8 weeks for delivery and installation. I was called several times to update the delivery and installation availability. We finally settled on March 25 to install 2 very large picture windows, side double-hung for each, a French door, a back entry door, front entry door and kitchen window. All in all--roughly $32,000. I went with RBA because they "said" they had their own installers, and the discounts were hefty. They would have to tear out the old casings on everything and reconstruct new casings and sills, etc. It would be a hefty job.
They arrived the week prior to remove the old french door and enclose the opening (there was rot in the sills from the old door leaking and RBA built a wonderful base, frame, etc. for the new door). They were quick and efficient and cleaned up beautifully. The next week they came on time to rip out the old casings and windows and doors and began rebuilding and installing the new windows, doors and casing and trim work. They started around 8 am and by 3 pm with 5 guys, they were down to just the picture windows/double-hung, and the front door. The kitchen window, the french door and the backdoor were exquisitely installed and trimmed--just beautiful. But I could tell they were rushing to get the job done on the rest of the windows and doors. The front door did not lock properly and they "locked it so that no one could enter until their installation manager could take a look at it" the next week.
Honestly, from that point on, I knew I was in for a long haul with their customer service reps, installer contacts, and order reps. It turned out that the door was installed incorrectly. They had to bring out the door sales rep (the door is not at RBA product, although they sell it), and I was "assured" that I would not have to be the go-between to get this door installed and functioning ($5000 entry door). It took four trips to get the door functioning.
Let me tell you about the picture windows and the double-hung... it is now May 31 and they are still not installed fully and correctly. The factory is so busy because RBA oversold their product during the last 6 months, that the factory cannot keep up with the delivery and the quality demands of their product. The grills on the picture windows (prairie-style) do not fit and are not attached properly by the installers (who confess they don't look at the quality of their product, they just install). The lower sashes on the double-hung are crooked and the grilles are also misaligned. RBA has taken a long time to get new sashes and when they arrived, none were correct, and one even had a one-inch glob of paint/dirt on the sash--all of it passing the quality inspection at the factory!!
I am still waiting for the new sashes. It has been 10 days (and a holiday) since they ordered the new ones and I have heard nothing from the company. I had to call the order service rep and when she did not respond to my calls, I called the installation manager. I was told he would find out what is going on--I then received a call from the order rep who said the sashes are still not in and even though there is a "rush" on them, she is not sure when they will be delivered.
I have also tried to get the name of the president of RBA so I can give him (her?) the complaint (and praise), but the company will not give out that information. I will keep trying. There are so many customer service/installation issues, that I will not EVER use RBA again. Too bad, too. I still have windows on the house to replace and window and door on the garage to replace.

I contacted Renewal by Andersen for a price quote as I needed a few replacement windows in my home. The salesperson arrived on time, was friendly and professional. But after his sales pitch of the windows another sales pitch came that left me feeling very uncomfortable. It was regarding how the windows would be paid for as his sales pitch was this great offer of 0 percent finance if the windows were paid off within a year of the signed contract. I am old enough to know nothing is free and if it sounds too good to be true it probably is. As I did a bit of checking on this offer so my salesperson was correct in the fact it was 0 percent loan if paid off within a year but miss the payoff by even one day your interest payment will skyrocket to 23 percent interest. While this may seem simple just by making the payoff on time there are a few snags that may undermine your credit.
This type of loan stands as credit owed until paid off and could limit a person on any additional loans they may require within the one year period of free financing. Renewal by Andersen pays GreenSky Credit a transaction fee for instant credit which you guessed it gets passed along to you in the form of a higher cost of your window replacement. GreenSky Credit is just a broker bringing bank financing to merchants so they are able to make a sale at your home immediately as once your sales rep is done with his pitch they make it a point to make the sale before leaving knowing it increases the odds of getting the job. GreenSky Credit is the biggest winner in this as they make a profit by financing homeowner project for merchants like Renewal by Andersen and then they are paid again by the banks they deal with for bringing in new secured loans so who do you think ends up paying all these costs?
The answer is the homeowner as even if you pay the 0 percent cost of your windows within a year Renewal by Andersen overcharged to make up for the cost of the transaction fee charges to them by using GreenSky Credit. As a consumer the more middle men you have in any project rack up unnecessary charges as with Renewal by Andersen. They have a middle man in the financing plus since they are only a franchise business they also have a markup on the labor as this is done by many different separate window installation companies. So dealing direct with a smaller window company would give you a much better cost along with more control over your project. While Renewal by Andersen may sell a good quality product the financing side and who makes out is pretty shady and that's how this company lost me as a potential customer.

Salesmen Tony and Francis showed up at my house and blabbered for the next 90 minutes. Despite my telling them that I wasn't interested in financing or having additional windows measured for replacement - They pressed. They sent no less than 3 incorrect/incomplete contracts. When we refused to sign the poorly written contracts, They pressed. The fast and furious texts/emails became so obnoxious, that I had to block RBA emails and texts. These reps bulldoze clients with high-pressure sales tactics. We got a bid from a local contractor for 40% the cost that RBA had quoted. The moral here - When a salesman says: "We're not here to give you a high pressured sales pitch" - That's EXACTLY where you will find yourself. Avoid this vendor and save yourself the time and stress of greedy salesmen.

There are very strong pros and cons with working with Renewal by Andersen in Denver, CO. The pros are that the windows are extremely high quality and the installers are outstanding. The cons are that you get what you pay for-- they're not cheap. And, you have to deal with their sales pitch. This company is one of those that comes out to the house and all financially responsible people have to be there. And you have to make a decision before they leave. I HATE that type of sales. BUT our salesperson was very nice and helpful, and we are very happy with the outcome of the beautiful windows. So, my advice to you is to do your research before you make the appointment and be prepared to make a decision. The quality of both the windows and the installer's workmanship was well worth the price.

When Chris (salesman) showed up, to begin with he was late. We asked for a estimate/quote. He sat down at the table. Told me each window was going to be $1700. Never gave me any other options, never measured any window or length of our home for siding. Not once did he show me a picture let alone let me look at a brochure. I finally got brochure as he was leaving and I asked for it. When this appt. was made their company knew my husband could not attend the meeting, they seemed to have no problem with it, after all they sent salesman out. During our conversation he asked me if I was up to signing a multimillion $ contract with my husband not being here. I said "No, most married couples don't make that big of a decision without talking to each other." I called my husband and he talked to the man. Once again Chris asked my husband if he was willing to allow me to sign a multimillion $ contract. He said "No."
Chris said they like both spouses to be home when they come out. At the end as he was leaving I explained my husband is very knowledgeable and when they come back out on a Sunday when we was both available my husband likes to get to the point and not waste time. The salesman said "you need to remind him we are driving 2 hours to your house and on a Sunday"... The more I thought about it, I can't do business with a company like this. Plus they don't sell windows with shades built in them. The only siding they sell is steel. Not my cup of tea. Anyone else that goes thru this company I wish them the best of luck. I am sure there are other salesmen that work there that are a lot better at their jobs.

Recently we had the glass window of our EMCO Andersen Storm Door broken. I ordered the replacement online - everything seemed easy. I paid and was sent a confirming email. The email from Andersencorp.com said that my order would be processed in 1-4 business days and shipped by UPS with the same time frame. After a week of no confirmation of processing, I called. The customer service representative said that there was a problem with their website and it was sending out INCORRECT information. It takes 2 weeks to process an order, not 1-4 days. It turns out that he was correct. The replacement window arrives 2.5 weeks later and after we get it out of the box, it should be a 30-second installation except it is not.
The window requires four notches be cut in the frame in order for it to be locked into the door. The notches were not cut. The window was useless as is. I called customer service again. The representative was apologetic and said we did not have to return the window thereby avoiding a return fee (Nice of them not to charge me again for their mistake) and that the correct window would now be ordered and sent out. The only problem is that it is on the same time frame as the original order. No offer to expedite things. So it is now taking 5+ weeks to get this replacement window when the original email stated 2 weeks maximum.
To top it off, our dog got out of the house because one of the kids (A small kid) forgot to close the house door completely! We had 6 people searching the neighborhood for her for over 30 minutes. Luckily, she was found and is safely back home. A potential disaster for our family that was totally unnecessary if the company had lived up to its original commitment in the confirming email. As of today, we are still waiting for this window.

Spent a ton of money on 1 door and 1 window. One part on the door was selling off the next day! We were told everything would be stained, it wasn't! A huge pain in the butt and poor quality for paying top price!

We had the builder purchase 60 Andersen windows and 3 sliding doors after reading reviews and recommendations 26 years ago. Since that time we had a number of casement windows fail creating a haze between the glass panes. We had someone come out and check them and we were told that the windows were warped causing the gas to escape. Of course they were out of warranty. We had one large casement window cracked several years ago during the winter. I called customer service and was told that we were out of warranty.
They offered a slight discount for that replacement. And now, while sleeping at 4am we heard a loud popping noise in our bathroom, one of the clear Andersen side windows to the large picture window cracked into many small pieces. It did not look like anything hit it. It was the inside pane. The temperature outside was about 41 degrees. I have to wonder which window will be next. I would never recommend Andersen Windows to anyone.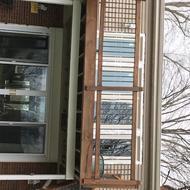 I hired a contractor to replace a 12 foot sliding door with a set of two side lights and a french door from the Anderson 400 series. The exterior color I ordered was specified as white. When the door was installed, I was dismayed to see that the color looked to be "ivory" as was not nearly as bright as the other doors and windows in my home, including some Anderson products I'd had put in a few years earlier. When I called to ask about this, the salesperson at Home Depot told me it is because Anderson uses Alabaster for the "white" of the new construction products and bright white for the "white" of the replacement series products. Never in my wildest dreams would I have assumed there would be two different shades of white being used and since my contractor was doing the work, had he known, I'd not have expected him to recommend a door that wouldn't match.
The color difference is very noticeable and given the cost of this, I'm extremely dissatisfied. The sales person at Home Depot tried to help by contacting Anderson and he was told, "That is just the way it is, we won't do anything to correct it." So once again, buyer beware. You can't assume your Anderson product color will match other door/window companies, or even their own products from a few years ago. I feel like I have wasted $5500.00 because of the eyesore this has made of the back of my home. Everyone I have shown the photo too has noticed the color variation (top of balcony appears ivory in photo attached compared to the bottom set in the lower balcony which is bright white) and assumed I was sent the wrong exterior color. My contractor says he can make it look better with bright white trim, but he is not fully finished, so this is yet to be seen.

I have never been so upset with sales pressure! After receiving a quote of $7800.00 to replace 4 standard size windows I choose to add an additional bathroom... If that didn't get thru their head they continued by asking how many windows I have and how much money I'd save by replacing them! Adam the person that would not take no for an answer was so rude!!! I have about 22 windows and if 4 cost $1800 each 23 would have cost... We'll do the math... I guess Andersen renewal with all the bad reviews just got another!!!

Wow! We just had 3 very large windows and a patio door replaced by Renewal by Andersen. Visits by the rep and measuring team leading up to this date were informative, accurate and professional. Installation by John and Trevan were also top quality. We have a log home and this was their first installation of this type and they did a great job, making adjustments on the fly to fit the situation. Beautiful work, great team! Loving the quality of the products too.

Twice now I've order the Kit Sweep fin online and in both cases the service is really excellent. The part is delivered to my door in Winnipeg with no delivery cost at all. I'm impressed to have an $8.00 item delivered for free.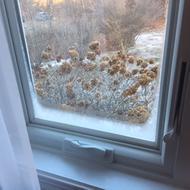 We had a window installed in the master bedroom and each year since we have frost 3 inches in height on the inside of the window when the temperature drops in the teens and below. We have raised the issue the company on four occasions and technicians send to our house each year (2015, 2016, 2017) have not resolved the issue. As the work is done late in the winter there is no way to validate if this solved the issue that season. The following winter we call again and technicians again make an alteration. In February 2017 the installation supervisor, Brian ** came to the house and could find any reason for the frost (the company agrees there is frost on the window and I have photos of the frost).
I asked that the window be replaced, Mr ** said we could not justify that action and suggested we (1) leave the shade up at night or (2) keep the temperature in the room higher at night. We regard each of these solutions as non-starters. We have 2 other windows in the room (different manufacturer and they do not have frost). I have made repeated calls to Andersen and to their corporate headquarters and finally spoke to a Greg ** (mid-February) who assured me my complaint would be addressed within a few days. No response was ever received. Likewise my calls to Mr ** the installation supervisor were never responded to when I left a message. Recently I contacted Better Business Bureau (BBB) to file a complaint. Andersen Windows has not responded to the BBB.

We purchased 4 Andersen Windows 4 years ago and did not realize the price of almost 8000 dollars. I misread the contract and the way it was written it did not make any sense to us and we do not know what we paid for. The hook was interest free financing but they over inflate the price so they make more money. We feel we were ripped off and deceived. Now I have to get a lawyer to fight. Not worth it. I am not going to pay the last 1800 dollars I owe. Let them hit my credit. I claimed bankruptcy once before.

My Andersen windows are falling apart after only 17 years. Company says sorry - out of warranty. I bought Andersen windows for my new home - they were supposed to be top of line. What a joke - they are pure junk. DO NOT BUY - WOOD ROTS OUT.

Purchase two screen doors for a patio slider and each time had to take back to home depot! Screens are defective as corners do not exactly come together and the screen looks tight but screen is out on the bottoms and sides in places! After two trips returning doors I called Andersen, spent 1 hour on phone describing the doors, having to physically tape measure door size, look for numbers on door, re-measure again as rep. Said he had other measurements and mine not right etc. etc. etc. And then be on hold -- came back to phone and said --- "We cannot replace this door as our complimentary rules are not an option." (Whatever that means.) In other words -- spent all that time just to be ignored and told, "Shove it!" End response -- "Take back to Home Depot for the *third* time!" -- Andersen difficult to deal with and said my complaint was to be filed (wonder where?). Andersen sucks!

I ordered a $4,000.00 custom made Andersen Oak patio door, it was delivered and looks like the following images, the side panels were loose and it was flush at the bottom and over 1/4 sticking up at the top. They are trying to tell me that is how it is supposed to look and won't do anything. I can't believe they think this is normal. I'm hoping someone who knows more about this than I do can take a look at the pictures and tell me if they think this is how this is supposed to look. I'm just sick over this whole deal.

Jeremy ** familiarized us with the variety of products available from Andersen and helped us choose products that fit our application. He also did the measurements which as it turned out were perfect. Sliding door and 3 windows were installed in about 4 1/2 to 5 hours and left sparkling. Our team, Boris, Nick ** and Valentin ** installed everything, cleaned up and hauled away the old windows and scraps. They even vacuumed and swept the garage! I believe the directions we were given to prepare our home for the installation sped up the procedure for all of us. Very professional, we are pleased.

My husband and I had a rep from Andersen come out. We were very excited and signed to have our deck doors replaced. Soon after we found my husband had serious kidney problems. I tried contacting our rep. We never had any work, measurements... Nothing. I tried to explain our situation, but Andersen still insisted on charging us because we went over allowed days to cancel. We tried to contact our rep... things were a little upsetting with our medical news. Andersen did absolutely nothing. Again other than the one day the rep came... we had no one else come out to measure for doors. They were not friendly or caring. We are paying for Nothing!!!

Joseph TruiniHome Improvement Contributing Editor
Joseph Truini is a home improvement expert who writes extensively about do-it-yourself home remodeling and repair, woodworking projects and tools and techniques. His work has appeared in several national magazines, including This Old House, Popular Mechanics, Country Living, Woman's Day, and Today's Homeowner. More about Joseph→

The Andersen Corporation is the largest door and window manufacturer in the United States. The company has been in business since 1903.
Wide product offering: Andersen designs and manufacturers an extensive line of high-performance, energy-efficient windows and doors. It has four brands: Andersen vinyl-clad wood windows and patio doors; Renewal by Andersen, a line of low-maintenance replacement windows; Silver Line vinyl windows and patio doors; and American Craftsman vinyl windows and doors, which are sold exclusive through Home Depot.
Sells internationally: Andersen sells windows in Europe, Asia, the Middle East and South America as well as in the United States.
Large online library: Customers can read about how to choose the right products, how to install them and more on the company's website.
Trains installers: Consumers must contract separately with third parties for installation, and Andersen offers certification in installing its products. The only exception is for Renewal replacement windows, which are installed by Andersen's own group of highly trained contractors.
Lots of options: Owners who want to create a custom look can easily mix and match shapes, materials and sizes from the large catalog of available windows.
Online parts store: Owners who want to repair or replace windows and doors can find and purchase parts online through this company's website.
Best for Andersen Windows are best for homeowners, do-it-yourselfers, condo owners, landlords, business owners, and anyone interested in energy-efficient, well-built windows and doors.
Andersen Windows Company Profile
Company Name:

Andersen Windows

Year Founded:

1903

City:

Bayport

State/Province:

MN

Website:

http://www.andersenwindows.com/