Starkey Hearing Aids
About Starkey Hearing Aids
Starkey is a privately held, global hearing technology company headquartered in Eden Prairie, Minnesota. Founded by Bill Austin in 1967, Starkey is known for its innovative design, development and distribution of comprehensive digital hearing systems. Led today by President Brandon Sawalich, Starkey is the only American-owned provider of hearing technologies. The company has more than 5,000 employees, operates 26+ facilities and does business in more than 100 markets worldwide.
Overall Satisfaction Rating
5 stars

4 stars

3 stars

2 stars

1 stars
Pros
State-of-the-art technology
Thrive Hearing Control app
Styles for all levels of hearing loss
Cons
Not always covered by insurance
Bottom Line
Starkey Hearing Technologies develops hearing aids under three brand names. Starkey manufactures 10 different styles of hearing aids for all levels of hearing loss.
Starkey hearing aids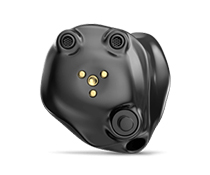 Starkey Hearing Aids
Livio Edge AI
Designed to automatically adjust to different sound environments. Compatible with OrCam MyEye, making it a good pick for those who are also visually impaired. Includes fall detection and alerts.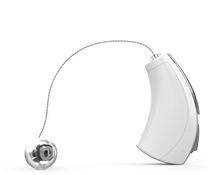 Starkey Hearing Aids
Livio AI
Integrated sensors and artificial intelligence improves clarity, even when the speaker is wearing a mask or in rooms with background noise. Available in ITC, ITE, RIC and BTE models. Features Healthable Technology.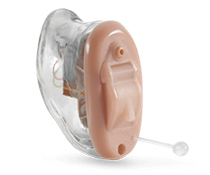 Starkey Hearing Aids
Picasso
Customized hearing aids to fit your ear precisely. Devices sit completely in the ear. Comes with advanced technology for tinnitus relief and wireless capabilities to stream phone calls, music, TV and more.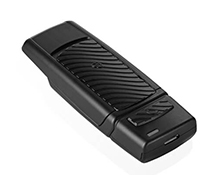 Starkey Hearing Aids
SurfLink Mini Mobile
Connects any mobile device with Bluetooth technology to stream phone calls. Compatible with the SurfLink Remote Microphone 2.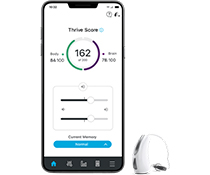 Starkey Hearing Aids
Thrive Hearing Control app
Free with in-app purchases as of publishing date
Works with the sensor-enabled Livio Edge AI to give you more control of your hearing aids. You can use the app to adjust settings and volume, stream music or phone calls and track the location of your hearing aid devices.
How do Starkey Hearing aids work?
Start by visiting your local audiologist or hearing professional to find out if you're a candidate for Starkey hearing aids. Your health care professional can help you pick the best style of hearing aid for your lifestyle and level of hearing loss.
Some of the most popular models of Starkey hearing aids include:
Receiver-in-canal

For mild/severe hearing loss
Easy adjustments
Discreet design

Completely-in-canal

Custom-made
For mild/moderate hearing loss
Virtually undetectable

Behind-the-ear

Easy-to-use buttons/dials
For moderate/severe hearing loss
Discreet design

In-the-canal

Custom-made
For mild hearing loss
Multiple technologies available

In-the-ear

Custom-made
Easy adjustments
For mild/severe hearing loss
What features come with Starkey hearing aids?
Some of Starkey's hearing aids come equipped with state-of-the-art technology that allows you to stream music and phone calls. These hearing aids also let you use the Thrive Hearing Control app to control hearing aid settings from your smartphone. This controls three main settings:
Hearing Performance controls sound quality and clarity with speech enhancement features and noise control. It allows you to create presets for regular settings.
Healthable Technology keeps track of your steps, daily activities and social engagement. It comes equipped with a fall-detection feature and heart rate monitoring.
Information Assistance lets you ask the Thrive Assistant questions to troubleshoot issues. You can request remote adjustments to your hearing aids without needing to schedule an office visit, and the app can even transcribe conversations to your smartphone.
Starkey hearing aids require a four-month adjustment period. This process of reacclimating to certain noises can be strenuous on the brain, especially if your hearing has been declining for a while. Your Starkey hearing aids could require several adjustments, so the company recommends staying in contact with your hearing professional during this period.
How much do Starkey hearing aids cost?
The cost of Starkey hearing aids varies based on the model and features. Most hearing professionals offer hearing aid payment plans, so ask your local audiologist about payment options. You could qualify for free hearing aids or a discount through:
Your union
Your employer
Veterans Affairs benefits
Your insurance provider/HMO
A local charity
You could be eligible for partial or full coverage through Medicare or Medicaid. While most Medicare plans don't cover hearing aids, you might receive benefits if you're Medicare Advantage plan member. Medicaid often covers hearing aids for adults and typically gives full funding for children's hearing aids.
Are Starkey Hearing aids worth it?
Starkey hearing aids are customizable and come in a variety of options. With the ability to easily adjust your hearing aids through the Thrive Hearing Control app, they're a great option for all levels of hearing loss. The company also creates a variety of styles to help fit every person's preference for appearance and comfort. If you struggle with hearing loss, Starkey hearing aids could be the right choice for you.
A link has directed you to this review. Its location on this page may change next time you visit.
How do I know I can trust these reviews about Starkey Hearing Aids?
How do I know I can trust these reviews about Starkey?
3,827,988 reviews on ConsumerAffairs are verified.
We require contact information to ensure our reviewers are real.
We use intelligent software that helps us maintain the integrity of reviews.
Our moderators read all reviews to verify quality and helpfulness.
For more information about reviews on ConsumerAffairs.com please visit our FAQ.
This review is featured by Starkey Hearing Aids
Judith N. of AZ

Verified Reviewer
Original review: Feb. 5, 2021
Starkey in the canal hearing aid has been my choice for over twenty years. I have a significant identical loss from an illness at birth. I am able to hear very well and haven't had any problems with product quality or ease of use. The company has a very good warranty on their product and service well. I will return for my next set!
Starkey Hearing Aids response
Hi Judith,
It is wonderful to hear about your loyalty to Starkey hearing aids! Thank you!
Sincerely,
Starkey
6 people found this review helpful
This review is featured by Starkey Hearing Aids
Mary F. of Florida

Verified Reviewer
Original review: Jan. 31, 2021
My husband and I both have Starkey hearing aids. We are happy to be able to hear conversation so much better. Customer service is outstanding. We particularly enjoy the rechargeable batteries, preventing us from having to replace tiny batteries every so many days.
Starkey Hearing Aids response
Hi Mary,
Thank you so much for taking time out of your day to leave this positive feedback! We are happy to hear you and your husband are happy with your Starkey hearing aids.
Sincerely,
Starkey
4 people found this review helpful
Page 1 Reviews 0 - 10
Robert B. of FL

Verified Reviewer
Original review: June 9, 2022
Have had your hearing aids now for 3 months and they have helped my hearing, but everything sounds very tinny. All word that start with an S has a shss sound to it. Your app does not work with my iPhone so I can't adjust the aids. The phone Bluetooth does work so that I can adjust the volume but that is all. I would grade these hearing aids as Poor.
Starkey Hearing Aids response
Hello Robert,
We are sorry to hear you're experiencing some difficulty with your hearing aids. It sounds like your hearing aids may need to be adjusted. We'd suggest connecting back with your hearing professional and scheduling an appointment to have your devices adjusted. We'd also welcome speaking with you at your earliest convenience to see if we can assist. Feel free to contact our Customer Service team at (800) 328-8602.
Be the first one to find this review helpful
Thank you, you have successfully subscribed to our newsletter! Enjoy reading our tips and recommendations.
Jonathan C. of OR

Verified Reviewer
Original review: June 5, 2022
I had the wonderful Starkey custom in-the-ear CIC model. The first one failed after 20 days. After repair, it failed again after 3 days. Concerned with their reliability, I canceled the contract and am choosing another brand.
Starkey Hearing Aids response
Hi Jonathan -
Thank you for taking the time to share your experience with us. We understand that your hearing aids help you navigate your life, and that quality and reliability are incredibly important. We are surprised to read of the difficulties that you encountered with your new custom hearing aids, as what you have described is rather unusual. If you have any questions or concerns about your experience, please know that you are welcome to connect with our Customer Service team by calling (800) 328-8602, or by using any of the digital contact options offered here: https://www.starkey.com/contact-starkey-hearing.
Be the first one to find this review helpful
George M. of VA

Verified Reviewer
Original review: June 4, 2022
I've severe to profound hearing loss. Fitted with Starkey Muse 7 years ago.. Within that time they have been replaced 3 times by the manufacturer and now have quit again.. They are not well built… Ascent Audiology provided the service and they have been very good about it.. I've bought extended warranties however this last time I could no longer buy the extension. Go to an audiologist that provides more than one manufacturer and forget trying to speak to Starkey on their product issues… Never available.
Starkey Hearing Aids response
Hello George -
Your hearing aids help keep you connected with your world. It's understandable that you're looking for what next steps to take. Generally speaking, your hearing professional will be able to assist you with any troubleshooting, maintenance, or adjustments that you may need, and they can also assist with sending the hearing aids out for repair (charges may apply if they are no longer under a warranty or support plan). With the age of your hearing aids and the recent technological advances that have become available in the last few years, your hearing professional may also recommend upgrading to newer hearing instruments. Unlike other manufacturers, Starkey will repair devices that are older than five years old. If you should choose to send the hearing aids in, your hearing professional should be able to add a new worry-free warranty.
If you would like to connect with Starkey's Customer Service team with any questions, please call (800) 328-8602. If you are in need of technical support, please call (866) 637-9243. You can find additional means of contacting us (including digitally) here: https://www.starkey.com/contact-starkey-hearing.
Be the first one to find this review helpful
Andrew S. of CA

Verified Reviewer
Original review: Feb. 18, 2022
I had a childhood sickness, of which I've still suffer effects throughout life so far! I have constant mild to loud ringing in the ears! I've been told it is not tinnitus! Anyway I recently, like the last few days received some Picasso hearing aids, in canal! Wow being a first time user, I could hear everything around me, even my voice, movements, eating etc! A bit loud, Q is, is there any adjustments for the customer? I have all the instructions, but I'd like to hear from other users as well as maker! Please **. Thank you!
Starkey Hearing Aids response
Thanks for taking the time to share your feedback. Your hearing professional will be able to help make adjustments or programming changes to your hearing aids. SurfLink accessories, such as the SurfLink Remote (https://www.starkey.com/hearing-aids/accessories/surflink/mini-mobile) can also help you adjust volume, memory modes, streaming modes, and more.
Adjusting to new hearing aids can take some time, especially for your first pair. You're definitely not alone in experiencing hearing a lot of new sounds that may feel loud all at once! Here's a resource that may be helpful for you during this time: https://www.starkey.com/hearing-loss/treatment/adjusting-to-hearing-aids. If things continue to feel overwhelming for an extended period of time, we recommend continuing to having conversations with your hearing professional to see what adjustments might be right for you.
2 people found this review helpful

Bob B. of TN

Verified Reviewer
Original review: Dec. 16, 2021
I have purchased two sets of Starkey hearing aids from two different sources over the past few years. The cost was over $10,000.00 for the two. Nothing but problem after problem with them. Left one continually quit working and had to be returned to the factory only to quit working again time after time. I would NOT recommend Starkey to anyone and would not use them if they were free.
Starkey Hearing Aids response
Thank you for taking the time to let us know that this happened. Your hearing aids help keep you connected with your world, so reliability is important. While working with your hearing professional is typically the best first step in troubleshooting concerns and determining next steps, our Customer Service team is also available to provide support at (800) 328-8602. We will also send you a private response with a request for additional information in the event that you are looking for additional assistance.
8 people found this review helpful
bob d. of CA

Verified Reviewer
Original review: Aug. 11, 2021
This is my second Starkey in ear canal aide. The first was great, so I went with it again and boy did I make a mistake! It's awful, they keep sending it away and it comes back the same. So I have wasted $3,500. I can't wear it, the noise is awful, I just keep wearing the 6 year old one, thank goodness I have it!!! Don't waste your money, be safe and go with another company.
23 people found this review helpful
Carolyn of CA

Verified Reviewer Verified Buyer
Original review: July 29, 2021
The sound is still "noisy white noise" in ear, hollow sound, plugged up ear..worse than without hearing aid in. Does not improve hearing and feel as if balance is off when wearing them. Also, they constantly are either on the verge of falling out or do fall out. I already have lost one pair (on two separate occasions for each ear). I paid the insurance copay for another pair and I am having the same experience. I have told my audiologist about this and nothing has helped. I certainly don't want to have to constantly worry all day long about whether my hearing aid is about to fall out. Many times it is just ready to fall out when I check it.
I would like a refund on these. I have now paid for two pair of these terrible hearing aids. And, I foolishly just insured the second pair, thinking that the new pair would be better. I paid $6900 for the first pair and an insurance copay of $595 to replace the ones that fell out of my ears. These hearing aids have caused me nothing but stress and loss of large amounts of money, with no hearing improvement..sound is amplified but not good sounding.
Read full review
19 people found this review helpful
Dave S. of CA

Verified Reviewer
Original review: June 26, 2021
I had purchased the NuEar Circa 1200 hearing aids from a company that went out of business shorty before my factory warranty was up and when I called Starkey to see what I could do about getting them fixed. I didn't hear anything from the company that I purchased the hearing aids from about them going out of business & they just disappeared & left everybody hanging. I called Starkey for help since they were under manufacturer's warranty at the time still. Unfortunately for purchasers like myself, we are completely out of luck! Starkey only directed me to another one of their venders who wants to charge me for a hearing test, reprogramming both hearing aids and who knows what after if the reprogramming does not fix the problem that I am having with both of my hearing aids.
I own my own construction company and have not been able to hear my clients for about 3 months now and that's not good for my business due to not hearing the clients when it comes to details and financial matters. Things could end up really bad for my company to say the least. (I make sure that the client and I are on the same page to prevent that from happening but it's a whole lot of unnecessary time I spend to do that and my family is getting less of my time than they should due to having to spend that time). As a business owner, I stand by my product and service 100% to ensure my client's satisfaction as I believe every company should be expected to do so. Starkey pushed me off onto a vender every time I called to get help from them.
My hearing aids are a year old and were still under manufacturer's warranty 3 months ago when I started having problems with them. Since then, I have not been able to get a vender that doesn't want to charge me for everything as if they were brand new but paid for. These are the worst hearing aids that I have ever had and the worst service from the manufacturer I have dealt with and I have been wearing hearing aids for 39 years.
I would expect the "self proclaimed" industry leading technology manufacturer to handle such a small problem with a lot more inside help rather than just pushing it onto some company that wants to charge the purchaser for service on Starkey's products. The products are junk and the service is even worse because they are aware that they make junk. I wouldn't recommend this company to anyone because it's just the run around and pay even under warranty game. STAY AWAY FROM THE JUNK THIS COMPANY MAKES!!!
Read full review
18 people found this review helpful
John F. of CA

Verified Reviewer
Original review: March 29, 2021
I have the Starkey remote microphone, the hearing specialist where I got my hearing aids said it was a great device paired with the hearing aids. It is a great device, however the clip is so inferior it does not last more than 6 to 8 months before it breaks making it unable to clip to my shirt. Starkey replaced it once, now it's not under warranty and no one at Starkey can tell me how must it cost to repair. Do not buy this product unless you want to keep sending it in for repair and all the hassle of sending it in and waiting for it to break again in six months.
Starkey Hearing Aids response
Hi, John,
Thank you for your feedback. Like you, many people love Remote Microphones. We manufacture a couple of remote microphones that work with our different hearing aids. Your Hearing Professional can work on your behave to give you a quote on the cost to obtain a replacement clip.
We value your feedback, and we value our relationships with our Audiologist. If for some reason, you feel you can no longer work with the office you obtain the Remote Mic from, please call us to get a referral to another office near you that supports Starkey products. The number is 800-721-3573.
Sincerely,
Starkey
14 people found this review helpful
BYRON JAMES B. of WI

Verified Reviewer
Original review: March 3, 2021
My husband bought hearing aids through B.S. Wisniewski in Greenfield Wi on 2/6/19. The first few weeks he seemed to hear fairly well. After that, it has been downhill. He seems to go regularly to Wisniewski to have check ups and have things reviewed, but the results are always the same. He has the same catch phrases he used prior to hearing aids, "I didn't quite catch that, you are mumbling, I was distracted." We paid $6,990.00 for these state of the art hearing aids and I have to say, "I am totally disappointed." I truly couldn't recommend them to anyone at this point. Instead of telling other people, I wrote to the company but heard nothing. In addition to him hearing very poorly, he has problems with the left one staying in his ear. It is always hanging out of his ear in the air.
Again, I am not complaining about B.S. Wisniewski, they have tried to give him different size plugs to fit his ear, but so far nothing has solved the problem. I have to say, I am truly disappointed that my husband's hearing isn't much better than prior to hearing aids, I'm afraid he will lose them with them hanging out of his ear all the time. This took a serious bite out of our limited income, as we are both living on our small Social Security checks. I think we paid a very large price for something that really isn't working for him. We have had many fights about this subject, so this has caused me a lot of grief. Thank you for listening.
Read full review
Starkey Hearing Aids response
Hi Mrs. Byron,
Thank you for bringing this to our attention. We're sorry to hear about you and your husband's experience, and we will use your feedback to improve our products and service.
We would like to see how we can make things right and understand a bit more about your husband's fitting experience. We know the professionals that sell Starkey products are always up to the challenge to make sure the patients and spouses are satisfied with the outcome of their appointments.
If you would like us to reach out to your Audiologist to help with this process, would you please let us know the name and phone number of the office and your husband's hearing aid serial numbers?
If you haven't already, please contact our Service Team. They are available to offer suggestions during regular business hours. The number is 800-721-3573.
Thank you for taking the time to share your experience and feedback.
Sincerely,
Starkey
15 people found this review helpful