Consumer Reviews and Complaints

I ordered a couch back in April (it is not September). I have been on the phone for over an hour trying to locate said couch. The first time they sent it and never scheduled the appointment. After waiting on hold forever I finally got in touch with someone who said it had been sitting in the warehouse and no one told me. So then I scheduled the appointment and after finding coverage for my working and waiting forever on the couch, the "couch" that arrived was actually a chair that I did not order. After several more calls and waiting I discovered that my couch was lost and they had to make another one, which they promised would be there by September. Well now it is September and I have no couch and once again I am sitting on the phone for over an hour trying to reach someone. Please NEVER order from here!!

We just walked away from our first shopping experience with West Elm and it was a mega fail. This is especially bad because we were going to spend over $1300 on a chair. On 8/19, we initially ordered the Henry Power Recliner Chair in twill fabric for a 2-3 week delivery. Within 5 minutes we decided to go with the leather option instead. Since it was a weekend, we were told to wait until Monday for the 1st order to cancel then we could place the order for the leather chair, which was in stock locally. Monday afternoon we went to the store to complete our order and schedule a pickup of the chair. The sales clerk advised us there would be a price difference - we knew this because the tag in the store showed $1599 for the leather chair. HOWEVER, the clerk claimed it was a good time to buy because we were getting 30% off the price. The amount that was showing on her computer screen was not 30% off, it was 20%.
We can accept the clerk is bad at math and we did see the signs for 20-30% off in the store. As she was completing the order she said it would be a couple weeks for the chair to come in. Not once did she check local inventory until we told her we'd already been told it was available immediately. Only then did she call the warehouse. That was when we noticed the amount of the original price ($1699) she was basing the 20% off from was $100 more than the price showing on the floor model. In bold black letters the tag showed a list of this brand of furniture with the final item being the power recliner at $1599. We pointed this out to the clerk and she checked the tag and said the actual price was on a small sticker on the back of the printed tag and that was the price of that chair. One question I have is what chair are you selling for $1599 if not the leather chair it was attached to?
Then we decided to bypass the local store because of their poor sales staff and go straight to the internet to order the chair. It had a note next to an asterisk that claimed free shipping. But when I went to pay for the order it added $299 for shipping and handling. I have put way too much effort in trying to spend over $1300 at your store and have dealt with lackadaisical sales staff with poor math skills, false advertising, both in the store and online, and basically just a bad overall impression of a store. The sad thing is, we really wanted this chair so now we will have to search for a suitable replacement and let our friends know of this horrible experience.

My son was moving from NC to Dallas. He purchased a bed online from West Elm and was given a date the bed was to be shipped. After hearing no updates from West Elm he called them to check on the status of the order and was told the bed would now be shipped 3 weeks past the date he was originally told it would be shipped. He is now in Dallas without a bed for 3 more weeks. He asked to cancel the order so he could go somewhere locally to purchase a bed and was told that he could not cancel the order. He is now forced to try and cancel through his credit card company. DO NOT ORDER FROM WEST ELM.

I purchased a coffee table from the West Elm website on 6/4. It is now 7/14 and no news of where this coffee table is. This was a very expensive piece of furniture and I am at a loss for words about the lack of customer service and updates I have gotten from the delivery service West Elm uses and the people at West Elm as well. First, I was out of the country and provided an alternate number they can call upon arrival. They called MY cell phone claiming they could not reach me (received this message when I came back from my trip). While the person waiting for my delivery did not get notified at all. Turns out the number was not updated when I asked them to update.
Next delivery was scheduled for a Saturday from 9:30-11:30. Also had someone wait at the house for it. At noon I received a call that they lost the coffee table and cannot locate it. How can someone lose a coffee table?! Not at the warehouse either. They requested a dock search at the warehouse as well as ordered a new one from GEORGIA (I live in Chicago) to arrive on 7/12. Called on 7/12, no updates in the system and they still don't know where my coffee table is. Two people have told me they will provide updates and track my table with me. I had to reach out myself to get no update at all because the system has no updates. For a high-end furniture store I am very disappointed and cannot see how this kind of lack of service is even possible. Safe to say I will not be recommending West Elm to anyone.

When my step daughter took time from work to receive her sofa delivery it was too large to fit up the steps. The delivery person gave her the name of a company that will come for the next delivery, take the furniture apart, move it into place and reassemble. All of this was set up for June 22nd. I took the day away from what I was supposed to be doing to help her out. We received the 2 hour window the day before which I passed on to the "furniture fitters". 1-3pm. I waited at the apartment for the call saying they were 30 minutes away which I was also to pass on to the furniture fitters who were standing by. The call never came. At 2:30 I called West Elm and spoke to Amber in the furniture delivery department. She said that the computer had canceled the delivery and no one had noticed. She gave me another delivery date weeks away which I told her no one could do and that they would need to have it delivered within 7 days.
She said she would look into it and have someone get back to me. I have had about 5 phone calls with West Elm each lasting at least 1 1/2 hours, each saying different things or disconnected and NO one following up or reaching out. And just one little thing, when you call the furniture delivery department it says your time on hold will be less that 3 minutes. It's always a 1/2 hour before the call is answered. I finally seem to have one good person who I spoke to yesterday, Vanessa, she is polite and apparently trying to get help from superiors but she is unable to reach them by phone or email. Is the company too large to work efficiently? What are these superiors doing that they cannot help with customer service?
How do I know I can trust these reviews about West Elm?
884,672 reviews on ConsumerAffairs are verified.
We require contact information to ensure our reviewers are real.
We use intelligent software that helps us maintain the integrity of reviews.
Our moderators read all reviews to verify quality and helpfulness.
For more information about reviews on ConsumerAffairs.com please visit our FAQ.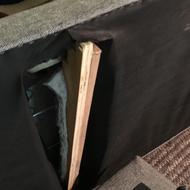 I purchased the sofa Quinn Sectional on May 30, 2016 for $1,474.38 and today (6/18/17) the plywood base of the sofa detached from the staples. We were unable to place the plywood back to attachment piece to hammer with nails. The material inside the sofa is cheap (compressed wood chip held together by staples). Hammering the cheap wood with nails would destroy the compressed plywood piece. My husband and I work 15 hours days. The only time we lay on the sofa is at night to watch some TV before going to bed. I have no children and no visitors because we work too much to have time to socialize. But, I like nice things; Therefore, I trusted West Elm website to buy the sofa. Big Mistake. That will never happen again and I advise you to stay away from West Elm.

Ordered a table - Day 1. Was told it would get shipped on Day 28 (4 weeks should be plenty of time for them to work out any potential issues, internally - but no). I called on Day 27 to confirm delivery time and was only then told it was "damaged" in the warehouse, would not be delivered and we would NOT be able to reschedule until they knew more. We were NEVER notified if/when the table was ready.
We finally called them back on Day 35 and we were told by the phone rep that the table was "repaired". We said that we did not order a "repaired" or "refurbished" table and that if it did not appear brand new, we would refuse it. The rep confirmed and noted our account. We scheduled delivery with this same rep for Day 49, the earliest they could do! We called on Day 48 to confirm delivery time. We were then told that the table delivery was NOT scheduled at all! Unbelievable. Who runs this shipping warehouse? Who is accountable for what these reps tell you? No one. That's who.
We were then told by the rep that the table was replaced, so they did receive the note on our account that we would not accept a damaged table, but no delivery scheduled. We were told on Day 48, that they could not delivery on Day 49, as we were told, but we would have to wait until Day 51 at the earliest - a day I cannot be there to accept. I would have to take a day off work to accept a table 22 days after I originally was told it would be delivered? This is completely unacceptable "service" and having absolutely no confidence that West Elm will deliver on this new date anyway, I finally canceled.
Cancellation is a whole other headache with this company. West Elm will not confirm cancellation. They will not send an email, they will not send a confirmation notice. They will not send you anything. Yet, if you've been on their mailing list, you know that they email you EVERY DAY. But for furniture cancellations you just have to believe that they will cancel, and if not, call them back in 5 days. I have actually been through this before, and they did not cancel, did not refund, and I had to call back. I asked to speak to a supervisor, and was told it was canceled. I guess I'll just have to believe him. This is 2017 and I cannot believe they can do business like this. Do not bother ordering furniture delivered from this company. It is not worth the headache. I would gladly pay a another company more money for a table to avoid ever having an issue like this again. They've had my money for weeks and I have nothing.

When I never received the merchandise I ordered, I tracked the shipping and saw the items had been returned the West Elm warehouse. (Of course no one from the company had reached out to tell me what was happening.) I sent a message to customer service (this time in writing - having learned from my previous experience) and they responded that they were refunding my card for the cost of the goods (including the "non-refundable items") and giving me a gift card for the shipping cost. I think the outcome is a reasonable compromise, although I'm dissatisfied overall with the experience because it was a lot of unnecessary time and headache to get to this point which could have been offered at the get-go. Now I'm left with this bad taste for the whole family of brands and dread having to interact with customer service again. Then again, a $50 gift card doesn't buy much at West Elm so I will probably end up spending more money there (which I guess is the whole point).
Original Review
I have had a terrible experience ordering online from West Elm. Their return/refund policy on online orders is one of the least customer friendly I have encountered in my lifetime. I purchased three sets of curtains recently using my mobile phone and was shocked later to find that shipping charges were nearly $50. (The CSR with whom I spoke was adamant that the shipping charges are on the screen before you submit payment but I honestly did not see them as I was clicking through and did not see the updated total. I remember ordered another time using my PC and they didn't show up until literally the last screen before you're finalizing - which is anything but transparent.)
Their initial email confirming the sale did not give a total price. Later I got a notice from my credit card company and honestly thought I'd been overcharged! At any rate, I decided to cancel the entire order. I was overpaying anyway and the shipping charge just put the total cost over my limit. I called the company (now about an hour after placing the order) and asked to cancel the order. The CSR with whom I spoke said that the order had already "gone to Processing" but that she would send an email and "hopefully" get it sorted out. I asked what she meant by "hopefully" and she said that she would follow up with them and make sure the order was canceled. She also said she'd send an email confirming that we'd spoken. I thanked her profusely and went about my work day.
About 5 hours later, when I checked my personal email and saw no message from West Elm, I called again. Now I was told that my order couldn't be canceled, that perhaps if someone had "contacted Processing earlier" something could have been done, but insisted that there was a "24-hour lag time" for "Processing" to check their emails and that it was out of their control. I explained that I'd spoken with someone with morning and that it was taken care of. They said no it hadn't, and also some of my items were final sale and could not be returned (i.e., I owned them even though they were sitting on a shelf in a warehouse).
By this time I was so angry and frustrated that I didn't want the products at all, let alone some sorry attempt at an accommodation. No worries - no attempt at accommodation was made. The best they could do would be to offer me free shipping on the RETURN (of course the final sale items were not refundable). The items had NOT by this time shipped, mind you. No reimbursement of shipping charges. No exception to final sale. Not even a discount on a future order.
I was told, in essence, to live with it. That I had no choice, 60 minutes after purchase on Wednesday morning, but to accept the unwanted products that were still sitting in their warehouse and to eat the unexpected shipping charge. There was a chance something could have been done earlier, but that chance was gone, thanks to the sales associate who forgot to click send on her email (and who apparently fed me misinformation). She would be dealt with accordingly. But I had no vested right to cancellation so I had not been wronged by losing this non-guaranteed opportunity for voluntary cancellation on their part. (The CSR also insinuated that I was lying at several points which was just incredibly disrespectful and completely baseless).
This was one of the worst encounters I've ever had online shopping. I am a principled person so now I will never be able to shop from Pottery Barn, Williams-Sonoma, or West Elm again. There is no excuse in this day of technology to insist that internal communications take 24 hours. To also choose not accommodate customers or do anything remotely inconvenient to the company to make customers whole leaves me with a taste of utter disgust in my mouth. How could I keep curtains that are now symbolic of the disrespectful way in which I was treated? This is now what I associate with this brand.

I bought this rug recently from West Elm, but >30 days ago so I am unable to return. I have emailed West Elm 3x in the past month and sent pictures of a warped rug. The rug has not been exposed to moisture or even had much traffic on it, so it is puzzling why it is warping. I have not heard back anything, despite the claim that you will hear back from customer service within 48 hr. I have been reading other complaints that their products are not high quality and based on this experience it does not make sense to me to purchase anything from them in the future.

Needed a replacement globe for their Eclipse Chandelier which they still show in their catalog. Went to the store to try to order glass replaced globe that broke while GENTLY cleaning. Store said they would look into it and call me but they were not sure they could due to past experiences with previous customers. They never called so I contacted the corporate office. After a few back and forth I was told they do not sell replacement parts, they buy them from a 3rd party vendor. I asked how to contact them, their cold response was to get on my server and try to find one. This is ridiculous! Needless to say I will forewarn anyone buying chandeliers ask about replacement parts and breakage.

Before placing the order, it was supposed to be shipped within 1 month, but after placing the order, it is heavily delayed. I asked to cancel the order, but they offered to replace the order and "generalize the associate's 25% merchandise card offer on a new order," I could not understand this 25% for the order for this replaced order or another future order not related to this bed, so I called call center. The problems are; 1. They do not track the history of the communications with customer. That means I need to explain once again if person in charge is changed. 2. It took time to check the latest product information. The bed I looked at website became sale, but they insisted old price for the bed. 3. They request me to send the screenshot of price and committed to call back but it took more than one hour and replied to me to call the call center again and explained to another person... It was the most poor customer service desk experience that I have had.

I have ordered numerous products from West Elm, with the exception of furniture. I ordered a dining room table that a month later has yet to arrive. Upon ordering, the ETA to my house with "white glove service" was 3 weeks. Their furniture department has absolutely ZERO idea what they are doing. I have been passed around each time I call to find out where my order is, getting a different answer each time. I don't believe they even have a customer service department. I was told I would receive a call back from a supervisor in 12-24 hours, 48 hours later I still have no call back. I hiiiighly recommend shopping for furniture elsewhere.

I purchased a carpet online and they have been giving me the runaround for the past 2 weeks in trying to return the rug. They "arranged" a pickup with UPS who never showed up to pick it up. I've been on the phone every day for the past 4 days for at least 45 minutes each time getting pawned off to different people and getting different information about when it will be picked up. The communication is impossible. Hard not to believe they are dragging this out so that I end up losing the refund or getting tagged with more restocking/return fees.
The customer service has been the worst I've EVER experienced. Rude, unhelpful, lack of information, no desire to resolve the issue. They should be fined for this especially with the prices they charge for their products. I had to finally fight to speak with a supervisor who is the ONLY one who is making any attempt to resolve this but it is STILL unresolved. Nobody has come to pick up this carpet for return and the scheduled pickup has been pushed again another day. How many more days before they will no longer accept the return? Outrageous.

It took us two months to receive a dining room table and a bench. Both came with noticeable scratches. We are sending back the bench and ordered two benches that I just discovered have been ready for delivery since March 6th. Zero communication. In addition, we ordered a headboard on January 4th and still haven't received our purchase (it's now March 19th). CB2 will get my business for big ticket items from now on.

Ordering a love seat was a mess of miscommunication, confusion and delays. West Elm is one of the worst companies that I have ordered from. Same with their affiliates Pottery Barn etc. Their site changed prices as I was trying to actually order a sofa. I could not order one as it was impossible to get a customer rep who knew what was going on. Totally incompetent or extremely poorly executed site management. Terrible. NOT RECOMMENDED.

They don't even deserve a one star. I scheduled a timeframe from 3 to 5 pm but they called me at 12 pm said they were already at my house. I told them I could only make it at 3 and when I got home they just left without calling me, won't picking up my calls, acting like I did something wrong. Later that day they had a front desk lady called, saying I had to reschedule since I was not at home. I am so shocked! Similar cases happened every time that their delivery never respect the time. I promise this is the last time I shop at West Elm.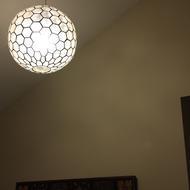 I'd had my eye on a foyer light fixture and kept waiting for it to go on sale. It finally did at the same time they offered free shipping so I ordered it. It arrived within days in perfect condition. It's gorgeous! The only thing keeping me from giving them 5 stars is maybe really my own issue: the pictures never showed how the light attaches to the ceiling. It arrived with a wiring kit so the fixture could be used as a lampshade with a floor lamp OR as an installed fixture. And I'm sure the kit would have worked fine BUT it didn't include a cap, so when we removed the old fixture and tried to put this one in, that meant there was a big hole in the ceiling where the old ugly cap was! So we went to Lowe's and got a cap, installed it along with their wiring kit, and I couldn't be happier with it.

I have had the worse experience with purchase at West Elm! Their products are amazing but what good is that if their attention to customers is SO BAD! I ordered a set of dinnerware as a gift - paid delivery for a 'specific' date. The plates were lost and not delivered on time - I never received a courtesy call or email notifying of the delay. When I called for a refund, customer service was SO RUDE, giving all sorts of excuse why I could NOT get a refund!!! Will never buy from them again!

Spent $1300 on a dresser, spent another $100 on white glove delivery. It took three months to get the first one, when they delivered it it was broken and pretty scratched up. One of the delivery guys alerted me to the scratches, I went outside to find the other guy using a black permanent marker to try and cover up the scratches. He was very upset at the other delivery guy for telling me. I sent it back with them.
I told West Elm that for that price I wanted another. They sent one, but it didn't come for another four months. When it did, the front of one of the drawers was very badly damaged and falling off. I called Customer Service while the driver was at my house and they said to keep it and they'd send another. That never happened. When I called to find out about the new dresser they claimed that had no record. When I said I wanted a refund they said they could only issue it if they came and picked it up. I asked how long that would take and they told me it'd be several months. On the other hand they said they could deliver a new one in 3 weeks. Like an idiot I agreed to that. Now three months later I just got a form letter in the mail informing me that they are out of that dresser and won't have it available for delivery for another 6 weeks. No one even bothered to call me. Stay away from this company!!!

I ordered some chairs for my office lobby 3 weeks ago. A customer service rep call and tells me they are overwhelmed with the orders for these chairs and it will be weeks before they are available and she will call back to let me know when they will ship. Then she leaves a message saying since they are an additional 8-10 weeks out she canceled the order without speaking to me. I called back and another rep tells me the chairs are permanently out of stock. Which is it? Are they backordered or not available and why would it take 3 weeks to get this information. I will be ordering new chairs, but not from West Elm. Terrible customer service.

It was a great experience and everyone was great. I'd definitely go back again. I love shopping at West Elm! Every time I go I find something new.

The customer service here was great. They have really friendly as well as knowledgeable staff in this place. Very kind staff and they are also very helpful. The delivery options were great here at this place. Always on time. They are very professional. A lot of brands and shades. Never disappointing when you come here because they have so many items to choose from. Great elements and themes. Over the top quality. Excellent in all aspects. The type of quality you would be willing to pay high prices for. I love this place and the quality of the items.

Our customer service experience with Ashley Furniture was good. They were very professional and kind. They cared for our concerns and took very good care of us. We didn't need delivery but they told us of all available options and they were very detailed in their explanation. The variety at the furniture store we visited was minimal at best. The store was huge however the variety wasn't what we expected at all. We were told the product was top of the line and that it would be sturdy and well usable without problems. The sofa and chair are both broken after less than 2 years.

They were friendly at the store and helpful to find what I needed. The wrong sized pillow case was in the package that I bought. I called the store when I realized it and they were able to locate the correct size in stock for me, even though the item was on final sale and they had very limited supply. I did not order anything via delivery. Store has a good variety. Wish more of their items were on sale at the same time though. Good quality. Washes well. No problems so far.

They offer timely help and great service. Always ready to help when needed. They also inspire us in buying new designs. They inform us about new offers and upcoming designs and offers. Delivery options are many to choose from free home delivery to store pick up. They ship domestically and internationally. They offer express and standard shipping services as well. They have up to date designs. They have many options to choose from and designs to offers. They have degree of excellence in quality. The standard of maintaining the quality to up to the mark. Distinctive attribute in maintaining the quality of the store and the designs.

Knowledgeable, friendly, great service all around. Not pushy sales people or keeping on your toes to sell you something. Comfy furniture and clean showrooms. On time, fast, reliable and knowledgeable of equipment and furniture - the placement of furniture they make sure you are satisfied before leaving you. Great variety of furniture and quality is outstanding and strong and tough... get thru my 3 year jumping on the furniture even when asked not to take a licking and keeps standing. Strong reliability, nice colors and fabrics, comfy all around, the best furniture I have owned out of others. Yes I would recommend it.

Customer service was pretty standard to the norm. Nothing too fancy. Were somewhat attentive to our needs as a whole in general. Was a reasonably good experience overall. Delivery options were pretty acceptable. They were flexible in setting up a time that would better suit their customer than rather arranging events to better suit themselves. They had many varieties of home furnishings to choose from that were colorful and had a modern appeal to them. Most items were designed with high quality appeal them. The quality of their home furnishings was pretty good overall. They carried many top name brand items to choose from.

They were very helpful. They made sure I was taken care of and answered all of my questions and didn't get annoyed with me. Great customer service overall.
They are awesome. They gave me options and I picked what the best option for me was. Great and helpful employees. They are wonderful! I would recommend them just based off of service! They have wonderful variety - many different options to choose from and all great pieces. I was actually very impressed with the variety of products available! The quality of their products superseded my expectations. I was actually pleasantly surprised by how well built and quality these products are!

Very attentive and informative. We had questions about a certain item, as well as shipping and a promotion that was going on, and the person we were working with was very knowledgeable, friendly, and attentive. Made us feel welcome and like we weren't being a bother. Had shipping available and we discussed with the associate we were working with and the pricing of delivery, if we could get it free, and what steps we needed to take. The store had a lot of variety, with different styles of furniture and pricing. We were able to find a few items that for our styles within a price range that fit our budget. Good quality with good variety. Haven't had any issues with our purchase and it holds up well to pets. We bought some nice items that look expensively made, but we're bought at a reasonable price.

Easy customer service. Everything was so great and easy. If I had any questions for any associate they always had the answers and I was never left waiting.

ConsumerAffairs Research Team
The ConsumerAffairs Research Team believes everyone deserves to make smart decisions. We aim to provide readers with the most up-to-date information available about today's consumer products and services.
West Elm is a branch of Williams-Sonoma, Inc., that was founded in 2002. Ninety percent of their products are designed in-house from organic and sustainably sourced materials.
Fair Trade Certified™: All of West Elm's products are Fair Trade Certified™. Fair Trade is a movement that creates sustainable opportunities for workers through trade agreements. A percentage of product cost at West Elm is paid directly to a worker's fund.
West Elm LOCAL: The West Elm LOCAL program finds local workers and features their products in West Elm stores. This program builds local economies and grows small businesses.
Design services: West Elm offers services like room planners, inspiration articles and consultations with stylists and designers. Costs for consultations can vary.
West Elm blog: West Elm's blog contains posts about company news, design trends, lifestyles and consumer profiles. The blog also contains links to guest features from publications like Architectural Digest and The Atlantic.
Brand extensions: West Elm's various branches include West Elm Workspace, West Elm Hotels and West Elm To the Trade. These groups focus on workspace products, hospitality products and trade deals for brands respectively.
Best for West Elm is best for businesses and consumers who want to support local workers and Fair Trade with their purchases.
Company Name:

West Elm

Website:

http://www.westelm.com/