Plushbeds
ConsumerAffairs Unaccredited Brand
Plushbeds is a mattress company offering a line of three latex mattresses. These mattresses are known for their luxurious materials, durability and silence. Plushbeds also has several memory foam mattresses, toppers, adjustable beds and sleep accessories.
BOTTOM LINE
Plushbeds offers three lines of latex mattresses sure to satisfy even the most finicky sleepers. High-end materials help ensure a cooler sleep and a durable mattress.
PROS
Cooling latex
Durable
25-year warranty
Nearly noiseless
Latece of Decatur, GA
Verified Reviewer
I feel like it was a perfect fit, and it was different than other mattresses I have tried out before. I like how soft and very very relaxing it is.
Read Full Review
A. of Burbank, CA
Verified Reviewer
I rarely love any brand but this organic natural latex bed is a dream! We have recommended to family and friends and all love their beds as well.
Read Full Review
Thanks
Keep an eye on your inbox, the lastest consumer news is on it's way!
Are you this business?
Learn more
About Plushbeds mattresses
Plushbeds sell high-end, quality mattresses at a competitive price. The mattresses feature latex for comfort, durability and a cooling night's sleep. The Botanical Bliss and Natural Bliss lines are fully latex, while the Luxury Bliss Collection is a hybrid line with a mix of high-end latex and traditional innerspring technology. Mattresses can be returned after a 30-day break-in period, and the full trial lasts 100 nights. However, each Plushbeds mattress has a 25-year warranty.
| | | |
| --- | --- | --- |
| 120-night risk-free trial | Free shipping & returns | Hand-made in California |
Plushbeds mattress construction and materials
The Botanical Bliss Collection mattresses come in 9-inch, 10-inch and 12-inch designs. Each mattress has three layers of Dunlop latex and an organic cotton cover. The Natural Bliss Collection mattresses come in 6-inch, 8-inch and 10-inch options. Each has a latex core for support and an organic cotton cover. Four firmness settings are available. The Luxury Bliss mattress is a hybrid, meaning it combines modern materials with traditional innerspring technology. It's 12 inches tall, has three inches of Dunlop latex over inner coils and is a medium firm mattress.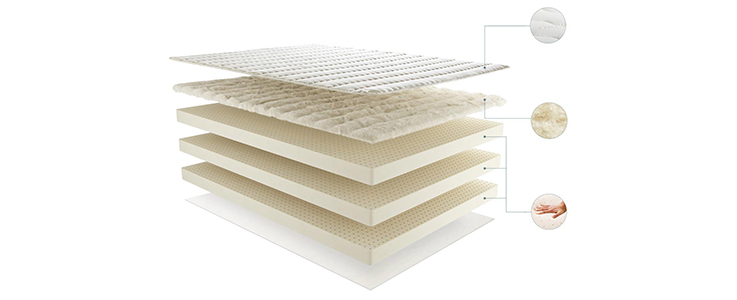 Plushbeds mattress comfort
Customers can easily adjust the firmness of any Botanical Bliss Collection mattress by switching the order of the layers. The three firmness options then, in effect, are Firm, Medium Firm or Medium. The Natural Bliss mattresses have one inch of Talalay latex in the 8-inch model and two inches in the 10-inch model. All mattresses offer pleasant conforming, and Plushbeds reviewers mention the mattresses may relieve some back and joint pain.
Firmness: Plushbeds latex mattresses are available at the following firmness levels: 3.5, 5.5, 6 and 7.5. That's a wide range that will accommodate most people's preferences.
Sleeping position: Each of Plushbeds' mattresses accommodates all three sleeping positions: side, back and stomach.
Motion transfer: Every Plushbeds mattress does a good job absorbing motion from someone getting up from the bed or turning in their sleep.
Edge support: The innersprings in the hybrid Luxury Bliss bed help make for excellent edge support. Edge support in the two fully latex mattresses is fair, and you can expect some sinkage.
Sleeping hot: The latex/innerspring Luxury Bliss sleeps very cool. The fully latex Botanical Bliss and Natural Bliss lines aren't quite as cooling but still do a good job.
Plushbeds mattress prices
Plushbeds mattresses are built with premium, eco-friendly materials, including high-quality latex. For that reason, they sell at a higher price. However, they offer a superior night's sleep. If you are looking for a high-end mattress that does its job well, Plushbeds are a good option.
| Mattress size | Botanical Bliss 9" | Natural Bliss 6" | Luxury Bliss |
| --- | --- | --- | --- |
| Twin | $1,099 | $799 | $999 |
| Twin XL | $1,099 | $899 | $1,099 |
| Full | $1,499 | $1,199 | $1,299 |
| Queen | $1,599 | $1,299 | $1,499 |
| Split Queen | $1,998 | N/A | N/A |
| King | $1,899 | $1,499 | $1,799 |
| Split King | $2,098 | $1,698 | $2,098 |
| California King | $1,899 | $1,499 | $1,799 |
| Split California King | $2,098 | N/A | N/A |
Are Plushbeds mattresses good?
Plushbeds mattresses are a great choice if you're looking for a high-end, latex mattress made of the finest materials. Their three collections offer a variety of firmness options that will satisfy most people. You can also choose from various thickness levels. Plushbeds succeed in offering a durable, cooling and nearly silent mattresses.
A link has directed you to this review. Its location on this page may change next time you visit.
Page 1 Reviews 1 - 10
Billy of Riverview, FL Verified Reviewer
Original review: March 2, 2019
This was one of my favorite mattresses I have ever slept on. They are extremely comfortable and after many uses, I see how much comfort is provided by this brand and their mattresses. However, they're very expensive and I only was able to use it when staying at a family members place and visiting them. I would improve the price, not everyone can afford it. If able to afford it, I would buy it completely on the spot. But everything that night while sleeping on it was great. I slept the longest I had in a very long time.
2 people found this review helpful
M of Milwaukee, WI Verified Reviewer
Original review: Feb. 26, 2019
I went to the store to buy a mattress and it took what felt like forever. I tried numerous different mattresses and numerous different brand then finally I chose the one I bought as it was the best one I thought for myself. I had to choose a really good brand and type of mattress that I knew would be so comfy so I knew I could sleep well the whole night and I knew that I wouldn't wake up at all.
Be the first one to find this review helpful
Thank you, you have successfully subscribed to our newsletter!
Enjoy reading our tips and recommendations.
We value your privacy. Unsubscribe easily.
Sara of Markham, IL Verified Reviewer
Original review: Feb. 25, 2019
This mattress was a promotional item which had money taken off and it felt like a superior brand of mattress. But I think the bed is way too high for an average person that is not tall. I do not believe an elderly person could get into this bed. And I believe a bed this tall should have guardrails. However, it reclines your head, it vibrates also giving you a back massage and it elevates your feet at night for maximum comfort. I also like the thread count of 300, it is what makes it extremely soft.
Be the first one to find this review helpful
Latece of Decatur, GA Verified Reviewer
Original review: Feb. 24, 2019
I feel like it was a perfect fit, and it was different than other mattresses I have tried out before. I like how soft and very very relaxing it is. It feels nice to the touch. It is easy to fall asleep on and get a good nights rest. But sometimes the mattress feel a bit more sunken in like you would fall straight through. It sinks in so far, it feels like a balloon that busted. Other than that, I really have no issues. It is well worth the money and it is one of the best purchases I ever made.
Be the first one to find this review helpful
Creighton of Mobile, AL Verified Reviewer
Original review: Feb. 17, 2019
I went into the store and laid on the mattress and then just said this is the one for me. I just bought it right on the spot and have enjoyed it since then. It is so soft and it feels great to lay down in, and I would not have anything else to sleep on personally. Having a good night sleep is very important to me. I just love this brand very much. But I wish there was a remote control to wake up you from sleep. That would be neat to have.
Be the first one to find this review helpful
How do I know I can trust these reviews about Plushbeds?
2,102,561 reviews on ConsumerAffairs are verified.
We require contact information to ensure our reviewers are real.
We use intelligent software that helps us maintain the integrity of reviews.
Our moderators read all reviews to verify quality and helpfulness.
For more information about reviews on ConsumerAffairs.com please visit our FAQ.
R. of Lancaster, PA Verified Reviewer
Original review: Nov. 6, 2019
I googled a pillow that is good for stomach sleepers and came across Plushbeds. I ordered the z encased down pillow and when I received it specifically said for back and side sleepers. Needless to say I wanted to return it but their customer service is awful. Never gave me an order number just thanked me for my order. I finally got a hold of customer service to which they replied it was ordered from a third party company, Malouf and their policy is no returns. If I wanted to return it the cost would be 29.00 and the pillow was 39.00 so they basically said keep it. This however did not satisfy me so I filed a Complaint with the Better Business Bureau. This is one of the worst companies I have ever dealt with. They said that the return policy is on their home page but I cannot find it anywhere. It only talks about their mattresses. I will keep you posted...
Be the first one to find this review helpful
J of Denver, CO Verified Reviewer
Original review: Oct. 12, 2019
I purchased a Botanical Bliss bed from PlushBeds in late August partly because if the 100 night sleep trial. (Which is not what it seems!) We basically like the mattress but it is not as amazing as we thought and wanted to check options for adding additional layers. I have called repeatedly for weeks and am always put on hold and then cut off. Today I reached a woman in new orders. I told her what I wanted to do and she said "Ok I am transferring your call, if you get cut off call back." Ha, ha the same cycle all over again. They are only accepting new orders and the joke is on the consumer! I would NOT buy from them again. Complete
B.S.! Go ELSEWHERE! I should have known as they say they are organic and eco friendly yet the "accessories" they send "free" are crappy polyester and not eco friendly at all. Should have gone with another brand. Live and learn.
Be the first one to find this review helpful
Customer increased Rating by 2 stars!
K. N. of Brooklyn, NY Verified Reviewer Verified Buyer
Resolution response: Sept. 12, 2019
Customer Service emailed me with an apology and let me know that they have asked that the mattress be sent back to them, also that they will honor my request and will reship when I tell them to. I am pleased with this and relieved. However, since this mistake was careless and it was made despite my best efforts, I am still somewhat apprehensive about the other details of my order. I sincerely hope that the make up of the mattress layers will be correct. Thankfully, I am not quite as apprehensive about this as I was before Customer Service rectified the shipping mistake and I will update again after I receive the mattress.
Original review: Sept. 11, 2019
I have a mattress on the way from this company. I specifically asked them to delay shipping, which they say on their site they do, and which I was assured would be done. But my mattress was shipped out right away despite all this. In addition, my order confirmation does not reflect at all what I ordered: the customization of my mattress that I spent half an hour on the phone figuring out with Plushbeds' "specialist."
When I called to ask why this was (and confirm, yet again, that my mattress shipment was being held off till I gave notice), I was assured that everything was in order, that the mattress I would eventually be getting would be exactly the mattress I ordered (no matter that the confirmation description bore no resemblance whatsoever to it!) and that I should call again ten to twelve days before I wanted my mattress delivered. Yet here I am with a mattress on the way. Needless to say, at this point, I have no confidence in anything I was told. I do not trust this company. I think it is very poorly run and that the customer means nothing to them.
View more
Be the first one to find this review helpful
Strph of San Jose, CA Verified Reviewer
Original review: Aug. 29, 2019
Mattress and layers don't hold up! I've had it less than 2 years and it's heavily indented and was constantly flipping layers just to tolerate it. I spent $2200 for what is essentially garbage. I finally attempted a warranty claim. I was required to take pictures and disassemble the layers which is difficult because it's heavy. 2 out of 3 layers were dented and defective. They offered replacement of one layer. The product is crap. I don't want a replacement of more crap. Their 25 year warranty is bogus because the bed won't last past a year or two. DON'T BUY FROM THIS COMPANY.

4 people found this review helpful

B of Birmingham, AL Verified Reviewer
Original review: Aug. 26, 2019
Bought from Plushbeds a few months ago and I'm absolutely thrilled! My wife and I to a leap and bought a mattress online and we absolutely love the mattress. My wife had been researching mattresses with organic materials and we decided to go with Plushbeds and we are completely happy with everything!
Be the first one to find this review helpful
Plushbeds Company Information
Company Name:

Plushbeds

Website:

www.plushbeds.com