Plushbeds
Plushbeds is a mattress company that specializes in manufacturing latex mattresses. Its mattresses and products are made in the U.S. from eco-friendly organic latex. Plushbeds also makes memory foam mattresses and adjustable beds.
Overall Satisfaction Rating
5 stars

4 stars

3 stars

2 stars

1 stars
Pros
Cooling latex
Durable
25-year warranty
Nearly noiseless
Cons
Bottom Line
Plushbeds offers three lines of latex mattresses sure to satisfy even the most finicky sleepers. High-end materials help ensure a cooler sleep and a durable mattress.
Top Plushbeds Reviews
How do I know I can trust these reviews about Plushbeds?
4,008,098 reviews on ConsumerAffairs are verified.
We require contact information to ensure our reviewers are real.
We use intelligent software that helps us maintain the integrity of reviews.
Our moderators read all reviews to verify quality and helpfulness.
For more information about reviews on ConsumerAffairs.com please visit our FAQ.
Latece of Decatur, GA
Verified
I feel like it was a perfect fit, and it was different than other mattresses I have tried out before. I like how soft and very very relaxing it is. It feels nice to the touch. It ...
Read full review
A. of Burbank, CA
Verified
I rarely love any brand but this organic natural latex bed is a dream! We have recommended to family and friends and all love their beds as well. The price is more than a conventi...
Read full review
About Plushbeds mattresses
Plushbeds sell high-end, quality mattresses at a competitive price. The mattresses feature latex for comfort, durability and a cooling night's sleep. The Botanical Bliss and Natural Bliss lines are fully latex, while the Luxury Bliss Collection is a hybrid line with a mix of high-end latex and traditional innerspring technology. Mattresses can be returned after a 30-day break-in period, and the full trial lasts 100 nights. However, each Plushbeds mattress has a 25-year warranty.
| | | |
| --- | --- | --- |
| 120-night risk-free trial | Free shipping & returns | Hand-made in California |
Plushbeds mattresses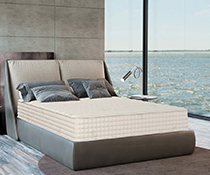 Our top pick for Plushbeds
Plushbeds
Botanical Bliss
$2,699 (queen) as of publishing date
Made from certified organic latex, cotton and wool. Mattress is anti-microbial and resistant to dust mites. Recommended by orthopedic specialists and chiropractors for pressure point relief and support. Available in heights from 9 inches to 12 inches.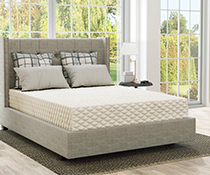 Plushbeds
The Natural Bliss
$1,899 (queen) as of publishing date
Designed to relieve aches and pains. Made in the U.S. with natural latex and organic knitted cotton. It's vegan and free of synthetics or toxic chemicals. Heights range from 6 inches to 10 inches. Choose comfort levels from soft to extra firm.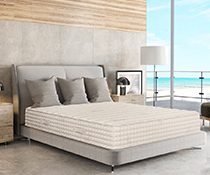 Plushbeds
The Luxury Bliss
$2,399 (queen) as of publishing date
Features motion-isolating coils and organic latex to help keep your spine in a natural position during sleep. Includes organic cotton cover and wool fire barrier. Good for side sleepers or anyone who wants the buoyant support of a hybrid latex mattress.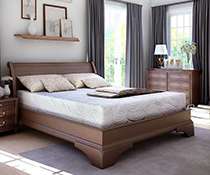 Plushbeds
The Ocean Bliss
$1,949 (queen) as of publishing date
Constructed with gel memory foam, high-density foam, a supportive mattress core and sturdy orthopedic foundation. Improved airflow helps to dissipate heat and wick away moisture. Includes four-way stretch cover.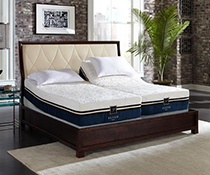 Plushbeds
The Cool Bliss
$2,549 (queen) as of publishing date
Maximizes air flow to create circulation throughout your new mattress. Five comfort layers include a cooling cover, gel memory foam, natural latex and a 5-inch core. Higher-density polyurethane prevents sagging and evenly distributes support.
Plushbeds mattress construction and materials
The Botanical Bliss Collection mattresses come in 9-inch, 10-inch and 12-inch designs. Each mattress has three layers of Dunlop latex and an organic cotton cover. The Natural Bliss Collection mattresses come in 6-inch, 8-inch and 10-inch options. Each has a latex core for support and an organic cotton cover. Four firmness settings are available. The Luxury Bliss mattress is a hybrid, meaning it combines modern materials with traditional innerspring technology. It's 12 inches tall, has three inches of Dunlop latex over inner coils and is a medium firm mattress.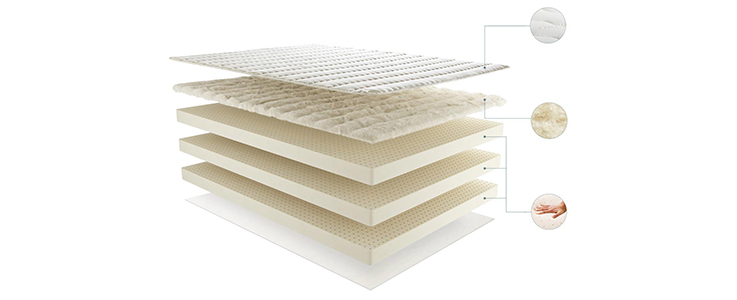 Plushbeds mattress comfort
Customers can easily adjust the firmness of any Botanical Bliss Collection mattress by switching the order of the layers. The three firmness options then, in effect, are Firm, Medium Firm or Medium. The Natural Bliss mattresses have one inch of Talalay latex in the 8-inch model and two inches in the 10-inch model. All mattresses offer pleasant conforming, and Plushbeds reviewers mention the mattresses may relieve some back and joint pain.
Firmness: Plushbeds latex mattresses are available at the following firmness levels: 3.5, 5.5, 6 and 7.5. That's a wide range that will accommodate most people's preferences.
Sleeping position: Each of Plushbeds' mattresses accommodates all three sleeping positions: side, back and stomach.
Motion transfer: Every Plushbeds mattress does a good job absorbing motion from someone getting up from the bed or turning in their sleep.
Edge support: The innersprings in the hybrid Luxury Bliss bed help make for excellent edge support. Edge support in the two fully latex mattresses is fair, and you can expect some sinkage.
Sleeping hot: The latex/innerspring Luxury Bliss sleeps very cool. The fully latex Botanical Bliss and Natural Bliss lines aren't quite as cooling but still do a good job.
Plushbeds mattress prices
Plushbeds mattresses are built with premium, eco-friendly materials, including high-quality latex. For that reason, they sell at a higher price. However, they offer a superior night's sleep. If you are looking for a high-end mattress that does its job well, Plushbeds are a good option.
| Mattress size | Botanical Bliss 9" | Natural Bliss 6" | Luxury Bliss |
| --- | --- | --- | --- |
| Twin | $1,099 | $799 | $999 |
| Twin XL | $1,099 | $899 | $1,099 |
| Full | $1,499 | $1,199 | $1,299 |
| Queen | $1,599 | $1,299 | $1,499 |
| Split Queen | $1,998 | N/A | N/A |
| King | $1,899 | $1,499 | $1,799 |
| Split King | $2,098 | $1,698 | $2,098 |
| California King | $1,899 | $1,499 | $1,799 |
| Split California King | $2,098 | N/A | N/A |
Are Plushbeds mattresses good?
Plushbeds mattresses are a great choice if you're looking for a high-end, latex mattress made of the finest materials. Their three collections offer a variety of firmness options that will satisfy most people. You can also choose from various thickness levels. Plushbeds succeed in offering a durable, cooling and nearly silent mattresses.
A link has directed you to this review. Its location on this page may change next time you visit.
How do I know I can trust these reviews about Plushbeds?
How do I know I can trust these reviews about Plushbeds?
4,008,098 reviews on ConsumerAffairs are verified.
We require contact information to ensure our reviewers are real.
We use intelligent software that helps us maintain the integrity of reviews.
Our moderators read all reviews to verify quality and helpfulness.
For more information about reviews on ConsumerAffairs.com please visit our FAQ.
Page 1 Reviews 0 - 10
Jason of Washington, DC

Verified Reviewer
Original review: Sept. 4, 2022
I would stay away from Plushbeds if you are looking for sheets that are made by them and the exact ones that are on their site. We ordered Tencel sheets from them, and we received ours from a completely different third party. When we called, they said that was their normal procedure. The sheets were similar, but it was a slightly different size than we ordered, and would be different if you ordered based on them being marketed as made in the USA. The fact that they do not list this anywhere on the order, and they still charge for returns, is very deceptive. I would stay away if you want the exact product that they list on their site.
Be the first one to find this review helpful
Jewel of Phoenix, AZ

Verified Reviewer
Original review: May 9, 2022
This is my 2nd time trying to get my review on here. I don't know why it wasn't approved to begin with. I bought the Organic king mattress. Before buying, my husband and I had been sleeping on blankets on our floor for 18-months. We slept good, but knew that we should have a bed. We bought the mattress, and thought we would like it. We were asked to submit a purchase review at the time of sale, versus after sleeping on it. This is why we are now reviewing it.
We had had the mattress over 1 year now, and both do not like it. It is flimsy. When we try to stand it up to flip it over and vacuum under the bed, it won't lean against the wall. This tells you that there is no support. But that is just an illustration. I can tell you that immediately after sleeping on it we both developed back aches. I would not recommend this mattress. We bought the highest firm rating one they make, and it is not firm.
3 people found this review helpful
Thank you, you have successfully subscribed to our newsletter! Enjoy reading our tips and recommendations.
bekibecca of Rosharon, TX

Verified Reviewer
Original review: Jan. 28, 2022
I got the toppers back in November 2021, it arrived somewhere in December. The shipping was delayed for about 2 weeks. I have been suffering from lower back pains since 2018 but was the level of pain last year has not been too bad. I was in desperated need to get a good back before the Christmas break so I decided to get an extra firm bed topper to help eliminate the back pain or at least relieve it a bit. Lets just say, that was a nightmare. On the first night, I woke up with excruciating pains that I could barely walk.
This pain was worse than I have ever experienced. I decided to give it a try again and by the 3rd day my whole body was sore. I called to make a return but I was told toppers are not returnable. After spending almost $400 on a topper, I can't return it when I only slept on it for 3 nights and in a worse condition after? It's 1.27.22 as I leave this review and I am still recovering from the excruciating pain I experienced after sleeping on the topper. Please don't waste your money!!
Read full review
7 people found this review helpful
Keith of Jacksonville, FL

Verified Reviewer
Original review: Dec. 29, 2021
I ordered a 3 inch latex mattress topper. The first one arrived torn in multiple places and I was responsible for sending it back. The second arrived and was also slightly torn, I was informed that the topper never had to be flipped or rotated because it was meant for 250+ lbs people. So, it would not sag at all, this could not be further from the truth. Just after about a month you could see a permanent indention where I sleep and I am far from 250+ lbs at the mere 185. Now it cause hip, shoulder and back pain. The entire purpose of the purchase was to help prevent back pain due to herniated disc in my lumbar area. I would not recommend purchasing any product from this company as their products do not live up to expectation!!
10 people found this review helpful
Shivan of Santa Monica, CA

Verified Reviewer
Resolution response: Dec. 16, 2021
I'm working with this company's external counsel who has reached out to me to work through this problem. Before commenting on whether they will work with me, they want me to update this review to reflect that they are confident that there is no fiberglass in their product. I believe them in what they are saying, but I still see hydrated silica particles in the air, furniture, clothing, floors and walls. So while it is not fiberglass, it is certainly fiberglass-like. After 4 weeks, we are still suffering from respiratory issues.
Original review: Nov. 21, 2021
I purchased 2 6" natural bliss twin sized mattresses in June of 2020. They were advertised as mold resistant and fiberglass free. In Nov 2021, we found mold on both beds. After removing the mold, we put the covers back on the mattresses, and in doing so, found that the covers released miniature fiberglass shards all over our home. This stuff is covering everything - walls, floors, bedding, blankets, clothes, furniture - you name it. We can't get it off. We've tried wiping, wet wiping, vacuuming, HEPA vacuuming, HEPA (.3 micron) air purifiers, .1 micron air purifiers and nothing works. It's everywhere.
Calling customer support is useless. I've called 4 times, each time being told I'll be called back by a manager. Nothing. I can't even get them to answer what kind of material/fiber this is so I can break it down and get it out of my home. I've had to move out of my home now and my family is having breathing issues caused by these shards. We are having to destroy all the mattresses, clothes, furniture in our home to get rid of these shards. Complete crooks - took our money, won't support us, and now we are losing all our personal possessions in our home because of a horribly made product.
Read full review
16 people found this review helpful
Cheryl of Tucson, AZ

Verified Reviewer Verified Buyer
Original review: Oct. 21, 2021
I did the 100 day sleep trial and on the 100th day I called them and emailed to say I didn't like the bed; they never answered the phone. I called 3 or 4 more days with the same non-response. I finally got through via a 'chat'. I was told I went over the 100 day mark which I didn't. I then told them that the bed was sinking in the middle over an inch, which it was. They wanted me to crawl under the bed to measure the middle and all ends; the bottom of the bed frame is a bit over 7 inches from the floor. I told them I couldn't do it, I'm 71 years old with a bad back and neck. I emailed them again to say I didn't miss the 100 day trial and that I didn't like the bed without response. Is this company a real company or a scam? It appears not answering their phone is purposeful to avoid returns. I'm out $1600.


18 people found this review helpful
C M of Vancouver, Other

Verified Reviewer
Original review: Oct. 18, 2021
I have had one of their latex mattresses for only 3 years and it has compressed so much in the center that it looks and feels like a 15-year-old mattress. Not good quality or very comfortable past the first year. My last mattress was a much much cheaper mattress but it was still holding up better at 15 years than this one is at 3 years. Very disappointed.
9 people found this review helpful
James of Barrington, NH

Verified Reviewer Verified Buyer
Original review: Sept. 2, 2021
In less than a year, the mattress sagged over 1.5 inches. Both the mattress and platform were purchased at the same time. When I contacted customer service they first asked for a series of photos which I provided. Then they asked me (after putting the bed back together) to take the entire bed apart and measure each piece (since we have a king made up of two twins that equals 6 individual foam pieces and removing all bedding each time). In any case, they wore me out and I finally just accepted the fact that I was stuck with almost $5k of unacceptable mattresses. I would not recommend purchasing a mattress from this company.
20 people found this review helpful
Jewel of Phoenix, AZ

Verified Reviewer
Original review: Aug. 23, 2021
We had to save up for this mattress. We were sleeping on our brand new carpet in the bedroom, with a thick queen blanket for support. My husband and I never had any back in. We slept on the floor for over 12 months. Then we saw the sale and bought the Plush Beds Luxury Bliss Mattress, in the firmest option they have, which is the Medium Firm. Instantly upon arrival, we noticed the lack of structural support. Realizing this could just be an observation before putting it together, we went ahead and assembled in. As you see in other reviews, it comes in 2 pieces. We assembled and then put it on our new King Size bed.
Within 1 week you could see the indentations where we had slept, leaving this hump in the middle all the way down the bed. I weigh 110 and my husband weighs 140. We are small. Within the first week we both started to feel aches from it. My husband, who is quite fit and never has ever complained of aches or stiffness was complaining. My pain was more severe, intense. We both never had one ache or pain while sleeping on the floor! Isn't that crazy? This mattress is awful for support.
We have also tried to make it better by buying a very firm and filled mattress topper and putting a thick comforter on it. Nothing reduces the pain. We have also tried to watch TV in bed, while sitting upright against the headboard, but our derrière sinks into it, and it's a very uncomfortable feeling trying to watch TV. You feel like you are sinking. My back pain became very intense. So intense I couldn't reach to tie my shoes, from the pain.
I also remember that RIGHT after I checked out online, IMMEDIATELY a "PLEASE REVIEW US" Box shows up on the computer. I believe it said "to receive a free sheet set." We X'ed out, but immediately got a vibe that this is how they are getting so many good reviews, and that "I wonder if this mattress is really all that." Well, if you are on the fence of this mattress or another company's mattress, please spend the few extra hundred dollars and go with another brand. A little more now will save you a lot more pain later. I hope my experience can help you. Note about me: I exercise daily, am very fit, and young. My back pain is associated ONLY with this mattress.
Read full review
20 people found this review helpful
Marissa of Grosse Pointe, MI

Verified Reviewer Verified Buyer
Original review: Aug. 8, 2021
This has been my single worst experience with a mattress and customer service I've ever had. To start the mattress took longer than promised to receive. I ordered the three layer 12" mattress and it shipped in three separate packages with one box for the sheet set, a second box for the two top foam layers and mattress protector, then a third box for base foam layer and organic cotton mattress cover that zips the layers together (terrible concept). So you assemble the bed yourself. It is not easy to wrestle with latex foam by the way.
The real trouble came when the third box with the base foam layer and organic cotton cover never arrived, not once but TWICE when attempted to ship to my home. So for weeks we had two sets of two top latex foam layers (4 total). This was not the way the bed was meant to be so it was definitely uncomfortable, but it was the only "bed" we had while we waited for a solution. The only solution offered to us was to ship back what we had for a refund (the original boxes had been beat up and broken down and the foam was shrink-wrapped so that was impossible). We couldn't send back this mattress without an entirely new mattress ready to go so we researched again and in the meantime, weeks go by, we get a random call from FedEx and delivery of the missing base layer and zipper cover. We finally had a complete mattress (without help from Plushbeds who threw their arms up after the second delivery attempt and second lost package).
Once we had the complete mattress it was again, very difficult to set up. Latex foam is bulky, doesn't lay right, and sticks to each other. The mattress had an off gassing smell for a while (supposedly non-toxic…). And the mattress was too firm, definitely a lay on top of feel with no pressure relief and we are not small people. I had to do my own work to find someone reliable in customer service to speak to. Once I did, they were nice but dismissive (ie "This has never happened before"). Calls were answered very unprofessionally after hours. The whole experience and mattress itself has been terrible. I would most definitely not recommend Plushbeds.
Read full review
19 people found this review helpful
Plushbeds Company Information
Company Name:

Plushbeds

Website:

www.plushbeds.com
You're signed up
We'll start sending you the news you need delivered straight to you. We value your privacy. Unsubscribe easily.