Find a Mattress Brands partner
Our promise. We provide a buying advantage with verified reviews and unbiased editorial research.
About Plushbeds
Plushbeds is a mattress company that specializes in manufacturing latex mattresses. Its mattresses and products are made in the U.S. from eco-friendly organic latex. Plushbeds also makes memory foam mattresses and adjustable beds.
Pros & Cons
Pros
Cooling latex
Durable
25-year warranty
Nearly noiseless
Bottom Line
Plushbeds offers three lines of latex mattresses sure to satisfy even the most finicky sleepers. High-end materials help ensure a cooler sleep and a durable mattress.
Top Plushbeds Reviews
I feel like it was a perfect fit, and it was different than other mattresses I have tried out before. I like how soft and very very relaxing it is. It feels nice to the touch. It ...
Read full review
I rarely love any brand but this organic natural latex bed is a dream! We have recommended to family and friends and all love their beds as well. The price is more than a conventi...
Read full review
About Plushbeds mattresses
Plushbeds sell high-end, quality mattresses at a competitive price. The mattresses feature latex for comfort, durability and a cooling night's sleep. The Botanical Bliss and Natural Bliss lines are fully latex, while the Luxury Bliss Collection is a hybrid line with a mix of high-end latex and traditional innerspring technology. Mattresses can be returned after a 30-day break-in period, and the full trial lasts 100 nights. However, each Plushbeds mattress has a 25-year warranty.
| | | |
| --- | --- | --- |
| 120-night risk-free trial | Free shipping & returns | Hand-made in California |
Plushbeds mattresses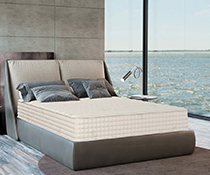 Our top pick for Plushbeds
Plushbeds
Botanical Bliss
$2,699 (queen) as of publishing date
Made from certified organic latex, cotton and wool. Mattress is anti-microbial and resistant to dust mites. Recommended by orthopedic specialists and chiropractors for pressure point relief and support. Available in heights from 9 inches to 12 inches.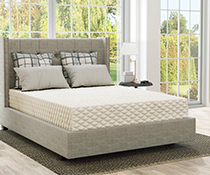 Plushbeds
The Natural Bliss
$1,899 (queen) as of publishing date
Designed to relieve aches and pains. Made in the U.S. with natural latex and organic knitted cotton. It's vegan and free of synthetics or toxic chemicals. Heights range from 6 inches to 10 inches. Choose comfort levels from soft to extra firm.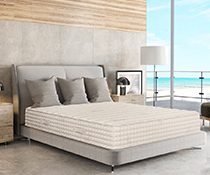 Plushbeds
The Luxury Bliss
$2,399 (queen) as of publishing date
Features motion-isolating coils and organic latex to help keep your spine in a natural position during sleep. Includes organic cotton cover and wool fire barrier. Good for side sleepers or anyone who wants the buoyant support of a hybrid latex mattress.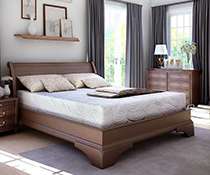 Plushbeds
The Ocean Bliss
$1,949 (queen) as of publishing date
Constructed with gel memory foam, high-density foam, a supportive mattress core and sturdy orthopedic foundation. Improved airflow helps to dissipate heat and wick away moisture. Includes four-way stretch cover.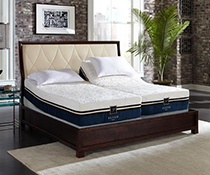 Plushbeds
The Cool Bliss
$2,549 (queen) as of publishing date
Maximizes air flow to create circulation throughout your new mattress. Five comfort layers include a cooling cover, gel memory foam, natural latex and a 5-inch core. Higher-density polyurethane prevents sagging and evenly distributes support.
Plushbeds mattress construction and materials
The Botanical Bliss Collection mattresses come in 9-inch, 10-inch and 12-inch designs. Each mattress has three layers of Dunlop latex and an organic cotton cover. The Natural Bliss Collection mattresses come in 6-inch, 8-inch and 10-inch options. Each has a latex core for support and an organic cotton cover. Four firmness settings are available. The Luxury Bliss mattress is a hybrid, meaning it combines modern materials with traditional innerspring technology. It's 12 inches tall, has three inches of Dunlop latex over inner coils and is a medium firm mattress.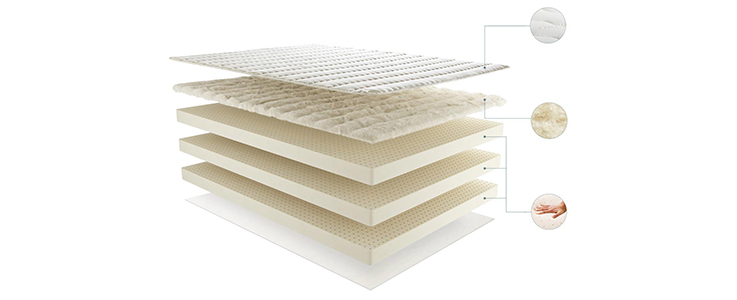 Plushbeds mattress comfort
Customers can easily adjust the firmness of any Botanical Bliss Collection mattress by switching the order of the layers. The three firmness options then, in effect, are Firm, Medium Firm or Medium. The Natural Bliss mattresses have one inch of Talalay latex in the 8-inch model and two inches in the 10-inch model. All mattresses offer pleasant conforming, and Plushbeds reviewers mention the mattresses may relieve some back and joint pain.
Firmness: Plushbeds latex mattresses are available at the following firmness levels: 3.5, 5.5, 6 and 7.5. That's a wide range that will accommodate most people's preferences.
Sleeping position: Each of Plushbeds' mattresses accommodates all three sleeping positions: side, back and stomach.
Motion transfer: Every Plushbeds mattress does a good job absorbing motion from someone getting up from the bed or turning in their sleep.
Edge support: The innersprings in the hybrid Luxury Bliss bed help make for excellent edge support. Edge support in the two fully latex mattresses is fair, and you can expect some sinkage.
Sleeping hot: The latex/innerspring Luxury Bliss sleeps very cool. The fully latex Botanical Bliss and Natural Bliss lines aren't quite as cooling but still do a good job.
Plushbeds mattress prices
Plushbeds mattresses are built with premium, eco-friendly materials, including high-quality latex. For that reason, they sell at a higher price. However, they offer a superior night's sleep. If you are looking for a high-end mattress that does its job well, Plushbeds are a good option.
| Mattress size | Botanical Bliss 9" | Natural Bliss 6" | Luxury Bliss |
| --- | --- | --- | --- |
| Twin | $1,099 | $799 | $999 |
| Twin XL | $1,099 | $899 | $1,099 |
| Full | $1,499 | $1,199 | $1,299 |
| Queen | $1,599 | $1,299 | $1,499 |
| Split Queen | $1,998 | N/A | N/A |
| King | $1,899 | $1,499 | $1,799 |
| Split King | $2,098 | $1,698 | $2,098 |
| California King | $1,899 | $1,499 | $1,799 |
| Split California King | $2,098 | N/A | N/A |
Are Plushbeds mattresses good?
Plushbeds mattresses are a great choice if you're looking for a high-end, latex mattress made of the finest materials. Their three collections offer a variety of firmness options that will satisfy most people. You can also choose from various thickness levels. Plushbeds succeed in offering a durable, cooling and nearly silent mattresses.
A link has directed you to this review. Its location on this page may change next time you visit.
How do I know I can trust these reviews about Plushbeds?
4,243,660 reviews on ConsumerAffairs are verified.
We require contact information to ensure our reviewers are real.
We use intelligent software that helps us maintain the integrity of reviews.
Our moderators read all reviews to verify quality and helpfulness.
Page 1 Reviews 0 - 10
Odalys of Tampa, FL

Verified Reviewer
Original review: May 27, 2023
I bought this mattress for my 90 year old mom that suffers from severe arthritis and back issues. This mattress has been a life saver and the option for lower height helped her to be able to get in and out of bed by herself. Not only is your product fabulous but your customer service is outstanding. Thank you!
Be the first one to find this review helpful
Nelson of Gulf Shores, AL

Verified Reviewer
Original review: May 4, 2023
At first glance this mattress appears very well made and sleeps great. Then a year passes and what you have a $2000.00 piece of junk with a large crater on each side. Please beware, and don't waste your hard earned money on this sub standard product that only last a year, maybe two at the most before failing. I am on my second mattress from this company now due to a warranty claim after the first mattress failed after two years, and now the new mattress that was sent to me as a warranty replacement has failed after one year. I am now sleeping in a large crater again and my back is killing me! Also for reference, I only weigh 160 lbs, and my wife only weighs 100 lbs, and there are craters on both sides of the mattress. The mattress is on a very solid foundation also, so that's not the problem. My advice, save your money and look for something with more durability that won't leave you sleeping in a hole, and shopping for a new mattress after a year.
Be the first one to find this review helpful
Thank you, you have successfully subscribed to our newsletter! Enjoy reading our tips and recommendations.
Nancy of Oceanside, CA

Verified Reviewer
Original review: April 25, 2023
I was excited to get Plushbeds' shredded latex pillows. I researched my options extensively and opted for this brand because of the low off-gassing and excellent reviews on other sites. The $100 pillow is lumpy, uncomfortable, and caused my husband more neck pain. I tried to return the items after two days and was just told the items are non-refundable.
The website touts a 100 day trial on its front page but does not clearly state this policy is for mattresses only. On the pillow page, it says they are non returnable at the very bottom of the info page—nowhere upfront or in the checkout process. When I brought up the fact that other companies clearly state when an item is non-returnable, the rep wanted "proof". Wow. Obviously, this company does not care about losing customers or its reputation once they have your money. Good luck returning a truly expensive mattress that's poorly constructed and/or uncomfortable—it will be impossible to return. I'm out $225 for pillows; you could be out thousands for a mattress. Save yourself the time and money and shop locally. Or, try Saatva—a company that actually has a real trial period for its pillows.
Be the first one to find this review helpful
Michele of Lebanon, PA

Verified Reviewer Verified Buyer
Original review: March 28, 2023
Purchased mattress pillowtop, arrived 3/28/23, got a stain on it within 10 minutes of opening, called customer service who basically said you can't really clean it except with mild detergent (which wouldn't work for thi particular stain). Explained I needed a better option, told there was none. Asked about returning it and told they only accept returns on their mattresses. So if you buy anything other than a mattress, be aware, they will refuse to take it back. It wasn't an inexpensive topper! They have lost a customer for life.
Be the first one to find this review helpful
Cat of Santa Monica, CA

Verified Reviewer
Original review: Feb. 3, 2023
This product has an odor that is way too strong. Plushbeds said it is a light smell. This light smell is all over my sheets. All over my pajamas and of course on the pillowcase. It smells like latex factory, also in my room. I would not call this a light smell but a very strong smell. I did look at the better Business bureau and Plushbeds has had numerous complaints about their products and not cooperating with your customers. So I too will file a complaint with a Better Business bureau.
This business seems a bit shady to me and I'm sorry I've lost my money and they weren't willing to return and refund my money because I really tried to make this pillow work. I wasn't really pleased about having to take the insides of the pillow down to my liking because it was very messy. For the price, $81.00 Plushbeds could have made small, medium and large pillows but I thought I would really try to make it work. But with this very strong odor it absolutely can't work. They will not work you their customers and I suspect quality control. Also, it took over two weeks to receive my pillow.
2 people found this review helpful
Star of Dearborn Heights, MI

Verified Reviewer
Original review: Dec. 1, 2022
It's very comfortable and great for those with back issues. I have never slept better. It feels great. The quality organic mattresses and bedding is outstanding. I prefer a bit softness and I am used to latex pillow and mattress so this latex mattress is within expectations.
Be the first one to find this review helpful
Trish of Los Gatos, CA

Verified Reviewer
Original review: Oct. 11, 2022
I ordered a 3 inch mattress topper from this company. A seam is supposed to be down the middle. It is 4 inches off the center. The seam is fused and very uncomfortable on my shoulder. I have to constantly move towards the edge of the bed to avoid this. One side of the topper has misaligned, sporadic 1/2 holes and full holes. After contacting 3 customer support personnel, production did finally approve another topper, but said I would have to pay for shipping. So they acknowledge an inferior product, but I must pay for their poor quality. They have a lot of excuses for poor service and inferior items. I do not recommend this business.
10 people found this review helpful
Jason of Washington, DC

Verified Reviewer
Original review: Sept. 4, 2022
I would stay away from Plushbeds if you are looking for sheets that are made by them and the exact ones that are on their site. We ordered Tencel sheets from them, and we received ours from a completely different third party. When we called, they said that was their normal procedure. The sheets were similar, but it was a slightly different size than we ordered, and would be different if you ordered based on them being marketed as made in the USA. The fact that they do not list this anywhere on the order, and they still charge for returns, is very deceptive. I would stay away if you want the exact product that they list on their site.
7 people found this review helpful
Jewel of Phoenix, AZ

Verified Reviewer
Original review: May 9, 2022
This is my 2nd time trying to get my review on here. I don't know why it wasn't approved to begin with. I bought the Organic king mattress. Before buying, my husband and I had been sleeping on blankets on our floor for 18-months. We slept good, but knew that we should have a bed. We bought the mattress, and thought we would like it. We were asked to submit a purchase review at the time of sale, versus after sleeping on it. This is why we are now reviewing it.
We had had the mattress over 1 year now, and both do not like it. It is flimsy. When we try to stand it up to flip it over and vacuum under the bed, it won't lean against the wall. This tells you that there is no support. But that is just an illustration. I can tell you that immediately after sleeping on it we both developed back aches. I would not recommend this mattress. We bought the highest firm rating one they make, and it is not firm.
9 people found this review helpful
bekibecca of Rosharon, TX

Verified Reviewer
Original review: Jan. 28, 2022
I got the toppers back in November 2021, it arrived somewhere in December. The shipping was delayed for about 2 weeks. I have been suffering from lower back pains since 2018 but was the level of pain last year has not been too bad. I was in desperated need to get a good back before the Christmas break so I decided to get an extra firm bed topper to help eliminate the back pain or at least relieve it a bit. Lets just say, that was a nightmare. On the first night, I woke up with excruciating pains that I could barely walk.
This pain was worse than I have ever experienced. I decided to give it a try again and by the 3rd day my whole body was sore. I called to make a return but I was told toppers are not returnable. After spending almost $400 on a topper, I can't return it when I only slept on it for 3 nights and in a worse condition after? It's 1.27.22 as I leave this review and I am still recovering from the excruciating pain I experienced after sleeping on the topper. Please don't waste your money!!
11 people found this review helpful
Plushbeds Company Information
Company Name:

Plushbeds

Website:

www.plushbeds.com
You're signed up
We'll start sending you the news you need delivered straight to you. We value your privacy. Unsubscribe easily.