This company is not yet accredited. See reviews below to learn more or submit your own review.
Plushbeds is a mattress company offering a line of three latex mattresses. These mattresses are known for their luxurious materials, durability and silence. Plushbeds also has several memory foam mattresses, toppers, adjustable beds and sleep accessories.
BOTTOM LINE
Plushbeds offers three lines of latex mattresses sure to satisfy even the most finicky sleepers. High-end materials help ensure a cooler sleep and a durable mattress.
PROS
Cooling latex
Durable
25-year warranty
Nearly noiseless
​
Latece of Decatur, GA
Verified Reviewer
I feel like it was a perfect fit, and it was different than other mattresses I have tried out before. I like how soft and very very relaxing it is.
Read full review
A. of Burbank, CA
Verified Reviewer
I rarely love any brand but this organic natural latex bed is a dream! We have recommended to family and friends and all love their beds as well.
Read full review
​
Thank you, you have successfully subscribed to our newsletter! Enjoy reading our tips and recommendations.
Are you this business?
About Plushbeds mattresses
Plushbeds sell high-end, quality mattresses at a competitive price. The mattresses feature latex for comfort, durability and a cooling night's sleep. The Botanical Bliss and Natural Bliss lines are fully latex, while the Luxury Bliss Collection is a hybrid line with a mix of high-end latex and traditional innerspring technology. Mattresses can be returned after a 30-day break-in period, and the full trial lasts 100 nights. However, each Plushbeds mattress has a 25-year warranty.
| | | |
| --- | --- | --- |
| 120-night risk-free trial | Free shipping & returns | Hand-made in California |
Plushbeds mattress construction and materials
The Botanical Bliss Collection mattresses come in 9-inch, 10-inch and 12-inch designs. Each mattress has three layers of Dunlop latex and an organic cotton cover. The Natural Bliss Collection mattresses come in 6-inch, 8-inch and 10-inch options. Each has a latex core for support and an organic cotton cover. Four firmness settings are available. The Luxury Bliss mattress is a hybrid, meaning it combines modern materials with traditional innerspring technology. It's 12 inches tall, has three inches of Dunlop latex over inner coils and is a medium firm mattress.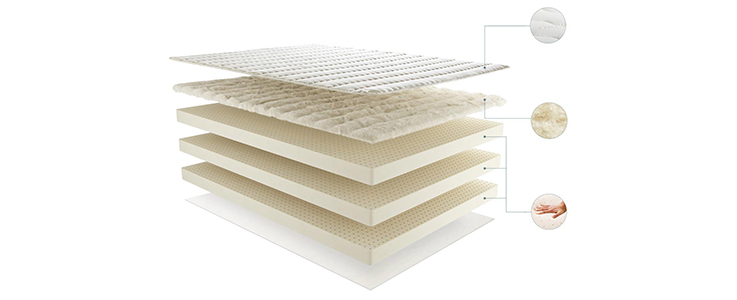 Plushbeds mattress comfort
Customers can easily adjust the firmness of any Botanical Bliss Collection mattress by switching the order of the layers. The three firmness options then, in effect, are Firm, Medium Firm or Medium. The Natural Bliss mattresses have one inch of Talalay latex in the 8-inch model and two inches in the 10-inch model. All mattresses offer pleasant conforming, and Plushbeds reviewers mention the mattresses may relieve some back and joint pain.
Firmness: Plushbeds latex mattresses are available at the following firmness levels: 3.5, 5.5, 6 and 7.5. That's a wide range that will accommodate most people's preferences.
Sleeping position: Each of Plushbeds' mattresses accommodates all three sleeping positions: side, back and stomach.
Motion transfer: Every Plushbeds mattress does a good job absorbing motion from someone getting up from the bed or turning in their sleep.
Edge support: The innersprings in the hybrid Luxury Bliss bed help make for excellent edge support. Edge support in the two fully latex mattresses is fair, and you can expect some sinkage.
Sleeping hot: The latex/innerspring Luxury Bliss sleeps very cool. The fully latex Botanical Bliss and Natural Bliss lines aren't quite as cooling but still do a good job.
Plushbeds mattress prices
Plushbeds mattresses are built with premium, eco-friendly materials, including high-quality latex. For that reason, they sell at a higher price. However, they offer a superior night's sleep. If you are looking for a high-end mattress that does its job well, Plushbeds are a good option.
| Mattress size | Botanical Bliss 9" | Natural Bliss 6" | Luxury Bliss |
| --- | --- | --- | --- |
| Twin | $1,099 | $799 | $999 |
| Twin XL | $1,099 | $899 | $1,099 |
| Full | $1,499 | $1,199 | $1,299 |
| Queen | $1,599 | $1,299 | $1,499 |
| Split Queen | $1,998 | N/A | N/A |
| King | $1,899 | $1,499 | $1,799 |
| Split King | $2,098 | $1,698 | $2,098 |
| California King | $1,899 | $1,499 | $1,799 |
| Split California King | $2,098 | N/A | N/A |
Are Plushbeds mattresses good?
Plushbeds mattresses are a great choice if you're looking for a high-end, latex mattress made of the finest materials. Their three collections offer a variety of firmness options that will satisfy most people. You can also choose from various thickness levels. Plushbeds succeed in offering a durable, cooling and nearly silent mattresses.
A link has directed you to this review. Its location on this page may change next time you visit.
Page 1 Reviews 1 - 10
Dana of West Babylon, NY Verified Reviewer
Original review: Feb. 25, 2020
I did a lot of research, looking for a pure, organic mattress for my husband and I and our 2 daughters. After months of research, we found PlushBeds to be the best brand for our needs. We purchased 3 Botanical Bliss Organic Mattresses and we are very happy with them. My husband and I were able to customize the firmness on each side of our bed which is nice and my daughters were able to select a firmness that is perfect for them. The mattresses arrived within one week and they are very comfortable. They conform to your body and they cushion your body too. The best part is sleeping healthy every night, knowing that all of the materials are certified organic - GOLS, GOTS, OEKO-TEX and GREENGUARD GOLD and that they handcraft and customize each mattress in their certified organic production facility. Excellent Buying Experience!
Be the first one to find this review helpful
R. of Escondido, CA Verified Reviewer
Original review: Nov. 25, 2019
I've spent literally months reading and researching why to buy a latex mattress and which one to buy. I started with Plush Beds and kept coming back to them. Why? Because as you get into the fine print of their competitors, you find inconsistencies regarding what exactly their beds are made of, or origin of the materials, etc. Plush Beds seemed to always be able to check off all the boxes for us. I tried emailing them for some questions I had and never received any response. When I finally decided what I wanted (Luxury Bliss, Medium Firm, Queen) I ordered it online without any problem. It arrived sooner than expected however the box was beat to **. The mattress was wrapped very tight in plastic and wasn't damaged. Setting it up was very easy as we had read from others how best to do it.
At first I thought it was too firm but after two months, I feel it is just right. Soft but not too soft with good support under the top layer of latex. Lateral movement from my wife is also not felt. They've changed the offer and reduced the amount of "free stuff" and thus the price is now $100 less than what I paid but I did receive two latex pillows (too small) and the mattress protector. All in all I feel we made a good choice initially and other reviews over more time seem to support this. We look forward to years of great sleep! Yes, we highly recommend the Luxury Bliss mattress!
Read full review
Be the first one to find this review helpful
Thank you, you have successfully subscribed to our newsletter! Enjoy reading our tips and recommendations.
We value your privacy. Unsubscribe easily.
Are you this business?

B of Birmingham, AL Verified Reviewer
Original review: Aug. 26, 2019
Bought from Plushbeds a few months ago and I'm absolutely thrilled! My wife and I to a leap and bought a mattress online and we absolutely love the mattress. My wife had been researching mattresses with organic materials and we decided to go with Plushbeds and we are completely happy with everything!
Be the first one to find this review helpful
Michelle of Lindenhurst, NY Verified Reviewer
Original review: Aug. 23, 2019
I had a great experience with Plushbeds. I bought a Botanical Bliss latex mattress for my husband and I, and I wanted to get one for my son, but wasn't sure if one of their other models would be better. I called one of their "sleep specialists", who helped me decide on a Natural Bliss. Great company and great service, I just wish they sold more products!
Be the first one to find this review helpful
A. of Burbank, CA Verified Reviewer
Original review: April 16, 2019
I rarely love any brand but this organic natural latex bed is a dream! We have recommended to family and friends and all love their beds as well. The price is more than a conventional bed, but priceless when one has the best night's sleep. I researched many before purchasing. Loving a bed so much makes it hard to get out in the morning!
2 people found this review helpful
How do I know I can trust these reviews about Plushbeds?
2,251,197 reviews on ConsumerAffairs are verified.
We require contact information to ensure our reviewers are real.
We use intelligent software that helps us maintain the integrity of reviews.
Our moderators read all reviews to verify quality and helpfulness.
For more information about reviews on ConsumerAffairs.com please visit our FAQ.
Randy of Palm Beach Gardens, FL Verified Reviewer
Original review: April 4, 2020
Our experience thus far has been disappointing in customer care. We ordered a King Bed and were shipped Queen foundation cover, whereas the bed doesn't work without the proper cover as a base. When I explain to the company that my wife was going through chemo treatment and we needed the replacement expedited, they sent it ground shipping. This put us a week away from having my wife sleep in our bed as we had moved into a new home. When I explained it to customer service they were disinterested and show no compassion to help us in our situation. Very disappointing.

Be the first one to find this review helpful

N of Northbrook, IL Verified Reviewer
Original review: March 4, 2020
We recently purchased a solid latex pillow and it was the worst, most flimsy, cheap-y latex pillow we've ever purchased. There is no support, the entire pillow just collapses the minute you put your head on it and flattens into nothingness. It's as if they didn't use enough latex in the pillow and compensated with too many air pockets. I reached out to see if they would resolve the issue and they gave me a cold hard "we don't accept returns from pillows" - so I'm stuck with an overpriced cheap pillow now. Buyer beware...
2 people found this review helpful
Cindy of Ferndale, WA Verified Reviewer
Original review: Feb. 20, 2020
We ordered on-line a 9" Botanical Bliss Mattress, Queen sized, medium firm, Orthopedic Foundation with the pillow top mattress. I called the next day to ask to upgrade the free pillow to queen size and change to a 10". They said no problem but had to first check with the shipping dept.This required them calling back 10 min later which they confirmed. We never received an updated invoice so I called and asked for one. They said they could not give me an new invoice because the order had already gone to shipping. This makes no sense. It cost us more and they charged the credit card more, yet they can't give us a new invoice reflecting?
AT this point we were not confident that we would even get the upgrade. They sent the pillows before the bed and they were not Queen size to they failed the pillow upgrade which by the way we paid more for. This made me wonder if we would get the right mattress so I called again. Every time I called they had to have someone call me back from the shipping dept. (Guessing this is in some other state.) They didn't apologize Ever and Never once said thank you.
They said they would send the right pillows and send a return label for the wrong pillows in an email, to put the standard pillows in the same box if I could. So I boxed them up with a copy of the incorrect receipt (because that is all I had). I waited for an email, nothing, two days later I call again. No one seems to know anything about the pillows of course after they again had to call back. By this time we are not confident and feel like we should just cancel the order but the bed had good reviews.
Finally three weeks later the Orthopedic Foundation came. This is made basically from pallet material and one board cracked when we took it out of the box. At this point no way are we going to try and deal with sending it back since they can't even handle a pillow return. So we duct taped the broken board. So a week later we get another box. It had two rolled up memory foam mattresses in it, one medium firm 3" one 2" soft. Also the thing that the mattresses go it was supposed to be the pillow topper cover and it was a cheap one with no pillow top. (By the way never did we get a tracking number and so I called a couple more times asking for one and also again each time they had to call me back.)
I also again asked for an updated receipt each time I called, but to no avail did we Ever get one. So anyway having sent the wrong mattresses of course we had to call again. And of course they called back 10 minutes later. This time it was actually a nice person that seemed to care but still could not answer questions so someone was supposed to call back the next day. No one called. I called again and they at least admitted they sent the wrong mattress cover so they sent another which did come 7 days later and it was the right one. Oh I forgot to mention that they insisted they sent the right one and had me send a picture of it so they could see that it was not.
Finally three days later a third mattress came, it was a medium 3". So we stack these together wait for them to settle a week since they had been smashed and measured the stack, not 10" and the topper did not make up even 1/2". I took pictures of the labels on each mattress and emailed it to them as well as a tape measure against the side showing that it didn't add up to 10". Still no phone call, called back again, they were supposed to call back but never did.
We basically gave up and decided to try the bed since it has a money back test period. We rearranged them in different orders and after a couple weeks found a way to arrange them so they are comfortable and we do like them. WE would have just shipped it all back if it weren't such a hassle to deal with them and were not confident how that process would work or if it even would. We still have the wrong pillows which we did not get charged for. Overall I can say this was the most frustrating process we have EVER been through and will NEVER recommend this company no matter how good the bed it! Cindy
Read full review
Plushbeds response
Hi Cindy,
Thanks for your feedback. We apologize for the miscommunication. If you upgraded your mattress thickness from the 9" to the 10" before shipping, then you will certainly receive a new invoice for the 10" model with your order. If you didn't receive this, kindly contact kmoler@plushbeds.com, and she will be happy to send this to you. We take great pride in providing excellent service and products to our customers. If we may be of further assistance, please don't hesitate to contact us.
Be the first one to find this review helpful
Matt of Lindenhurst, NY Verified Reviewer
Original review: Feb. 18, 2020
We've never purchased a mattress online before, and we've never had a solid latex mattress before. We couldn't be happier with our purchase. I've never slept so good, and I'm looking forward to the next 25 years with my new Botanical Bliss.
Be the first one to find this review helpful
Sarah of Atlanta, GA Verified Reviewer
Original review: Feb. 17, 2020
We now look forward to going to sleep every night. Very plush, soft and cool feel. The organic latex is wonderful - there is no sinking in feeling, it gives a nice supportive feel. Heavenly sleep every night.
Be the first one to find this review helpful
Plushbeds Company Information
Company Name:

Plushbeds

Website:

www.plushbeds.com