Consumer Complaints and Reviews

The Assistant Manager's attitude was irritating. I asked for my hash brown crispy. He was angry and he returned back to the frying. One was done in the oil. I Ordered SW Egg & Bac Hash brown. Look like my order did not have enough egg. Looked very poor plate.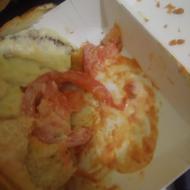 I had to remind her of the free cheesecake then she wasn't giving me the discount until I mentioned the cheesecake. I drove all the way home for a soggy untoasted sourdough drenched in mayonnaise and ketchup... I couldn't even see the bacon then also on the other hand I realize I had no straw for my large soda and no napkins to wipe all the mayonnaise and ketchup off my hands after grabbing myself a burger. I had A 4 pack of hot sauce for 4 orders of tacos and my tacos to top it all off was very still and hard.

The Supreme Croissant we purchased was cold and the egg was not even warm. This location continues with some type of issues on product quality, poor service and the like. I spoke to a new District manager for this location on Walzem Road in San Antonio, Texas. The new District Manager was very pleasant to visit with on the phone. You might consider closing this location if the problems do not get resolved with an array digit of different issues.

I just went to Jack In the Box because I remembered that they use to have a big bun and burger before since they raised their prices so I ordered the buttery jack meal. It came in the BIG BOX and I was excited to eat this burger again. But when I opened the box there was the smallest burger I have ever seen for that almost $8 dollar meal I had ordered and I was sooo ** mad I could have had a big burger at Chili's or Red Robin for the same price **. Anyways I will never go to another Jack In the Box as long as I am alive. To the CEO of Jack In the Box I hope you're happy when your company goes out of business because I am sure it will **.

I go to J-in-B quite often. I work a lot and fast food quite a bit. To me after 10 min. in line is not fast food and I may as well go to a regular restaurant for my food. With that said I just spent over 20 min. in line at the Jack in the Box at Mount Vernon. The girl at the window said there is a charge for sour cream, hum when
I go to a restaurant there is no extra charge for sauce sour cream etc.
It's called cost of doing business Jack. If you can't afford being in business get out of it. Condiments are part of the cost of the food and it's way too expensive for fast food anyway. I just spent 10 bucks on a chicken pita with 3 small pieces of chicken (pressed) at that were over seasoned, and a small curly fries and had to ask for ketchup, REALLY! And three napkins for the whole greasy mess. Oh yea! I hate the bags too that leak the grease through.
Where is your CEO and why it this happening? You need better packaging, you need to clean up and inspect your locations on a regular basis. Fire your loser employees and take away franchise from people who don't give a damn. People don't have time to waste in your line while someone's screwed up order is being corrected. Former customer.
How do I know I can trust these reviews about Jack In the Box?
633,951 reviews on ConsumerAffairs are verified.
We require contact information to ensure our reviewers are real.
We use intelligent software that helps us maintain the integrity of reviews.
Our moderators read all reviews to verify quality and helpfulness.
For more information about reviews on ConsumerAffairs.com please visit our FAQ.

We went through the drive through twice this week (Jack-in-the-Box on Fredericksburg Road). On both occasions, major food products were missing from the order. Teriyaki bowl was missing the rice and vegetables on the first occasion. Our second visit this week, believe it or not... the hamburger patty was missing from our bacon cheeseburger! We went back to the restaurant to complain about the burger. According to the three people working, there was no manager on site. I asked for my money back and for contact information to complain. They all laughed. All three individuals seemed to be under the influence. The money for the burger was refunded. They kept the receipt and would not return it to me, probably because I told them I was going to make a formal complaint.

I used to go to this J Box all the time in the morning because I start early and it's the only thing open, NO MORE!! This place is filthy. The food is slop. The employees are rude Mexicans that barely speak English. My order is always wrong. How hard is it to add mayonnaise to a breakfast sandwich?! There are lots of other good restaurant close by. Don't waste your time or money at any J Box. I'm amazed they are still in business.

I go to the Jack In the Box near my house in Springfield, Oregon at Pioneer Plaza and have always had a great experience there. I take my son there once in awhile. The staff were always nice and if they ever messed up on an order I'd get extra fries or something they'd always compensate until recently. The last few months I have been there the service had been crap. I've never been charged for buttermilk sauce if I ordered food. Recently they hired a new lady on staff mid to late 20s and when asking for my sauce at the drive thru she completely argued with me over asking for sauce. First off I wouldn't had minded paying for extra sauce I just spent 40$. Does she think I can't afford sauce? But with the attitude I received I didn't even want the sauce. I went home and used my ranch salad dressing instead. Now every time I go thru the drive thru it's the same gal. Every time I ask for sauce she rolls her eyes at me.
Today I ordered a 20 dollar order including large curly fried egg rolls and some breakfast sandwiches. She gives me 1 sauce and asks me if I will need a sauce for my egg role too. Of course I do – it's an egg roll?? Can I have sweet and sour please? So I get one sauce each after asking if I could get more sauce. She gave me 1 more and rolled her eyes again. Like it was so hard to put a few in the bag in the first place like the rest of the employees have always done. Also on another occasion I ordered 2 chicken sandwiches and they were made like them but had beef in it!! Didn't realize until I got home. I appreciate the employees here. I have only had bad experiences with the new cashier. If you don't like your job quit and stop making yourself and customers miserable over a sauce. There are lots of jobs in Oregon. You don't have to work for minimum wage.

On the 1 of June 1 of 2016 at 13:21 in Castaic, Ca at JIB#3208 by the Emp Blanca took our order thru drive thru of 1 value fries and 1 jumbo jack, 1 value coke and 2 monster tacos. At first she took some time understanding us then she got it the order and we know that this Jack is always so busy all year round. Wish we live close by it, but then it doesn't matter what we pay for it. It's the fact the way how they give your food in the bag. It was full of grease and the tacos were dripping in oil and the jumbo Jack was giving up side down. Ok, now I have pictures of the bag and the taco how it was. I was so angry that I wanted to go back and throw it at their face but my husband didn't let me so he took me somewhere else. Now I have the receipt and the pictures. I'm vary disappointed at this restaurant that I won't go back and I know that it's fine or you just won't care.

I called in an order. Was told to go thru drive thru. Then waited 10 min. Then when I got to drive thru then was told to go around front to get order. Then waited another 10 min and nothing. Went in to complain and just told sorry. I'm very upset and probably won't go back!!!

I am very upset!!! A month ago I wrote a nice review on Jack's employees in Avondale Blvd. His name was Alexis. I was pleased that he would help us. Well, all that changed today. He said he had not seen me in a very long time. I go there everyday and purchase items. I mean I go everyday. He was rude and laughed and didn't even care about anything. There was a blond girl next to him that just greeted me and ignored me later. I was not happy today. They made me feel like I never existed. I go everyday, I may have to take my business elsewhere. I am tired of how they treat me.

I purchased a Chicken Fajita from the Jack In The Box in Kingman Arizona today and the chicken in it was compressed chicken? and it should have been real chicken pieces. This substitution has been happening for a few month now. I complained to the manager a couple of months ago and said I would file a complaint if it continued. This compressed chicken? makes me sick and is a scam to make more money by not giving people what they paid for. I would not trust this owners Jack In The Box food in a nearby city also.

I ordered their jumbo jack cheeseburger combo for $4.89. Then the cashier asked me if I wanted cheese on it. I said the cheeseburger I ordered would have cheese on it. She said that I would have to pay another 30 cents to have cheese put on it. I said for $4.89 I would just be getting a hamburger not a cheeseburger. I told her that is false advertising. I then asked her if I had to pay extra to get the hamburger on my sandwich which made her mad.

Very dirty place. I did not eat or use the rest room there. Orders and ate in my car. Gross as hell.

Bakersfield Ca Grapevine Jack In the Box. Horrible customer service towards us. Today 3/22/16 Order #**. Easy 4 combos of Homestyle Chicken the #12. They never called the order #. Everyone who ordered after that received their orders. It was 20 min later - no food was cooking, the place cleared out. So we all went to the counter to ask where was the order. It was said that he had it. Yeah. All of it was cold. Fries, chicken sandwiches had all been sitting for over 20 min. We felt humiliated, discriminated against and cheated out of $30.00 which we had to get a refund. Looked like he spat in the food. I've never known to have slime from a sandwich. We've been coming to this JnB for 25 yrs. Never have we been treated so disrespectful by JnB.

I went to Jack in the Box on 38th street and Business 190 in Killeen, Tx. The food was cold and the fries also. The price on the meal was listed on the billboard as 6.49 and I paid 8.21 so where is the savings. This fast food site is not right and they change prices on you without the customer listening. Be aware, I will spread the word.

So a few years ago I went to a Jack In The Box. I pulled into the drive through, ordered a burger. There was nobody else in line at the drive through, but it still took several minutes for them to cook the burger. No concerns of them overcooking the burger here, because a few minutes in, I hear a "sizzz... ahhh!" and a bunch of workers crowding around laughing. The burger was burnt when I got it.

We went through the drive thru last night and the girl taking my cash said "Im sorry our computers are down". Had my order on one computer, took my cash, stick it in her pocket, walked over to the front counter and said "here its only 40 dollars" and a light black male took my 40 dollars from the cashier and she didn't even bother to give us our change. Our order was 10 taco's 1) #5 with no mustard, curly fries med. with a coke 1) #2 curly fries med. with a coke also.
The cashier she is mexican, red hair, heavyset, older lady, looked like she was in her mid 40's and this isn't the first time or the second time it's happened and it's also the same women. I don't never see a manager. It's always that women and it's only on Sunday nights. I will not be going back until she is gone, cause we never get our receipt or our change. We do have pictures of the cashier handing the money to guy could be a boyfriend or husband. We can't believe this is how this restaurant is ran. We will be going elsewhere for now on. After 2 years of coming to that Jack in the Box you now lost our business for good.

I ordered a chicken burger from Jack In The Box and it was through drive-thru. I get home and open my food and find out that the burger is absolutely BURNED. And it's not even just a little burned, it is completely inedible. Also every night their shake machine is down. EVERY NIGHT when it is supposed to be a 24/7 fast food place.

My husband and I had tacos and curly fries, Saturday 11/28/2015. Both of us woke up at 2:30am violently vomiting and diarrhea. Thanks.

We heard about the Buttery Jack and decided to try it. Only 3 people were there. As we ordered we could see the cooking area and it was filthy. Food and paper all over the floor. Counter had boxes and junk all over. The drink area was all rusty and the ice machine did not work. The tables were not clean. As we looked around there was a broom near one table and another broom next to papers all over the floor. The carpet was also dirty. We decided to take our order to go. It was not a good burger and left a bad taste. Will not be returning.

2 days ago me, my 2 sons (13 and 14) and husband were having dinner in the patio area of the Jack in The Box located at 3909 Mission Ave Oceanside Ca. My family and I have been eating there for over 2 months. We eat there every day. We are currently homeless. A Hispanic male in his mid-50s approached me while I went in to use the restroom and started yelling for me to leave. After using the restroom I came out and noticed a police officer speaking to my husband. Apparently this man told the officer at the service window as he was receiving his dinner that we were TRESPASSING & LOITERING. We are currently homeless. In our defense my husband tried to show the officer our receipts showing that we just bought our food and that we were in no way trespassing or loitering. He said it didn't matter the MANAGEMENT told him we were not welcome on the property. I had never seen this Hispanic man before.
I spoke to the lead and she told me the man hangs the signs for the Jack I'm the box franchise. Apparently a female relative is the night manager who likes to turn off the FREE WI-FI. From what we witness she only does it to those who appear homeless. Otherwise I have seen people sit for up to 2 hours. It was a degrading and humiliating situation. I'm not homeless because of drugs or alcohol. I work and take care of elderly men and woman with stage 4 cancers. To be discriminated and treated less than human is something I've never experienced in my 45 yrs. The day staff has ALWAYS treated us with respect and vice versa. It's only the overnight lead who displays this discriminating and prejudice behavior.

Im reporting the Jack In the Box in Houston, TX on Westheimer & hwy 6 zip code 77077. Ok so whenever the football team The Texans win, all jack in the boxes are suppose to give free monster tacos when the customer says go Texans! So me & my friend ordered the monster taco & the Employee told us that we have to purchase something, which is not true because we got the taco before, & on the ad it said when the football team wins they give monster tacos with No purchase! The employee kept going back and forth with us saying we had to buy something. She was rude & didn't want to give us the tacos. The employee had her boyfriend & friends sitting in the lobby & she gave them free food!!
So I showed her the Ad for the taco & she went & got the manager. The manager took awhile to come to the counter. I told her I wanted the free monster taco, so she also told me I had to purchase something, which I knew she was lying. I told her we came here before & got it. They were both rude about it. She wasnt even sympathetic about either, but yet we saw the employee give free food to her boyfriend & friends. This jack in the box had very Bad Customer service!!! The employees be on their cell phones. They invite friends up there that hangout in the lobby. Its very Ridiculous!!! I would never spend money at this location again. We never did get the monster taco.


I am tired of going to jack in the box and every night their shake machine is down. This is crazy. If you open 24 hrs you shouldn't shut the shake machine down to clean it. That's crazy. I have to go to Steak 'n Shake to get a shake. All of them I mean all be selling them hard as potato wedge. They that stupid to know you overcooking them. They need to correct that shake rule telling people their machine down.

So late night in Citrus Heights, CA and me and my roommates decided to go to jack in the crack. We order 4 tacos and a few burgers. My roommate's girlfriend ended up pulling what looked like part of a tooth out of her burger. We then took a knife to it to try cutting it to see how hard it was. No luck at all. It was rock solid. We continue eating what we can and get all finished. In the morning I woke up around 9:00 rushing to the bathroom puking everything up from the meal. I must say worst fast food ever and I will never go back for as long as I'm alive. If you want a taco, go to Taco Bell. If you want a burger go anywhere else but piece of ** Jack in the Box. (Sorry Jack I love you and your round head but I hate your food and your staff.)


Went to rest in San Pablo, CA. Looking for new chicken sandwich. The staff was incompetent, and did not seem to know what they were doing. It took me 30 minutes before I received my To Go order. I'm disabled and it takes me 30 minutes each way by scooter. So I ordered the new sandwich, an Ultimate Burger with NO MUSTARD, and a taco. The burger came with heavy mustard on it. I threw it away. My chicken sandwich was not the sandwich I ordered, and threw it away. I ended up eating the most expensive taco I have ever seen, $12.00!!! My lunch was ruined. Needless to say, I'll never be back.

No one at front counter to take my order. Only thing that employee said is that "Someone will be right with you," after I questioned someone about counter service. This is the location on Hesperia road/Bear Valley Blvd in Victorville, CA. Maybe because I was black. I don't know why I did not get prompt service and no service at all. I just walk out. This place doesn't deserve 1 star from me.

For a chain of fast food that prides itself on being fresh and freshly made, the meat patties are NEVER fresh! The meat is either overcooked or flat out not freshly prepared. It's dry, hard and not even hot. When it is like that, you can actually taste the additives they put in the beef. In other words, it has a chemical fake taste in it. Not good at all! Jack In the Box really needs to get it together and over achieve in making sure the meat is fresh. Fresh is their main motto! But they're total disgrace! I purchased 2 different burgers and both were horrible, both meat patties weren't hot or fresh.
Jack In the Box Company Profile
Company Name:

Jack In the Box

Website:

https://www.jackinthebox.com/