Consumer Complaints and Reviews

I went to Jack located on 10300 Central Ave Los Angeles CA 90002 and it has been real bad. Rat inside the kitchen and employers just like nothing. One of them just laugh. Besides real bad service the manager same bad attitude. Won't go back. Worst restaurant I been to.

I must show my appreciation for Elizabeth. She is by far the most friendliest, most kindest, most helpful employee at Jack In the Box store #540. She is also always dressed very nice and professional and from what I have witnessed goes out of her way to help customers such as myself. For example she remembers my favorite things to order so that saves me time to get back home to my family after a long day of work. Thank you. :)

Okay so lemme just let y'all know me and my girlfriend live in VA, the Commonwealth State. We came up to Charlotte to come to Carowinds, it's a theme park. We noticed there was a Jack in the Box by our hotel and we don't got them near us. So of course we had to go head and peep it. We wanted some damn ac so we came inside to order and eat. I had noticed they got mad stuff on the menu and me and my shorty got mad hyped. So we got like 50 bones worth of food, buncha cheese burgers, buncha chicken, buncha tacos, eggs rolls, you name it we was eating it. Milkshakes, hot dogs, chicken, caesar chicken, milkshakes, burger sodas, you name it we got it. It was pretty good. You know what I'm saying it was alright.
Everything going good we vibing, we eating. We decide it's time to head back to the hotel so we ask for some to go bags. Lady at the register start laughing at me maybe cause I'm a portly fella, maybe cause I got a greasy face, who knows but it pissed me off. I said, "Damn lemme just get a bag so we can munch up later." We finally get the bags and I'm a little heated I started sweating maybe.
We go to leave and I see the manager outside picking up trash. I'm like, "Damn what a dude". He out here making more money than anyone and he still getting his hands dirty. I see him go to pick up this large ball of trash come to find out it's a damn sleeping raccoon!!! This raccoon jumps on the manager and I start to flip out. I'm so scared for my life. I mean terrified. I try to help him out but then the raccoon turns on me. He got this beady yellow eyes looking like he on steroids. I think he been eating too many these monster tacos cause man dude was strong. He pounce on me with the quickness and after what seem like an hour.
Me and shorty wop finally get this damn raccoon off me. Manager think it's funny even though I came in like the large knight I am to save his butt. We think we good to go, try to squeeze into the car and realize there a whole damn army of these raccoons. Each one bigger and fatter than the next. We manage to escape but I just wanna say y'all gotta get these raccoons under control. I can't be risking my life for some chicken, milkshake, sandwiches.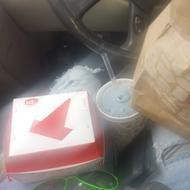 I asked if they could simply throw away a can of coke that was empty after making a purchase in the drive through. They denied me saying that I could go throw it in the big dumpster in the parking lot. They can touch it. What the kinda customer service is that. I'm very disappointed. I asked for the manager. Turns out her name is Sylvia. She tells me the same thing the window girl told me. I'm dumbfounded. It's kind of silly that they would not throw away a simple empty can of Coke. Makes customers not want to come back when they have such a crappy service. Today is Sunday April 9th 2017 approximately 1 p.m. I would suggest Jack in the Box does something about this because it will lead to not having as many customers as they would like. I have no order number as a did not give me a receipt for my purchase.

I go mostly for my service animal. Today I used the restroom, after I Sat on the seat it moved several inches to the left and caught my shin between the bowl and the ring. Since I was sitting I could not get up. All my weight had shifted and I almost fell off. But my skin was under the ring and I was pinched on. It hurts so bad I screamed. Now I can't walk right. My skin is burning and hurts. The girl at the counter turn away and laughed with the manager. How rude!
How do I know I can trust these reviews about Jack In the Box?
851,205 reviews on ConsumerAffairs are verified.
We require contact information to ensure our reviewers are real.
We use intelligent software that helps us maintain the integrity of reviews.
Our moderators read all reviews to verify quality and helpfulness.
For more information about reviews on ConsumerAffairs.com please visit our FAQ.

I went to order a number 29 from the breakfast menu and once I got my order I left. I didn't check my order since I'm a customer but once I got to my location I checked and I legit just got the buns. I immediately called and they asked for my name and then they said I can either take it back now or some other day and they gave me the exact order. But now I know to check my bag every time now.

After class my mom came to pick me up with my brother and we went to Jack In the Box to eat something because we were hungry. They took too long for our order. After we got we asked if everything was in and they said yes. After we got home I checked the bag and they forgot my chicken strips because I order a number 9 chicken strip combo and they gave me the drink and fries but not my chicken strips. So me and my mom went back and I went inside this time and they had my order right there and they did not even say sorry.

They are giving out old food. I went to Jack In the Box this early morning hungry after working all day. Could barely afford to eat. Spent the last of my money on garbage and now still hungry with no money or gas to go back. Plus the person I couldn't explain my order any simpler. She repeated it. It was right but the food was sicking. It looked like they saved an old sandwich from way earlier that day. I mean it looked so old that I almost puked on top of that. Still ice cold pancakes. I mean really ice cold pancakes. Cold sandwich which was smelling like old mayo covered in it to hide that nasty ** taste. It was bad I tell you. That food poisoning is no joke. I got real sick from their food about a month ago. Haven't eaten there until today only cause it was the only thing open.
Got my food. Didn't eat it. Couldn't. I tried cause I was starving but now I go to bed with hunger pains and feeling sick. You know it's happened too many times. Five times food poisoning due to old left out food. Very I mean I was so nasty couldn't even eat the rock hard pancakes. Citrus and Rowland in Covina and illegals working as well. Tired of getting messed up food from Jack In the Box illegals. It needs to stop. They serve us old ** orders and give the fresh food to their family which are waiting outside so they can swap it out with food they saved earlier that day. She figured it was late so who cares. Well it happens too much with this corporation.
Very upsetting. Will never eat their crappy food again. I tired of wasting my hard earned taxed money for nothing. It's upsetting. Now I still am hungry and no money so I have to work this morning again but with little energy caused case Jack In the Box has old food. I pay full price for the food and this is what I get as a customer. When is this not gonna happen anymore.

On January 24, 2017 around 9:30pm I visited the location on Sheldon Road in Channelview at the drive thru where I ordered 2 munchie meals and additional taco. I was instructed afterward paying for the order to pull out of front so that the employee can bring my food out when finished. I sat there about 12 minutes and then the young lady brought out the one bag of food with no drink. When I mentioned the missing drink she proceeded back into the restaurant to get it. While she was preparing the drink I opened the bag only to get my taco out. When I unwrapped the taco I noticed there was a huge teeth mark where someone bit the taco. I was frantic as well as immediately felt sick! By this time the young lady came back out to my car to only hear my rage about the bitten taco I received. She laughed initially and said she didn't do it because she had just gotten there. I also have placed this live video on Facebook and mentioned it to the young lady.
I proceeded into the restaurant for further explanation and to receive my money back. The guy at the front counter said he couldn't believe what he had seen. I asked him how it was possible that they were serving customers food that they were already eating and placing in the customer's bag to eat! He said it must have been placed accidentally in which the video contains the entire conversation. I asked for a manager and was informed there was no manager at the location. The guy at the counter gave me the information for the store and the owner. The store # is 670 and I have all the managers information as well.
I was sick the entire night as well as this morning from just the thought of this happening! The risk of germs, diseases, poison etc! I have been receiving calls all day today from the managers, district manager, as well as the owner asking if I would take the video down if they gave me a gift card to the restaurant in which I took as a major insult.

On or about January 10 2017 my daughter took her 14 yr old daughter who is autistic, to the Jack in the Box store located at 1141 W. Lagonia Ave. Redlands, Ca for her birthday treat, chocolate Oreo shake. The employee and manager demonstrated disdainful treatment toward my daughter's autistic child because she was slow to properly pronounce the item she wanted. An argument ensued with the manager raising her voice and becoming totally unprofessional and clearly displaying her dislike for my daughter and autistic child.
Jack in The Box has been a family favorite since 1965. But with its discriminatory policy toward disabled children, we caution all those who take their children to their stores to be mindful and cautious not to expose their children to such behavior. In a disabled child's world there is no discriminatory thinking - only being victimized.

I go into JITB early mornings a lot. This morning a new Team Member, Amy was there. What a pleasant surprise. Very happy voice greeted me brightening my day. Amy was wonderful. Amy took my order (only a coke and a water) as if I had ordered 1,000.00 worth of food. Amy is very enthusiastic and very competent. Amy is also very professional and has a great sense of dealing with the customer... Not to mention her beautiful smile and beautiful eyes. Great hire Jack. I hope to see Amy more often... She turns a dark and cold morning into a bright and warm day.

Went in on a Saturday, only one in line. They didn't greet me, they let me stand there for quite some time. Several of them saw me, but ignored me! I was going to leave but I was hungry. Finally they took my order. When I got the burger, it was barely lukewarm, the curly fries were as though they had been sitting a while, stale cold. I was going to to take them back, but they were already shirt handed and disorganized. What's the point? I'm not going to complete the survey because I don't want any more of their food even if it's free!! Horrible service and food.

A coupon was refused because it was on a mobile. She said it was a picture but it was not. It was in Adobe file not a picture. What's the point of digital coupons if I don't own a computer and a printer and I can't afford internet access except on my phone? How is that fair?

Me and my boyfriend and my daughter ate at Jack in the box in Waianae. They made my food raw and we found a big hair in our food and a fly in our shake. And then they gave a bad attitude to everybody that ate there.

I had a review in about year ago about the false ad that Jack In The Box had on their menu board. It states "Jumbo Jack cheeseburger combo $4.99." When I ordered that I was surprised when the cashier asked me if I wanted cheese on it. I told her that yes I would since it was a cheeseburger. She said I would have to pay 30 cents more for the cheese. To be insulting I asked her how much extra would the hamburger be. This didn't set well with her. I mentioned that she was actually trying to sell me a Jumbo Jack hamburger combo for $4.99 instead of the cheeseburger. That is false ad and wrong. This year I see the same ad on the menu board. I guess nobody cares.

While stopping at the Jack in the Box in Roseburg Oregon. Outside temp was 38 degrees. Inside expecting to be nice and warm. It was 36 degrees because the exhaust fans were pulling cold air through the doors from outside. We asked if the heat was on? The Counter person said the heat was out and had been for more than a month. It's just sad that the owner and corporation would allow this to happen. We will never eat there again. The associates all were in horrible moods because of working conditions.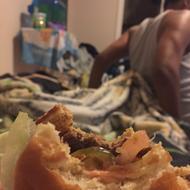 So my husband and I visited the Jack in the Box on Hwy 6 and 529 (Houston, TX) at 1:07 AM. Waited 30 minutes with 3 cars in front of me and 3 cars behind. Finally got up to the drive through window, the employee named Oscar was rude and unprofessional. I asked what was taking them so long and he just laughed and ignored the question. Gave me my bags and drinks, but held onto my card so I had to yell at him to give me my card. So after we go home, not even one bite into my burger I found a hair mixed in with the meat. So my husband wrapped it up. And set it aside to take back. Luckily we got the refund before I found the hair.

Store #7105, stopped in on my way across the river, bought the BLT lunch special. I asked for an unsweetened Ice tea as my drink. Burger and fries, excellent, ice tea was awful. After one drink I knew not to drink anymore. Unsure if it was the tea or the ice machine, but it was BAD! I was too far away, and too much traffic to turn around and go back. I tried calling the store to let them know, after four tries over a couple hours I gave up. I called the 800 number, they said they would contact the area manager and that person would call me. I never heard a word from anyone. I stopped in at another Jack In The Box, asked if they would replace the tea, saying it was bad, NO was the answer. Jack In The Box could have easily sent or emailed me an apology and free drink certificate. No follow up on something that could have made people sick. You have to be kidding!

The Assistant Manager's attitude was irritating. I asked for my hash brown crispy. He was angry and he returned back to the frying. One was done in the oil. I Ordered SW Egg & Bac Hash brown. Look like my order did not have enough egg. Looked very poor plate.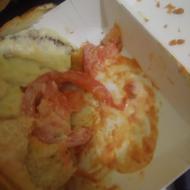 I had to remind her of the free cheesecake then she wasn't giving me the discount until I mentioned the cheesecake. I drove all the way home for a soggy untoasted sourdough drenched in mayonnaise and ketchup... I couldn't even see the bacon then also on the other hand I realize I had no straw for my large soda and no napkins to wipe all the mayonnaise and ketchup off my hands after grabbing myself a burger. I had A 4 pack of hot sauce for 4 orders of tacos and my tacos to top it all off was very still and hard.

The Supreme Croissant we purchased was cold and the egg was not even warm. This location continues with some type of issues on product quality, poor service and the like. I spoke to a new District manager for this location on Walzem Road in San Antonio, Texas. The new District Manager was very pleasant to visit with on the phone. You might consider closing this location if the problems do not get resolved with an array digit of different issues.

I just went to Jack In the Box because I remembered that they use to have a big bun and burger before since they raised their prices so I ordered the buttery jack meal. It came in the BIG BOX and I was excited to eat this burger again. But when I opened the box there was the smallest burger I have ever seen for that almost $8 dollar meal I had ordered and I was sooo ** mad I could have had a big burger at Chili's or Red Robin for the same price **. Anyways I will never go to another Jack In the Box as long as I am alive. To the CEO of Jack In the Box I hope you're happy when your company goes out of business because I am sure it will **.

I go to J-in-B quite often. I work a lot and fast food quite a bit. To me after 10 min. in line is not fast food and I may as well go to a regular restaurant for my food. With that said I just spent over 20 min. in line at the Jack in the Box at Mount Vernon. The girl at the window said there is a charge for sour cream, hum when
I go to a restaurant there is no extra charge for sauce sour cream etc.
It's called cost of doing business Jack. If you can't afford being in business get out of it. Condiments are part of the cost of the food and it's way too expensive for fast food anyway. I just spent 10 bucks on a chicken pita with 3 small pieces of chicken (pressed) at that were over seasoned, and a small curly fries and had to ask for ketchup, REALLY! And three napkins for the whole greasy mess. Oh yea! I hate the bags too that leak the grease through.
Where is your CEO and why it this happening? You need better packaging, you need to clean up and inspect your locations on a regular basis. Fire your loser employees and take away franchise from people who don't give a damn. People don't have time to waste in your line while someone's screwed up order is being corrected. Former customer.

We went through the drive through twice this week (Jack-in-the-Box on Fredericksburg Road). On both occasions, major food products were missing from the order. Teriyaki bowl was missing the rice and vegetables on the first occasion. Our second visit this week, believe it or not... the hamburger patty was missing from our bacon cheeseburger! We went back to the restaurant to complain about the burger. According to the three people working, there was no manager on site. I asked for my money back and for contact information to complain. They all laughed. All three individuals seemed to be under the influence. The money for the burger was refunded. They kept the receipt and would not return it to me, probably because I told them I was going to make a formal complaint.

I used to go to this J Box all the time in the morning because I start early and it's the only thing open, NO MORE!! This place is filthy. The food is slop. The employees are rude Mexicans that barely speak English. My order is always wrong. How hard is it to add mayonnaise to a breakfast sandwich?! There are lots of other good restaurant close by. Don't waste your time or money at any J Box. I'm amazed they are still in business.

I go to the Jack In the Box near my house in Springfield, Oregon at Pioneer Plaza and have always had a great experience there. I take my son there once in awhile. The staff were always nice and if they ever messed up on an order I'd get extra fries or something they'd always compensate until recently. The last few months I have been there the service had been crap. I've never been charged for buttermilk sauce if I ordered food. Recently they hired a new lady on staff mid to late 20s and when asking for my sauce at the drive thru she completely argued with me over asking for sauce. First off I wouldn't had minded paying for extra sauce I just spent 40$. Does she think I can't afford sauce? But with the attitude I received I didn't even want the sauce. I went home and used my ranch salad dressing instead. Now every time I go thru the drive thru it's the same gal. Every time I ask for sauce she rolls her eyes at me.
Today I ordered a 20 dollar order including large curly fried egg rolls and some breakfast sandwiches. She gives me 1 sauce and asks me if I will need a sauce for my egg role too. Of course I do – it's an egg roll?? Can I have sweet and sour please? So I get one sauce each after asking if I could get more sauce. She gave me 1 more and rolled her eyes again. Like it was so hard to put a few in the bag in the first place like the rest of the employees have always done. Also on another occasion I ordered 2 chicken sandwiches and they were made like them but had beef in it!! Didn't realize until I got home. I appreciate the employees here. I have only had bad experiences with the new cashier. If you don't like your job quit and stop making yourself and customers miserable over a sauce. There are lots of jobs in Oregon. You don't have to work for minimum wage.

On the 1 of June 1 of 2016 at 13:21 in Castaic, Ca at JIB#3208 by the Emp Blanca took our order thru drive thru of 1 value fries and 1 jumbo jack, 1 value coke and 2 monster tacos. At first she took some time understanding us then she got it the order and we know that this Jack is always so busy all year round. Wish we live close by it, but then it doesn't matter what we pay for it. It's the fact the way how they give your food in the bag. It was full of grease and the tacos were dripping in oil and the jumbo Jack was giving up side down. Ok, now I have pictures of the bag and the taco how it was. I was so angry that I wanted to go back and throw it at their face but my husband didn't let me so he took me somewhere else. Now I have the receipt and the pictures. I'm vary disappointed at this restaurant that I won't go back and I know that it's fine or you just won't care.

I called in an order. Was told to go thru drive thru. Then waited 10 min. Then when I got to drive thru then was told to go around front to get order. Then waited another 10 min and nothing. Went in to complain and just told sorry. I'm very upset and probably won't go back!!!

I am very upset!!! A month ago I wrote a nice review on Jack's employees in Avondale Blvd. His name was Alexis. I was pleased that he would help us. Well, all that changed today. He said he had not seen me in a very long time. I go there everyday and purchase items. I mean I go everyday. He was rude and laughed and didn't even care about anything. There was a blond girl next to him that just greeted me and ignored me later. I was not happy today. They made me feel like I never existed. I go everyday, I may have to take my business elsewhere. I am tired of how they treat me.

I purchased a Chicken Fajita from the Jack In The Box in Kingman Arizona today and the chicken in it was compressed chicken? and it should have been real chicken pieces. This substitution has been happening for a few month now. I complained to the manager a couple of months ago and said I would file a complaint if it continued. This compressed chicken? makes me sick and is a scam to make more money by not giving people what they paid for. I would not trust this owners Jack In The Box food in a nearby city also.
Jack In the Box Company Profile
Company Name:

Jack In the Box

Website:

https://www.jackinthebox.com/