What you should consider before buying an old house
Those historically charming aspects could get costly



Written by

Edited by
Find Mortgage Lenders near you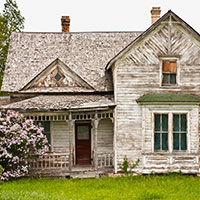 Old homes have an alluring hold on some buyers, with their original wood floors, stained glass windows and unique nooks and crannies that modern-built homes lack.
The idea of owning a piece of history and restoring an old home to its former glory can be exciting, but it's important to approach the purchase with caution, knowing all the caveats before putting an offer on an old home.
---
Key insights
Old homes might have historical or preservation restrictions that may impact your renovation plans.
Expect an older home to have lower energy efficiency compared to newer constructions, which will affect your comfort level and budget.
Conduct a thorough inspection to identify any structural, electrical, plumbing or other maintenance concerns before buying.
Pros and cons of buying an old house
Buying an old home can be full of charm — along with repair costs. Weigh how much you love certain aspects of an old home, such as the unique architectural features and established neighborhood, against how much it will cost you to get the home's plumbing and electrical systems modernized and up to code.
Pros
Unique finds: Older homes can have distinct design elements not found in modern homes.
Lower purchase price: Depending on the condition, an old home can be more affordable than a new construction or recently renovated property.
Quality construction: These homes may have durable materials such as hardwood floors, solid wood doors and sturdy foundations.
Cons
Repair costs: Aging infrastructure, outdated electrical and plumbing and general wear and tear can add to your expenses.
Smaller floor plans: Expect less square footage and limited storage space when shopping for old homes.
Not energy-efficient: Outdated insulation, single-pane windows or inefficient heating and cooling systems can add to your monthly utility bills.
Checking the structural condition
"There is a laundry list of items buyers should be aware of in older homes, especially overall structural conditions including the foundation, walls, roof and floors," said Michael Ashley Schulman, founding partner and chief investment officer at Running Point Capital Advisors. "A reputable home inspector should be able to point these out."
You will want to hire a professional home inspector with experience evaluating older homes since they can look for hidden damage that you may have missed. They will look for signs of structural damage, such as cracks in the foundation, uneven floors or sagging walls. These problems aren't impossible to fix, but they will be significantly more money to hire out than updating old window panes to modern, energy-efficient ones.
"We additionally advise our clients to rigorously check current neighborhood and zoning regulations," said Schulman. "Some older homes have restrictions on renovations or exterior changes to maintain historical integrity."
Schulman explained that many older homes can be grandfathered into old regulations and can be taller or larger than what the current regulations allow. If a buyer were to redesign them or if a natural disaster wiped them out, the house would have to conform to the new regulations.
» MORE: Home inspection checklist
Potential issues with electrical and plumbing
Older homes can have outdated electrical wiring that is dangerous. Aluminum wire is known for overheating and starting electrical fires and may need to be replaced. Additionally, the electrical panel installed in the home might not be able to keep up with the electrical load of modern appliances and technology.
Aging plumbing systems can also present safety issues. You and your inspector should look for signs of leaks, water stains or water damage in the walls, ceilings and floors. You will need to have water pipes checked to ensure they are a safe material and have not eroded or rusted. You will also need to have the age of the water heater and any septic systems checked because they will need to be replaced if they are too old.
Upgrading heating, ventilation and cooling (HVAC) systems
Older homes tend to run hotter in the summer and colder in the winter due to ventilation issues. This means you need an HVAC system that works well and won't make you cringe every time you open the utility bill.
Determine the age of the HVAC system and ask about its maintenance history. Older systems will be less energy-efficient and can be more susceptible to breaking down. Your inspector should check for signs of wear and tear, as well as unusual noises, inconsistent heating or cooling or poor air quality.
Depending on your area, there may be alternative heating and cooling options worth considering instead of paying to replace the HVAC system. For example, geothermal heat pumps, solar heating and ductless mini-split systems are generally more affordable to install than a new HVAC and are more energy-efficient.
Dealing with old home dangers
The two main dangers that come with old homes are lead and asbestos. You will need to have your paint and water tested for lead. Tom Yates of Asbestos-Sampling.com said that any home built before 2000 could have asbestos-containing materials.
"Asbestos is a class 1 carcinogen which, when its fibers are inhaled, is proven to cause various lung diseases including cancer," Yates said. "If any asbestos is present, budget for professional removal if you plan on disturbing it."
Some common areas of asbestos are:
Popcorn ceilings
Floor tiles
Insulation boarding
Loft insulation
Siding and paneling
Future impact on reselling
Old homes can either increase or decrease in value depending on the home's history, the repairs made and the location. Certain characteristics of the property will determine its long-term value. For instance, a 100-year-old cottage in a sought-after beach town may hold or even increase its value over time. The unique charm and historical significance of such a property can attract buyers and contribute to its appreciation.
On the other hand, some older homes, particularly those that do not mesh well with the architectural style or preferences of the area, may face challenges in maintaining or increasing their value. An out-of-place 1950s ranch-style home in a neighborhood dominated by newer architectural styles might experience a decrease in value, despite being well maintained.
If you are shopping for an older home that you want to resell for more in the future, consider the neighborhood and demand for older or historical homes in the area.
FAQ
Can I get a home warranty for an old house?

Yes, you can typically get a home warranty for an old house. There may be some limitations and exclusions based on the age and condition of the home, so check with the provider what is and isn't covered.
What are the financing options for buying an old home?

Many conventional mortgage lenders will finance your home purchase, whether it is old or new, as long as you prove your creditworthiness. Some loan types, such as an FHA loan, will not allow you to purchase a home that needs repairs or is not structurally sound.
Do houses lose value as they age?

If a house is not well maintained, it will lose value as it ages. However, the location and market can play a bigger role in determining the value of a home — this is why there are affordable mansions in less populous states and multimillion-dollar shacks on the California coast.
Bottom line
Before you follow your heart and put an offer on an old home with potential, get thorough inspections done to know if the property is an easy fixer-upper or a money pit. If the home is in an area that will keep its value, it might be worth the investment.
Did you find this article helpful?
|
You're signed up
We'll start sending you the news you need delivered straight to you. We value your privacy. Unsubscribe easily.