PayPal Prepaid MasterCard
Consumer Complaints and Reviews

First of all, the $5 a month with PayPal isn't even a good deal considering the other options with a reliable, real bank. The only upside to PayPal is the whole online feature. PayPal customer service is a pain. Believe it or not, the PayPal prepaid card (master card) and the actual PayPal.com are NOT associated with each other, so when you call for help they will have to transfer you to the other one. The lady I get on the phone (always the same one) is always rude, judgmental, and irritating. I am a college student, so using this company to manage my funds at first seemed to be a good idea, but it is not. Unless you use PayPal for small deals, payments, or run a small online business this company is not a good idea.
People who rarely use PayPal maybe have no problems, but just looking at the people who use it on a regular basis can tell you all you need to know. They HAVE ON MORE THAN ONE OCCASION ATTEMPTED TO CHARGE ME $5 twice in one month! One time they even tried it THREE TIMES! I disputed it. But you know, you have to wait forever for that crap to go through. Then they have this account limited 'security' feature. There was an incident where my card was stolen and the person (who actually was caught at the ATM because they had my college I.D and the cashier saw it wasn't me), they used $300 dollars from my account. Because of this, PayPal had to do 'super scientific research' into the matter (which probably meant sorting through all the angry calls considering the wait time on the customer service phone line) so my account had limited accessibility for about a month.
Pain in the ass? Kind of! If I happened to need seven bucks for class, or even 50 cents (taken off a card at my school) to use the printer forget it! They assume everyone is a hacker or something which, okay, thanks for the security but. There HAS to be a way to prove it is me?!! All this tells me is PayPal has some serious security issues, or they are just that unorganized of a team. This experience aside, even when everything is going well they create so many problems. To quote the person below me 'hoops and ladders'. You can only transfer funds from your savings account to your card 6 times (or maybe five) but when you have one more transfer left they make you call them to assure them that it is really you transferring the money. The logic behind this is clearly ridiculous.
IF YOU ARE LOOKING FOR A STRAIGHTFORWARD REVIEW/ADVICE CONCERNING PAYPAL? Spend the extra money a month or the annoyance of opening up a real bank account as opposed to using PayPal for your small business or income. Right now I am realizing this is a terrible mistake I made to use PayPal prepaid for all my expenses and income. I would only recommend PayPal if you are running a small business on eBay, or regularly hire people to work on your house or something and like paying them through PayPal. I would never suggest using it to hold funds over 10,000 or even anything over 5,000. I actually have 200$ that I am not sure where it went or was spent, but that is in the past and if you have ever dealt with PayPal it just isn't worth it. Alternatives to sending money would be Moneygram with Walmart, Western Union, and I think Facebook does it now too.

I have been with PayPal Prepaid/Netspend since at least 2012/2013, but the customer service I've been receiving over this issue is atrocious! I have been having issues with being unable to do instant transfers from PayPal to my Prepaid Master Card since early June, but NO ONE WILL HELP ME!!! I have e-mailed, and called the customer service department, and no matter how I explain this to them, jump through all their 'hoops' nothing works, and I cannot perform this. The ONLY way I can access my funds from PayPal itself, is through transferring it to my bank account (Bank Corp.), and it takes 1 business day. If there is a representative from PayPal prepaid that will help me with this, in an honest, thorough, and professional fashion, I would appreciate it, however I have yet to find one that will!

I buy the prepaid MasterCard. Says the easy steps day on the cover. 2 days later, I have sent them all required information. And I still don't have access to my money that they have had for 48 hours. Not only did it cost $3.95 to buy the card and add money they also have taken $4.95 for a monthly fee in the first 24 hours. Here I sit paid fees for money that's mine they won't let me access... Really!!! This is a fraud and I'm not doing here. Contacting the BBB and the Justice and consumer services center in my county. Very unsatisfied... And let down by PayPal. I thought they were a good company. Sad when Wal-Mart card services treat you better than PayPal.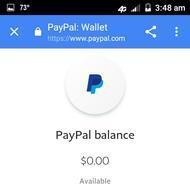 I just bought my card last Wednesday. I put $200 on it. I used it yesterday for a total of $71.87. Well I got online just check out how the PayPal site worked only to learn I have a zero balance and my purchases put me in the negative!!! Not even a week and 6 transaction later I discover I should have left the Dollar General card alone. My daughter told me to get a Master Card from Walmart but I was at DG so I figured they were the same. Undoubtedly not. I have 3 1/2 more hours to wait before I get to talk to a customer service representative but after reading these reviews I can just about guess I won't be getting my money back.
All I can say is they won't get any more money from me to cover the negative balance. Yes, they allowed me to make those purchases with a zero balance. If they have an excuse as to why money isn't in there I may just make an additional $124.00 worth of purchases to make up my $195 I should have had on there. Anyway I'm not a happy camper right now and I have a feeling that isn't going to change after I talk to them. Ugh!

PayPal PREPAID MASTERCARD website will not permit me to do an instant transfer of my earnings. I have spent an inordinate amount of time on phone trying to get help. No one seems to know what to do.
How do I know I can trust these reviews about PayPal Prepaid MasterCard?
850,588 reviews on ConsumerAffairs are verified.
We require contact information to ensure our reviewers are real.
We use intelligent software that helps us maintain the integrity of reviews.
Our moderators read all reviews to verify quality and helpfulness.
For more information about reviews on ConsumerAffairs.com please visit our FAQ.

I purchased my first prepaid debit card for my customers who only have cash. This was going to be a awesome part of my small business. I choose PayPal because I've had a PayPal account for years without any issues. I was under the impression that I put money on the card and use my money that's loaded on the card, something very simple. Until I tried to activate the card. I called and was told there was an error activating the card which seemed weird. Next, I was transferred to a representative wanting my name, social security number, address, etc. I didn't understand so I asked if I could not give that information. Next I was told it would be a $5 fee within 24 hours and I could only use the card for in store purchases.
At that point I was almost completely over the card but I had already loaded money. Finally the last straw, I used the card twice for a total of $2.10. The next transaction was at a gas station before I could even input the amount it was declined. I call to inquire why the purchase was declined. I was told the transaction went through and I would have to contact the gas station. Of course the gas station said it was declined. This gas station (declined) purchase took all my funds from the card leaving me with $0. I was only able to use the card for $2.10, that's absolutely ridiculous! I will never ever use this prepaid service again. I was going to have a large amount of my customers use this service. I am happy it happened to me first before I referred my customers to this awful experience.

I would like to make an appeal based on the disbelief and disagreement with the PayPal Prepaid card in association with Netspend. (I'm not a fan of Netspend, PayPal you just lost another customer over Netspend, I know I'm not the first). I have been a loyal member of PayPal Prepaid since 2012, and I have always paid my $5.00 per month service fees even if I was late. This time I was late past 180 days and your policy is to restricted access to one's online account in order to ensure payment of a negligent bill totaling $10, well that policy just backfired! I will not be paying it. You can take the $10 to your third party collection agency. Plus when I asked a manager over the phone to waive this online access restriction without receiving payment over the phone, but rather just trusting that I will pay it as I have always done, denied to do so. So I'm done with PayPal, I have been loyal and even braggadocious for years, its over!

I was already an account holder, but for some reason there was not any refill cards in the store and I couldn't add cash at the register, so I had to buy a new card. Upon purchase I visited the website for activation and was told it was an error and I had to contact customer service. I contacted them and was told I had to send all this personal information (ID, proof of address, SS Card). I sent them all except the SS card. They said they couldn't activate that card and I requested a refund. Needless to say, I will never use their Prepaid cards for anything other than receiving money thru my PayPal account. Do not buy PayPal Prepaid Cards, they are a horrible nightmare!!!

I had a PayPal Extras Card for over a year. I have a very busy work schedule and trusting stupidly that a business will charge me honestly. My payment is due 28th of mo. I pay 19th. They charge me $39.23 each mo. for card sec. I don't know what that is. Then another interest fee of $39. They are robbing me. I have a credit score over 700. I never miss paying and use the services of borrowing money to send, but do use the credit card for purchases. Also my card line 6,000 but charges under 2,000. I make large payments, $300 to $700, sometimes twice per month more than required. What's going on? I feel they are scamming me.

I closed my account on 04/02/17 at 6:48 p.m. cst. I called on 4/5/17 to inquire about my refund for the amount of $551.43. I was told by Ian who identified himself as a supervisor that I would receive my check no later than 4/14/17. I called back again a few days later and was told that my check should be there no later than 4/19. I then spoke with Ira badge ** on 4/19/17 10:21 a.m. cst after I notice that my check didn't come in the mail, I was told that I would have to wait until 5 pm before they can do anything. I called 4/21/17 at 10:37 a.m. cst and was told by Ira badge ** that my account will be forwarded to risk management for stop payment on the check and re issuance. I was told that it will take up to 30 business days. When I was asked to be transferred to a supervisor she refused.

When buying the card, it clearly says it is a PREPAID card, which lets the user safely assume that the money they spent for it in the store is already on it. However, upon opening the box and taking the card out, there is a sticker covering the important information that repetitively says "Activate online"/"Must be activated online before use" and in small print gives the website. That right there is enough to make this the most difficult prepaid I've ever used, but it doesn't end there.
When reaching the website and clicking on the hard to find "activate a card" button, it allows me to put in the card number, CCV and exp date, originally hidden under the sticker mentioned earlier. After doing so it redirected me to a page that read only "There is a problem with your account" and under it "Call our support staff @ **." Well I didn't call them, I found the email hotline instead and sent them an email regarding the problem. They replied with "We're sorry about that, like many know we are under the same obligations that banks and card companies are under so we do need to verify the user identification before giving people prepaid cards."
First off, this is straight up wrong, otherwise prepaid MasterCards and Visas wouldn't work the way they do (they don't require proof of identification they only require the initial cash deposit and it's set to go). Second, what about the initial deposit on the card? I did pay for that, and all it got me was a trip to this shabby support email telling me they need proof of identification.
Anyways continuing. The identification they asked for included my SSD Card (yes, the card, not just the number, the entire card), a state issued photo ID, and the most recent utility bill (I'm not sure why they would need this). After reading this, I didn't even reply, because it seemed like a waste of time. I dropped $200 dollars on a prepaid card to make transactions easier, and instead lost all $200 and got asked to give up identification that can be used for fraud. Ultimately, PayPal as it is normally is good, but these prepaid cards couldn't possibly be worse. Stick to Visa and Mastercards.

Very upset about my Mastercard rejecting me at a particular Walmart today. Very big inconvenience for me. My daughter is out of diapers and I had to come all the way back home after having a shopping basket full of stuff including her diapers. So now I have lost time and Time is money. Maybe You guys should call like other card companies if you think there is an issue with a transaction instead of just simply outright rejecting the transaction. Happy not Happy, very upset. Rep told me they have had issues with that particular Walmart. So rather than monitor transactions from that store you just outright reject all transactions from that store. Very smart guys! NOT.

I received my PayPal Prepaid card a few weeks ago and used it at several locations without any problem. All of a sudden, without any warning, it stops working. I called them and they said they closed my account because I have been reported as DEAD! They refused to reopen my account and they refused to send me my $300 that I had transferred from my PayPal account to the card. How ridiculous! I called PayPal and they offered no help at all. Netspend.com (the company that runs the PayPal prepaid) is a bunch of thieves. They stole my $300 and offered me no alternatives to getting my money back!

I loaded $170 on my card and went home to activate it. I completed the form using auto fill. I was unaware that it asked for a social security number and so I believe my computer put in my phone number. Long story short, I had to call to activate the card. I called and updated the system with my correct info but was told that I had to send in a copy of my license, SS card, and utility bill. I asked to speak with a manager as I have never had to do this before. The manager could not correct the information in the system. I asked if I could return the card to the store but they stated a refund would not be issued even though I had the receipt and had purchased it about 20 minutes prior. They offered to mail me a check in 10 business days...
So now, I'm at a loss because there is no way to retrieve my money. It's like people have said before, "They hold your money hostage". Do yourself a favor and stick to Green Dot or other popular companies because this place is a joke. I only chose this card because I use PayPal sometimes and thought it would be an easy process. Well, this is not the service I have come to expect from PayPal but after this I will be deactivating my online PayPal account as well. That is how disgusted I am with the company/brand. Never again!!
Now, I have to send all of my personal information over the internet just to remove all of my money from the card and close the account. My bills unfortunately will be late and they offer no real solutions other than "it can take up to 6 business hours but we close at 10". I told them that if this could not be done today by 10pm, don't bother but they assured me that it would be handled and my funds would be available before 10pm today. It is now 5:53pm EST. I will update you because I already see there is going to be a problem with this company. I have to fight for my own money. That is a damn shame. They need a better system where they can correct things instead of giving people the runaround. This has been by far the worst company that I have dealt with. PLEASE STAY AWAY FROM THIS COMPANY, unless you have time and money to waste. #paypal #tarnishedbrand #neveragain

They will hit you with a monthly fee and ATM fees and lie right to your face if you try to call them. Hands down worse card service ever. I feel stupid for even trying to use it. DO NOT USE THIS SERVICE. It will cause nothing but headaches. It will take you over an hour to get in touch with a representative and they still will most likely not be able to help you. Crooks.

I was sent 150.00 on January 30. PayPal transfers wasn't working apparently. So I was told by a rep that I could send it to a NetSpend card. So I tried everything accepted. 2 days later which was Feb 2 I receive an email dated January 31 that the transfer was declined. I was told WRONG!!! They do not accept it. So a ticket was filled out supposedly, to which I believe was false, I never got a callback as promised. It has took me days to get my money. And I'm not getting it all at once. I can only transfer a little over at a time. Which has took me hours. I am DONE with Paypal. When I finally get all my cash, which hypothetically, is gonna take me days because I can only transfer 3.00 at a time now and wait 2 hours to do another, I will no longer do any business with PayPal and the account will be closed.

I made this account just to say how absolutely disappointed I am with this card. I had nothing but problems with my payments and the representatives were not helpful in the slightest. Will NEVER recommend.

Tried for 3 days to get monies from PayPal acct using PayPal Prepaid card. This company needs to admit this is a useless product. Really it is a poor quality product, I wish I didn't use this as an alternative for clients to pay. Customer service reps must not be aware the product is no good they actually spend time going through troubleshooting procedures just to keep you on the phone and dragging this out. I believe they should scrap this idea and stop wasting customers time. By the time you lose it and get mad you then realized you are a victim of a scam. I will never forget this and will share this horror story forever. STAY AWAY FROM PAYPAL. There are other business solutions.

I have just been informed by PayPal that my account has been permanently closed because of too many companies have taken advantage of me. I'm disabled and this is the only way I get my benefits every month to pay my bills and get household items. I'm the victim here and instead of helping me fix the problem their punishing me for it!! I've always been loyal to them. I had 3 accounts with them. Even though others said to close them because of their own horrible experiences, but I didn't and this is how they thank me and shutting down my account with even proper notice. I hope this review stops others from getting this card and being next victim!!!

I normally don't do these because I worked for a big company and worked in their social media complaints department. I saw a bunch of lies told and people being nitpicky just to be spiteful. This is not the case here. I bought a PayPal prepaid card and loaded $100 on it at a retail location. I tried to activate it online and by phone automation but I kept getting there was an issue. I spoke with a representative who informed me that they could not activate my card due to a negative balance I had with Ace Elite back in 2012 for $96. First of all, this was a lie. I have an Ace Elite card that has been opened since 2011 and there is no negative balance. I get my paychecks deposited weekly on that card. Second of all, what does Netspend have to do with a PayPal card that's under Bancorp?
I relay this information to the rep who seems like she could care less. She says I don't have to pay the balance and that she will send a request to release my funds to the recovery department and to allow 1 business day. Okay. Fine. This isn't ideal but I can wait one day. I call back later just to confirm the rep did send the request and that I will have my funds tomorrow. He assured me I will. Fast forward to me calling today only to be told that the request never went through and I would have to wait another day!! I am upset now and I politely asked for a supervisor only to be told they can't do anything. I voice my frustrations but it falls on dead ears. I advised that I am being polite but if I don't have my money tomorrow, it will not be a pleasant experience.
This company is holding my money hostage and could care less. I know now that I will be closing this account out and just waiting an extra day for a bank transfer of funds from PayPal to my other card accounts. I've learned my lesson. If something starts off this bad, you leave it alone. The card is convenient but the customer service sucks!!

Hello. I made a payment to my cellphone company MetroPCS on Saturday Dec 17, 2016 for 60 dollars. MetroPCS said they didn't get a transaction so I call PayPal prepaid because the money still went in pending and still is currently in pending as I speak. Long story short I need help. PayPal prepaid keep giving me the runarounds to reverse my money. Someone please help me with this on what I can do. And my phone is still off.

Before the MANDATORY switch to PPMC, PayPal was a great service. Since then, whenever I attempt to purchase eBay items with the PPMC, I am unable to do so. What's more frustrating is that I'm unable to inquire about the reason. Have you ever tried contacting PayPal?? It's a nightmare. So, guess what?? I will be closing my PPMC this week.

I have been dealing with PayPal for a few years now and at first was singing their praises. Until up until about April of this year (2016). PayPal has let unauthorized people go into my account, take my money on multiple occasions, even when I didn't owe them. They've made me wait days, and weeks for my refund although it took seconds to allow them to take my money. PayPal has told me, "we'll give you a courtesy and return the money as we investigate your issue", to only reimburse me the money, have it fall off and then I incur all type of fees. I have had to continually call and ask them to remove these fees and explain to them their own process. Also this last instance where my card was stolen August 9th and I still haven't received my new card in the mail on August 29, where they say it takes 7-10 business days. I have even paid 3.95 for my own hoping it would have gotten here by now but nothing.
When I call and speak to customer service, I get answers like "sorry" and "just wait". On Friday, I spoke with a young lady that says "Oh I'm sorry. Let's see if we can get the card expedited to you, then you will receive your card in one to 3 days..." So I'm thinking finally a little help. Guess what. I checked my mailbox and nothing. PayPal is becoming anything but my pal and unfortunately, I now have to reconsider if I should continue my services through my business plus my personal elsewhere. Maybe a real banking institution will appreciate me more!

After 10 days of phone calls and different stories by all different reps and 10 days of patiently waiting while they do an investigation for my refund of over $700, they then say its up to my bank, not them to refund me. Yet the hr before that, a so called supervisor said my bank wouldn't allow the chargeback because of it being a debit card. My bank said they never even tried to do a chargeback. Incompetent, but most of all, they will lie to you and run you around. Got my money back in a few hrs after speaking to bank rep. Closed PayPal acct. Bye Bye.

I am currently in the process of trying to get a charge overturned due to a dispute. IT HAS BEEN AWFUL. There were two separate transactions that were disputed from the same company. Originally, they gave me a provisional credit for the first transaction. On the second, they told me it would be two weeks before a decision was made. Fine. When the time came, they said they had not figured anything out and that I would need to wait another two months! When I first called, I was placed on hold for 15 minutes and had to hang up. The next time, I was again placed on hold and was actually hung up on. When I called again, I asked to speak to a supervisor, and I was on hold for 40 minutes (not a joke) and eventually had to go.
I am a long-standing customer who has done business with PayPal for years. Now I have to wait months for a disputed transaction and there is absolutely nothing anyone there can do about it. I even spoke with the corporate office and got the same runaround. I would highly, highly recommend going with another company. They are brutal to deal with. DO NOT USE PAYPAL PREPAID WHATEVER YOU DO! If you need to speak with someone there, be prepared for the worst customer service you've ever experienced.

The card can be amazingly convenient. Particularly if you are an Ebay Seller, but for most Sellers the standard Debit card should do as well. They both give you access to your PayPal Monies, though the PrePaid. Uses a transfer-in process vs the funds being automatically there as w/ the standard debit card. Also, there's like a $5 overdraft capability built-in which sometimes kicks in and sometimes doesn't. I actually don't like that feature, but it's not removable and so the Prepaid Card is controllable only to a point.
When you transfer any amount in from your PayPal account, it usually goes thru immediately without a hitch. The exception to that was during 2016 Father's Day Weekend when the transfer system was down for almost the whole weekend. The workers didn't know what was happening for numbers of hours, causing false remedy advice. No posted information was given. Note, I use the card for an odd purpose... to help control an alcoholic friend. The outage caused me to need to make an hour's trip and I know the outage caused numbers of inconveniences to others, too. That's when I realized I needed a backup card.
There are other FREE prepaid Debit Cards w/ NO MONTHLY FEES (unlike the $4.95/mo Paypal Prepaid fee. I'm particularly pleased w/ the BlueBird Debit card, an Amex Card that can be ordered for free online. It has some advantage over the Paypal Prepaid in that cards given to family members can be controlled even better than PayPal Prepaid ones. BlueBird lets you easily transfer money from an outside Debit Card in increments of $20 and up to your account, and you can add family members accounts for free. Money can be transferred online instantly to the family member card in any increment. What's more, unlike Paypal Prepaid, money can be transferred easily back out of the family member card. Note though that the card will only be accepted where American Express is accepted.

My card was skimmed somewhere, most likely one of the local banks. Beginning a couple days ago several balance inquiries were attempted daily and I was charged the $.50 balance inquiry fees along with the $1 overdraft fees. I called this morning to see what it was about. They cancelled my card immediately and told me the replacement would be in in 7-10 business days. The fact that they can't ship it out any faster than that for any reason is utter bull phooey. I live paycheck to paycheck, and going 2 straight weeks without any income isn't something I can possibly do.
I understood the initial floor person has their limits to what they can do, so I asked to speak to a supervisor. The first person I talked to was great. After being on hold for about 20 minutes (no biggie, expected longer tbh) the supervisor said there was nothing they could do. Told me to borrow money from somebody for the next 2 weeks. I asked why I couldn't get my card shipped out sooner. Was told that it's their policy and there's nothing they can do about it. This person was extremely rude and insulting. I asked to speak with their supervisor. I was put on hold for 40 minutes this time, and then hung up on.
As soon as my card comes in the mail I'm withdrawing all of my money, cancelling my card, and cancelling my PayPal account. I'm also making sure to let friends and family know not to deal with these guys as their customer service is appalling and if something unfortunate does happen, these aren't the people you want to have your back. PayPal was always a decent company to deal with, but these NetSpend jokers are worthless. PayPal going through them means PayPal can't be trusted anymore either.

So there was an unauthorized transaction on my account and I immediately called and reported to user and the rep filed the dispute. I received an email from PayPal prepaid this morning 06/29/16 advising me to log into my account but when I attempted to log in I got a message saying "Contact customer service" which I did only to be told "I'm sorry your account has been closed and you cannot apply for another account." When I asked why the rep said "I'm sorry we can't tell you." I asked to speak to a supervisor and was hung up on. I've been a customer of PayPal for over 6 years and to be treated like this is unacceptable. Let's just say my lawyer is on speed dial.

The problem is first and foremost the responsibility of the company who owns the prepaid MasterCard debit card. The initial problem is there are different loading cards they offer for an already existing MasterCard prepaid debit and a new one. At 7-11 where I bought the PayPal load card the box does not specify the different cards and what the difference is and which one we need to buy. I asked the clerk at 7-11 if the card I had in my hand will reload an existing PayPal account. He did not respond in spite of the fact that he knows what the differences are. In fact he made me believe that this card I purchased will work with every PayPal account because it was the only loading card they had. He also knew there were different cards to load and reload. Yet he did not convey this information to me.
When I called to activate the card, the girl I needed to speak to advised me it was the wrong code and in fact cannot attach this temp card to an already existing PayPal account. This twisted relationship between PayPal and 7-11 is GUILT BY ASSOCIATION. This has been going on for over 10 years and still nothing has changed to make this experience easier and get done asap. The girl at PayPal knew the 7-11 clerk would not refund or give me back the money. The account was never confirmed to open and now I am having other problems that should be easy to correct but it complicated, difficult and does not resolve this issue. It has made a simple reload process, incomplete, no access to money and too many other problems.

I know this site says that they verify users and that reviews can be trusted, but after reading some of the reviews about PayPal prepaid MasterCard, I can't help but believe they really don't check anything because some of the things people are saying about PayPal prepaid are simply not true. I know that no company is perfect, but some of the things some of these people are saying are almost comical, just lies. My husband and I have been using PayPal and PayPal prepaid for quite some time now and though there have been 1 or 2 incidents that were inconvenient, the situation was made so much better because PayPal and prepaid fixed the issues quickly and efficiently. One person said that PayPal prepaid claims to have free ATMs, but then charged him $2.50 for it because PayPal said that prepaid was a separate entity... LIES.
We have used ATMs consistently since we got the card and NOT ONCE have we been charged when using the free ATMs listed, nor has any of the 8 people we know that also use this company. Another review said he had an issue with a charge to his card that wasn't him and PayPal gave him all kinds of grief and made him wait for his provisional credit and a few other issues... LIES. PayPal will give you a provisional credit IMMEDIATELY, like within 24-48 hours of you filing the dispute. I found this out when my husband paid a phone bill for a friend and accidently gave the phone company the wrong number causing the wrong account to get their bill paid and not his friend.
PayPal sent us an email the next day after filing a dispute stating that they had given us a "provisional credit" on our account that was available for use now while they investigated the disputed payment, and if they found in our favor, we were good, if not they would charge our card for the money following the investigation of the dispute. We were fine. The phone company fixed it and PayPal let us know that we wouldn't be charged for the credit we had received. Basically PayPal gave us our money back IMMEDIATELY in good faith while they investigated the whole thing.
Customer service has always been more than helpful for everyone that I know that uses PayPal and prepaid. I know that not everyone can get the same result and that there is always going to be one butt when it comes to customer service, but I think a lot of these reviews are bogus, and maybe some are really mad and just made things up to make them look bad. They aren't perfect, but they don't deserve some of these reviews they are getting, especially the lies.

Barbara FriedbergPersonal Finance Contributing Editor
Barbara Friedberg, MBA, MS is a former investment portfolio manager with decades of financial experience. Friedberg taught Finance and Investments at several universities. Her work has been featured in U.S. News & World Report, Investopedia, Yahoo!Finance and many more publications. More about Barbara→

PayPal, founded in 1998, is at the forefront of the digital payments revolution. In 2015 the company had 184 million active customer accounts in 200 markets with access to payments 100 currencies. The PayPal prepaid debit MasterCard is available to all PayPal account holders. The card is issued by The Bancorp Bank, a Member of the FDIC.
ATM Access: The PayPal card can be used to withdraw cash at any MasterCard® ATM for a small fee. The fee is waived when making a withdrawal at an Allpoint ATM.
Transaction limits: In compliance with Federal regulations, users can purchase up to $4,999 every 24 hours. Cash withdrawals are limited to $325 per withdrawal and $940 per day.
Load from PayPal: Consumers may load funds onto the PayPal debit MasterCard with fund transfer from the linked PayPal Prepaid Card Savings Account. Additional loading can be transacted through the PayPal NetSpeed Reload Network.
Free direct deposit: The funds from eight types of government payments, paychecks and tax refunds can all be directly deposited onto the PayPal debit card.
Rewards programs: Cardholders can save money when the card is used to pay for qualifying merchandise and services as long as the card is linked to the consumer's PayPal account. There are more opportunities for rewards through the tiered-rate Bancorp savings account. The Refer-a-Friend program rewards cardholders and their friends each with a $5 bonus.
App account management: The app, available for AndroidTM and iPhone®, offers consumers access to their account balance, transactions, alerts and more.
Best for PayPal account holders, online buyers and business owners. Also, this card is useful for those with high purchase and cash withdrawal limits.
Compare Prepaid Debit Cards
PayPal Prepaid MasterCard Company Profile
Company Name:

PayPal Prepaid MasterCard

Address:

PO Box 2136

City:

Austin

State/Province:

TX

Postal Code:

78768-2136

Country:

United States

Website:

https://www.paypal-prepaid.com/