How to get a mortgage after bankruptcy
Rebuilding your way back to homeownership



Written by

Edited by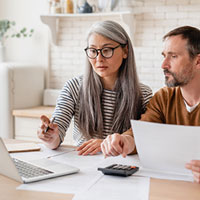 While a bankruptcy does make it harder to move forward with certain financial goals, you don't have to forgo the dream of homeownership.
"If someone is attempting to get a mortgage after filing bankruptcy, they will need to wait and work on their credit for some time prior to applying," said Derek Jacques, an attorney at The Mitten Law Firm in Southgate, Michigan.
Jacques said that while a bankruptcy can remain on your credit report for between seven and 10 years, he has seen clients get approved for a home loan just five years after bankruptcy.
"It will, of course, be brought up in the process, but as long as you have worked hard to rebuild post-bankruptcy, then you can definitely attempt to secure a home loan," he said.
---
Key insights
Different types of bankruptcy impact how soon you will be able to apply for a home loan.
To qualify for a mortgage after bankruptcy, you'll need to demonstrate stable income and employment, as well as repair your credit and provide a detailed letter of explanation.
Alternative finance options, such as rent-to-own, may be available for those who can't qualify for a traditional mortgage.
FAQ
Can I use a co-signer to improve my chances of getting a mortgage after bankruptcy?

A co-signer with an excellent credit score and low DTI can help increase your chances of being approved for a mortgage loan, along with securing a better interest rate. While using a co-signer is beneficial for you, it is extremely risky for the other person since they will be equally responsible for the loan.
Can I buy a house if my spouse files bankruptcy?

The answer depends on your unique situation. If your spouse filed for bankruptcy and it did not affect your credit score or report, then you should be clear to move forward with a mortgage loan. However, if you were hoping to put your spouse on the loan or use their income to qualify, lenders will impose stricter eligibility requirements.
How long after Chapter 7 bankruptcy can I apply for a mortgage?

Chapter 7 bankruptcies stay on your credit report for a longer period of time than Chapter 13. Similarly, you will need to wait longer to apply for certain mortgages. Expect to wait two years for a VA or FHA loan, three years for a USDA loan, and up to four years for a conventional loan.
Did you find this article helpful?
|
You're signed up
We'll start sending you the news you need delivered straight to you. We value your privacy. Unsubscribe easily.