How to buy a house in preforeclosure
It's similar to a regular home purchase, but there are a few differences



Written by

Edited by
Find Mortgage Lenders near you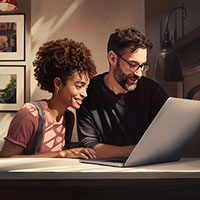 Preforeclosure is the last stage before the foreclosure process begins. During this period, homeowners in default can still get back on track with their mortgage and avoid losing their home.
That said, not all homeowners in preforeclosure want to continue living in their properties, and some may prefer to sell and get out from under their mortgages instead.
In this scenario, buyers can purchase a house in preforeclosure and perhaps even pay less than its market value. But there are some pitfalls to watch out for with this type of sale.
---
Key insights
Preforeclosure homes are still owned by the homeowner, whereas homes seized through foreclosure are owned by the lender.
Because houses in preforeclosure are still owned by the homeowner, the process of making an offer is similar to a traditional home sale.
A home in preforeclosure may be in poor condition and subject to liens and legal claims.
What is preforeclosure?
Foreclosure is when a lender seizes a home after a homeowner fails to keep up with their monthly mortgage payments. Preforeclosure is the precursor to this lengthy process. If a home goes into preforeclosure, the homeowner will receive notice that the loan is in default.
Homes typically go into default after a homeowner has missed one or more mortgage payments. At this point, the homeowner must do something to stay out of foreclosure. They can take any of the following steps to remedy the situation and avoid having their home seized:
What is a preforeclosure sale?
A preforeclosure sale is similar to a typical home sale, although the seller may not have the means to complete many of the tasks you would see in a normal sale.
Jonathan Faccone, founder of Halo Homebuyers, said that many homes in preforeclosure are in disrepair due to "prolonged abandonment or neglect."
This is typically a reflection of the financial distress buyers facing foreclosure are in. It also means that, when you purchase a home in preforeclosure, there's a good possibility the seller won't be able to complete needed repairs or renovations to get the property to closing.
Faccone also says it's crucial to research and assess any liens or legal claims on the property and make sure they are properly addressed before closing. And he advises buyers to look beyond the preforeclosure home at everything nearby.
"It is also important to research the neighborhood and surrounding area, as foreclosure homes may be located in areas where crime or other issues are present," he said.
» MORE: Homebuying checklist
How to buy a preforeclosure home
Colby Hager, founder of Capstone Homebuyers in San Antonio, says that buying a home in preforeclosure is a lot different than buying a home in foreclosure. This is because if a home is already in foreclosure, that means the bank or lender has already taken possession of the property.
"These homes are typically auctioned off, whereas homes in preforeclosure can still be directly negotiated with the homeowners," he said.
With this in mind, you can find and purchase a preforeclosure home by taking the following steps:
Check a preforeclosure list
Research potential areas and properties that you are interested in, and look over preforeclosure lists found in public records.
"You can also talk with real estate agents, lenders and investors who specialize in such properties and get their advice on available options," said Faccone. "There are also websites where you can search for preforeclosed homes or sign up for notifications when new ones become available. For instance, Zillow has a search feature where you can look for preforeclosed homes."
Hager adds that you can look for preforeclosures by checking county court or recorder's office records, which list properties that have received a notice of default. You may also want to speak with real estate agents in your area, particularly those who have their finger on the pulse of the local market.
"They often have inside knowledge of preforeclosure listings in the area," said Hager.
Consider direct contact
When you have knowledge of a home in preforeclosure that isn't officially listed for sale, it may be OK to approach its owners directly, as long as you're respectful of their situation.
"Since they might be eager to avoid foreclosure, they might be more flexible on price," said Hager.
You may also gain insight into the condition and potential issues of a home in preforeclosure by speaking directly with the person who owns it.
Inspect and research the home
Do a property lien search to check for any pending legal actions against the property before you buy.
New Mexico real estate broker John Myers of Myers & Myers Real Estate says that one of the pitfalls of buying homes in preforeclosure is the condition of these properties. Many homeowners in preforeclosure do not have the funds to maintain their houses, so you will probably find preforeclosure homes in need of repairs and deferred maintenance.
In addition, there may be other liens on a property in preforeclosure. It is critical to know about all the liens on a house before purchasing it, given that these financial obligations become your problem once you're the owner.
The best ways to deal with these risks are to pay for a professional inspection to assess necessary repairs and to conduct a property title search with the county recorder, clerk or assessor's office where the home is located. You can find notices of default, notices of sale or pending legal actions.
"Anyone can access records of homes in preforeclosure by visiting the county records department," said Myers.
» MORE: How to negotiate after a home inspection
Secure financing and write an offer
Whether you work directly with a homeowner or with a real estate agent who communicates on your behalf, you'll want to ensure you write up a fair and reasonable offer that takes the homeowner's situation into account.
For example, a homeowner with a mortgage in default isn't going to be in a position to cover thousands of dollars in closing costs to seal the deal, so it doesn't make sense to ask for any seller concessions. Myers also said many homes in preforeclosure may not have any equity to pay off the mortgage and closing costs, so a short sale is the best option for the homeowner.
Hager added that you should also ensure you have preapproved financing or proof of funds before you write an offer, as this can speed up the process.
FAQ
What is a distressed property?

A distressed property is a home that is in preforeclosure or foreclosure because the homeowner could not keep up with mortgage payments.
What is the difference between preforeclosure and foreclosure?

A home in foreclosure has already been seized by its lender and is typically sold at auction. A home in preforeclosure has not been seized by its lender yet and is still owned by its homeowners despite the fact that their loan is in default.
How long is preforeclosure?

According to the U.S. Department of Housing and Urban Development, mortgage companies typically start the official foreclosure process around three to six months after a first mortgage payment is missed. Once the foreclosure process begins, the amount of time that passes before a home is actually seized can vary from state to state.
Bottom line
There are potential advantages that come with buying a house in preforeclosure, although some of them depend on the home and the specifics of the seller's situation. In scenarios where a buyer finds a preforeclosure home that hasn't been officially listed for sale, for example, they may be able to buy with less competition and secure a lower sale price.
That said, homes in preforeclosure aren't always in the best condition. You could pay less upfront but wind up spending more to get the property in good shape. As with any home sale, enter the process with eyes wide open and the discipline to walk away if the deal isn't a good one.
---
Article sources

ConsumerAffairs writers primarily rely on government data, industry experts and original research from other reputable publications to inform their work. Specific sources for this article include:
Did you find this article helpful?
|
You're signed up
We'll start sending you the news you need delivered straight to you. We value your privacy. Unsubscribe easily.