How to negotiate after a home inspection
Find out how to get what you want before you buy a house



Written by

Edited by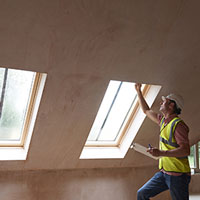 When you're considering buying a home, a home inspection can help you determine which concessions you should ask for. The key to successful negotiation is to ask for reasonable repairs. Depending on what's uncovered, the seller might not even be aware of the issue and may have fixed it had they known.
Here's what you need to know to successfully negotiate after a home inspection.
---
Key insights
Home inspections allow you to uncover needed repairs before you buy a home, potentially saving you time and money.
While there are usually no mandatory repairs after a home inspection, most real estate contracts allow you to negotiate repairs with the seller.
The key to successful negotiations is to be reasonable with your requests and only ask for newly discovered repairs that weren't already factored into the purchase price.
What is a home inspection?
A home inspection is a visual evaluation of a home's physical condition. It's most commonly used to give buyers the opportunity to uncover safety concerns, structural issues and other defects in a home before finalizing the purchase.
Home inspectors typically inspect the home's major systems and components, like its structure, roof, floor, plumbing, HVAC and electrical system. A home inspection aims to identify issues you can't easily detect that might cost you money in the long run.
When hiring a home inspector, make sure you understand the inspector's qualifications, what's included in the inspection and how long the inspection will take. It's essential that the home inspector is knowledgeable and can provide the inspection in the time frame you need.
What repairs do sellers have to make after a home inspection?
Sellers usually don't have to make mandatory repairs after a home inspection. However, real estate laws vary by state. Check with your real estate agent, title company or real estate attorney early in the process regarding your state's requirements. Also, your lender or insurance agent may require proof that significant repairs are completed before the transaction closes.
In many states, U.S. real estate law puts the responsibility on the buyer to learn about the property's condition before purchasing it. That means you should get a home inspection so you're aware of things that need to be repaired — but it may not result in any contract changes.
Your real estate agent can help you decide what repairs to request or make before closing.
Your real estate agent should be knowledgeable about your state's laws and able to inform you about what repairs, if any, are required. Also, remember that while your state's laws might not require repairs after a home inspection, your insurance agent or lender might require repairs before closing.
Mike Powell, owner of Red Flag Home Inspection, a company in the Tampa Bay area, explained: "Some defects identified during the inspection process must be repaired prior to closing to secure insurance and bind the loan. These are typically the public health and safety items and the '4-point' items. The 4-point items are electrical, plumbing, HVAC and roof. If these items are not inspected, as we see in Florida, the insurance company will not write the policy."
Besides speaking with your real estate agent about your state's laws, speak with your lender and insurance agent to confirm what repairs they require. You should have these conversations before the inspection is even ordered so you don't have any surprises when it comes time to close the transaction.
What repairs should I ask for after a home inspection?
There is no legal guidance about repairs you should ask for after you get a home inspection. However, buyers commonly request repairs for things like mold, foundation issues, roof leaks, electrical issues, plumbing problems, termites and pests, asbestos, and issues that present a health or safety concern.
It's common to ask for repairs for issues that present health or safety concerns.
Jeremy Henley of TheQwikFix, which connects buyers and sellers with contractors after inspections, suggested buyers prioritize the repairs they find the most important that the seller is likely to make. Your purchase offer should've been based on what you knew about the home's condition at the time. So, your negotiations after getting a home inspection should be based on your new knowledge.
"Once the inspection is complete, any new and costly repairs are what should really be part of the negotiation," Henley said. "If the home is older, you should know going in that it is unlikely all the systems around the home will be up to today's code standards. If that is important to you, ask before making your offer so you can make the best offer possible."
Even if you don't ask for any repairs, said Joshua Massieh, CEO of Pacwest Funding and Iconic Ventures Real Estate Group, "it's important to take advantage of all a thorough inspection has to offer and ensure you're fully informed before taking the plunge into homeownership."
Negotiating after a home inspection
If you're ready to negotiate after getting a home inspection, follow these steps.
Carefully review the inspection report

Take a careful look at the inspection report. Identify if the items listed are common for the property's age, if you knew about them when you looked at the house, how quickly or easily you can make the repairs and how much the repairs might cost.
Prioritize the most important repairs

Once you have a list of things that need to be fixed, prioritize the ones most important to you. If you're buying a used home, some things probably won't be in perfect condition and could already be factored into the purchase price. For example, you might not include common wear and tear on your list.
Only send the seller relevant portions of the inspection report

The seller may ask you to send them the entire inspection report. Unless they paid for the report and have a contractual right to receive it, you're better off only sending them relevant sections. Many homeowners have a lot of pride in their properties, and seeing a report full of negatives can be upsetting. Negotiations work better when both parties are happy.
Be reasonable with your requests

It's unreasonable to expect an old home to be in like-new condition, unless the seller claims everything has been updated and is like new. Consider what items you would reasonably expect to have to fix if you were in the seller's place and only ask for these types of repairs.
Get bids from licensed contractors

If you ask the seller to make repairs or provide an allowance so you can make them, determine how much it will cost by getting bids from licensed contractors. Sellers will be more likely to believe the costs are reasonable if a qualified and independent third party confirms them.
Confirm the work is done before closing

If the seller agrees to make the repairs before you close on the home, ensure the work was done and inspect it for completeness. Never take the seller's word for it.
Know when it's time to cancel the transaction

If there are too many repairs or you can't agree on what to fix, you might need to walk away from the transaction. Know when the negotiations have gone as far as possible and it's time to start looking for a different property.
Who pays for the repairs after a home inspection?
Ideally, the seller pays for repairs after a home inspection and before closing. Ideally, the seller pays for the repairs and has them completed in a manner you both agree to (e.g., by a licensed contractor). However, the seller might give you a repair allowance or price reduction so you can perform the repairs after you move in.
In some cases, you might decide the purchase price accurately reflects the home's condition and pay for the repairs on your own. You might also decide not to make the suggested repairs at all. For example, there might be a cosmetic issue that comes up in the inspection and doesn't bother you. In this case, nobody has to pay for repairs.
FAQ
Can I renegotiate the price of the house after a home inspection?

Depending on your contract, you may be able to renegotiate the price of a house after a home inspection. Assuming your contract includes a clause that allows for a home inspection, you can ask the seller to make repairs, provide a repair allowance or reduce the purchase price.

If the contract doesn't include a home inspection contingency clause, you may not have any room for negotiation and could risk losing the contract if you try to renegotiate the purchase price.
When should I walk away from a house?

You should walk away from a home purchase if you find major safety issues, costly defects or things that are virtually impossible to repair. For example, major structural issues, like problems with the foundation or extensive rot, may be cost-prohibitive or nearly impossible to fix.

Rather than get trapped in a money pit with a home you can't reasonably fix, it's better to walk away.
Is it my choice to get either money or repairs after a home inspection?

While you can ask for money or repairs after a home inspection, the seller ultimately must agree to your request. Some sellers prefer making the repairs on their own. Others might not want the hassle of repairs and will prefer to give you a repair allowance or price reduction.
Bottom line
A home inspection allows the buyer to find potential issues with a home before closing on the transaction. Assuming the purchase contract includes a home inspection contingency, the buyer can negotiate with the seller to make repairs to the home, get a repair allowance or reduce the purchase price.
Before you begin the negotiation process, review the home inspection report and put together a list of repairs by order of importance. For defects already factored into the price of the home, you may not want to ask the seller for any contract changes.
Both parties have an interest in reaching an agreement. Your negotiations are more likely to succeed if you request repairs you can reasonably expect the seller to make (e.g., fixing a running toilet versus replacing the whole plumbing system). By striving to make the situation beneficial for everyone involved, you'll arrive at a better all-around solution.
Article sources

ConsumerAffairs writers primarily rely on government data, industry experts and original research from other reputable publications to inform their work. Specific sources for this article include:

U. S. Department of Housing and Urban Development, " Ten Important Questions to Ask Your Home Inspector ." Accessed Jan. 6, 2023.
Did you find this article helpful?
|
You're signed up
We'll start sending you the news you need delivered straight to you. We value your privacy. Unsubscribe easily.