Consumer Reviews and Complaints

Switching my bank is long overdue. Please don't open an account here. I have had several really bad experiences with this bank. The first really bad experience was when I was in Kuwait and needed to wire money to someone. The person helping me didn't ask what amount I wanted to wire and automatically wired the amount I had sent the last time. Instead of fixing the problem the person then wired the correct amount not deleting the first request. The next day when I called to complain the only thing they offered was to remove the wire transfer fees. They said to recover the money wired I would have to speak with the person I sent the money to... ummm thanks?
So they cost me $800. Several times their app said I had money in my account and the next day I had overdraft fees. I called to order checks. I requested no address be put on the checks. After trying to order the checks 2 times they were sent... with an address on them. I called and requested they didn't accept any deposits into my account after I received an email stating money was going to be sent to my account. I didn't want the money to be deposited because it was a scam. Even though I called them they allowed the money to be deposited. The last thing, I have had my bank account compromised several times. They have not caught it once. I caught it looking at my mobile app. I don't know why they ask for all of my contact information every time I call them. They will never call you. They will let someone empty your account. Please do yourself a favor and get an account with USAA.

Stop putting blocks on my debit card! Third time on the customer service phone today. They have locked my debit card repeatedly for Amazon purchases, despite saying they unlock it. They say they cannot fix it. So tired of it, and WILL BE getting a local bank account rather than dealing with this terrible bank anymore. No benefits to it.

This is probably the worst customer service I've ever experienced. I've been on hold for 45 minutes today and haven't spoke to anyone. And yesterday for an hour and a half and still wasn't able to speak to anyone. They suspended my account and I can't get a hold of anyone to help. Definitely will be canceling my card ASAP.

We have never had a bank account with Armed Forces Bank. Yet we got a random letter in the mail (to the wrong address that we haven't lived at for over a year) stating that our account was overdrawn $1,079.16. We have called them a few times about this, but they claim it was us, so they're not even researching the issue. And how does an account even get that far overdrawn? We can't log in to the account because we never had an account. They won't discuss with us anything, because we can't confirm anything, but they won't remove the charges or find out who really opened this account. Very bad business practices and horrible bank. I am glad I've never had an account with them! This is just downright horrible.

My wife tried to reorder checks for my checking account. So she went to the local branch at JBLM. They told her she had to go online to order the checks. I am deployed overseas so I was unable to talk to anyone in customer service because they were not open after I tried to order the checks online unsuccessfully due to my inability to log on to my account. I went to customer service webpage and scrolled down to "ordering new checks"; there are three ways: you can log on, you can call, or you CAN GO TO YOUR LOCAL BRANCH!!! Given my inability to get my checks ordered I am rating this bank very poorly in customer service. Frustrated.
How do I know I can trust these reviews about Armed Forces Bank?
883,201 reviews on ConsumerAffairs are verified.
We require contact information to ensure our reviewers are real.
We use intelligent software that helps us maintain the integrity of reviews.
Our moderators read all reviews to verify quality and helpfulness.
For more information about reviews on ConsumerAffairs.com please visit our FAQ.

They have poor practices. How is it that your call center is open until 5 on Saturday and no one is available Sunday but you can block someone's card over the weekend? What's worse is that I never even used the card so I'm not sure why they did it. And yes the account had money to cover the purchase. What happens is the customer is left without a card on a weekend. What if I had went on a trip? I would've been stranded. Now I have no money for food or gas until Monday. Also, I closed an account with them and had a remaining balance which they said would be mailed to me as a check.
Almost one year (closed Feb 2016) later and I still never received the check. When I called about it back in November 2016 they put me on hold for 30 minutes and then came back saying they weren't sure what happened but they would have a manager call me the same day. Once again AF Bank's customer service speaks for itself. Next time you want to block a customer's card for suspected fraud at least call them up and notify them. Even an automatic text or email would suffice.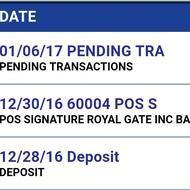 On December 28th, 2016 I deposited a large check into my account. I was assured that it would only take 5-7 days to clear. It is now 1/6/2017, nine days later and the check still has not cleared. I contacted Customer Service today and they couldn't understand why it was taking so long. They put me on hold for over 45 minutes to call the bank in Chesterfield, MO that I deposited my check in to see what was going on. I was informed that it is the local bank's choice to put the hold on it and to take it off and the manager was trying to get the regional manager to call her to get approval to release the funds to me.
They assured me that they would call me back. Guess what, the bank closes in 10 minutes, no callback and the funds have not been released into my account yet. When I deposited my check I was told I had money in the bank already that matched my calculations, as soon as I deposited the check all of a sudden those funds were not available making my account overdrawn, subsequently I am now overdrawn. All totaled I was on the phone for well over an hour today trying to get MY money. AVOID THIS BANK. Very poor customer service and no follow through.

I have been with this bank since 9/2015. I called on 12/7/16 regarding charges I did not authorize, still waiting on my card on this day 1/3/17. I called and got the runaround since 12/7/16, after speaking with Arlinda, Mike, Jackie, Valeria, Brianna, Carrie, and Cassie. All told me my card was sent twice already, well if that was the case I wouldn't be filing a complaint today. I have been waiting patiently for this bank and still nobody can send me card overnight or even provide me with a tracking number. PLEASE DO NOT DO ANY BUSINESS WITH THIS BANK!!! I will and have filed a complaint online with BBB.

They use a company to produce their checks. The checks are very expensive. They screwed up my wife's name on the checks. I went to the bank branch at the McChord AFB BX. I had to wait a long time to get the new checks. The checks come back with the same wrong spelling. When you call you get an automated phone tree that takes a long time to get through, then you have to wait forever to get to talk with an actual person. There is always a long line at the McChord AFB branch. There is never enough tellers and they are super slow.
I recently deposited two checks from well known mortgage companies. The checks were less than two thousand dollars. They are holding the checks for twelve days. They could easily verify the checks way sooner than that, but they will not. It may seem convenient to use this bank because it's located on the Air Base or Army Post, but take my advice and avoid it like the plague!

If you're reading this as a service member please do two things for me. Open a USAA account. Close your AF Bank account. There are many things I can tolerate. Intending to steal from me is one of them. I've caught them multiple times (6 times now) manipulating my account balances to show a much higher number than is actually available. They will post that I have around 200 USD in the account by removing a few transactions, when there is actually only a small amount there. Fast forward to a grocery shopping trip and you can guess how they plastered me with charges. Further they would throw charges from up to a week later on afterward to hit me with more overdrafts. They've also started making additional charges to my account without any notification to me. I didn't receive any emails, or letters about this new 1 USD fee for using an ATM on top of the ATM fee as well.

Made this account in Boot Camp nearly three years ago. Had fairly mundane experience with them until recently. Had a few issues with how they put in my address making it hard to use my card on online purchases (spelling counts, Armed Forces Bank!) but nothing that was too hard to fix until I got married and attempted to change my last name. Called them and requested it be changed in their system, they said paperwork was required and it made sense, so I asked for the paperwork to be mailed to me.
About three weeks later, I hadn't received the paperwork so I called again to ask for it. I was told that my birth date was incorrect and I could not get into my account without the correct birth date. Being that I got married and not born on a different day, I asked to speak to the manager. The manager told me the same thing, my birth date was not the same in my file as what I said. I asked when it had been changed. She gave me the date that I called and requested it be changed, the day that I asked for my last name be changed. I asked how to fix it, she told me that I had to go into my local branch and bring my photo ID that had my birth date on it as proof. Totally reasonable, except that I had provided no documentation to have it changed in the first place and the "local" branch was a seven hour drive away.
So, I decided it wasn't worth it, and I would just move on without changing my last name. It really wasn't worth the drive to me. So I carried on with my maiden name on my card. UNTIL. I attempted to use my card to buy groceries. My card was declined. There was more than 3000 over what my bill was, so I was thoroughly confused. I went over to the ATM, put my card and PIN in and was given an error message to the effect of "not authorized user" and would not display anything.
With a full cart of groceries and a fussy baby I called the bank and dealt with a very crass, rude woman who flat out said my card was shut off because I should have switched to the new chip card I received months ago. The problem being that I had never received it. Upon further investigation I had never received it because they had never sent it. I then asked for a new card to be sent to me ASAP. I mean, it's nearly impossible to survive without a debit card. The man I spoke with at this point, the manager, was very nice and said he would have it rushed to me and apologized for the inconvenience.
Apparently, I am naive, because I truly thought my issues with the bank were over. Ha. Nope. Two weeks later I still hadn't received the card. I called again and was told I needed to log in to order a new card. Awesome. On the right track again! Until, I couldn't log in without knowing the DOB on my account. Still don't have a new card. Cool. Closing the account as soon as my direct deposit gets switched over. TLDR; Terrible bank, Terrible customer service. Not worth hassle.

My husband and I had an account with Army National / Armed Forces bank for more than 40 years. Wherever we were stationed, he had his pay sent to Army National. His retirement and social security checks also went there. He passed away in July. Though I also have an account at a local bank, I decided to keep about $15K in reserve in the Armed Forces account because my husband seemed to have confidence in that bank. When I opened the Sept statement I found a $10 service charge, so I called to ask for an explanation. I was told that whenever there is no monthly direct deposit there is a $10 fee. I decided I didn't want to continue the account on that basis, so I was transferred to someone else to close the account. After answering some questions, I was told that ** amount had been wired to my local bank.
The number wasn't the same number I had arrived at after deducting outstanding checks. THEN I was told that there was a $20 fee deducted for sending the wire. If I had been told that up front, or even asked how I wanted the transaction handled, I wouldn't have had a wire sent. I would have simply written a check to zero out the account and then closed it. When I told this to the teller at my local bank she explained that there would also be a $15 charge to receive the wire, but under the circumstances she waived that fee. I was surprised that after so many years as a customer, once I was a widow, I was being taken advantage of in such a shoddy manner. I believe my husband would also have been deeply disappointed and would have agreed with my decision to sever the relationship. I will not hesitate to tell all my military friends, active duty and retired, about this experience.

We have been banking with Armed Forces since 2009. I've had multiple accounts, checking and savings. I have my online banking set up and have text-alerts to keep me informed of almost all of the activity that take place on my account, including a simple text with my balance at the same time every day. I read through the paperwork that I sign so I know what I am agreeing to, I also ask questions ahead of time about what type of fees I might be charged and how to avoid them. Literally never had the problems listed in 90% of these reviews I've been reading through. In fact, some of them are complete lies, and I would know because I have checked into it.
You cannot be charged more than $125 per day in overdraft fees per day, so anyone who claims to have been charged a higher amount is lying. You can Opt-out of the overdraft option when you open the account, which means you do not authorize the bank to pay any of your debit card transactions that would cause your account to go into the negative. I read a post where someone claimed the bank Opted the IN for this option... nope. Not possible, they have to have your permission legally, which is always documented. If you agreed to it, you agreed to pay the overdraft fees. If you are worried about this, ASK QUESTIONS! Set up your online banking and actually keep track of your account. It's that simple.
I saw a review stating they had placed someone's loan in the wrong account, her daughter's account... The wrong account number was on the loan documents... which she had to sign. Folks, this means she didn't verify that all the info on the documents was correct before she signed. Adulting 101, read before you sign. She then stated that her daughter's debit card had magically been lost/stolen the night before and within 24 hours someone used all the funds. I'm calling BS. Her daughter used those funds, I'm almost willing to bet my left leg on it.
I see people state their accounts have been "hacked." No, that's not how it works, your actually bank account has not been hacked. It's either your debit card has been compromised or your account and routing number has been. Most of the time it's the debit card and when that is comprised it has nothing to do with the Bank's security at all. When debit cards get hacked it's because you've either used it online on a scam site, or a store you've shopped at recently has had THEIR system hacked, meaning the hacker got you from that company, not the bank.
Furthermore, when fraud happens, guess who ends up swallowing that cost in the long run? The bank!! When you file a dispute for an unauthorized transaction and you get your money back, 99% of the time the bank has put that money back into your account from their own pocket! This means they don't want you to experience fraud just as much as you don't want to because it's a huge loss for them!
And fyi, your personal information is not at risk when you experience debit card fraud, it's just your actually card number, which can be turned off and then a new card number is issued for your replacement card. Your date of birth, ssn, address, and other personal, identifiable information has not been shared, therefore it is not possible that you "experience identity theft" as a result of fraudulent transactions with your card. If you've ever truly experienced identity theft, that means someone has that info and is opening account using your identity and applying for lines of credit as you, and to protect yourself from that, get actual identity protection which monitors your personal information and alerts you when it is being used for such applications.
Now, when it comes to their call-center for customer service, I have to agree there is room for improvement. It is frustrating to wait on hold only to be connected to someone who has no clue what they are doing or who is rude to you. I have zero tolerance for anyone who works a customer service job who is rude to customers. However, if even half these people are as ignorant as the sound in these reviews, I am willing to bet they started the call out by being rude themselves. I've worked in customer service, and I am extremely good at my job and give excellent service, but when I am getting yelled at, cussed out, or if the customer isn't even allowing me the opportunity to assist them because they are too intent on venting to me about things I have no control over, they do not get the best service from me. I will tell them how it really is, in a professional way.
Some of these reviews state there are no options for deposits... yes there are. Many in fact. Some of these reviews address procedures that are exactly the same at other institutions because all banks have to follow regulations. Sorry, but it's part of life. Overall I gave this bank 3 stars, which means I am satisfied. I would give it more stars, but this bank could use some improvement on training new associates to know what they are doing before they have contact with the customers, and the hold time is not convenient for anyone, especially military customer who might get stationed overseas.
For anyone actually considering banking with Armed Forces, my advice would be to thoroughly read through your documents so you understand your account, set up your online banking and text-alerts, enroll in e-statements to avoid the $3 paper statement fee and stop reading these reviews from people who clearly don't know what they are talking about. Armed Forces was actually named the 2015 Bank of the Year for each branch of service by the Association of Military Banks of America (AMBA), so ask yourself how that is possible if they are so horrible. Perhaps these reviews are just being written by people who don't understand banking or businesses, or people that do not take responsibility for their own actions (or lack thereof), or that do not read things before they sign them, or cannot simply learn how to ask questions if there is something they don't understand.

I went into academy bank here in Columbia, Mo and applied for a loan. I go approved for the loan, signed the papers and waited for my loan. The loan was to be deposited into my account the same day at 5 pm. So the next day the money still hadn't been deposited into my account. I go grab my paper work to read over it and found out that they had placed the wrong account number on my paper work. So call the bank and they took forever to come to the phone so I went up to the bank and they had deposited the money into my daughter's account which is the second time that had happened. They took no blame for this issue and then told me there was nothing they could do about it.
My daughter's card had been lost the night before and someone had stolen the money off her card within 24 hrs. Now we are filing a claim against the bank and to start an investigation immediately. I am so displeased with this bank I cannot even find the words to express my feelings. This is the most horrible bank I have ever been a part of. They treat you like you're nothing and you're not important. I am taking this issue as far as I can!

I have two accounts with Armed Forces Bank, and have had for 6 year. I find the customer service EXCELLENT! I see complaints in their reviews. I cannot believe them. I have never had a bad experience with this bank. Every employee I have ever spoke with has been polite and very helpful. If anything, I would say they go above and beyond any expectations you could possibly have. Highly recommend Armed Forces Bank to friends and family.

I'll first say that I'm no dummy. I used to be a bank teller. I've been in customer service a long time. Now I understand when depositing any check it is subject to a hold. So, I deposited a check on the mobile app. It doesn't tell you if there's a hold on it or date of availability. So, I called the bank to check the status and find out when funds are available. Spoke with an idiot who lied and said funds were available today or by tomorrow. I get an email saying funds aren't available until 8/15. I called to verify if the email was correct or the rep. Guy tells me the email was correct.
I'm a little frustrated at this point. He then tries to hurry me off the phone and I wasn't okay with that. He says he's putting me on hold for a supervisor to pull the call. I'm on hold for a good bit. He comes back on the line and says he has informed a supervisor and action will be taken. I asked what's up with my funds. He says there is still a hold and no one can fix anything about it. He then transfers me to another person who is of no assistance. I request to speak to a supervisor. She gets on the phone with no help at all. Says there is a 5 day hold. So let's do math. Well today is Monday. 5 business days including today is Fri. Why do I have to wait till the 15th? This bank is a mess. I've been with them for years and I won't stay any longer. I'm not upset about the hold. I'm upset with incompetent reps and no incentive for lying to me.

I am a board member of a nonprofit organization which has two business accounts with this bank. Horrible overall experience. When you call in, most of the people seem to have no idea what they're doing or even have basic skills. We got new board members and needed to change the signatories on the bank account. This process took FOREVER. The bank was slow, printed out documentation with incorrect information (MULTIPLE inaccuracies on ONE PAGE).
Then we needed debit cards. The representative said that the full org name wouldn't fit on the paperwork, so she randomly wanted to remove one word from the name. I explained to her that it MADE NO SENSE and would COMPLETELY change the name of the organization and told her how to shorten it. She still went with her method and faxed me paperwork I had to manually correct. They are very behind the times. They want everything faxed. Even an application for online banking!! Seems ridiculous. You get free checking BUT NOT WORTH IT. Go elsewhere. Spend the money for better customer service. I've spent countless hours on the phone with them dealing with issues and screw-ups.

Been a customer of this bank for quiet some time, but finally had enough, and definitely will change banks soon. I had to call 5 times for weeks to get my new debit card. Finally received one after having to go weeks without one. As they told me on the phone, one letter from them (KS to NY) takes 2 weeks. Sorry, I send stuff overseas that gets there in less than a week, so where is the problem. Then we called them 2 weeks ago because my husband's visa card was expiring on the end of the month, but again even though we called to remind them and was promised it was send out it again did not show up. Just got off the phone with them just to find out that it AGAIN was never send out. It is just extremely inconvenient, and beyond unprofessional. Not surprised to see here that they only have 1.5 out of 5 stars. I am not a person to ever complain, but this is not customer service.

I am not one to complain but this financial institution's just awful. I'm not sure who they hire or what the requirements are to fulfill these positions but clearly something needs to be fixed. You sit on hold for almost thirty minutes when the representative can't even help you and then rushes you off the phone. I called last month, sat on hold for thirty minutes and spoke to someone for thirty minutes to come to find out she did ABSOLUTELY nothing she said she did. So I tried a different route and chatted in and the representative just stopped talking? What is the purposes of these positions if not one of your employees can do them. I have not one good thing to say about this bank and would recommend no one open an account with them. Who wants to put their funds into an account if the people they hire to run and represent their company doesn't know **.

Recently my son at the time of joining was a minor, age (17) and was given this bank information to open an account while he was in boot camp. Obviously while there he was not going to be using his "New bank" for any transactions. Graduation day he called them and asked why he could not use the card he was recently issued... their response "because of inactivity"... How stupid can you be? Today he comes to me with his card... said it was broken, couldn't use it and couldn't get in contact with anyone through the automated service... So as his mother I try to help him... Dial the number and have to be denied the use of the automated system because it doesn't recognize his card number or PIN.
So we press "0" a hundred times... sit on hold for 20 minutes to speak with someone. I tell her right away "he is standing with me and I'm trying to help him resolve this issue he's having with his card..." Her response "call back because this is considered a 3rd party call." I tell her we have been on hold forever and he was right here willing to speak with her about his account... again refused to talk to us. Ok... so we hang up.
He calls back, we go through the waiting, the automated system waiting some more... He finally get another person on the phone, explains his problem, verifies name/address/dob/ssn/card number/PIN and because he doesn't recall the last transaction on his account they will not help him. So what does a person do??Can't access your account, card is broke, can't get customer service to help you, no local bank to walk into and provide ID and card... So now he just has an account sitting there getting charged fees that he can't access?? WORST BANK EVER!

We have been customers since 2001. There are almost no locations where you need them to be, hold times are INSANE and if you're lucky enough to be by an actual brick and mortar branch, I swear they go out of their way to hire the most useless, unprofessional people. I do not complain often and have a pretty high BS tolerance level (see account holder since 2001) but recently when I attempted to transfer funds to my grandmother the process and assistance was pathetic and made me realize it is time to part ways with this bank.
First, I stopped by my local branch (only the third time we have actually lived by one since 2001) I was informed that I had to do it online by a woman who was rude and obviously annoyed I interrupted all the sitting she was doing. I go home, attempt to do it online where I learn that no, I actually I can't do it online, I have to call. I call. After being on hold for an hour (hey, places get busy. It happens.) I was told I needed to fill out forms they would email me, scan them, submit them and then I would need to call back. For real.
I fill out the forms, scan them call back and sit on hold for another HOUR. You know, because we all got time like that. They can't find the email. I resend with them on the phone after verifying the email address again. They say it'll take up to 24 hours. I would have loved to have known that before I sat on hold for another hour but whatever. Now I am an easy three hours into trying to send my grandmother some cash.
Fast forward to the next day where I call back and sit on hold for surprise! Another hour. Is this a thing they do? Like a standard they set? Who knows. Anyway, they can't process my request yet because someone hasn't verified something on their end. Ha! Of course they can't. I tell them it's cool, I gotta go and I set out looking for my closest Western Union. To my surprise it is in, literally in and ran by, Armed Forces Bank. Thanks for the heads up super annoyed bank teller lady. You rock. Luckily, Western Union now does bank transfers so I didn't have to make my 86-year-old grandma drive around trying to find a location for pick up. So at least there is that.
We are in the process of switching everything over to USAA. If you're thinking of opening account, go elsewhere. There are better services and better customer service at other banks. The poor people manning the lines are pleasant enough but you can only work with your employers give you and if you are understaffed and not trained, this is the nonsense you end up with. My advice? Shop around.

Like Sharon, who wrote in April, I decided to close my checking account after being told there would be a $5 per statement charge for paper statements. That was after 3 phone calls to obtain a statement, one of which took 58 minutes on hold to get to a live person. When I asked for an e-mail address, I was asked why I would want it. After saying I didn't like having to stay on hold for long periods and was not interested in starting online banking since I intended to close the account, the AFB rep told me they did not have an e-mail address for customer use. Today, after over a month of attempting to close the account, I was told it takes 7 to 10 days for mail to reach the bank (I'm in California), and 2 to 4 days to process.
Last week I'd called the bank to find out just what amount they needed to cover the fees for returned checks and automatic deductions they'd kept adding to my account since they hadn't read the "to close account" notation on a check sent them on April 2 for the remaining balance (per their end of March statement). A check for the amount they said would bring the account to zero and allow closing it was sent on May 3. They said they hadn't received it as of this morning, but when I called back 3 hours later it had appeared. But I still couldn't close the account, because it had to be posted and was told the only way to close the account was to call back again. And no they couldn't just put a note on the account.
Why must everything be done by snail mail, why does it take unconscionable amounts of time to get to a live person (let alone the long wait on hold if the person who first answers has to consult a supervisor), and why can't a person correspond by e-mail? I cannot believe the unnecessary hassle and time wasting practices. There is no way I would have stayed with them over 50 years had I known how poor the service would be when you need it.

I have been a customer with this bank since 2009. A few months ago they sent out a notification that they were going to start charging customers 3$ for sending paper statements. I called to get them to opt me out and they said I have to do that online. Try to access my account online and every single time I get the error: unauthorized activity. I called back to get assistance and escalated the call to the most unprofessional person I have ever dealt with. She said she was the supervisor and seemed to take it personal that I wanted that fee removed. She claimed she couldn't do anything and now I am being charged a 5$ "service fee" in addition to the fee they charge for sending paper statements.
This bank is that hard up for money they are siphoning off of people's accounts for products no one wants and in other cases, no reason at all. I don't want this bank mailing their trash to my house that I have to shred. I hate clutter and paperwork everywhere for no reason. I don't even try to resolve it anymore because I plan on closing the account very soon. Just avoid it to begin with. Oh and by the way if you have to call, be prepared to burn up ALL of your minutes sitting on hold. You will sit forever before someone answers your call.

Fees, fees, fees... No way to deposit any money if you are a veteran and live far from this bank. Hold time is ridiculous, every single time it is a wait game. Hold keeps saying "contact our representative if you have questions", not funny anymore. I dare you to have couple cents overdraft. Bam, next day you owe a hundred dollars to them. You finally deposit and get above zero, nope, wrong, some ATM fee from long forgotten withdrawal. Here goes another fifty bucks from your hard earned money to them. Legally changed my name at some point, tried to change it with Armed Forces Bank, not going to happen. After couple of months calling and staying on hold for forever, I still have my old name and no bank will give me cash advance due to name difference with my debit card and ID. I'm going to USAA.

Opened a checking account because the location was convenient, and it was one of the few nearby banks with "free" checking. Turns out "free" is conditional upon making a deposit every 30 days or less... on day 31, they charge a fee. It's utter agony trying to deposit a check... First they look at your account, and I don't know what they're doing, but it's four to five minutes of the teller typing and reading. Then they have to verify funds with the check's issuing bank (this is policy, they do it with everyone).
Most of the time, they are unable to do this online (no surprise, what bank would let a stranger view account holder info?), upon which they actually try to CALL that bank on the phone! If they have a phone number, that is, which is never the case for an out-of-state bank. So then the teller has to wait for manager approval. Then your deposit is "pending" for ten days. You can deposit a check every week, and it's the same thing every time. Both the phone and online "customer service" pretty much don't work at all, and customer service reps can't tell you anything without manager approval. I recently found a couple of nearby stores (national chains) with signs at the registers saying they don't accept Academy Bank checks.

This bank is horrible! Their customer service is equivalent to speaking to a brick wall. I opened a checking account with my boyfriend two weeks ago. They sent me the paperwork with both of our names on it. We signed and faxed it back, they claimed they gave me the wrong fax number so we emailed it in. They said they received it. Along with the paperwork, they sent a direct deposit form. My boyfriend filled it out.
Here it is two weeks ago and I have been told every day that he will be on there the next day. He still isn't. We decide we don't want to deal with them (unfortunately I've banked through them for four years) and are going to get an account locally. Well I applied at a local bank and they tell me that I'm in ChexSystems from Armed Forces Bank!!! How?!? So I call them again and after several stupid apologies they say they will update and take me out. I applied to another bank again a few days ago and nope I'm still in there. They have the dumbest people servicing a bank that services military personnel and they need to be shut down. Everything is just completely all wrong with them but I can't bank elsewhere until they remove me!!! STAY AWAY FROM THIS BANK! You will have high blood pressure!

They call themselves Academy Bank former Armed Forces. I have never see a bank so bad. ConsumerAffairs you need to force them to sell this to another owner. They are useless and customer should not have to go through such a waste of time bank. If you call yourself ConsumerAffairs do something or you are as bad as them.

My husband and I have been members of Armed Forces Bank since we both joined the military in 2001. Everything has been great with them, up until this last year & a half, in which our bank account has been hacked into 5 SEPERATE TIMES! Every time that we call to get the situation resolved, it seems like we are the biggest burden in the world to the customer service reps and they would love nothing more than for us to just take our business elsewhere. "Ma'am/Sir, are you SURE you didn't spend $200+ in Montreal?" Yes, I'm sure I would have remembered something like that... Inevitably our card(s) get shut off and sent new ones but nothing ever seems to change! We are looking for a new, better bank ASAP since this has gotten out of hand and ridiculous...

I was inactive for 6 months so I expected them to freeze my account. After 2 hours on the phone mostly waiting for someone to answer I was able to get my account unfrozen. I was told I needed to make a transaction within 24 hours to keep the account unfrozen. After I buy groceries and buy new clothes I go home and the next day my account is frozen. I called and I was told that I didn't make a transaction within 24 hours and that they would have to unfreeze my account again but I was also told they couldn't do it that day because all their departments were closed.
So now I have to wait even longer to unfreeze my account and every time I call on the phone to get my account sorted out I have to wait 2+ hours. I would do this all online but every time I type in my information on the online website I am told all my info is wrong including my account number which is printed out on my bank statement. I am so frustrated with this mess having to call them every other day. I am going to be closing my account down within the next week. If you want reliable service I do not recommend this bank.

I've been with this bank over 9 years. At first their business is fine. No major issues. Within the last year things with them have been changing and not for the better. Just to get someone to answer a phone when you have issues is beyond ridiculous. Every time you're looking at almost 20 minutes. I didn't do my math right and found I had a negative balance so I did yesterday what I've always done. Wrote a check from my other bank to cover expenses. Earlier this month everything would be done that day. Yesterday that didn't happen, so I called to speak with someone to find out what's going on.
Well after almost 30 minutes a lady was telling me that they changed their policy like 3 weeks ago. So instead of same day transactions they would now take up to 6 days. I told her I didn't get that information, which going thru all my emails. There was nothing from Armed Forces other than statements. I asked her, "so you're telling I have to wait 6 days now before my account will be back in the positive and in the meantime you're going to keep charging overdraft fees," during that time and she said YES. That's not a good answer and that was the last straw with this bank, I'm done. But within the past couple days I have been trying to close my account. This has not been an easy process. Finally after 2 days of headaches I was finally able to close the account.
Since I had a balance to pay I had to go there in person to close it out. They don't accept payments over the phone. Ok, No big deal. Today I drive over 30 miles to Norfolk, Va branch, and boy I can't get on base to get to the bank. So off to pass an I.d. to get a visitor pass. No such luck. I'm a civilian now and to get on that base I need a sponsor. Well that ain't going to happen. I don't know anyone in Norfolk, VA. So again back on the phone waiting for over 30 min. The lady was very nice and I told her my situation. She put me on hold again, a very lengthy hold, came back on and said "well you can mail in a money order and go from there."
Then she said if I had another bank I could do a wire transfer. She said once I get to my other bank to call armed forces back, let them know I'm doing a wire transfer and to ask to get put through to a specialist. I said "thanks that means another 20 some minutes on hold," so I hung up. I get to my other bank and called before I was even at the bank and was still waiting over 20 min then got thru to a person, told them about the wire transfer and to transfer me to a specialist. That was another very long hold for a little bit of info.
So I was informed Armed Forces will charge 10.00 to receive the wire transfer, ok fine. All I want to do is get this over with and to close the account. So the other bank charged 25 to send it. Armed Forces charged 10 to get it. Finally it went thru. The Armed Forces is at a zero balance. Perfect now I can close it so back on the phone around 25 min on hold. Finally get ahold of a guy and he starts the closing process, but wait his computer is having issues, he needs a technician so back on hold. I go for another almost 20 min. Someone else picks up and I have to go thru all the info all over again and I told her "look I just want to close out my account and be done with this bank and to not get put on hold again until after everything is processed and finished." Thank you, thank you. Finally it was all done and finished and now after 2 days I am finished with Armed Forces Bank.
Armed Forces Bank Company Profile
Company Name:

Armed Forces Bank

Website:

https://www.afbank.com/