The urge is there, it's just not as strong
06/14/2017
|
ConsumerAffairs

By Mark Huffman
Mark Huffman has been a consumer news reporter for ConsumerAffairs ... Read Full Bio→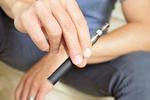 New research from the Penn State College of Medicine suggests that consumers who use e-cigarettes regularly are less likely to get hooked on nicotine than people who smoke cigarettes.
While the researchers conclude that e-cigarette users are less dependent on nicotine, they say it isn't clear whether e-cigarette "vaping" leads to eventual cigarette smoking, as some health advocates believe. They say further study is needed to determine that.
E-cigarettes are a type of bat...
More
Study said it looked for evidence but didn't find it
03/15/2017
|
ConsumerAffairs

By Mark Huffman
Mark Huffman has been a consumer news reporter for ConsumerAffairs ... Read Full Bio→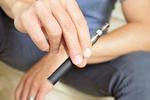 When electronic cigarettes (e-cigarettes) appeared in the marketplace a few years ago, it caught anti-smoking advocates by surprise.
Cigarette smoking was on the decline. Now there was another product that looked like a cigarette, delivered nicotine, but contained no tobacco. Was it safe? Would it lead to a resurgence of smoking?
Since then, opposition to e-cigarettes among these groups has hardened. The devices are said to deliver harmful chemicals and serve as a gateway...
More
Sort By