A surveillance camera in a New Jersey mall captures the dramatic moment
09/20/2016
|
ConsumerAffairs

By Mark Huffman
Mark Huffman has been a consumer news reporter for ConsumerAffairs ... Read Full Bio→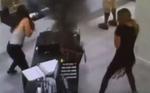 Since their introduction, e-cigarettes have been extremely popular as a tobacco alternative, but health officials insist there remain unanswered questions about their effect on health.
Maybe they ought to be more focused on safety.
E-cigarettes are basically electronic devices. A battery provides the heat to vaporize a liquid containing nicotine. Users inhale the vapor, getting much the same nicotine they would from a cigarette.
But as we know from smartphones and other el...
More
One study finds that most teens vape for the flavorings and not nicotine
08/29/2016
|
ConsumerAffairs

By Christopher Maynard
Christopher Maynard is a New York-based writer and editor who ... Read Full Bio→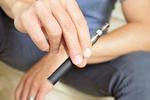 Recent trends among teens seem to favor vaping with e-cigarettes, with many high- and middle school students saying that they've tried it. While many fear that this habit could lead to nicotine and smoking dependence, a new study suggests that the problem may not be that worrisome.
Researchers have found that many teens that vape don't do so for the nicotine; instead, many teens say that the flavors offered by e-cigarette products are the drawing point. This throws into ...
More
Sort By