Researchers note a big jump in the number of smokers who quit
08/01/2017
|
ConsumerAffairs

By Mark Huffman
Mark Huffman has been a consumer news reporter for ConsumerAffairs ... Read Full Bio→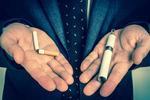 Americans are smoking fewer cigarettes and health researchers at the University of California San Diego School of Medicine and Moores Cancer Center think e-cigarettes might have something to do with it.
Introduced about a decade ago, e-cigarettes provide some of the same effects as smoking a cigarette. They are in the shape of a cigarette and deliver a water vapor containing nicotine instead of smoke.
Anti-smoking advocates have never liked the devices and have worried th...
More
The urge is there, it's just not as strong
06/14/2017
|
ConsumerAffairs

By Mark Huffman
Mark Huffman has been a consumer news reporter for ConsumerAffairs ... Read Full Bio→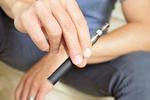 New research from the Penn State College of Medicine suggests that consumers who use e-cigarettes regularly are less likely to get hooked on nicotine than people who smoke cigarettes.
While the researchers conclude that e-cigarette users are less dependent on nicotine, they say it isn't clear whether e-cigarette "vaping" leads to eventual cigarette smoking, as some health advocates believe. They say further study is needed to determine that.
E-cigarettes are a type of bat...
More
Sort By