Consumer Complaints and Reviews

I am so angry with Spectrum/Time Warner. They expect me to go to one of their 2 locations to make my payment by cash. They will not take my DEBIT card over the phone or online. DEBIT card I believe is just like cash. This is the most stupid thing I have ever heard of. Because my CREDIT CARD was declined 2 times they refuse to take my DEBIT card now. I do not have time to find one of the 2 locations in the Austin area, take time off of work to go pay the 128.00 they won't take with my DEBIT card. Get a grip SPECTRUM because TIME WARNER would have taken my money no problem...

As America 'cuts the cord' with cable companies faster than ever before, you'd expect Time Warner to have learnt a little humility, and that their customers need to be treated a little more decently and honestly than in the past. However, after 6 years of being a customer, when I tried to remove cable TV from my package today (while retaining internet) a series of salespeople attempted to sell me new packages and contracts, refusing to believe that I no longer want or need any TV services. When they finally gave up they told me the only internet-only package available in my area was not $29.99 (the bundled price) and not $39.99 (the advertised, contract-less, standalone price) but $69.99! I can only have this 'exclusive' offer if I sign up for another 12 months and rent a modem I don't need as well!
They have done this because there is no fiber optic cable on my street and they know they have the monopoly. It's Spectrum or satellite for me - so I'm forced to swallow the inflated price. Ultimately the world is changing and archaic cable companies will go the way of the dinosaurs - even with a cool new name. We just have to wait it out a couple more years. And in the meantime, behaving appallingly to their long term customers will tar Spectrum with the same brush as Time Warner in absolutely no time at all.

They kept raising my internet-only rates, so in Aug 2016 I called and spoke with "Arthur" who said I could get internet for $49.99/month (less than what I'd been paying) plus if I bundled a landline phone it would be $10.00 less, meaning a total of $39.99/month. I accepted, and told him to switch my landline over to Spectrum from my other carrier. I asked Arthur several times if he could email me the numbers he was telling me verbally and he said he couldn't. What a lie. He said "don't worry because the phone call is recorded anyway." I now have been getting bills and they're charging me $54.99/month. I've called twice and gotten nowhere. I asked them to send me the recorded phone call that Arthur said "Don't worry all of what I'm telling you verbally is being recorded", or to send me the transcript of that phone call, and of course they refused. Stay away from Spectrum.

Recent experience while moving to an new address: Staying with TWC/Spectrum when moving to my new home has been a huge mistake. They disconnected my old phone number after I specifically made crystal clear that I needed to keep that phone number in service. They agreed and I was of course willing to pay for it as long as I needed it. The day of the move came and they just complete wiped out the entire account. This was a phone number that I originated with TWC fifteen years ago and they promised the service would remain as always.
Now, three weeks later, I have invested at least four hours of my time to get the phone number back up and running. I have been told the wrong instructions by the TWC staff at least 50% of the time as they fumbled around trying to correct their mistakes. The best I have been able to achieve is a phone number that now rings endlessly with no ability to access to the voicemail controls. I so wish that I had just left the old service in place and used AT&T or WOW for my new service provider. I would strongly recommend either WOW or AT&T. For me the TWC/Spectrum service personnel has demonstrated abject incompetence and wasted huge amounts of my time.

Extremely long call wait times to talk to a Rep, 20+ mins. Also could not believe that the Customer Service Rep blind transferred my call while I was in the MIDDLE of explaining my situation... I was interrupted by ringing, then had to start explaining my situation all over again to another Rep. I could not believe how RUDE & DISRESPECTFUL that was! Especially since this was my 5th time addressing an auto pay issue. They clearly do not value their customers. My advise - DON'T WASTE YOUR TIME. EXTREMELY POOR SERVICE & HORRIBLE INTERNET SERVICE.
How do I know I can trust these reviews about Time Warner?
668,849 reviews on ConsumerAffairs are verified.
We require contact information to ensure our reviewers are real.
We use intelligent software that helps us maintain the integrity of reviews.
Our moderators read all reviews to verify quality and helpfulness.
For more information about reviews on ConsumerAffairs.com please visit our FAQ.

It is Jan 7, 2017 --Spectrum took over Time Warner Cable who were bad enough and now they've got idiot 3rd graders operating their network system. On the dvr list/guide section used to be able to select a specific hour to record a show I wanted to see every week by clicking on a down hour that showed all the hours the show is on such as msnbc. Now when you want to record a show there's no selection or down arrow of hours to choose from. Instead now when you select a show that comes on eight freakin times a day everyday, you have no choice but to have your dvr record all the hours everyday that show comes on.
They are also putting the wrong dates on the shows. One show said it was made 1/10/2016 yet it was showing end of Dec. When you then press the list button on remote and the recorded series to see the shows you recorded it doesn't show you right there the dates of each show. In addition the current show you just recorded shows on the bottom after previous ones you recorded instead of leaving it as it was before where the newest recordings are on the top of the list and previous recordings by date are below. Then to insult everyone's intelligence, immediately after purchasing Time Warner Cable, they raise everyone's bill by $4-5 which is the beginning of their price gauging.
WTF is up with that stupid Spectrum commercial as if they're better than Time Warner Cable and anyone else. They are deceiving the public. Where are the congress democrats, where is Cuomo, Schumer, deBlasio to protect the consumer and the lower middle class & the poor from these thieves? They have got to stop these greedy pig thieves from abusing and scamming customers and the public. I am going to check out either Dish tv service or another venue within the next few weeks.

These companies can call themselves whatever they want. The tv service stinks. Those boxes they gave out don't work a lot of times or the pictures pixelate. They want their money on time and will send 3 bills a month, Well, I want my service so they get paid when I can go a week with no problems from the stupid boxes. Always telling me it's my fault and will send someone. I fixed it myself and should by all rights, charge them. I think their services should be looked into. Why should people pay for lousy service?

I have dealt with the shady practices of this company for over 20 years and will be switching to a new provider this week. TWC does not offer the same package to all of its customers and will increase the cost of your plan without warning. I called to inquire about a lower rate, was given one by a customer service representative only to be told the next month that the rep could not have offered that plan. Instead of honoring the contract I was given, TWC is fine with shutting down the service. The representatives are trained to tell you several details about what they consider to be wrong about the plans offered by other companies, all the while ignoring what you are telling them about their own. Their practices are by far worse than anything they were telling me about DIRECTV or AT&T! Do not sign up with this company and get pulled into this nightmare!

I believe Time Warner/Spectrum's "policies" smack of a scam and fraud. There is no way you can downgrade... You still have to pay, what they call a "discounted" price. Our bill has increased from $150 a month to $199. We have a bundle package. I have complained to our state's attorney general as the paper bill (nor the online bill) does not mention the total price before the so-called discount. In fact, the only reference to a "discount" on the statement, which is on EVERY bill states "Your current promotion is ending but your savings will continue. As a valued customer, we have automatically extended you a new preferred rate." Preferred rate?! THEIR preferred rate not ours.
Yesterday we decided to get rid of HBO, our only premium channel, which we pay $15 a month. They are so slick... The rep said that because of the discount package removing HBO will only save us $3! I was so angry I told her I did not care if it saved us only 50 cents... remove it! (It's a crap channel anyway). I also told her to stop with the slick scripted responses as we were sick of hearing them and shame on her for working for a company that is so greedy! This is the first time a customer rep went silent as they seem to have a comeback for every complaint.
People need to complain about this company to their state's attorney general, reps and senators. We are seniors on a tight budget and this company has a monopoly in our area for high speed internet with unlimited data. We have tried to get rid of the phone and downgrade the cable TV, but no, we will lose our high speed internet. But notice the lower priced packages they use to lure in new customers. This company makes me sick. I wish I could cancel the whole damn thing, but as we are housebound most of the time, we need it. This is our only "luxury". We don't go out to eat, to movies, on road trips and only purchase essentials. I wish another company would move in to our area to offer competition and then the rates will go down!

I was a customer for 10 plus years and ended my account today. They don't care about their customers or losing business. When their technicians no show and don't call, no one tells you, and your appointment gets put on hold, not rescheduled and you are not informed. When you call to find out what happened after taking off work, they tell you that they do not have that information since they hire out outside contractors. Thus, the only way to find out the problem is to schedule another appointment but you are put at the end of their list. Don't get fooled by their supervisors. They claim to help and give you their phone number, but guess what they vanish, don't answer their phone, or call back. Meanwhile, you have no service, no contact, but a BILL. When I called to cancel my account if my services could not be connected in timely manner after 5 days of getting the runaround, they don't even try to keep you!
They are quick to let you know of the fees you will receive from not returning their equipment. TWC is NOT a company that cares to be ACCESSIBLE to all. I was told to drop off my equipment to avoid charges, and I asked for someone to come and pick up the equipment due to my inability to lift the weight of equipment. I live alone and scheduled for spinal surgery and have been warned to not lift anything over 5 lbs due to the risk of being paralyzed. The man I spoke to told me my account would be charged because the only way to return equipment is on my own time. I asked about what someone would do if they were handicapped and the same answer was given but in a rude tone as if I was not telling the truth, not sure why anyone would make up a spinal injury out of all the stories someone could come up with.
Later today I called back to discuss my billing cycles to make sure they closed my account correctly. When I asked another worker at TWC if there was a way someone could pick up the equipment since I am physically unable to do so, he told me yes. Guess what they do this regardless if you are handicapped so not sure why the other worker told me differently. BUT DON'T DO IT! The people who pick up the equipment are hired contractors that do NOT give a receipt when you hand over the equipment. One dvr box costs around $250, that is a lot of money to hand over to someone without having a way to prove the equipment was returned. I just signed up for AT&T and guess what, all of their technicians are AT&T employees that can be held accountable, their prices are extremely less than TWC, and they can schedule your installation the very next day.

From November 2015 to January 2017 the same technical problems persist and technicians work online and on location making changing for 2-3 hours at a time. Meanwhile my charges double now total $120.24 per month for basic 20 channels TV, phone, and 20MB internet with wifi. Internet and wifi problems due to too many neighbors on the same wifi channels - no way to resolve that!

Frustrated. They keep quoting me a price for a monthly bill and when my bill arrives I am being charged more than the quote and even more than I was paying before and all they say is they can't do anything about it because my original package is not available anymore. Beware if they ask you to change your plan because once it's changed they won't go back to what you were originally paying. Also another thing that they do is say that wait a couple of days for the changes to roll over but it doesn't and you call back and all they can say is "I'm not sure what the last person told you" even though I have his name and ID number. They have no accountability in what they say and will change their stance whenever they feel like it.

Ok so I sign up for twc internet service. The installment was free but I want to put my modem in different spot in my house. I was told by salesmen it would be $60.00 to put in a new wire in the wall so I was ok with that. When worker got here he said it was going to be $85.00 which was still ok. So the guy put the new wire in and was finish. I connect to the internet through my laptop. The guy wrote password on a piece paper and left so I started to connect all of my device - cable, cell phone, alarm, wifi thermostat, ipad, ps4. Nothing would connect then the laptop drop the signal and said could find wifi. I call the guy who just here and he didnt answer the phone.
So I call tech support. Was on the phone for 2 hours try to get it to work and couldnt. I had to get my son from the bus stop and the tech says she would call right back 5-10 mins. Never receive a callback. So I disconnected everything and took it back to twc and cancel the service this within 3 or 4 hours. Spoke to lady rep at twc at the store. She told to me to call cust service, to get the $85.00 charge remove from the acct. So I got back home, call the cust service, spoke with another lady rep who said the acct has been cancel and will removed 85.00 charge of the acct.
3 Weeks later I get another bill for 85.00 so I went online and chat with TWC online. Rep told me the charge was removed and I have a 00.00 bill. 1/2/17 I get a bill from a debt collection for 85.00. Call twc, spoke to supervisor and she says the 85.00 bill was never removed so now she send a ticket to the payment dept because the acct closed and they cant credit the acct which I was already told they had done that but now its hasnt been done. Now I have to wait 5 days to see what happens next. Its not even about the 85.00 its that twc said and 2 different times the acct had been credit and now Im getting collection mailed and they sent the collection mailed to my parents house, not even my home address and its not showing no credit or no notes about being credit. I dont like being lie to. I would highly recommend not to sign up with twc. They said one thing and do another.

Speed of internet is consistently slow in the evening. Paid for speed for download is 20 Mb per second. Evenings speed is from below 1 to about 2.5 Mb per second. No competition, terrible service. It's nothing new.

Our TW Cable service is awful! Every year our bill increases or they take away channels but we get ** service. Every time we use on demand or rent a movie the channels freeze. We have to reboot the box and it takes so long that we typically give up. I call to complain only to be put on hold for lengthy periods of time. Sometimes they send a signal but the problem remains. I have waited in line at the office for a new box only to set it up and have the same problems. I am venting now because I have been sitting here for over 15 minutes because the TV froze and I am once again rebooting. New year... need to make some changes!!!

Against my better judgment, I decided to receive service and boy I made a huge mistake. After installing cable into my home, I get a phone call that they are conducting an audit and it shows that I had service in 2011 which I did not. The rep name Daniel was very rude and accusatory. I told him just as nasty as he that I did not and let me speak to the supervisor who was no help at all. They install the service on 12/28 and disconnect my service on the 29th. I'm going back to Verizon, where they are professional. When Spectrum come they better undo the wiring as well. Do not use their service.

Came home after working 12 hours to find that my services had been interrupted. Call Spectrum to find out what was going on. The supervisor Jennifer stated that my bill wasn't paid since October (which is not correct). She then stated that I need to be aware of my monthly rate which is $286. I asked her since when was my bill $286. She couldn't offer me an answer as when and stated she couldn't reinstate my services because I needed to pay now a bill of $600. I have cable internet, Wifi, and hinge security with this company for 2 years plus now and always paid approx 186 per month... total rip off. I would not recommend this company to anyone.

Today, I found that my mother, an 80 year old with dementia and a heart problem, had her home phone disconnected because she had forgotten to make her payment. This was the first payment she has missed since she has been a client. I contacted Time Warner Cable to explain that her phone was necessary and could be a matter of life or death and asked if we could have it reconnected since her medical bracelet used the home phone to call Emergency Medical Services in the event of an emergency. I even offered to make her payment within 1 week since her social security check would be sent by then. The Customer Service Representative was not at all moved by the explanation and ultimately hung the phone up on me. I called back and thankfully got a more compassionate representative who was more than willing to help get my mother's phone reconnected. This event took me over an hour to get resolved.
Since this incident, my 4 siblings and I have canceled our service with Time Warner Cable as of today. The irony of the entire situation is that it was so important for the first customer service representative to get the $125 from my mother that she is directly responsible for losing over $2000 per month from my siblings and I. What a plan!

I have filed 3 Better Business Bureau reports hoping they could help me with all the issues I have had with TWC. Yesterday I received my 3 letter from the BBB. As stated in the previous letters "The company has not responded to the Bureau to date." TWC has not responded to my complaints. In August I was advise I would receive a refund for services not working. The credit has not posted to my account as of 12/28/16. I still have service issues with phone, Internet box and tv not able to connect to Internet box. I also went from paying $100 to $125 to $150 to $180 for the same services in less than 6 months. I have not changed anything. I don't believe TWC will ever resolve my concerns. My goal for 2017 is to switch service and never ever use Time Warner Cable again. If you have a complaint call Karla ** or Gina 855-540-9883 ext **.

I have been with Time Warner, since they were Insight locally. Fees went from 92-117-127-156-171 and now 181. I have the same services. I had no showtime for the last month and called 2x recently to be "reset". Not only did my bill show no credit, but it increased again. When calling to explain again, that I am about to move but unsure where, as my husband is near death, they said that they don't have contracts. I had called last year when I went from 127 to 156 and they offered me a 2 year contract, but the price would only be good for one year. I declined. Now it's gone up three times in one year. This "non-Contract" contract committed me to move with their equipment wherever I go, as they are "almost everywhere". I cannot imagine what elderly people do who do not have the time, skills or tools to deal with this type of prejudicial price gauging.
When calling today, they kept telling me they have no contract, and that never happened, and would not address the 2 calls for no showtime recently. Since my husband is near death, I will just pay for now, and then return my equipment to never, ever use this company or any affiliate again. But I feel like the poor widow in a movie where the bad guys keep coming and raising her price.

Cable/internet cable stopped working for 3 weeks. I called them every other day and they gave me a different excuse to why it was not working. Finally after 3 weeks they came out and realized there was a disconnection in my outside cable after telling me it was a city wide problem. Then they billed me for an extra month after I cancelled service. They sent this bill to a creditor. Instead of fighting it, I just paid it, which I am sure is part of their scammy business. Not worth it.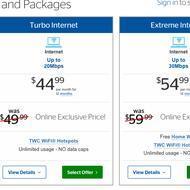 The advertised "normal" prices are misleading. Example -- in my area, Extreme Internet is advertised as usually $59.99 with an online promotional discount -- $54.99 for the first 12 months. It does not say this ANYWHERE but apparently the real "retail rate" isn't actually $59.99 but is $89.99 plus equipment, taxes, and whatever other fees they add on.
Most companies reward customers for their loyalty, Time Warner punishes you. The longer you are with them, the more your rates will increase. Every 12 months, there is a significant increase in cost for the services you receive. Then you can call to "negotiate" your bill -- either pay more for the same thing, possibly upgrade to a different package (whether you need those extra services or not) so you're only paying a little more, or just pay more for the same services.
Their pricing makes no sense. I finally cut cable and phone so I'm on JUST internet -- which (as mentioned before) is costing me $30/month more than the advertised price (before additional expenses). Apparently, I can upgrade my services to another package with TV and phone for exactly the same price that I'm paying for just internet.
This sounds like a no-brainer but it's really just an example of how they trick you. I don't recommend TWC/Spectrum to anyone, ever, for any reason. They seem to run a monopoly so I don't have any other choices for internet but there are plenty of options for streaming TV... if you have other choices don't pick this company because they are deceptive, shady, manipulative, and misleading.

I do believe I have had my very last experience with Time Warner Cable Co. They do not believe in being honest with their customers, they tell one lie after another. I will be canceling my service with them in January. We are seniors, on a strict budget, but we are surviving. Our bill went from $118.00 up to $146.00. We cannot do that so I called to talk to a rep. about our account. We have been a customer with them for at least 10 years or longer. I talked with 'Zoie' and then 'Anthony' and he confirmed that my bill would be $128.00 every month and I said ok to that. The next statement came and it was back up to $146.00 so I called and they could not find any record of Anthony quoting that price, even though I gave them the name, the date I called, and the time I called.
So their word did not mean anything to them or about keeping me as a customer, NEVER been late, NEVER missed a payment in all those years--they just did not care. I was not treated fairly at all. Good people--beware of Time Warner Cable Co. Thank you for allowing me to vent for I am very upset about this. My husband and I are both seniors, disabled and just trying to survive.

So Time Warner has renamed itself hoping to leave behind the bad service reputation and policies. Now Spectrum calls and emails me advertising increased internet speeds at a fraction of the price I'm paying for my business. When I responded, I was told that I would have to cancel my service for 31 days before I would be eligible for the new pricing--even though I have a monthly contract. The bottom line: they still continue to screw over existing customers in favor of new customers! Haven't they run the costs on attracting a new customer vs. keeping existing customers happy? Bottom line: new name, same old policies and service.

I was told by a chat representative named Jerald ** that I needed to add a TV package in order to receive a $40 a month internet rate in my area. The advertisement was for internet only in my area - not for internet and TV. When I pressed him for details he was unable to back his claim and quickly transferred me to another representative so he would not be caught in his lie.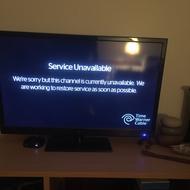 I have had to call Time Warner cable technicians multiple times in the last two weeks. The problems have been going on ever since I started receiving service from them. The Internet is constantly going out, the phone is constantly going out in the middle of a conversation, I use their Time Warner cable app to watch television and tonight I am not able to watch one network station. That is ABC, NBC, CBS, Fox, PBS. Cable stations are working just not the network.
I called to complain about this problem again. The technician that was on the phone with me were so rude and basically told me "call back in four hours if it's not working again". "It's not working right now tell me what's wrong." He said "I can't tell you what's wrong, you'll have to call back another time". I then demanded the next level of technician because they always have an answer for what is wrong. While speaking with that technician he said that they don't know what's wrong, but they do know that it is out and they were trying to figure out why. Why didn't the first technician know this?
After about an hour on the phone, I was given a work order number and said they will work on it at some point in the next 72 hours. Call back if nothing changes within three days. It's BS because now I've missed the Michelle Obama and Oprah interview. I've missed the nightly news, which is very important to me today as I used to live in Anchorage Turkey where the Turkish in Ambassador to Russia was killed.
I am disabled, and do not drive. It is absurd that I would have to go to somebody else's home just to watch the nightly news and Michelle Obama's interview. I will never recommend Time Warner cable/ Spectrum to anyone. I do have a call out to my landlord to get his permission to put in DirecTV or dish. I hate being told by them that they are the only company in my Area, so I have no choice but to use them. I say BS. I think they're too expensive anyway. I'll be able to save some money. And one more thing, even though the service is out for hours and hours and hours, they refuse to adjust your bill for non-service.

Time Warner Cable/Spectrum grievances. Time Warner Cable/Spectrum upgraded our basic plan from 20 mbps to 50 mbps which is higher than my old DOCSIS 2.0 modem can support. I purchased a new Arris Surfboard SB6141 modem (DOCSIS 3.0) to replace my old Motorola Surfboard SB5101U (DOCSIS 2.0). Shortly after my internet connection began experiencing frequent timeouts and dropped connections. I called TWC/Spectrum and they said it was the modem and to call Arris. Their tech support said it was TWC/Spectrum. So they sent out one technician who said it the modem was faulty. So we swapped it back to the old one... and surprise it was STILL dropping connections. So he declared both modems faulty and to go buy a new one and if that still didn't work it was TWC/Spectrum and they'd send another technician.
I bought a 3rd modem, Netgear CM400, and it's STILL dropping. TWC/Spectrum made another tech appointment and they never showed up... They said "someone" rescheduled it. All I wanted to do was get a new modem, but this has spawned a week-long tribulation of constant back and forth blaming. I thought their acquisition by Spectrum would bring a new wave of improvement but sadly that's just on the surface and nothing has really changed internally at Time Warner. They are just as incompetent and disgusting as a clogged toilet after explosive diarrhea.
May this serve as a warning to any and all who would consider bargaining or doing business with these devils: 1) Keep blaming everyone else except themselves. Blamed both of my routers, blamed Vonage adapter, blamed my laptop, blamed my desktop, blamed my old ethernet cables, blamed my new ethernet cables, blamed the brand new ethernet cables, blamed my old modem, blamed 2 new modems, blamed someone in the household changing my appointment time online... which is funny... SINCE WE HAVE NO ** INTERNET.
2) Horrible customer service. Their agents are either retarded or have been ordered to act retarded: when everything is unplugged and I'm directly wired into the modem with an ethernet, they blame the modem... Mind you, I've tried 3 modems (1 is my old one, and 2 are brand new ones). No technician showed up to appointment. Claimed they changed the appointment... without prior authorization from or notification to the customer? Claimed it was my household who changed it, but then refused to provide details on how, when, or who caused the change (no IP address, MAC address, time stamp, location, account name, actual name, etc.).
Obviously full of **, their modem lies (3 modems now it's been) and despite being able to diagnose and test the modem and connection, act like they are too stupid to help test any of the other network equipment, although they are sure the modem is broken (reversed 3rd time's the charm or something?), and their lies about changing my appointment to cover up that their technician is beyond late. Supervisor was unable to be of any more help than the hospital help desk staff that ask when you're free to schedule an appointment. They really need to fire that ** and replace him with a lower grade pay scale employee, that title is unfitting.
3) Potentially serious problems: If any of what TWC said is actually true then... their security is very easy to hack into since someone hacked in for ** and giggles just to change the appointment time and spoofed our address, then customer data and security is truly at risk and no one should trust their security or account information (much less credit cards) with Time Warner Cable/Spectrum.

This service is an absolute rip-off. I have dealt with buffering issues on and off for almost a year but it has gotten WAY worse since Spectrum took over in the last 2 months. If you call in for technical support you will 1) get a different answer each time you call 2) get different instructions each time 3) you will be told that it's a free service (in other words, too bad if it doesn't work) 3) you will never get a call back or resolution. Who today uses cable or internet services without streaming? hmm... crickets. If it is a service you provide you can't say too bad if it doesn't work. If I pay for a service and this is included, it is not free. It's a bundle. Do yourself a favor and try U-verse or FIOS. Time Warner Cable or Spectrum or Charter or whatever they try to hide behind to avoid giving service is not up to par with its competitors. Read these reviews http://tinyurl.com/zztt423.

I recently had Time Warner Cable and this was the worst company thus far. They tried to charge me with a bill that was from my deceased parent. After I spoke to a representative they said I wasn't going to be responsible for the cable bill. They then said I had to restart with a new plan to only cut me off the very next day because of another issue they failed to mention. I don't recommend anyone use this company for cable and switch asap.

If I could give this company a half star I would. I was without internet for a week, and each time I called about it I was told it was an outage in the area. That's fine I understand, but when it started coming up on a week with no internet I called again. This time I was told, "Oh, we see you have zero internet connection at your house we will have to send a technician to service the problem." I set something up for the very next day and let my roommate know to be home. They were scheduled to arrive between 12 and 1, and I received 4 automated voicemails confirming the appointment. I received a voicemail at 12:15 from the technician, stating he was there but he was leaving and I needed to reschedule my appointment.
When I called my roommate she stated nobody had been there, and that she had been sitting in the living room waiting for him. I tried calling the technician back but he didn't answer. When I called customer service they told me, "Yes, we do see someone was there but left." No, nobody was there. There is no way that someone showed up and knocked without the dog or my roommate noticing while they are sitting in front room right next to the door. I have been without internet for a week and I can't work from home in the bad weather because of these issues. They charge me $70 a month for crappy internet that doesn't even work half the time, and when you ask for someone to come out and fix it they don't even show up and then LIE about it and say they did.
I'm sorry but I work a full time job and don't have time to spend 20+ minutes on the phone with this company to get something simple done. My roommate does not have the leisure time to sit and wait around for a so called "technician" who doesn't even show up. I have had nothing but problems with this company since I got them a year and a half ago and I will be canceling as soon as possible. I am livid right now. Consumers beware.

ConsumerAffairs Research Team
The ConsumerAffairs Research Team believes everyone deserves to make smart decisions. We aim to provide readers with the most up-to-date information available about today's consumer products and services.
In 1989 when Time, Inc. and Warner Communications merged, the first seeds were planted for what would become one of the nation's largest cable television networks. Time Warner is headquartered in New York City.
Pay in store: Consumers who prefer to pay with cash can visit Time Warner retail locations.
Big on-demand catalog: More than 10,000 shows and movies are pre-loaded on the Time Warner on-demand service.
Mobile viewing: Customers can view programming on their smartphone or tablet.
Enjoy Internet access: With Time Warner, viewers get access to a network of more than 400,000 WiFi hotspot locations.
Bundled services: Time Warner also offers discounted Internet and phone service bundles.
Best for Television fans who watch a range of programs, households on a budget and businesses who provide entertainment to customers or staff members.
Compare Cable & Satellite TV Providers
Time Warner Company Profile
Company Name:

Time Warner

Year Founded:

1990

City:

New York City

State/Province:

NY

Website:

http://www.timewarnercable.com/