Maserati maintenance: cost, plans and service schedule



Written by

Edited by
Find Extended Auto Warranties near you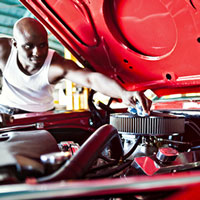 Even if you can afford the sticker price on an exotic vehicle, you may not be able to keep up with the cost of repairing and maintaining it.
We took a look at Maserati's lineup to see how much its vehicles cost to keep running, how that compares to other automakers and what you can do to avoid breaking the bank.
---
Key insights
Overall, Maserati upkeep is a significant expense that you shouldn't underestimate, but it may be worth it for some people.
Maseratis cost about $1,600 per year just in preventive maintenance. For reference, the average vehicle costs about $650 per year in maintenance and repairs.
Warranty protection is key to keeping your costs manageable, given the potentially high costs of Maserati repairs.
That's why you may want to consider an extended warranty once your factory warranty expires.
Are Maseratis expensive to maintain?
Maserati vehicles may be flashy and elegant, but they're also a notorious hassle to maintain, so you might want to think twice about depending on one as a regular mode of transportation.
According to Rusnak Maserati in Pasadena, California, Maseratis cost an average of $1,625 per year to maintain over their first four years. That's nearly a thousand dollars more than the average car, which costs $652 a year to maintain and repair, according to RepairPal.
How Maserati compares with other automakers
There's some danger in comparing estimates from different sources, but if RepairPal and Rusnak Maserati are to be believed, Maseratis are incredibly expensive to maintain — even for luxury vehicles.
| Make | Average maintenance and repair costs* |
| --- | --- |
| Maserati | $1,625 per year (maintenance only) |
| Honda | $428 per year |
| Toyota | $441 per year |
| Ford | $775 per year |
| BMW | $968 per year |
*According to Rusnak Maserati of Pasadena and RepairPal
Bear in mind that Rusnak Maserati's estimate only includes preventive maintenance, not repairs to fix anything that breaks.
Neither J.D. Power nor Consumer Reports included Maserati in their most recent reliability rankings as of publishing, but Consumer Reports did award the Ghibli and Levante a score of two out of five for predicted reliability, which doesn't instill much confidence in the brand.
That said, there's variation within the Maserati lineup, so you might want to stay away from some models more than others. According to iSeeCars, the Quattroporte is the brand's most reliable model, earning a 6.4 out of 10 for reliability. That places it 13th out of 25 full-size luxury cars, while the Levante ranks 17th out of 21 luxury midsize SUVs.
Maserati maintenance schedule
Every car owner should follow their vehicle's maintenance schedule if they want to avoid problems down the road, and this is especially true for high-maintenance Maseratis.
Maintenance schedules provide guidelines on when to service your ride and what needs to be done, but each model has its own plan, which you can find in your owner's manual.
We've provided some general Maserati maintenance milestones below, but it's definitely worth checking your owner's manual for more specific information if you're actually looking for when to complete certain preventive services.
| Interval | Service |
| --- | --- |
| Every 12,000 miles or one year | Replace engine oil and filter |
| Every 12,000 miles or one year | Check engine coolant, brake fluid and windshield fluid |
| Every 12,000 miles or one year | Inspect belts |
| Every 12,000 miles or one year | Check engine for leaks |
| Every 12,000 miles or one year | Check braking system |
| Every 12,000 miles or one year | Check lines, calipers, connections and parking brake operation |
| Every 12,000 miles or one year | Check front and rear suspension |
| Every 12,000 miles or one year | Check bonnets, hinges, doors and seats |
| Every 12,000 miles or one year | Check tire condition and pressure control |
| Every 12,000 miles or one year | Check headlamp operation |
| Every 12,000 miles or one year | Run diagnostic scan |
| Every 25,000 miles or two years | Flush brake fluid |
| Every 25,000 miles or two years | Replace cabin air filter |
| Every 37,500 miles or three years | Replace spark plugs |
| Every 50,000 miles or four years | Replace engine air filters |
| Every 50,000 miles or four years | Replace belts |
*According to Maserati of Akron
Maserati maintenance costs
"Maseratis don't have a great reputation when it comes to life span," said Stephen Sunkel, a mechanic with experience repairing and rebuilding European luxury vehicles. "But you can keep anything on the road for longer with the right care."
Sunkel continued, "Since European engines are different than American ones, make sure you find a reliable mechanic with the right experience, otherwise you'll spend much more than you should."
Maserati maintenance services and repairs are often expensive and time-consuming since parts are harder to source and replace. Even an oil change can make a dent in your bank account because Maseratis require fully synthetic oil.
We averaged out the cost of Maserati maintenance earlier, but it's worth taking a look at a year-by-year breakdown.
| Year of ownership | Maintenance cost |
| --- | --- |
| One | $1,175 |
| Two | $1,365 |
| Three | $1,925 |
| Four | $2,100 |
| Five and on | ~$1,625 |
*According to Rusnak Maserati of Pasadena
Based on Rusnak Maserati's breakdown, you can expect to spend $6,500 maintaining your Maserati over the first four years of ownership, with costs staying fairly stable after that. Of course, maintenance costs vary, so your expenses will depend on your vehicle's model, your location and whether you visit the brand's dealership or another service shop.
You can often cut the price of maintenance in half by DIYing it or going outside of your Maserati dealership. (Dealerships can tack on extra labor fees since there aren't as many mechanics familiar with the brand.)
Maserati repair costs
Repair costs are tricky to estimate because any number of things can go wrong on a vehicle at any time, and each vehicle will have its own issues, so individual experiences vary significantly. Still, it's worth pointing out some common issues just so you're aware of what other Maserati owners have experienced.
According to CoPilot, Maseratis are prone to their clutches malfunctioning between 13,000 and 30,000 miles miles, and a standard clutch replacement can cost $4,000.
Maserati factory warranties are transferable, so they can protect you even if you're not your car's first owner.
Maserati Ghibli and Quattroporte owners also commonly have concerns about their transmissions, reporting trouble switching gears and hearing a grinding noise when they do. Transmission problems have the capacity to be incredibly expensive — a full transmission replacement can cost you thousands.
Luckily, new Maseratis come from the factory with a four-year/50,000-mile new car limited warranty. This warranty offers bumper-to-bumper coverage for almost your entire vehicle, so most of your repairs during this period should be covered as long as they're due to defects in workmanship or materials.
Once your factory warranty ends, though, you may be left with a tough decision. Paying to fix your Maserati when it breaks down can be prohibitively expensive, which leads some people to simply sell their Maseratis once they exit the factory warranty period. There are other options, though.
» LEARN: What is a manufacturer's warranty?
How can an extended warranty or maintenance plan help?
Extended warranties and prepaid maintenance plans can both save you money as you pay to keep your Maserati running, but they work in very different ways, so it helps to understand the pros and cons of these plans before you buy one.
It's almost always worth shopping around for extended warranty coverage. If nothing else, it will confirm whether you're getting a good deal on coverage.
An extended warranty is a type of vehicle service contract designed to offer coverage similar to what your Maserati came with from the factory, keeping you protected from repairs needed due to manufacturing defects. Maserati's own extended warranties are available for its Ghibli, Levante, Quattroporte, MC20 and Grecale models, but you should also check out what's available from dedicated warranty companies if you're interested in extended warranty coverage.
Maserati also offers prepaid maintenance plans. With its Premium Service plan, you can pay upfront for all oil and air filter changes as well as spark plug replacements. The upgraded Premium Service Plus plan covers the same services in addition to caring for brake pads and windshield wipers. Though paying for future maintenance in a single go can be intimidating, it may help you save money by avoiding future cost increases or the effects of inflation.
Ultimately, Maserati vehicles aren't known for their affordability or reliability, but if you're looking for a powerful car to take on a joyride every once in a while, you may have found your match.
» MORE: Car warranty vs. car insurance
---
Article sources

ConsumerAffairs writers primarily rely on government data, industry experts and original research from other reputable publications to inform their work. Specific sources for this article include:
Did you find this article helpful?
|
You're signed up
We'll start sending you the news you need delivered straight to you. We value your privacy. Unsubscribe easily.