Maserati extended warranty: cost, coverage and plans
Extremely expensive, but possibly worth it



Written by

Edited by
Find Extended Auto Warranties near you
Endurance Auto Warranty and olive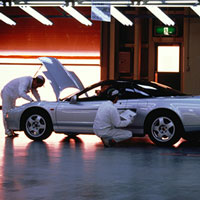 Maseratis are known for being relatively affordable Italian sports cars, especially when compared with the likes of Lamborghini and Ferrari. But they aren't known for cheap repairs, which is why Maserati owners might consider protecting themselves with an extended warranty.
We'll cover how Maserati's own extended warranties stack up to the competition, what they cost and whether they're worth it in the long run.
---
Key insights
After your Maserati's four-year/50,000-mile factory warranty runs out, its extended warranties offer bumper-to-bumper coverage for two more years and powertrain coverage for up to four more years after that.
Maserati Extended Warranties cost about $2,100 to $2,500 per year of added coverage, with the total cost of a 10-year/100,000-mile plan coming in at roughly $15,000.
Estimates for Maserati repair costs are hard to find, but scattered anecdotes suggest they're incredibly expensive, meaning a $2,500-per-year warranty might actually be worth it.
If you don't own a Maserati yet, your best option might be to purchase a certified pre-owned Maserati, which comes with a free two-year extension of your factory bumper-to-bumper warranty.
Maserati extended warranty coverage
Fittingly, Maserati calls its official extended warranties Maserati Extended Warranties. These plans are designed to functionally extend your Maserati factory warranty, which offers four years/50,000 miles of basic (aka bumper to bumper) coverage and four years/50,000 miles of powertrain coverage.
(As you read on, just keep in mind that auto warranties almost never cover damage, abuse, misuse, negligence, wear-and-tear or cosmetic items. They strictly cover factory defects.)
We had a harder time than usual researching Maserati's extended warranties. We found the webpage for its extended warranties a bit confusing and short on key details, and several of the dealers we spoke with were perfectly friendly but didn't have the answers we were looking for.

We were able to corroborate all the following details with at least two separate Maserati dealers; still, we urge you to consider this as general guidance and to read your own Maserati warranty contract carefully.
Unlike most other automakers, Maserati doesn't offer plan options based on how much protection you want. Instead, the company offers just two coverage levels, which are determined by the age of your vehicle:
The Maserati Extended Warranty offers bumper-to-bumper coverage during your vehicle's fifth and sixth years of operation.
The Maserati Limited Extended Warranty offers powertrain-only coverage during years seven, eight, nine and 10.
You can pair the length of time you want coverage for with three mileage options: 75,000 miles, 100,000 miles or 150,000 miles. So, technically, you could purchase a five-year/150,000-mile Maserati Extended Warranty, although a more practical option would be six years/75,000 miles. You also have two deductible options: $0 and $100.
Automakers frequently measure their extended warranty terms from when the vehicle was new, so a "six-year warranty" may only add two years of coverage.
As for eligibility, most Maseratis still within the four-year/50,000-mile factory warranty period will qualify for a Maserati Extended Warranty. We say "most" because one dealer we spoke with would not sell a Maserati Extended Warranty on a pre-owned car that wasn't certified.
However, it did offer a tip: If you find a used Maserati on sale at a Maserati dealership, ask the dealer if they're willing to certify the vehicle before selling it to you. If the car passes a 121-point quality inspection and becomes a certified pre-owned vehicle (aka "Maserati Approved"), it'll now come with a complimentary two-year extended bumper-to-bumper warranty. More on that later.
» LEARN: What does a car warranty cover?
Maserati extended warranty plans
We created the table below to illustrate the differences between Maserati's two coverage levels. (You may need to scroll to see the whole thing.)
| Component group | Maserati Extended Warranty (years 5 and 6) | Maserati Limited Extended Warranty (years 7, 8, 9 and 10) |
| --- | --- | --- |
| Engine | | |
| Transmission | | |
| Drive axle(s) | | |
| Suspension and steering | | |
| Brake system | | |
| Cooling system | | |
| Electrical components | | |
| Fuel system | | |
As you can see, bumper-to-bumper coverage is far more comprehensive, but you can only get this kind of coverage through Maserati for six years total (two years beyond the factory warranty). Past that and only your powertrain is covered, meaning your coverage drops from a few thousand parts to a few dozen overnight.
Maserati extended warranty benefits
Maserati states that its extended warranties come with 24/7 roadside assistance and rental car assistance, but details were hard to come by after that. Not even the dealers we spoke with could provide clarity. We've reached out to a few more and will update this page should we learn more.
Maserati extended warranty cost
For context, the average extended auto warranty costs around $2,500. Now let's see how Maserati Extended Warranties stack up.
Maserati Extended Warranty costs
You can only buy a Maserati Extended Warranty directly from a finance manager at a Maserati dealership. So we called three of them, and these were the lowest quotes we were offered.
All of the quotes below are for plans with a $0 deductible and don't include tax.
| Vehicle | Coverage | Term | Added coverage* | Cost |
| --- | --- | --- | --- | --- |
| 2023 Maserati Grecale | Bumper-to-bumper | 6 years/75,000 miles | 2 years/25,000 miles | $5,000 |
| 2021 Maserati Levante | Bumper-to-bumper | 6 years/75,000 miles | 2 years/25,000 miles | $4,260 |
| 2021 Maserati Levante | Bumper-to-bumper, then powertrain after year 6 | 10 years/100,000 miles | 6 years/50,000 miles | $14,929 |
| 2019 Maserati Ghibli (still under factory warranty) | Bumper-to-bumper | 6 years/75,000 miles | 2 years/25,000 miles | $5,000 |
*Beyond factory warranty term
Based on these quotes, Maserati's extended warranties cost roughly $2,100 to $2,500 per year of coverage beyond the factory warranty period. So, a six-year/75,000-mile warranty on most Maserati models would cost between $4,200 and $5,000.
Interestingly, after year six, your coverage goes down 95%, but your price goes up 10%. We were told that our first year of powertrain-only coverage would cost $2,339, and years eight, nine and 10 would cost $2,530 each.
In total, if you want two more years of bumper-to-bumper coverage and four more years of Powertrain coverage, you're looking at a cost of around $15,000, which (at the time of publishing) is the highest we've ever been quoted for an extended auto warranty, including plans for Alfa Romeo, BMW and Porsche.
As expensive as they are, a Maserati Extended Warranty may yet be worth it if the cost to repair your Maserati is even higher.
Is a Maserati extended warranty worth it?
Based on what we've seen, a Maserati Extended Warranty could actually be worth it, but there might also be a better alternative. Let's take a step back to explain why.
Generally speaking, an extended auto warranty is more likely to be worth it if:
You drive a vehicle that isn't very reliable.
The cost of your extended warranty is less than you think you'd spend on the repairs it would cover.
A surprise repair bill could ruin you financially.
You don't mind paying a few thousand extra for additional peace of mind.
If you're concerned about financial ruin or are seeking absolute peace of mind from your daily driver, you might be better off avoiding Maseratis entirely, so let's analyze the first two points.
For starters, Maserati has long battled a reputation for poor long-term reliability. While neither J.D. Power nor Consumer Reports placed the brand in their most recent rankings because of a lack of data, the latter outlet says it expects Maserati vehicles to exhibit below-average reliability, giving the more popular Ghibli and Levante models a score of 2 out of 5 for predicted reliability.
If Maseratis are prone to malfunctions, what kinds of repair costs can you expect? Well, once again, information is limited. RepairPal, Edmunds and Kelley Blue Book all seem to lack the data to make a proper forecast, but scattered anecdotes indicate that Maserati repairs aren't cheap.
"Not even a year of ownership and the car has cost around $14k in maintenance and repairs," wrote one Reddit user of their then 4-year-old Ghibli.
In response to a question on Quora about yearly maintenance for a Maserati Gran Turismo, former mechanic Mark Kram wrote: "Take any American high end car. … Now multiply it by a factor of 6. I think around $2,000 to $3,000 a year is conservative."
Basically, the limited details we've seen seem to suggest that paying $2,500 per year for a Maserati Extended Warranty may not be such a bad idea if you're committed to owning one of these vehicles. If it can protect you from five-figure out-of-pocket repairs, $2,500 per year may not actually be that much.
The Reddit user we mentioned earlier had a similar conclusion: "Knowing the bad rap I did my research and looked at a several cars before pulling the gun. I also purchased the extended warranty and boy … I'm glad I did."
But before we wrap up, let's look at whether a third-party extended warranty company can offer similar coverage for less.
Maserati extended warranty alternatives
Given the largely unknown — but possibly extremely high — cost of repairing a Maserati out of warranty, protecting yourself with an extended warranty makes sense. But since Maserati Extended Warranties tend to cost $2,100-plus per year, we wanted to see if a dedicated car warranty company could offer a better deal.
The bad news is that finding third-party coverage for Maseratis can be a challenge, which was echoed in some consumer reviews.
Douglas, a ConsumerAffairs reviewer from Florida, wrote: "I recently purchased a used 2015 Maserati Ghibli S Q4. … Since I had never purchased a 'used' vehicle out of warranty before, I was concerned about the possibility of driving the car off the lot and not have any protection whatsoever. So, like any good consumer, I quickly began doing my due diligence. … The top 3 rated companies did not even offer contracts for my vehicle."
In the end, we only received two comparable quotes out of the six we were looking for.
| Vehicle | Maserati | Endurance | olive |
| --- | --- | --- | --- |
| 2023 Maserati Grecale | $5,000 | Coverage not offered | Coverage not offered |
| 2021 Maserati Levante | $4,260 | $5,500 w/ $500 deductible | Coverage not offered |
| 2019 Maserati Ghibli | $5,000 | $5,500 w/ $500 deductible | Coverage not offered |
Endurance quoted us a higher rate with a much higher deductible ($500 versus Maserati's $0), but you may still find a better deal with a different warranty company. In our experience, extended warranty prices can vary from model to model and company to company, so you can usually save some money by shopping around. Even if you don't find a better deal, you've at least confirmed that you're not getting overcharged.
If you don't yet own a Maserati, you might have an even better option than buying an extended warranty, though. Consider these facts:
A brand-new Maserati comes with a four-year/50,000-mile warranty, and you may end up selling the car or ending your lease before it runs out anyhow.
A pre-owned Maserati may not even qualify for Maserati Extended Warranty coverage, depending on which dealer you ask.
A certified pre-owned (CPO) Maserati comes with a free factory warranty extension to six years/100,000 miles, and it must pass a quality inspection to become CPO in the first place.
So, rather than gambling with a new car that you may sell early or a pre-owned car that may not qualify for coverage, it might make the most sense to buy a CPO Maserati and get that extended complimentary coverage.
Label
Authorized Partner
Company name
Logo
Contact
Summary
Learn More

Label
Authorized Partner
Company name
Logo
Contact
Summary
Learn More
Did you find this article helpful?
|
You're signed up
We'll start sending you the news you need delivered straight to you. We value your privacy. Unsubscribe easily.