Consumer Reviews and Complaints

Bought a 1999 Chevy Suburban with 197,000 miles. Ran good until the passlock system shut off my fuel. Security light is intermittent even after changing key cylinder and ignition switch AND doing the "reset" of the PCM. Called the dealership and they want over $1000 and I have to find a way to get the now dead vehicle to their shop. After replacing everything that could cause the crank but no start situation. My kids and I stalled out in the middle of a busy intersection because of this! Very dangerous! After reading about how many countless others who have been in the same situation, you'd think there would have been a recall! Don't think my next vehicle will ever be a GM, sadly. I've always bought and driven Chevys but this makes me worried!

In 2014 of June we bought a used 2007 Chevrolet Suburban. After having the suburban for about a year and a half, we were coming down the expressway all of a sudden the suburban started trembling doing knocking sound and it stopped completely running. According to the dealership and the suburban had already exceeded the miles and it was no longer under warranty. We took it to our mechanic to find out the unfortunate diagnose that the motor was no good. The motor needed to be overhauled completely.
The Pistons rods lifters we're no good. It took us about three months to get the money $1,600.00 to rebuild the motor. It was still under warranty. We had one year of warranty. After six months the lifters started knocking again to get back to the place where they had fixed it and replaced the lifters again. Warranty expired June 6 and on July 12, 2017 it broke down again. Same issues with the lifters. Another thing we are still paying for the suburban. Any advice on what to do to get rid of it from tech to GM? Anybody with the same issues. Also the dashboard is cracked, the wheel alignment does not last.

In 2013, we purchased a 2010 Chevy Suburban LTZ with 50,000 miles & 1 owner. At 149,000 miles we had to have the engine replaced. Chevy/GM refuse to assist with the expensive repair. My research has proven they know the engines put in these vehicles between 2006-2012 was defective. A Chevrolet representative has stated that they are aware but have not issued a "bulletin" about it. The Service Advisor at the dealership where the repair was done also explained that they are aware of it and that the problem with the engines has been corrected since then. I feel that if they are aware of an issue as serious as a faulty engine, they should assist customers in paying for the repair.

I currently own a 2011 Chevrolet Suburban LTZ 4X4 which I purchased new from Uftring Weston Chevrolet in Peoria, IL in May 2012. I have well maintained this vehicle and others I own/have owned and keep all invoices for services rendered. The vehicle has just over 47,000 miles (approximately 8,000 miles/year) and is utilized on a very limited basis as my wife has her own vehicle and I have an assigned vehicle through my employer. I am writing you in regards to services and repairs conducted on this vehicle since October 2015 for a reoccurring problem, that is, this vehicle's front end failed to stay in alignment after short periods of time following three alignments.
During the week of Labor Day weekend in 2015, I took my family on vacation to Alabama, driving the Suburban from Springfield, IL (former residence) to Gulf Shores and back. Upon return to Springfield, I had an oil change and 19-point inspection of the vehicle conducted by a local auto shop on 9/15/2015. Upon reaching another 6,000 miles (36,763 total miles), I took the vehicle into Discount Tire for a tire inspection and rotation on 10/12/2016. I was advised by staff the inner portion of the tread (approximately 2-3 inches from the sidewall) on both front tires was worn down to the belts.
I was allowed to inspect the tires and confirm the findings. I was surprised since these original tires had a 65,000 mile warranty but concerned as to what caused the uneven, early wear. I purchased two new tires totaling $437.92. I then visited the same local auto shop where I had the aforementioned oil change conducted and had a 2-wheel alignment performed. This service totaled $62.50.
After utilizing the vehicle on local highways on a trip to St. Louis, MO, it appeared the Suburban was pulling to the right which prompted me to bring the Suburban into Friendly Chevrolet in Springfield, IL on 4/12/2016. Staff confirmed the vehicle was out of alignment at 40,733 miles, just over 4,000 miles since the initial alignment. I explained to Friendly staff of the early tire wear, the purchase of two new tires due to the uneven wear, and that the vehicle had an alignment previously. I voiced my concern that something within the suspension was affecting the alignment to fail. I requested the staff fully inspect the Suburban for one or more causes. Friendly allegedly found no problems and realigned the front end. I was charged $97.95 for this second alignment.
In July 2016, my family and I relocated to the McAllen, TX area. We drove the Suburban from Springfield, IL to McAllen over a two day period. The vehicle, again, appeared to pull to the right during the drive. I brought the vehicle into Charles Clark Chevrolet for inspection and services on 8/6/2016. Charles Clark staff advised the Suburban was again out of alignment at 45,233 miles, 4,500 miles since the second alignment. I advised the service department of the reoccurring issues with the alignment and tires and pleaded with the staff to determine the cause. Yet again, no issues or problems were found with the vehicle. Services charged by Charles Clark totaled $351.47, including $79.95 for a 2-wheel alignment.
I brought the Suburban into Discount Tire in McAllen, TX on 12/27/2016 for a tire rotation when the vehicle reached approximately 47,750 miles. Again, I was advised by staff the inner portion of the tread (approximately 2-3 inches from the sidewall) on both front tires (last two original tires) was worn down to the belts. I was allowed to inspect the tires and confirm the findings. I was provided a quote by Discount Tire for two new tires, etc. for the amount of $418.99.
Upon having the original tires/wheels reinstalled on the vehicle, I drove the Suburban directly to Charles Clark Chevrolet and advised the service department of the findings. The vehicle was inspected and found to be out of alignment... Again. I told the service counter attendant I would not re-acquire the vehicle until the problem was determined and resolved. I was provided a courtesy ride to my residence and was later contacted by Charles Clark which notified me a lower ball joint was determined to be the cause. The replacement parts and labor totaled $588.82.
For one whatever reason(s), Charles Clark did not align the vehicle and suggested I take the Suburban into Firestone and purchase a lifetime alignment. Charles Clark provided a quote of $422.46 for two of the same tires which were installed on the vehicle and the same tires which Discount Tire had quoted. I spoke to with Charles Clark Assistant Manager Juan ** regarding the problems I encountered and costs I incurred since 10/12/2015. Mr. ** advised under no circumstances should a ball joint need replacing no earlier than 125,000-150,000 miles unless the vehicle is driven under adverse conditions or duress. Mr. ** did at no time offer to provide any compensation for Charles Clark 's lack of responsibility in finding the problem after I specifically advised the service department of the vehicle's issues.
I contacted a local Firestone branch on 1/2/2017 and was advised a lifetime alignment for the Suburban would cost $199.99 plus tax. The vast majority of vehicles I have owned have been manufactured by General Motors and most of those vehicles happen to be Chevrolet. I have always been happy with these vehicles, however, I am terribly disappointed in the lack of interest and professionalism conducted by Friendly Chevrolet and Charles Clark Chevrolet as I informed, pleaded, and begged for these dealerships to locate and resolve the problem. I also question the quality of products used by General Motors/Chevrolet as Mr. ** advised.
I respectfully request General Motors/Chevrolet compensate me for past services/charges I have incurred and future services/charges I will incur to maintain my vehicle in a safe condition: $437.92 - 2 tires replaced by Discount Tire on 10/12/2015, $62.50 - alignment completed by One Stop Auto on 10/12/2015, $97.95 - alignment completed by Friendly Chevrolet on 5/24/2016, $79.95 - alignment completed by Charles Clark Chevrolet on 8/6/2016, $588.82 - ball joint and control arm replaced by Charles Clark Chevrolet on 12/27/2016, $418.99 - 2 tires to be replaced by Discount Tire on future date, $199.99 - lifetime alignment to be completed by Firestone. Total charges requested to be compensated: $1,886.12.
I wish to remain a loyal General Motors/Chevrolet customer/owner. Please do not hesitate to contact me if you have any questions or concerns regarding this matter. Thank you in advance for your time and assistance. I look forward to your reply.

I make this posting to provide information to other owners of this product. I have no desire to interact with the manufacturer (Chevy) nor purchase any more of their products--besides the issues with this Suburban, we are starting to have serious issues with five 2015 Express Vans purchased just a year ago. We originally purchased "The Sub" for real estate showings on a resort project development. 4WD capability and large passenger capacity was the attraction. After several years of adequate reliability, some strange things began to happen with various interior controls/equipment and dashboard indicators. Radio would turn off and on on its own, or not turn off at all. Dashboard lighting would dim and/or brighten randomly. Cruise control would work intermittently and recently has ceased to function at all.
Windows would on occasion open/close on their own and/or stay open and not respond to the window control buttons (we would pull the panels off the doors and directly wire the windows in order to close them). The 4WD activates by itself, going into low and high range for no apparent reason (although the selector is kept on 2WD at all times). The most serious incident was when the door locks & windows control module in the driver's door armrest short circuited, heated up and began to burn immediately after the windows became "possessed" and were randomly going up and down on their own. Fortunately the driver is not a superstitious fellow and was bright enough to quickly pull-over and disconnect the positive cable off the battery before things got too hot. Our mechanic replaced the module and it hasn't caught fire again. However the weird "mind-of-its-own" issues with the internal displays and controls have continued.
Chevy service has been useless and I have better things to do than play games with them--I just take my business elsewhere (Toyota and Lexus have been great). We have relegated the vehicle to use by our field maintenance crew, who have reported that the vehicle is still "spooky" and driving it is somewhat of an adventure. Cheaply built, poorly engineered (I'm a structural engineer, by the way), and poorly serviced equipment is a sad testament to the sad state of our country's fading manufacturing prowess. At some point in time, I will add another post in regards to the newly developing soap opera with the five 2015 Chevy Express vans I mention above (part of the suspension fell off one, another caught fire, and steering has failed on a third). However, I want to get a better view of how Chevy handles this matter before passing judgement. Buyer beware.
How do I know I can trust these reviews about General Motors?
882,235 reviews on ConsumerAffairs are verified.
We require contact information to ensure our reviewers are real.
We use intelligent software that helps us maintain the integrity of reviews.
Our moderators read all reviews to verify quality and helpfulness.
For more information about reviews on ConsumerAffairs.com please visit our FAQ.

My 2008 Z71 Suburban has been a real problem. First it consumes a quart of oil to about 600 to 800 miles. The dealer said that these are acceptable GM specs so nothing could be done so every other tank of fuel I just put in another quart... The interior dash has cracked in a few places and the chrome is peeling off handles, (had a client cut himself the other day) had dealer replace ($200 labor plus parts). The biggest problem is the stabilitrak light comes on and the vehicle becomes hard to drive i.e. engine misses, low power, shifts hard, and hard to steer. Now and then the hatch opens by itself but I can't rule out the hatch button on the remote being pushed while in my pocket. After spending just a little time online I see that these the same common problems for numerous owners of these same vehicles. I think in this case we the people need some legal help. Anybody??

My 2008 Suburban has been nothing but trouble. I can't go half way through an oil change without having to add 5 quarts of oil in between changes and there is no way it should use that much oil. The front air only works when it wants to. Now just recently started is a wobble when you accelerate... What the crap GM? I have had no trouble out of my 2001 Impala 3.8 and I love that car that is the only reason why I got another GM product because I use to be all mopar 'till they started making crappy engines... examples: 2.7,3.7,4.7 and some of the 5.7's not it looks like my business will be going to Ford since GM won't fix the problem.

Give these cars a 5 star rating, based on the one I own. Can't believe all the bad reports I read here. My 2012 LT 4wd works flawlessly and is a real pleasure to own and operate. The variable displacement and cruise control are perfectly smooth and 100% dependable. The engine is smooth and burns 0 oil at 103,000 miles... All original plugs... Just changing oil with best mobile 1 synthetic every 4,000 to 6,000 miles and will not have engine issues. Contrary to comments here these engines are well designed roller cam, lifters, rockers and run as sweet as any engine ever built.
I also own a very hi-tech 535xi BMW, twin turbo, with less than half the miles, but when it comes time to cross the hot Calif. desert from AZ to San Diego it's the suburban that comfortably takes me there and back. I have had many suburban's, including recently a 2007 Denali (ran it out to 185K) and was running great at time of trade-in. I don't know what you guys are doing to your vehicles, but these comments are certainly not what I have experienced. I am 72 years old, owned a large repair shop and three diff. auto/parts/machine shops. GM still makes the best engineered vehicles. Oh, and the GM/Allison 6 speed trans. is the best in the world for normal driving, if properly maintained, serviced and driven.

Purchased a new 2015 Suburban in Dec 2015 and now have 2800 miles on it. It has been back twice for repair for the vibration in the vehicle most of the time and worst at about 40 mph and between 70 and 80. Horrible vibration and buffeting/drone noise in the vehicle when the engine switches from 8 to 4 cylinders. The dealership says I have a problem car, GM says it is a problem that they do not know how to repair. They have redone all the tires and rims, replaced the exhaust system, torqued the engine mounts, balanced and aligned the drive shaft, all to no avail.
Having talked to GM they say that they consider it normal, the pounding headaches it gives the occupants and car sickness, normal and they will not go further on repairs or buy back or replace the Suburban. I have had 5 Suburbans and this is the last one. They suggest that I sue them! This is one totally screwed up situation. I am selling my new car and losing $12,000, so this car cost me about $4 per mile owned. If you are buying any of GM's large SUVs they all can suffer from this problem that cannot be repaired. General Motors does not care about its product or its customers.

I bought a 2016 one because I'm a tall guy and I need a big car. The first one I bought was shaking and was not good. I return back to the Chevy dealer here in Concord, CA. Then after a big fight the owner agreed to change it with another one but the other one is more expensive. However I agreed and paid the difference. The car has no power whatsoever. I have to floor it to accelerate. The collision dynamic sensor is the biggest joke ever. I was about to hit a car in front of me on the freeway while I was driving 70 mph and never beeped!
The dealer is so rude. Customer service is horrible. I contact GM and they did nothing. Never buy an American car again. I have been driving Japanese car for the past 12 years and they all headache free. My problem is this, Japanese car, even the biggest model, they started to shrink them from inside and it is very uncomfortable for me. Again I will never buy GM or any American cars anymore.

Nothing but problems w/ this car. When the car was new, it was burning oil, and took the dealer 5 times to fix it, always saying (all cars burn oil), only to come back later and say it was common w/ these trucks. Cruise control broke, radio broke, door doesn't open, and now the front axle broke. The dealer said a nut came loose and broke everything, and that it happens a lot w/ this car. Have to say this is the worst car I have ever purchased. Hopefully someone will read this prior to purchasing a Chevy or a suburban and not make the same mistake.

Seeing same issues I am having with my 2007 'Burb. My 2002 with almost 200K is doing better even after 2 accidents! The issues I am seeing reported with Stabilitrak have to do with wheel hub bearings (front). May as well just replace them, I have had both done by 85,000 miles. Not acceptable for American trucks, whatsoever. Plating peeling off interior door handles... yup. Even the rep at local dealership said "You should replace those.". He cut himself! WTH... show me some service and DO IT! You just cut yourself! Service Airbag sensor currently on. Yeah right. I'll get right on that one. Another issue (as I have read and replacing tomorrow) is the brake switch. They are crap. Creates issues with cruise control (won't come on if brake switch bad). Cheap fix but insane at under 100K. This ALSO creates issues with my aftermarket remote starter (also won't start if brake switch bad). Dashboard cracked, but I guess I am fortunate it's only in one spot.
She doesn't like idling at all. If you drive and park for few minutes (running) some sort of idiot light will come on. Again - I bought another 'Burb because my '02 was/is a real workhorse. They failed, seemingly, after '06. Same issues with local dealer of crappy service/advice. I WILL give kudos to dealership in Harrisonburg, VA Jim Bowman Auto Plaza. When I went there on July 3rd (legal holiday this year) they gave me excellent service and advice, even late in the day. This is when my first bearing failed while out of town. They could have really taken advantage of me but didn't. Wish they were in Cleveland area. They almost made want to buy something from them just because of their service quality. This includes service manager, the people in the office and the mechanics themselves.

I just purchased my used 2007 Suburban and it's already doing some weird things. My check engine light came and a diagnostics test stated it was due to the throttle control. I also got a message stating my oil was low and oil needs to be added. My dashboard is also cracked in 2 different areas. My radio started turning on and off by itself but reading other articles it's only a drop in the bucket compared to other issues at hand. I'm just waiting to see what will happen next.
I'm a die hard Chevy/GM product man but buying this vehicle may kill my pocket or me. My older Chevy vehicles have had problems but nothing to this effect. I guess they'll keep charging us more money for the vehicles we love and construct them with cheaper parts just to keep their pocket healthy. What is it going to take before GM steps up and take responsibility for their actions, a near miss or a life? Guess we'll see. The latest recall is the windshield wipers possibly causing the motor to catch fire to an electrical issue. I think I bought an electrical bomb!

Bought my 2009 Chevy Suburban brand new, but interior components started to break: Dashboard cracked (about 40k miles). Pockets behind driver and front passenger seats broke (about 20k miles). Center seat/storage door in the front row broke (about 35k miles). Door handles (chrome cover peeling off), causing my wife to cut her hands several times (about 70k miles).
I was considering the Toyota Sequoia before deciding to buy this suburban. I was hesitant at first thinking American cars are historically bad and cheap but thought American trucks are solid. Needless to say, I am disappointed in this $48,000 truck. No more American trucks for me. Going back to ever-dependable Toyota. It didn't really bother me until things started to break one by one. Now I believe I'm out of warranty but realized plenty of consumers have been complaining about the same issues.

Like many, I have the issue with the stabilitrak like coming on in my 2012 LTZ. Not sure why we bought another LTZ or Chevy product but rest assure, it will be my last. No one is helping from GM as well as the dealership. Where is the customer service in America? Obviously not with the auto manufacturers. If someone knows of a fix to this issue, please post it so we can all benefit from this faulty product.

Bought a used 2009 Chevrolet Suburban back in August of 2014 with 74,000 miles. Transmission just went out at 87,000 miles. Requires full replacement costing $3,900. Of course it is just out of warranty! Over five years. Not happy with this new six-speed transmission. That is just not right! Luckily I kept my 2000 Suburban as a spare... still driving it now with 278,000 miles. Apparently these new six-speed transmissions are built for better fuel economy, but they sure do not hold up.

I purchased a 2008 Suburban with an extended warranty from Burns Chevrolet Feb 2014. After 6,500 miles and 6 months of owning the vehicle, it started spitting black smoke upon startup. We took it to a certified GM mechanic who said the rings and pistons in the engine were bad and the engine needed to be replaced. He contacted the warranty company to come for an inspection. They denied the claim saying there was no oil in the engine and blamed us for not servicing the vehicle properly. The mechanic stated that when the vehicle was brought in, it still had 10% oil life left according to the vehicle dash. No indicator lights or alerts came on to say otherwise and he asked for a re-inspection.
The warranty company came back and denied the claim again, but this time gave a different reason. They stated that the engine had carbon build up and caused the engine failure, and that wasn't covered by the warranty. The mechanic wrote a detailed letter to the warranty company explaining that the rings and pistons in the engine were bad causing the oil to be burned excessively and caused the carbon build up on the engine and that it was likely that way when we purchased the vehicle. Neither a consumer nor a dealer would be aware by looking with the naked eye, but it should be honored as a repair from the warranty company.
After 6 months of back and forth with no result, and no vehicle we are making payments on, and $6k in rental vehicle costs, we started looking for an engine to replace the faulty one. We discovered that the 2008 Chevy motor had thousands of complaints for the exact same problem and that GM and their warranty companies find reasons not to replace the engine. If this is a known issue and so many people are having the same problem, how could it be denied due to not changing the oil after 6,500 miles?
We went to Burns Chevrolet and spoke with the owner who told us there was nothing they could do to help and if we wanted to sue, go right ahead. That is just bad business when you can lie to someone about the issue and not honor the warranty they sold us knowing full well that model and year had an issue with the engines.

Have had electrical problems. Inside door handle problems cutting your fingers. Outside mirror problems. Has used oil since we bought it. We bought it brand new off the showroom floor. Have been very dissatisfied with this vehicle.

I bought a 2008 Chevy Suburban brand new in 07. I have had all 4 power door actuators fail. Cruise control stopped working, rear lift gate window defroster wires had come off twice. Then I was told by the dealer that I must of bumped it and broke them off. They said they would fix it one more time as a "courtesy." Well, when I picked up the truck, I went to the wires and with rep standing next to me, I said, "You fixed the wires?" He said yes. I lightly pulled on the wire and it came right off. He told me, "You are not to touch them." Are you ** kidding me? $45k truck but you are not to "touch them?" WOW. Quality huh. Now with 77,000 miles, it's starting to use oil. Hope it lasts, at least I can do most of the work myself, being a mechanic for 15 years and restoring many classic cars.
So to anyone thinking of purchasing one of these vehicles. Do some research first. This was my second new Suburban and I really like them. But my next new purchase will not be Chevy due to very poor customer service. They did nothing for my issues, and they seem to be minor compared to the other stories I've seen out there. In a few years after losing all their loyal customers, I think Chevy commercials are going to say, "Who said you can't go back?" But after owning a newer Chevy, and dealing with their customer service, why would you ever want to? I would join class action on my issues if there are any out there.

We have a 2011 Chevy Suburban and out of nowhere noticed that the dashboard started cracking in 2 different places. One crack leads straight into the air bag and the other is over the console. We called GM and they opened a case and referred us to a dealership only to find out that we would need to pay $450.00 out of our pocket to get it fixed. Our biggest concern is that either our air bag would not deploy in an accident or it will deploy out of nowhere while we are driving. I am very disappointed that this is a huge liability that can end badly and GM is not willing to stand behind their product and make it right to make it a safe vehicle.

I picked up a "new" 2014 Chev. Suburban LTZ from the dealership. As it was a new vehicle not inspect the bottom. When I drove home I wanted to see the suspension and found heavy rust on the front brake caliper support, drive shaft and all steering rods and drive shaft in the front of truck. The headlights have a fog on the inside of the plastic. When I called the dealership I was told this is normal and they have a bulletin about this condition. I asked to see the bulletin and was told I could not since it is for dealers only. Has anyone else experiences this. When I received this Suburban it already had 29 miles on the odometer.

Purchased a brand new Suburban LTZ in Dec 2012. The car has had power issues from the start. In July 2013 the battery was completely dead and the radio would turn off unexpectedly and then turn back on within a few seconds. All while the car was running. Took the car back to AutoNation in Austin where it was purchased and they exchanged the battery and explained away the glitch with the radio.
Problems persisted and culminated in the car lose all power at 60 mph to only seemingly restart causing the engine to rev up and the car to jolt forward. Various lights would also illuminate during these episodes. Air bag, seat belt, trailer brakes, etc. Took it again to AutoNation and now they say my battery cables have too much resistance and I have a bad alternator. To me these sound like the result of the problem, not the initiator, but my service rep refuses to think outside the box and is blaming it on these items all at a cost of over $1200 to me, even though it is a similar issue to what was reported before. Very disappointed as I had a 2003 Chevy Tahoe Z71 for 6 years and it was a great car... as soon as this one gets back from the shop we are trading it in...

Bought a 2008 Chevrolet Suburban LTZ with 69,000 miles in December 2013 and have had nothing but trouble with electrical problems since. First I noticed the radio would shut off and come back on, door locks lock and unlocking, airbag sensor light flashes along with every other warning light on the dash, motor will hesitate almost dying and headlights go out at night. Huge safety issue! Anyone else?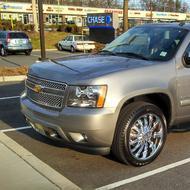 So where do I begin?
#1 - The rear window defroster wire - Whenever it begins to snow in the north east and I turn on the rear window defroster, the wire becomes detached from the rear window. This happens seasonally and so every year since I purchased the vehicle from when it was new, I would bring it in to get fixed after the first or second snowstorm. First the dealer would resolder it, then when that didn't work they would replace the back window. The window was replaced several times and the wire was resoldered back on so many times that I lost track.
Now this past winter in 2013, the wire came off again and my warranty has expired. The dealer wants me to pay to replace the window again. I got in touch with GM customer service and they said they would split the cost with me for replacing the window again. I told them that was unacceptable because of 2 basic reasons. One, they never remediated the problem in the first place after it was improperly repaired by the dealer several times and two, it was obvious to me that the solution to the problem was not in replacing the rear window for the fourth time and that they needed to address what was causing the wire to continuously become detached. It had nothing to do with the wire being too tight and from opening and closing the rear glass separately from the door because I never open the window separately from the door and the wire was not tight. Now being that this is what I believe to be a faulty repair, I am looking into filing a lawsuit against GM and the dealer.
#2 - My door lock does not open or close on my front passenger door.
#3 - All 4 of my exterior door handles have broken off of the vehicle. The first 3 were under the warranty, the last one is my problem and the dealer will not consider this a manufacturing defect. I never ever had a single vehicle's exterior door handle break on any of my vehicles, let alone all 4 of them.
#4 - My cruise control does not work. The light comes on for power but it will not set.
#5 - My navigation loses its memory for its previous destinations and has to be reset for what state I am in every time I turn off the truck and the clock always goes back an hour when I turn off the truck no matter how many time I reset it to the correct time.
#6 - My rear windows will not go up from the rear window controls. They will go down from the rear but I have to return them up from the driver's controls.
#7 - My "Check Ride Stabilization" light keeps coming on. I have to shut the engine off and restart it to reset it.
#8 - My "Check Suspension" light keeps coming on. I have to shut the engine off and restart it to reset it.
#9 - The truck now has about 83k on it. At about 50k it started losing engine oil at about a quart every thousand miles. I'm not blowing any smoke and there are no leaks. I have always changed the oil every 3000 miles. It's a mystery!
#10 - My driver's side mirror gets stuck when I retract it or put it into driving position. I can hear it grinding while it is going in & out. Other than that, everything is fine... lolol
My Verdict: Faulty manufacturing, substandard parts, unfair customer service... They just don't make 'em like they use to!!

Chevrolet 2003 Suburban - On 3-8-14 at about 10:00 AM I was less than a mile from home when I was approaching a two way stop sign traveling at about 30 mph. I began braking normally for the stop when shortly after applying the brakes, the resistance from the brake pedal was lost and the pedal went instantly to the floor. At the time the pedal went to the floor there was no longer any braking of the vehicle. I could not slow the vehicle by braking and continued through the intersection. Fortunately, there were no cars in the intersection. Pumping the brakes lightly provided a slight braking. I continued to drift and down shift the transmission until the car could be stopped.
When inspecting under the vehicle, brake fluid was seen dripping at a fast rate from a brake line under the driver side door. A puddle of brake fluid was quickly building up. Later that day I went to the Chevrolet dealer and explained what happened. I was told it's a common problem and there was a repair kit that could be installed. I was not aware of the common instantaneous brake failure problem. A serious accident could have occurred had the brakes failed at some other time.

I have been struggling with my wife's 2008 Suburban for several years now... bought new, top of the line, now it has come to a predictable climax with all of the historical issues I have had to track. After multiple Dashboard lights came on at the same time including engine, StabiliTrak, traction control, we now need new valve lifters & cam to resolve our most current issue @ $2,950. Stemming from one of our original complaints while it was under warranty for "Oil Consumption" article, which required us to report monthly to the dealership of our oil usage and any purchases of oil with receipts to prove we added oil, and finally falling out of warranty during this process.
These documented over aggressive valve lifters are the cause of all the oil consumption issues we have read for this vehicle's generation. This is also the cause of the now documented failed PCV valve construction in this model as well. PCV valve is embedded in the driver's side valve cover which over time clogs the PCV vent holes and baffles, causing these plumes of smoke at startup.
When we travel for vacation we have to carry a gallon of oil because of these issues. We just recently in Nov. had work done at dealership costing $1,015.75, dealing with oil pan & transmission area noises. We have replaced 3 of the 4 door lock actuators, the 4th is now broke + the rear liftgate mechanisms will not operate. Right retractable mirror is now inoperable. The cruise control now works about 50% of the time and is probably tied to a Throttle positioning sensor going bad as well.
These are just a few of the major issues we have encountered with this vehicle. I recently submitted a customer care claim requesting assistance on this current repair of $2,950. I spent many emails and phone calls providing GM Customer Care with specific information about my vehicles repair history. It took GM 22 days after the original correspondence to finally give me an answer that they could not help me due to the current mileage being so high, which was the very first thread of information I provided.
Because of this poor experience, we will be trading up this 2008 Suburban to a Toyota. And as soon as my 2012 Silverado warranty comes to a close, I will do the same with it. I have read far too many very similar complaints over the past two years on these vehicles… I know there has to be many more. This has become personal to my Family due to the fact that this last repair was at the sacrifice of our annual vacation. I will not recommend a GM vehicle to anyone that values my opinions going forward starting with our four kids with the oldest just entering the car market. Thank you for your time, and help save another some headache.

I have a 2000 Chevy Suburban. At 50,000 miles, the rear backing plates rusted out so no parking brake was available. Warranty ended at 50,000. Replaced them with new GM parts. Soon noticed the body was showing rust spots near the back doors. I thought the rust issues were solved in the 80s. By now I have replaced all the brake lines, another set of backing plates, and can see the entire frame is covered in rust. The rust spots near the back doors are now gaping holes. Dealer says too bad; why don't you buy a new Suburban? Hah! My friend's Toyota truck had rust issues and they bought it back for 10% over Blue Book. Guess which truck I'll buy next.

I don't know where to start and how in-depth to go. I could be writing for a day. First, this vehicle was purchased from a well-known Chevy dealership, as a dealer-located demo, 2007 Chevy Suburban LTZ. This truck has been plagued with issues since it was purchased in 2007, most of which have gone unrepaired, and some of which are recurring leading to extensive repairs bills a second time through.
First, electrical. THIS TRUCK IS HAVING SIGNIFICANT ELECTRICAL PROBLEMS! Here are the symptoms I wrote about back in 2007-2008: Stabillitrack, ABS, and Traction Control lights, all on. Started out intermittent problem. Now they are almost always on. Attempts were made to correct this last Winter, and again in the Spring. Now, if the truck is started and the lights DO NOT come on immediately, after a short drive, braking for a stop light will nearly always make the lights come on. The three error lights will rotate in succession, one after another. As the vehicle is going down the road, you will often hear an audible click, click, click.... very fast... like a relay firing very quickly. It will often stop, then do it again in sequence. Often this is followed by the audio system powering down, then back up... It's like pulling the plug on a power amplifier, then plugging it back in hearing all of the speakers thump. Then back to normal. This sounds really bad when this happens. Other times, there is no sound at all when the key is turned on. Often you have to power the truck down then restart it. It will sometimes start working for no apparent reason.
Update as of December 29, 2013 - Absolutely no resolution to the electrical issues. Same problems. Currently, I am driving around with ABS, Stabillitrack, and Traction Control lights firing in sequence. Also, messages "Service Traction Control, Service Stabillitrack, and Service ABS," continually sequence. Dealer has replaced a Brake pedal sensor, and a cabin control module. Trucks first showed errors upon leaving their parking lot. Truck was in their shop for nearly a week.
Engine issues. As have been documented by others, we have been experiencing extensive oil burn since about 55,000 miles. Dealer worked with Chevy to determine cause and solution. Problem was burnt oil caking on at least two specific cylinders. Caused by variable displacement issues as I recall. Dealership pulled part top end of engine, re ringed two pistons, sufficed cylinders, and put in a oil deflection shield in pan. Most of the repair was under warranty. No real complaints other than the obvious: Why am I experiencing these MAJOR issues on a $53,000 truck with such low mileage. Truck was in the shop for over a week. Rental was provided, although we still had significant expense in picking up things that were not warranty.
Update December 28, 2013: Truck is currently at dealership and has been for four days. Upon returning home from a family Christmas trip, truck's Check Engine Light came on intermittently. Outside temp: -10F. Pulled over to Quick Shop. Check Oil pressure. Good, but fluctuating slightly, from about 37 to 45 lbs. Oil Light then came on. Shut engine down. Checked oil level. Good. Perhaps 1/4 of 1 quart low. A few ounces maybe. Restarted engine. Read manual about what to do when check engine light intermittently flashes on and off. Determined we could make it home. Temp, Oil pressure, etc all good. At idle engine definitely had a missing sound.
Called dealership the next morning. Upon their advice, determined that I could drive the truck in (about 3 miles) if I had oil pressure. CSR called this morning saying that they had not yet determined what the problem is exactly, but they speculated I was having pushrod issues (??). Or possibly even an oil pump issue. I have to assume they speculated on pushrod? The engine has an obvious missing sound. It is misfiring on at least one cylinder. Dealership told me they could not determine the problem without doing a tear down on the upper end of the engine. Cost, $500-700. Without approval they could not determine the exact cause.
Out of all of the issues I read on the internet relative to 2007 Suburbans, I have them ALL. Electrical. Engine, oil consumption. Top end rebuild at 60,000 miles—adding an oil deflector...which was noted in the service bulletins as a fix for the oil burn problem. Seems to me Chevy realizes they have a problem if this is noted in the bulletins and there is a "fix".
I am ready for a class-action suit on this. I am out many, many thousands of dollars. Not to mention considerable time, and inconvenience dealing with rental cars, etc. This truck has been a lemon in all ways.

With just 124,334 miles on the vehicle I had a fuel leak that was visible on the driver's side between the two doors. It cost $2,230 to get fixed. I had asked that they fix only what was broken. They told me that the entire fuel line was corroded and had to be replaced. The note on the invoice read "Tested for fuel leak found sending unit & all fuel lines leaking replaced sending unit..." In my entire life, I have never heard of this happening. When checking the internet, I read of brake line problems where they were corroding. It turns out that if I had an accident from a brake-line malfunctioning, and with a gas leak, someone might be dead, either from the accident, a fire or both.
To me this is an extreme safety issue where people's lives are put at risk by a corrosion problem. I checked the trade-in value of the vehicle and it's about $5,500. After I paid for the work, I asked how long the new fuel lines would last, and I was told about 6 years. To me the dealership installed inferior parts to fix this problem. If fuel lines last only 6 years, don't plan on keeping a GM vehicle for more than 5 years! I feel that the labor cost of $1,368 was extreme. The parts charge of $861 is excessive due to the limited life of the fuel lines. What do you do when your vehicle is at the dealership and leaking fuel?
I am now afraid to drive the vehicle due to the corrosion problem. Are the brake-lines going to malfunction? Are my wheels going to fall off? To make matters worse, I had a check engine light after the repair. I asked if they dropped the exhaust system to repair the fuel leak. The dealership couldn't tell me. They didn't know. They offered to check the check engine light for no charge. I dropped off the vehicle. After they checked the vehicle, I was told that I needed a new catalytic converter, and the cost was about $1,200.

Well where do I begin? I purchased a 2008 Chevy Suburban LTZ from a dealership in Chicago with 52,000 miles on it. I have had nothing but problems with it since the purchase. The first time the Oil Pressure light went on and the control message said to shut off the vehicle. I did and took it into a mechanic. They drained the oil and found a gallon of anti freeze in the oil. Shortly afterward the same thing happened only 400 miles later. The oil did not register on the dip stick and I added 3 quarts. I then drove it home. Then the U joints had to be replaced last week as also the right side Door actuator went out.
My son could not get out of the auto without manually lifting the door lock. I could imagine what would happen in an accident. Now I just went to a Hockey Tournament 1.5 hours from my House and the Outside Temperature was 3 degrees. My Oil Pressure light went on again and I had to repeatedly pull over and shut the vehicle off 6 times. My son and I were stranded in the middle of nowhere and we were freezing. The Chevy Dealership Mechanic said they would do an oil consumption test on it and install an oil deflector. Also said that they replace a lot of valve cover Gaskets on these models. I spent $31,000.00 on this Truck and am horrified by what has been happening. With 59,000 miles on this Truck and these type of issues I fear the worse. I have read a lot of blogs about GM not stepping up to help consumers out on these issues. Anyone want to join me in a class action Law Suit... I have a great Attorney.
GM Suburban Company Profile
Company Name:

General Motors

Website:

http://www.gm.com/index.html