Consumer Complaints and Reviews

After owning my GMC Sierra 1500 for a little over two years my battery just stop working. The GMC dealership and warranty department told me that the battery would not be covered because I had 63,000 miles. Warranty is only three years or 36,000 miles. The reason I took my pick up to the dealer was that my driver window and steering were not working properly. Well come to find out it was all related to a bad battery on a two year old truck. Had I known should have taken to Pep Boys for half the money and better warranty. GMC gives mileage warranty on batteries so if you drive 36,000 one year and battery dies that is it. No coverage. This will be my last GM truck.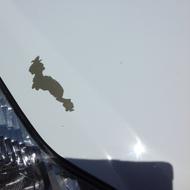 A chunk of the hood of my white 2010 Chevy Traverse just peeled right off. The extremely unhelpful Service Manager Roger ** at the GM dealer FH Daily (where the car was purchased) said it was due to outside influences like small rocks hitting the car and flat out refused to help. The auto body shop said it was a clear factory paint issue and GM should fix the problem. The car is in mint condition apart from this ugly gaping silver patch. What do I do?

GM is not fully honoring their powertrain warranty on my 2011 Suburban z71 4x4 currently at 67k miles, for a known issue within GM bulletin for this year engine. A new engine costs $16k after parts, labor, and taxes and they are only covering 60%. The dealership (JN Automotive Hawaii) will pay 20%, leaving me a bill of approximately $3200.
Here's the facts: I brought the vehicle in at 50k miles while the vehicle was still under powertrain and extended warranty with this same issue, and subsequently brought it back 6 times due to their algorithm treatment/service for the same issue. Because of said algorithm service of course the vehicle was driven and now out of warranty. Filed a case with GM Warranty customer service to no resolve, other than them threatening to take their offer off the table if I were to bring this to a lawyer; subtle threat? I am at a loss and undecided, but am considering to pay the fees and sue afterwards to get my money back.

I have a Suburban that has 49,000. Thinking that this is an expensive vehicle we purchased as much additional warranties to avoid out of pocket through our vehicle ownership. After paying $2787.37, we find out two years later that the warranty barely covers anything. Please do a big research when purchasing extended warranties with Ally Financial. We have never used our warranty and they will not even credit us a part of the policy. Our only option is to cancel and receive the proration based on the 10,000 miles left. Please find a list of all the things it does not cover. This is never handed out at the dealership. It is supposed to be mailed within 60 days of purchasing your vehicle in case you want to cancel.

I have a 2010 GMC Terrain SLT which has two Pre Cats and one catalytic converter in the rear. We took the vehicle in for misfire and engine repairs at 71,000 which the catalytic converters were under warranty at the time. I have an extended warranty with AUL which doesnt cover catalytic converters. The GM dealership did nothing at the time to repair the vehicle. Went on though charging a $100 deductible as though they filed a claim with AUL, but did no work and filed no claim.
Because the SUV now has 85,000 miles GM refuses to replace the Pre Cats. The Pre Cats are broke inside that move about and block the exhaust. When this happens the engine shakes and the traction control shuts down. The dealership now wants $2,300 to replace them. This shows me that GM really doesnt care if their cars damage the air and without traction control puts lives in danger. If the problem was solved with the engine the Pre Cats would have not been damaged. I have been a long term GM believer but not after being treated like scum in this claim.
How do I know I can trust these reviews about General Motors?
828,308 reviews on ConsumerAffairs are verified.
We require contact information to ensure our reviewers are real.
We use intelligent software that helps us maintain the integrity of reviews.
Our moderators read all reviews to verify quality and helpfulness.
For more information about reviews on ConsumerAffairs.com please visit our FAQ.

I have a 2011 Camaro with 60,000 miles on it. It is in pristine condition. I have loved this car. It has had EVERY major item done at the dealership. In the last three years: My top has been replaced because faulty, oil pump replaced because faulty, transmission replaced because faulty and just recently started to knock. Took it in because still under power train warranty. At that time they stated a "code" had come up and I had added something after market so would not cover. We had new tires put on and they tuned to my tires. Nothing to do with the knocking in the engine but they have denied my warranty. Won't fix my car. Won't call me back and won't work with me. I am writing this to warn Anyone thinking of buying a GM to seriously reconsider and to please be careful with GM period.

In March, my 2011 Equinox had the Service Stabilitrak warning come on followed by the check engine light and a reduction of engine power. When I got the car back to the dealership, they could not reproduce the issue and said it must have fixed itself. It happened again this week and I took it to a local mechanic close to my office to check the codes just in case it "fixed itself" again before I could get it to the dealership. The mechanic found that the issue is common for my year and model car and that GM had put out a special warranty for the parts that need to be replaced and advised that I go back to the dealership to have the work done.
I called the dealership to schedule the appointment, explained the issues, gave them the codes, and let them know I needed a loaner car to transport my daughter to and from daycare. They assured me that because the parts were under warranty that it would be covered and that they would cover the cost of the rental car. When I arrived this morning to drop off the car for service I was notified that there is a special warranty for those parts on the 2011 Equinox BUT only within certain VINs, AND my VIN is not one of them. They also do not accept another mechanics diagnostic report and would need to run their own. To top it off, because my parts are not under warranty, I need to pay for the rental. I will be going back to the local mechanic to have the work done since I need to pay for it. Thanks for your help GM. Merry Christmas.

General Motors has proved once again that cannot compete with other cars in market neither in quality nor in customer service. This review is based on my experience with Dealer and Manufacturer. I did lease 2013 Chevy Volt from Mark ** dealer in Ontario, CA when car value is about $40K in September 2013. Its current value today in good condition with ~47K miles is about $10K in KBB to trade, my car is not even that worth. So look at depreciation value of Chevy cars in market. I drove this car for about ~46K miles of which only 18K miles on engine and now engine failed. To get proper analysis of issue $1400 authorization needed and repair can go anywhere up to $6K to bring car back on the road is estimate provided by dealer. I do have all 36 month OnStar reports to show the vehicle is well managed and never ignored any maintenance. But neither Dealer nor Manufacturer care about this and provide service under warranty.
Dealer argument was HOSE which is out of warranty was broken which in turn caused engine damage, so even though there is warranty on engine they do not service it. Just think before shopping for Chevy Volt. Do we really need to spend $40,000 to buy a car that is not warrantied to be supported by Gm after 36K miles. But they do not want to think about the quality of HOSE they did provide. I had been driving different cars for more than decade and has ODO mileage more than 100K. Never had this kind of issues.

My car has a special warranty for the catalytic converter. This should have been a recall, but GM wanted to save money so it is a special warranty. The warranty was 10yrs/ 120,000 miles to replace the catalytic converter. My car is a 2007 with 79,000 miles. But they won't cover it because the production of the car is 10 yrs 6 months. So since my car is 6 months past the date, even though it is 41,000 miles under the date they won't cover it. My husband asked for a Goodwill coverage, which they refused. They refuse to even talk to me. So because I don't drive my car daily, I am out $1000. They know that this Saturn Sky is not a daily driver they did the special warranty so they would not have to fix this problem on most cars.

GM is rude, won't honor warranty. GM will not under my warranty on my 2011 Chevy Impala and I'm very upset about that. Customer service hung up in my face and made racial comments towards me. My Impala has been in the shop for 2 months and it's only been out of warranty for 30 days and GM will not honor it. Please I need someone to help me immediately. You can contact me at **.

I need to make a complaint against Murdock Chevrolet on my warranty. I bought a Chevy Cruze brand new in 2012 and three years later my tire had a bulge in it and Murdock said that my warranty would not cover it because it was caused from road use in 2015. I had 6000 miles on my car because I'm old and I only drive it when necessary. It was not from my road use. They just wouldn't put a new tire on my car after I argued with them. They put a used tire on it, one with a patch on it. I even had an extended warranty that I had bought. Wow what a waste of money. I'll never buy another car from Murdock Chevrolet again. Next time I'll buy a Mazda – they treat people right.

So I purchased a CPO 2015 Chevy Tahoe. I tinted my windows the day after purchase. Approx 2 weeks later my alarm started going off, doors locking and unlocking on their own and ticking beneath the steering wheel. CRISWELL Chevrolet of Gaithersburg had my car for 2 weeks before calling to say that a grid line was cut. I asked what is a grid line. It's a small line in window that communicates to the engine. They told me it is on one of the windows that's tinted. And that it would NOT be covered under warranty. 1500.00 to get my car fixed. I paid of course, no choice.
So I called GM to see if there was an appeal process. They advised that the tint voided the warranty. So just because the problem is on the window where tint is that is their way of getting out of it. I told them I have the glass that was taken out of the truck and could send it in for them to look at it. NICK **, service manager, is a thief at the Chevy dealer. I will NEVER buy a CHEVY again. They are thieves and could care less about the consumer. I am going to try and sue them. I am sure I am not the first consumer with this issue. It doesn't cost anything for me to sue, my job provides lawyers thru my union. So I am going to fight the CORPORATION. I should stick with Lexus. They treated me so much better. Tried to buy American and got screwed. Stay away from CRISWELL CHEVY AND GM.

2011 Equinox used for work, oil changes at 6000 K. New engine at 120,000, rebuilt tranny 125 K, rust inside doors, power steering fixed - all under warranty. Now at 200 K (or 80 K on new engine) needs timing belt on new engine - GM Canada walking away. $1700. Stay away!

Hello my name is Raul Gonzales. I own a 2011 Chevy Camaro. I bought it last year, still paying on it. I was driving down the road, my car starts shaking, I pulled over, continue driving it home. A few miles, my engine started making a clicking sound, no service light came on, no engine light came on, no warnings. I didn't know what to do. My neighbor came over and told me about the Powertrain warranty. I told him I don't know nothing about it. I call the dealership Friday. My car broke down on it Thursday, 1st of October 2015. The dealership service department told me to bring it in for diagnostic check. I took it in, they checked the car. The following day, they gave me a call and tell me my engine was damaged and that I needed a new engine. And told me my powertrain expired on September 30, 2015, one day before my car broke down on October 1st.
I don't think it's fair that I'm the lights on the dashboard did not come on on the dashboard. No warning at all even though there's nothing on the dashboard. They're willing to pay are the price for an engine for 4000 and they want me to pay 3200. I don't have the money to pay. I don't know what to do if somebody reads this. Please, help me out somehow. My number's **. Please, if there's anybody that can help me out, legal or give me some advice or a number to a lawyer, please don't hesitate to call me. I live in **. God bless you.

This was the worst experience I have ever had in my life. I will NEVER buy a Chevrolet from this dealership again. And I hope that none of my friends or family ever go there to be one of their victims. I am deeply appalled that Chevrolet uses this dealership to sell new Chevrolet vehicles to consumers. As a single mother of a special needs son since I was 18 and a federal employee facing furloughs, shutdowns, pay freezes, etc., I worked very hard to purchase my first new vehicle from Chevrolet. I am very disappointed and financially harmed by this whole experience. I wish I never bought this vehicle. This was supposed to be an exciting purchase but it was horrible. The price was ridiculous. Today is 42 days after the sale, expired temporary plates, no title, no estimate of the damage on my trade in as promised.
And they still refuse to provide copies of all the paperwork I signed after I have made multiple requests which violates consumer rights and is deeply disturbing that something as simple as wanting copies of what I signed cannot or will not be provided. How does a dealership sell a new car and not ever provide copies of what was signed??? After my contacts with salesperson Raul **, new Chevy sales manager Aaron **, Finance Ryan **, customer relations manager Lisa **, general manager Mike ** all failed to even attempt to resolve all of these issues, as they stated they don't know what to tell me, there is nothing they can do, and it's not their fault and it's not their problem, I had no other option but to file a claim with Oklahoma Motor Vehicle Commission that was able to resolve some but not all issues.
I am needing service on my vehicle after only a few hundred miles which I cannot do because I do not even have anything about servicing or what is covered or anything because I was never provided copies of what I signed. Also, the dealership caused me a financial loss as they deducted value on my trade in due to rear end damage from a recent accident. The responsible party is ready and willing to pay the damage to me out of pocket so I can recover that loss but when I took my trade in to the dealership the salesman told me "Oh your vehicle isn't going anywhere. I will take it across the street where we get our body work done and get an estimate for you and you can pick it up when you come back to get your second key". I agreed to leave them the vehicle and signed the title to them as I trusted them to do what they promised. If they had not made this promise, I NEVER would have signed the title to them or left the vehicle.
I would have gone to get it done somewhere else and returned my trade in and title when I had the estimate. Now the dealership tells me they never sent it like they promised and they have sold it so they have no way of knowing what the damage was. Therefore, I have no way of knowing what amount to provide the responsible party and I cannot recover that loss. I don't know if the damage was $200 or $2000. That was the whole point in getting the estimate so the guy who hit me knows what to pay. And now all this dealership can say is "Oh well, don't know what to tell you".
This is absolutely ridiculous. This thieving dealership just ripping off consumers like me who just wanted to buy a safe reliable new car without getting robbed. And this is the nightmare I have had to deal with for over a month! I am desperately going to Chevrolet to find a resolution since this dealership obviously has no intention on resolving it and definitely do not care about the customer now that their check for $21,000 has cleared.

We purchased a 2011 new GMC Denali XL. This is our third of this type of car, so we are long time owners of GMC. Less than two years in, this truck had to have the engine replaced because of defective lifters. It took them over 10 days to assess the vehicle and I can't even remember how long to finish the work. We were happy they were replacing it, however we had to pay over $1000 for labor!!
Now less than two years since the engine was replaced we are in the same predicament. Same problem and same approximate mileage has been put on the car from the first engine. They are saying that yes it does need to be replaced, and that they are not going to cover it. The engines have a 3 year warranty, but apparently that is null if they pay for the engine replacement versus the consumer. That's their way of making sure that if they sell you a defective vehicle that they only pay for it once. We will never purchase from them again... This should be illegal. We have zero recourse because it's in the (fine print).
In addition, they are using it against us that we have had our vehicle serviced elsewhere. We don't live near this dealership and it took them on average 4 hours to complete an oil change. That was with an appointment! Who has all day to invest in an oil change? If I knew they were going to screw us later I might have had it serviced there or better yet... not purchased from them to begin with!

2005 Saturn Vue - This issue really needs to get recalled and fixed. Long story short in the matter of 2 weeks I've had replaced the plugs, wires, boots, coil pack, 02 sensors, catalyst converter, throttle body and a new (ecm) computer. All because of a misfire on cylinder 2. Now they tell me it's inside the motor as in timing belt or cam shaft. The cost starts at 900 to open it up to see, that's not the cost to fix whatever they find. It's only to see what's wrong internally and goes higher from there. So, I get my suv back and drive with the light on because I'm already out 4,000 as of now, and every repair already done was supposed to fix the problem already. But after driving 900+ miles the check engine light goes out on its own (which I'm not complaining about). But if it's a problem with the internal parts of this motor the check engine light would not just go off by itself. They need to recall these trucks and see what is really going on.

I have a 2012 Chevy Silverado 2500. Took it on a trip to CO, from WI, in Aug 2015. Transmission went out with 36000 miles on it. Took it to the dealership in Montrose on Sept 8th. Picked it up on Oct 5th when they were done with it. Dealer had no loaner vehicle available so had to rent a vehicle. Drove my truck on the 5th for about 100 miles before that transmission froze up. Took several days to get a new transmission. Contacted GM Customer Service and was told GM would not cover the rental vehicles because they were not GM products. What kind of Horse ** excuse is that. They had my truck, out of state, for a month and this is their answer. WRONG ANSWER. I will never buy another GM product or have my vehicle serviced by a GM dealer. Why would I show loyalty when they do not?

We are a small construction company, 8-20 employees. One of the owners, driving a 2015 Chevy Silverado with 27k miles, experienced a knock in the engine on the way to work. We had truck towed to dealer. They said engine is ruined and asked for proof of oil changes. There were 4 oil changes done, 3 in house and the fourth at Grease Monkey. They denied coverage because the in-house changes weren't done by an approved shop, based on them allowing free oil changes at the dealer for the first 24k miles.

In 2009 the fuel pump failed on my vehicle and I took my vehicle to a local GM dealer to have repaired. In August 2015 my vehicle was not running properly so I went back to the dealer and was informed that seeing how I did not have my original paperwork for the previous repairs that they will not cover the replacement of the fuel pump. I contacted GM and was basically told "oh well, we aren't going to stand behind it." So now I have a GM vehicle that is basically junk to me. I will never recommend GM to anyone because their customer service is a joke.

My Acadia had 58000 miles on it. I was informed by a mechanic that my power steering & rack & pinion were leaking. I contacted GM to see if I qualified for cost assistance since the warranty of 5 yrs came before the 100,000 miles. I was told in order to qualify I had to have it inspected at the dealer, who charges 130.00 for each thing I say the car is doing, so that's 600+ to just look at it. When I purchased the car from the same dealer not even 2 yrs ago it had over 35000+ miles & they labeled it a certified vehicle. So in 2 years I've put only 20,000 miles on it because I hardly drive it, radiator blew out 6 months after purchase.
The dealer did fix that but now rack & pinion needs replacing, power steering pump broken, both upper control arm bushings gone, engine mount broken, trans leaking oil, front axle broken & even with customer loyalty because all my prior trucks have been Chevy, GMC offers me 200.00 toward all these ** repairs & I'm a senior citizen.

The paint is coming off by sheets on one side of the car and on the other side it is starting to bubble. Without taking any pictures, just speaking with me, GM decided it was my responsibility to have the car repainted, because it was out of warranty and that according to GM the warranty for any type of paint problems is 36,000 miles (I did purchase the extended warranty) but they never mentioned that. I tried to explained to the lead advisor that according to more than one body and paint person that the paint on the car is deoxidizing (the paint peeled off the car down to the medal and it is rusting). All the lead advisor could say is it is not covered by GM, that is not their responsibility.
I am very upset with GM, and their advisor has not helped at all. She stated that she would have her supervisor call, but she would say the same thing. This is very poor people they have working with GM and there is no where else you can go to talk to someone. The car dealership just wanted to sell me a new car. This is a 2009 car and we just paid it off. If I cannot get a result, I will make sure I never buy another GM product. And I hope the other people that are having problems with the paint peeling on their Equinox feel the same. For me to repaint this car it will cost at least $3500, not a satisfied customer. And I am not the only person that owns an Equinox that is having the same problem. GM needs to check the paint products that they use, and not put the burden on the consumer.

I'm from Sapulpa, OK and traveled to Big Springs, TX to visit my husband. I traveled with my 3 and 4 year old. My car started sounding funny and I called GM in Big Springs to have them look at it. They said it would be a week out before they could so I took it to another mechanic and asked if they'd drive my car and see what's wrong with it. They said my hub bearings were going out and that it was not safe to be driving. I called GM back and he said it would be covered under warranty but he could not get to it still. He also stated that I should not drive my car until they are repaired. I then called the warranty center myself. I talked with a lady for about 2 hours. I kept explaining that I needed to get back home for work and needed this problem fixed. She recommended that I drive it 60 miles away to see if another GM dealership could look at it. I told her they could come tow it but I'm not driving it with my children in the car. She then asked what I wanted. I stated that the mechanic shop I was at could fix it and I would like reimbursed. I was put on hold for over 40 min. She then said it was ok for them to do the repairs. I asked 3 times if I'd be reimbursed and if it was ok. She said yes.
Well I got a call 3 days later saying they will not reimburse me and they don't feel it was an emergency. I'm out $1117.96. My car only has 32000 miles in it. When I asked to speak with a manager, the manager said the same thing. Any suggestions? I'd like the taping of my conversations. They lied and they know they did. I will never in my life buy a GM product. I had a Kia Sorento before this and they truly cared about their clients and stood behind their product!

We received notice that our warranty on about to expire. We went to Sunrise Gm on Covington pike to inquire about a new warranty. We were told that the current warranty was to expire the next day. We signed for a new contract and paid the down payment and set up automatic withdrawal from our bank. Never heard anything for 3 months. We contacted sunrise about this matter and was told that they would take care of this matter. We waited about a month and still heard nothing about the situation. We talked to the service manager and he said was being taken care of. We signed up for a new plan and said that everything would be done the same as before. Received a letter in the mail yesterday that the plan could not be honored because the plan was put in after the contract expired. This is not acceptable. As far as I am concerned the only way that sunrise will ever fix anything on this vehicle is under recall. Thank you.

I bought the extended warranty. It cost me an extra $1500 dollars. I had twice a leak with the oil pan - fixed, and the power steering - fixed. That was two years ago. The vehicle is a 2009 Chevy express but just recently, the truck is starting to rust. The seals are starting to bulge around the doors and the oil pan, it started to leak again and also the hose that supplies the engine with oil from the oil pan is leaking, and the dealership said that they would call the extended warranty place to see if it is covered. He called me back after an hour and said that the extended warranty doesn't cover it but I said it was repaired before he said that there is a history but sorry the other dealership went bankrupt. They want to charge me $726.00 plus tax. Gm will never see me again for anything.

I bought a brand new 2011 Chevy Avalanche at Gateway Chevrolet in Brampton, Ontario, Canada. 4 days later we bought a brand new 2012 Chevy Cruze for my wife. We were talked into the GMPP Total Plus extended warranty for both vehicles. It was explained that once the Factory warranty was up the GMPP would kick in and we would be covered. We since need to upgrade the Cruze that has 30,000 kms on it so the extended warranty was still 30,000 kms from being needed, we asked what would happen to it and we're told we could transfer it to a new GM vehicle but at a prorated amount minus a dealer fee????? "Prorated"???? It was never used!! So the warranty cost us $1800 and the buyout is $951.83 minus $250 dealer "fee"??? I thought this was some sort of joke. I was dead wrong. This was NOT how it was explained to us. We cancelled the warranty and got $951.83 back and went and bought a DODGE. After having the worst customer service ever and everyone at Gateway being so ignorant after the first month, we stopped going there but had to go back to have the warranty stuff worked out. I ONLY service my truck at Frost GM in Brampton, nicest honest people in the business!!

In 2010, my 2007 GMC Sierra Vortec Max with 158000 km. on it had a engine failure. After a few weeks of complaining to my local dealership, the engine was repaired. Then two years later, while my wife was driving thru a mountain pass, the engine again failed with 170000 km. on it. Towed to closest GM dealer and was informed engine needed to be replaced cost close to $10000. Told the dealer to call GM. They said I would have to pay. Again after arguing with dealership, they again contacted GM and were told GM would repair the failing cylinder (not complete engine like I was told to replace). They said it would be under goodwill warranty. Then again last week, my son is driving home from airport on freeway and engine stops. Get it towed to first repair dealership. Told complete engine requires replacement to the tune of $13000. Truck now has 205000 km. on it. Now they are absolutely refusing to come to bat as they say it has far exceeded warranty which by amount of kilometers they have a small point but this is the third flipping time this engine has failed so I am thinking they would open warranty up again as the problem has never been solved. Pissed off and not taking no for answer. HELP.

Believed when I purchased my vehicle, I purchased bumper to bumper warranty for the full time of the loan 72 months... Now when I purchased my 2008 Chev Uplander, we qualified for rebates as a GM Supplier, so I also got a cheaper cost to me for this vehicle fully believed I also got all aspects of the deal including the warranty at a cheaper rate as a supplier. I picked up my vehicle and drove not even an hour and ABS sensor went off. Return to dealer that day. They say they fixed it! Well, they never truly fixed the issue... The ABS sensor, stability control, traction control go faulty all the time, including when you run over a tiny bump in the road. Now have an issue with a faulty wheel bearing and even after all the complaining done to local dealer regarding this issue they have done nothing.
Also the power window on the passenger side has also failed, as well as the wiper motor on the rear window! Not feeling taken care of by either the dealer Upper Canada Motor's here in Morrisburg... or by this farce of a GM Warranty. Dropped my vehicle off to have new tires installed tires were supplied by me and remounted on the rims by GM dealer... air leaking out of 1 tire... arg. And while in there had them check the passenger side to find out why window would not open. They broke the door handle plastic molding and service person NEVER REPORTED IT TO ME OR TO THE DEALER poor customer service!! Now they expect me to pay for that part to and for installation. NOT GOING TO HAPPEN. You broke it, you fix it at your expense, not mine!! VERY DISSATISFIED CUSTOMER feeling jerked around.

On May 21, 2013 my 2008 Chevrolet Uplander broke down with 54,571 km (33,685 miles) on the odometer. I had it towed to the nearest GM dealership, Roy Foss Motors Limited, North York, Ontario, Canada. The vehicle needed a new PCM. Never have I replaced a PCM on a vehicle before on the dozen or so vehicles I've owned, all with much higher mileage; it appears that GM buys inferior quality parts for its assembly plants! This was replaced under the GM 5-Year Powertrain Warranty.
As it had been showing the ABS/TC/Stability System DTC for some time, I also had that checked while the vehicle was in the dearler's hands. They found that the hub and bearing assembly had failed on account of a broken wire coming from the wheel sensor. Since the wire protruded from the hub and bearing assembly, they refused to consider that a powertrain issue and did not honor the 5-Year Powertrain Warranty. The wire that failed is an integral part of the hub and bearing assembly and cannot be replaced by itself. This GM design makes it essential that the entire hub and bearing assembly be replaced in order to replace the wire. So the dealership did that work and charged me $614.24 to return my car keys. Never mind that I only gave the dealership a $500 authorization, and the bill as presented violates the Province of Ontario Consumer Protection Act for exceeding the authorized amount!
The vehicle squealed after the Dealership replaced the hub and bearing assembly, so I personally took the wheel off to see what was causing the squeal. What I saw was the brake pads had been put back in reverse so that the rust ring on the outer perimeter of the brake rotors prevented the pads from seating themselves on the rotors, thus causing the squeal. Needless to say, I did not think too much of this Dealership's work, particularly when they charged 2.5 hours to do a 1-hour job and still managed to mess it up! I can only speculate that they charged me $120.00 an hour to train a new off-the-street techie, since I have personally seen a qualified mechanic do a similar job on another vehicle in 1 hour and charge me for 1 hour's work for a job well done.
The problem of the premature hub and bearing assembly failure was a GM creation by design. The work was performed by a GM dealer supposedly in accordance with GM procedures with GM parts and ought to have been done under GM's 5-Year Powertrain Warranty. The vehicle was well within the 5-Year Powertrain Warranty by any measure. GM simply flatly reneged on its Warranty. Personal attempts to resolve this with both the Dealership involved and GM, both at front line level and on appeal, have proved fruitless. Conclusions: Avoid all GM products. Avoid Roy Foss Motors Limited. I know I will.

3/15/2011, purchased a 2011 GMC Acadia for 52,043.95. 10/03/2012, engine replaced due to engine block crack. Canceled a vacation, no car. 09/05/2013, on a 12-day car drive going to the Pacific Northwest - going to CA, OR, WA, ID, MT and back home when my car broke down again. On the first day of my vacation. 09/06/2013, my birthday, found out in Evanston, WY, my car will more than likely need a new engine. GM warranty would get to my complaint on Monday. Informed them of trip and need out of my hotel by 11:00am and had no transportation. Not their problem. They have 24-48 hour to respond. Business days. Lol. Weekend coming up.
I had to arrange my own ride home. The second vacation I have had to cancel. I am being told by everyone that if I don't want this current car, I can trade it in. Great. I get to pay taxes and license on a new car as well as all the expenses of not going on another vacation. Happy Birthday to me. Carless. We were there for GM when they needed help, but where are they when we need help???????????
GM Warranty Company Profile
Company Name:

General Motors

Website:

http://www.gm.com/index.html