Audi extended warranty: cost, coverage and plans
Pricey but arguably worth it



Written by

Edited by
Find Extended Auto Warranties near you
Audi, Endurance Auto Warranty and olive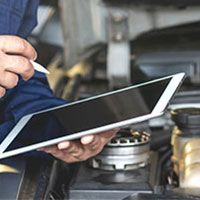 Audis offer German engineering in a lavish package, but all that luxury and performance comes at a cost: These are generally not cheap cars to keep on the road. With unplanned repairs coming twice as often as the industry average — and those repairs costing 60% more than average — Audis can really drain their owners' wallets once their factory warranties expire. As a result, many Audi owners look for ways to avoid repair bills, and Audi even offers its own line of extended warranties to help.
Keep reading to find out what Audi's extended warranties cover, how much they cost and whether they're worth it in the long run.
---
Key insights
Audi's official extended warranties are called Audi Pure Protection plans.
You can only purchase an Audi Pure Protection plan during the four years or 50,000 miles that your factory Audi warranty is active.
The price quotes we received ranged from roughly $2,500 to $7,000, and quotes from third-party warranty companies were roughly the same.
They're not cheap, but an extended warranty for your Audi might be worth it, given the frequent, expensive repairs these vehicles often need.
Audi extended warranty coverage
Audi calls its official extended warranty program Audi Pure Protection. Like other extended warranties (also called vehicle service contracts), Audi Pure Protection plans cover the cost of repairing or replacing specific components in your vehicle that break down during the warranty period.
It's worth pointing out that extended warranties are different from auto insurance, so your warranty won't protect you from repair bills needed due to an accident, theft or vandalism.
Audi Pure Protection plans are only available for purchase while your Audi is still within its factory warranty period (4 years/50,000 miles), and terms for Audi Pure Protection plans go up to 10 years/150,000 miles.
Many automakers measure extended warranty terms from your vehicle's in-service date (when it was purchased by its first owner).
To put things in context, your factory Audi warranty covers you for four years or 50,000 miles, whichever comes first. So, if you purchased a 6-year/72,000-mile Audi Pure Protection plan, it would cover you for an additional two years or 22,000 miles, whichever comes first.
» LEARN: What does a car warranty cover?
Audi extended warranty benefits
In addition to paying for covered repairs, Audi Pure Protection plans come with the following benefits:
24/7 roadside assistance, including battery service, flat tire assistance, fuel or fluid delivery, and lockout assistance of up to $100 per occurrence
Towing reimbursements of up to $100 per occurrence to help you get to your nearest Audi dealer or authorized service provider after a covered breakdown
Rental car reimbursements of $35 per day for up to 10 days while your Audi is in the shop for a covered repair
Trip interruption coverage of up to $200 per day for a maximum of five days ($1,000 total), which can help to cover the cost of meals, lodging and transportation if your Audi has a covered breakdown over 100 miles from home
Overall, these are solid benefits for a factory extended warranty. The trip interruption limits are especially generous and may even cover all of your expenses. The rental car reimbursements, however, are behind the times. It's very hard to rent an equivalent Audi (or any car) for $35 these days, so if you need a rental while your Audi is in the shop, be prepared to pay a fair amount out of pocket.
Audi extended warranty plans
Audi Pure Protection comes in three tiers: Powertrain, Gold and Platinum. Check the table below for a breakdown of what each tier covers.
| Component group | Powertrain | Gold | Platinum |
| --- | --- | --- | --- |
| Engine | | | |
| Transmission | | | |
| Drive axle | | | |
| Hybrid/electric | | | |
| Climate control | | | |
| Shocks | | | |
| Front suspension | | | |
| Rear suspension | | | |
| Fuel system | | | |
| Electrical system | | | |
| Steering | | | |
| Brakes | | | |
| CV boots | | | |
| Navigation | | | |
| Audio | | | |
| High-tech parts | | | |
Each tier also comes with your choice of a $0, $100 or $250 deductible.
Audi extended warranty cost
Audi lets you price out and purchase Audi Pure Protection plans entirely online, which is a much nicer feature than you may realize. Many other automakers require you to purchase extended warranties from a dealership, which isn't just inconvenient — it can mean paying extra fees that can be hard to spot without transparent pricing from the automaker.
Here are some sample quotes we collected for various Audi vehicles. All quotes were based on a $100 deductible and do not include tax.
| Vehicle | Coverage | Term | Cost |
| --- | --- | --- | --- |
| 2022 Audi A4 with 15,000 miles | Gold | 6 years or 72,000 miles | $1,879 |
| 2022 Audi A4 with 15,000 miles | Platinum | 6 years or 72,000 miles | $2,984 |
| 2023 Audi Q5 with 1,000 miless | Platinum | 6 years or 72,000 miles | $2,872 |
| 2023 Audi Q5 with 1,000 miles | Platinum | 10 years or 120,000 miles | $6,745 |
| 2020 Audi Q5 with 30,000 miles | Platinum | 6 years or 72,000 miles | $3,104 |
| 2020 Audi Q5 with 30,000 miles | Platinum | 10 years or 120,000 miles | $7,190 |
| 2020 Audi S3 with 30,000 miles | Gold | 7 years or 100,000 miles | $4,352 |
| 2020 Audi S3 with 30,000 miles | Platinum | 7 years or 100,000 miles | $5,445 |
These quotes showed us a few important things:
Audi Pure Protection is pricey: The average price to extend your Audi factory warranty for another three years was around $4,000. That's 60% higher than the average cost of an extended auto warranty, which is around $2,500.
Platinum is around 25% more expensive than Gold: This came as a surprise to us, since most automakers' Gold-equivalent options cost around the same as their Platinum-equivalent plans and only serve to make the latter look like a good deal. In Audi's case, however, the large price gap between Gold and Platinum might actually make Gold the better value.
The price only rises about 10% if you wait: Our quotes for a 2020 and 2023 Q5 were pretty similar, indicating that it's probably safe to wait until your factory Audi warranty nears expiration before deciding whether you want an Audi Pure Protection plan.
Audi extended warranty terms and conditions
The Audi Pure Protection terms and conditions contain some key exclusions and caveats that you'll likely want to consider.
Required maintenance

To keep your Audi Pure Protection plan active, you must adhere to the maintenance schedule listed in your owners manual and keep detailed records as proof.

If you have an engine failure, for example, Audi will ask you to provide proof that you performed oil changes on schedule. That's why you should keep your receipts for all regular maintenance items (fluid changes, alignments, tire rotations, etc.).

Preexisting conditions

Any breakdown that you can't prove happened during your extended warranty period won't be covered. That's why we strongly recommend paying an Audi dealer to perform a full inspection of your car, which costs about $200, before purchasing a warranty.

If there's ever a dispute about when an issue originated, you'll want an Audi-sourced record of what was (and wasn't) a problem when your warranty period began.

Exclusions

As is typical for an extended auto warranty, Audi Pure Protection plans will not cover repairs needed due to damage (accidents, weather, etc.), aftermarket parts, neglect, misuse, missed maintenance intervals, competitive racing or commercial use (unless you pay extra for "light duty" coverage).

Take note, RS 3 drivers — even though your car is designed for racing, your warranty won't cover expensive repairs resulting from track use.

Transferability

If you sell your Audi, you can transfer your remaining Audi Protection Plan coverage to the new owner by mailing written paperwork and a $50 check to the address listed in your terms and conditions.

Cancellations and refunds

You can cancel your Audi Pure Protection plan within 30 days of purchase for a full refund, provided you haven't submitted a claim. If you have submitted a claim or it's been longer than 30 days, you will receive a prorated refund based on the remaining term of the warranty minus any claims paid and a $50 admin fee.
Overall, there aren't any atypical "gotchas" hiding in the Audi Pure Protection plan contract that we read. Still, an auto warranty is a big purchase, and you should read your warranty extremely carefully before signing.
Is an Audi extended warranty worth it?
For an extended auto warranty to be worth the cost, one of the following statements usually needs to be true:
You drive an unreliable car.
You can't afford the cost of an unexpected repair bill.
The cost of the warranty is less than the cost of your expected repairs.
You don't mind paying for additional peace of mind, even if you never submit a claim.
Reports of Audi's reliability are mixed. J.D. Power ranked its vehicles 30th out of 32 carmakers for initial dependability in 2023, with 252 issues per 100 vehicles in the first three years of ownership. Consumer Reports, however, ranked Audi as the sixth-most reliable brand out of 24 brands in 2022.
These results are odd, considering that Consumer Reports draws from a wider range of older models. J.D. Power's 2023 Vehicle Dependability Study focused solely on 2020-model-year vehicles, for example. This could indicate that the 2020-model-year Audis have more serious issues than previous years' models or that Audi's reliability overall could be trending downward.
RepairPal claims that Audi vehicles cost their owners $987 per year to repair and maintain, which is well above the average of $652 across all vehicles. Audi vehicles also visit the shop for unscheduled repairs 0.8 times per year (double the industry average of 0.4), and 13% of those repairs are "severe," costing owners $2,000 or more to get back on the road.
"My 2018 Audi Q5 has three service recalls and now a $2,500 repair for a leaking water pump," wrote Michael, a ConsumerAffairs reviewer from Illinois. "The car has only 13,000 miles but Audi will not help with the cost since the car is seven months out of warranty."
Most of these signs point to a simple conclusion: Owning an Audi out of warranty can be very expensive, and having extended warranty protection can potentially save you a lot of money.
Your choice of plan could make or break your outcome, though.
If you're stuck on buying your extended warranty from Audi, you only have three options to choose from. Powertrain plans have pretty limited coverage, so they may be better if you have a specific reason to worry about your engine or drivetrain. Gold coverage is more comprehensive and cheaper than Platinum, but Platinum adds coverage for component groups that can have extremely expensive repairs. (We've heard reports of dealers quoting more than $4,400 to repair the Audi MMI infotainment center alone.)
If you're open to getting a warranty from a company other than Audi, you have even more options at your disposal, though. Let's see how they compare.
Audi extended warranty alternatives
Audi Pure Protection plans are comprehensive and offer nice benefits, but they're certainly not cheap. That's why we checked with some other extended warranty companies to see if they offer better rates.
Audi extended warranty cost comparison
The quotes below are based on Platinum-equivalent coverage with a $100 deductible.
| Vehicle | Audi | olive | Endurance |
| --- | --- | --- | --- |
| 2023 Audi Q5 | $2,872 | $2,896 | $2,732 |
| 2022 Audi A4 | $2,984 | $2,896 | $2,732 |
| 2020 Audi S3 | $5,445 | Not available | $5,837 |
Based on these results, it looks like Audis are just expensive to get warranty coverage for, which isn't much of a surprise, given the high cost of maintaining these vehicles.
While third parties don't offer much in the way of savings, we'd still strongly recommend getting quotes from Audi and a few more warranty companies to find the best possible deal. Even though warranty protection costs about $1,400 a year, we've seen how these warranties can pay for themselves in a single unexpected repair.
Did you find this article helpful?
|
You're signed up
We'll start sending you the news you need delivered straight to you. We value your privacy. Unsubscribe easily.