The drain hose for the air conditioning may leak into the passenger compartment
09/30/2016
|
ConsumerAffairs

By James Limbach
A Washington, D.C., reporter for more than 30 years ... Read Full Bio→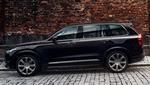 Volvo Cars of North America is recalling 43,766 model year 2016-2017 Volvo XC90s and S90s manufactured April 15, 2015 through September 19, 2016.
The drain hose for the air conditioning may leak into the passenger compartment due to a drain hose installation error during manufacturing.
Significant water drainage into the passenger compartment may adversely affect air bag deployment in the event of a crash, increasing the risk of occupant injury.
Volvo will notify owners, a...
More
the outer tie rod ball join can "deform at high loads"
05/11/2006
|
ConsumerAffairs
May 11, 2006 The National Highway Traffic Safety Administration is recalling 108,766 Volvo XC90 vehicles from the 2003 to 2006 model years because a ball joint may fail, which could lead to a crash.
NHTSA reports that the outer tie rod ball join can "deform at high loads" which may "eventually lead to a fatigue fracture for the outer tie rod ball joint."
As a result, NHTSA warns that the vehicle will be difficult to drive or maneuver and that will increase the risk of a c...
More
Sort By