Best solar-powered heaters
Our 4 picks for solar heat



Written by

Edited by
Find Solar Energy Companies near you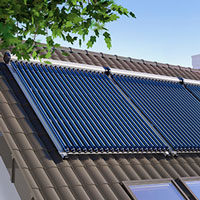 The term "solar heater" could refer to a variety of products — solar hot water heaters or solar pool heaters, for instance. Solar space heaters can also warm up small areas, like a camping tent or greenhouse. In these cases, though, it's really a combination of two products — a solar power source and a traditional electric heater — working together to do the job.
We scoured Amazon to find solutions that may work for whatever type of solar heat you're looking for. From power stations to panel options to solar kits, here are the results:
Best generator: GRECELL Portable Power Station
Best portable solar panel: EF ECOFLOW 220-Watt Bifacial Foldable Solar Panel
Best mounted solar panel: Renogy 200-Watt 12-Volt Monocrystalline Solar Panel Starter Kit
Best solar pool heater: SunQuest Solar Swimming Pool Heaters
| | GRECELL Portable Power Station | EF ECOFLOW Bifacial Foldable Solar Panel | Renogy Solar Panel Starter Kit | SunQuest Solar Pool Heaters |
| --- | --- | --- | --- | --- |
| Amazon rating* | 4.6 stars | 4.5 stars | 4.6 stars | 4.0 stars |
| Amazon reviews* | 1,131 | 1,921 | 1,275 | 510 |
| Price* | $219.99 | $379 | $209.59 | $422.96 |
| Power | 330 watts | 220 watts | 200 watts | N/A |
| Key feature | Charges 8 devices at once | Dual-sided panels for maximum energy | Perfect for novice solar users | Easy DIY installation process |
*As of publishing
Compare our top 4 solar-powered heater products
We chose our top solar-powered heater picks by looking at popular options on Amazon and comparing their power capacity, pricing and reviews. All ratings and prices listed are accurate as of publishing.
Logo
GRECELL Portable Power Station

Amazon rating: 4.6 stars
Price: $219.99
Power: 300 watts
Key feature: Charges 8 devices at one time


Buy on Amazon
With a 288 watt-hour capacity and 330-watt output, the GRECELL Portable Power Station can support a wide variety of electronics: from phones and lights to heaters and minifridges. With dual built-in silent cooling fans, the generator stays at a safe temperature to protect your tent or RV when in use. The GRECELL power station can be charged via an AC outlet, a solar panel or a car outlet. You can also use it while it's charging, even with solar power.
What we like

It's designed to handle a variety of devices, including GRECELL and third-party solar panels, which not all generators offer. The box includes a MC4-to-7909 solar charging cable, and the product comes with a 24-month warranty.

What to consider

To use it with solar power, you'll need to purchase a solar panel. So, when calculating the total cost of solar-powered heat, make sure to add another $150 to $300 (at least).

What reviewers say

As of publishing, 89% of all reviews on Amazon give the product 5 stars, mentioning things like ease of use, good value and efficient power. Reviewers who use this generator with solar power like that it works with both GRECELL and third-party solar panels — plus, at only 10 pounds, it's lighter and more portable than others on the market. Most negative reviews center on customer service and a lack of support, which is something to consider.
---
Logo
EF EcoFlow 220-Watt Bifacial Foldable Solar Panel

Amazon rating: 4.5 stars
Price: $379
Power: 220 watts
Key feature: Dual-sided panels for maximum energy


Buy on Amazon
This foldable EcoFlow 220-watt bifacial panel is easy and convenient to set up and use. It weighs 21 pounds, which is a little heavy, but it's easy enough to store and bring along as necessary. The device has a 220-watt front and a 155-watt rear solar panel, which offers up to 25% more solar energy (compared with just front panels). Plus, it has an efficiency rating of 23%. It also has an adjustable kickstand.
What we like

With the kickstand, you can easily position and move this solar panel around to ensure you get maximum efficiency, no matter where you are.

What to consider

At 21 pounds, it's not exactly light. So, if your generator already weighs a substantial amount, your combined solar heater system may not be very portable.

What reviewers say

While traditional solar panels take up valuable roof space or only have panels on one side, this design offers more options for use, reviewers say. On the other hand, some reported issues with getting theirs set up just right — and it may not work on all types of terrain. Fortunately, many reviewers described successfully contacting customer service for tips and support.
---
Logo
Renogy 200-Watt 12-Volt Monocrystalline Solar Panel Starter Kit

Amazon rating: 4.6 stars
Price: $209.59
Power: 200 watts
Key feature: Good for novice solar users


Buy on Amazon
The 200-watt Renogy Solar Panel Starter Kit comes with pretty much everything you need to install and power up with solar. It includes a charge controller, cables, Z-brackets and pre-drilled holes that allow for easy mounting anywhere, including RVs and greenhouses. Its solar power can reach up to 22% efficiency, and it's compatible with four battery types.
What we like

For those who are new to solar energy, this kit comes with everything you need to get started.

What to consider

It's a little expensive, so if you only need to heat a small area, it may not be the most cost-effective solution.

What reviewers say

An abundance of reviewers say they bought this system as their first step into solar power. These reviewers like how easy it is to use and install, thanks to the included mounting systems. In some cases, reviewers had issues getting support from a customer service representative — many say the instructions are easy to follow, though, which may reduce the need for customer support.
---
Logo
SunQuest Solar Swimming Pool Heaters

Amazon rating: 4.0 stars
Price: $422.96
Power: N/A
Key feature: Easy DIY installation process


Buy on Amazon
The SunQuest solar water heater system efficiently warms up your pool with 2-inch OD headers that increase water circulation to heat water up faster with less back pressure on the pump. The easy-to-install solar-powered heat panels require little upkeep and can easily be taken down and stored when the pool season is complete. It can be installed on the roof or on a rack, or you can just place it on the ground.
What we like

There isn't a big learning curve when it comes to using these panels to warm your pool with solar energy. For a solar pool heater, these are an efficient solution.

What to consider

At 2 feet by 20 feet each, these are substantially large panels, so they're going to take up quite a bit of space wherever you put them. Plus, they're not exactly aesthetically pleasing.

What reviewers say

According to reviews, the biggest selling point of this system is its value. While it may not be the best on the market, it offers great heat output for the price point. Some have had issues finding an appropriate place to install the panels because they're quite large, but many customers say they felt the heat rise in their pool pretty quickly and were impressed by the efficiency.
How do solar heaters work?
There are a few types of solar heaters available to purchase. You may have landed on this page for one of the following: solar water heaters, solar pool heaters or solar air heaters.
Solar water heaters
Solar water heaters work by collecting and moving water via solar energy. These systems can be passive, using gravity and convection to naturally heat and move water through pumps, or active, where solar energy is used to move water through.
There's also passive solar home design, which naturally heats water through creative architectural designs and building materials.
» READ MORE: Passive solar home design
Solar pool heaters
Solar pool heaters collect energy from the sun to heat a pool. These work by collecting and pumping pool water through a series of valves at the bottom of the system. As the water rises through the tubes, it's heated naturally by the sun's energy. This heated water enters the pool while other water cycles out. This process repeats until the pool hits your desired temperature.
» LEARN: How solar pool heaters work
Solar air heaters
Solar air heaters (for heating a tent or a greenhouse, for instance) aren't available for purchase as of publishing, but you can make one with a few pieces of equipment. You can purchase a traditional portable heater that connects to electricity and attach it to a solar power source, like a portable generator with solar connection or a traditional solar panel. Many companies sell generator-panel kits that can be used together to power a heater with solar energy.
What to consider when choosing a solar heater
The biggest consideration when buying a system to heat an area using solar power is its capacity. If you're just looking for enough heat to warm an RV or a tent, a small generator and solar panel system will work fine. For an entire home, an installed solar heater and panel system will be necessary.
The quick math for this is to divide your average hourly wattage requirement for your specific need by the number of daily peak sunlight hours in your area. The number you get is how much energy your panels need to produce every hour.
Other factors to consider will depend on what type of system you're looking for and how often you plan on using it. In some cases, portability and weight may be big factors. In other cases, durability is more important.
Regardless of your use case, you'll definitely want to compare:
Warranty length and coverage: Is the warranty long and comprehensive?
Installation requirements: Is it easy to do yourself? Does the product come with all the necessary installation equipment?
Customer service department: How can you get in touch with customer service? What do reviewers say about their experience?
Average customer review: What are customers saying about the product?
Price: Is it within your budget? How does it stand up against the prices of comparable systems?
---
Did you find this article helpful?
|
You're signed up
We'll start sending you the news you need delivered straight to you. We value your privacy. Unsubscribe easily.