Our promise. We provide a buying advantage with verified reviews and unbiased editorial research.
About Stitch Fix
Stitch Fix is a network of personal stylists who evaluate your preferences and ship clothing to your door from more than 1,000 top brands. You pay for the items you like and return everything else. Customers can sign up for automatic deliveries or just try Stitch Fix once. This service is available for men, women and children.
Pros & Cons
Pros
Styling fee applied to purchase
Free shipping and returns
Delivered to your door
Cons
Can be pricey
Short return window
Bottom Line
Stitch Fix provides stylish professionals, busy parents, and time-conscious shoppers with personalized style options. While premium brands can get pricey, customers can control how much they pay and how often they shop.
Featured Reviews
Verified
Cincinnati, OH
They nailed everything I said I wanted. My stylist seems to have read everything I had asked for, BESIDES the pricing I wanted to spend. I wanted each item to be between 15-20 dol...
Read full review
Verified
Nevada City, CA
Stitch Fix has been a blast. The stylist I have been working with did a great job of analyzing my information. The styling and fit of all the clothing have exceeded my expectation...
Read full review
How does Stitch Fix work?
Stitch Fix specializes in styling today's fashion-forward men and women with high-quality pieces and personal style tips. Customers take a style quiz and create a profile that their stylist uses to hand-select and suggest pieces.
In your profile, you can include personal details, including your height, weight and typical sizes, as well as more specific preferences like colors, prints and fabrics to avoid. You can also choose how often you'd like outfits for the office versus a night out. Each delivery, which the company calls a Fix, comes with free shipping, returns and exchanges. Stitch Fix includes a prepaid envelope for returns with every shipment.
Stitch Fix makes it simple for you to diversify your wardrobe. Through its website, you can browse curated outfits based on previously purchased items and buy your favorite piece in different colors and sizes without a styling fee.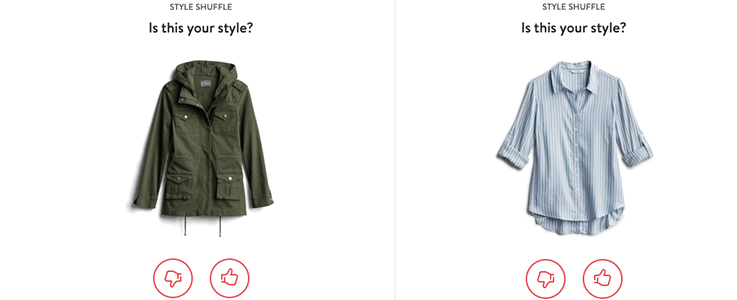 Stitch Fix stylists
Once you create a style profile, a personalized stylist hand-selects a box of items based on your preferences, budget and profile. Stitch Fix allows you to select how often you'd like to receive a delivery — customers can set up a one-time delivery or automatic deliveries on a monthly, bimonthly or every-three-months basis. You can skip or cancel a delivery at any time.
Once your delivery arrives, you can try on pieces in the comfort of your home and return the clothing you don't like. Every box comes with a personalized note with styling tips and ideas on how to wear each piece.
Stitch Fix brands
Stitch Fix's selection includes more than 1,000 brands, including TOMS, Ralph Lauren, Vince Camuto and Nike. The company's women's sizes run from XS to 3X with petite, plus and maternity options available. Men's sizes range from XS to 3XL with big and tall options. Customers must be older than 18 to create an account, but Stitch Fix offers the ability to create a family account for the company's children's collection.
With the variety of brands available, Stitch Fix provides clothes to fit every lifestyle, whether casual, active, business or dressy. Its iPhone and Android apps also give customers the option to share a profile photo, communicate with their stylist and schedule their next Fix right from their phone.
How much is Stitch Fix?
Each Fix of hand-selected items is personalized to the your budget. Typical women's and men's items cost from $25 to $500, and children's clothes start at $10. Each delivery is slightly different, however, because stylists use the customer's profile to determine a budget range for the selected clothing.
Stylists might select a pair of jeans at $58 for a budget-conscious shopper but send another shopper a $298 leather jacket. It all depends on the individual's preferences.
Every customer pays a $20 styling fee once a Fix is prepared. This can be credited toward the final purchase price if a shopper decides to keep an item. If the shopper buys everything in their delivery, they get an additional 25% off the entire purchase.
Stitch Fix FAQ
Are Stitch Fix clothes good quality?

Yes, Stitch Fix carries a variety of high-quality brands made with premium fabrics.
What brands does Stitch Fix use?

Stitch Fix partners with more than 1,000 brands. Partners include premium clothing brands like Helmut Lung, Nike and Fairlane. Stitch Fix also carries sustainable brands like Marine Layer, Beyond Yoga and Threads 4 Thought.
How do I permanently cancel Stitch Fix?

Stitch Fix only charges you when a Fix is on the way. Cancel any deliveries on your current schedule to permanently cancel Stitch Fix. Once you're ready to receive another shipment, just schedule your next Fix.
What happens if you don't like your Stitch Fix?

Stitch Fix offers customers the ability to provide feedback for future styling and return items using a prepaid envelope. During checkout, Stitch Fix suggests providing specific feedback for your stylist, such as what you didn't like about a particular piece or item or what you'd like to see instead. This helps the company choose items you prefer for future deliveries.
How can I contact Stitch Fix?

There are two ways to contact Stitch Fix. You can either get in touch with customer service using the company's contact form or the "Help" bubble in the lower right corner of its website. Most inquiries are answered within 24 hours.
Is Stitch Fix worth it?
With its selection of brands, flexible pricing structure and personalized delivery service, Stitch Fix provides shoppers with a modern solution. Premium items can be pricey for budget-conscious consumers, but customers can choose to let their stylists know their price range and budget before each Fix. We recommend Stitch Fix for individuals who would like expert advice creating their own style at an affordable price.
ConsumerAffairs has collected 119 reviews and 427 ratings.
A link has directed you to this review. Its location on this page may change next time you visit.
How do I know I can trust these reviews about Stitch Fix?
4,308,422 reviews on ConsumerAffairs are verified.
We require contact information to ensure our reviewers are real.
We use intelligent software that helps us maintain the integrity of reviews.
Our moderators read all reviews to verify quality and helpfulness.
Page 1 Reviews 0 - 10
Reviewed Feb. 9, 2023
I purchase quite a few clothes online and Stitch Fix by far is the worst. The customer service is so awful it's obvious it's on purpose so they never have to deal with customers issues. The whole system is a complete rip off. I'm shocked they are still in business to be honest.
Reviewed Dec. 21, 2022
My cousin told me and my sister about Stitch Fix. She even raved about it. My sister has already ordered and received her fix, she was so disappointed at the hideous selection she received she cried. I thought surely this is a mistake so I signed up and ordered a fix which was supposed to arrive December 23rd, 2022, apparently my fix won't be arriving at all. As for me being a first time customer, scheduling my fix only to have my account suspended without any explanation at all makes me even more leery about your company. I was looking forward to having a cute outfit to wear for Christmas but all I get was a cheap automated response and a dreaded shopping trip added to my list.
Thanks for subscribing.
You have successfully subscribed to our newsletter! Enjoy reading our tips and recommendations.
Reviewed Oct. 27, 2022
In my most recent box, the stylist sent five dresses that were too big for me and too matronly, so I didn't keep any of them. Their customer service department would not refund my $20 stylist fee, even though the stylist didn't listen to my requests. I am a petite woman with a toned back and they kept sending oversized blouses and dresses. Why do I have to pay $20 when they messed up? I would like a refund but they won't send me one. Now I will consider them a scam company. All those $20 stylist fees add up!! Do not use this company. You will not be satisfied.
Reviewed Sept. 29, 2022
I signed up about two weeks ago. They wanted to send my first box September 30 but since I will be gone over this weekend until October 2 I changed the date to October 4. Today I received an email from FedEx that they had the package and would deliver it on October 1 when I will be out of town. The Stitch Fix site still says it will be delivered on October 4 the date they have repeatedly told me. I can't contact anyone at Stitch Fix. They sent an email In response to my communication about this problem that they would respond in 48 hours or less. This doesn't help me as I will be out of town. They promise you a dedicated stylist whom you never hear from. They could send me gold encrusted outfits at this point and I wouldn't deal with them. Buyer Beware!
Ashley
Colorado Springs, CO
Reviewed March 30, 2022
Pros: I got a few new blouses and a dress that I like very much, inspiration for cultivating a new wardrobe. Cons: The website is very difficult to navigate and you cannot easily search for what you want. If you find an item you like, it is sold out in days or weeks. The quality is only okay but the price tag looks like $40 for an Old Navy quality shirt, $65 for a jersey dress - not kidding. You cannot read reviews of items before you receive them, so while you may like an item out of the box, you have no way of knowing if it will hold up well, if it is likely to shrink, etc. The stylists are not great. I asked for modest dresses and was sent just one and it fell inches above my knees, totally inappropriate by my standard.
Almost all dresses to be found on this website are like this - modest neckline, fabric, etc. but basically a mini-shirt in length, which if you are not a 22 year old is infuriating. Returns take weeks to process. A pair of shoes I really loved and bought, in a matter of 2 months are peeling at the heels and wearing prematurely - and they cost $40. All in all - don't waste your time or money. It's a fad and offers the illusion of ease of shopping with poor execution.
Reviewed Dec. 8, 2021
Kudos to all the Stitch Fix staff and stylists. I was a customer for under 4 months and enjoyed being surprised at the choice of clothes. Most of the choices worked for my age, body type and fashion, but some did not, so I requested to be taken off their mailing list. I received an incredible message from Alexandra, Stitch Fix Client Support who listened to my needs and requests and invited me to sign back up when I was ready. I was very impressed with the quick response and knowing I wouldn't be receiving unwanted emails or packages. I have referred Stitch Fix to several friends and am sure they will be more than pleased with the service.
Reviewed July 26, 2021
I wish I would have paid attention to other reviews before signing up. Items look like they were randomly picked up at a discount store and then slapped with an expensive price tag. A family emergency called me out of town and I was not able to return the box by the return date. No response to my email (could not find a phone number on their website). Last straw was a pair of shoes with the fake leather peeling off. They charged me $69.00. So, my advice is save your money. The items I have been sent could have been ordered off Amazon and I would get exactly what I want, easy returns, and no styling fees. Total rip off.
Reviewed July 20, 2021
I love getting the surprise monthly or quarterly but so many of the clothes I kept are just not great quality. The mixed material shirts stain with anything touching the material. Hand cream on your hands, water dripping from a water bottle, anything. I got one that that got little balls all over it. Um, I have kept shirts that have stretched, shrunk, gotten balls, etc. I have a lot of higher end pants that have held up but the tops just are not the best.
Reviewed July 8, 2021
I gave this service a good try: several months and several fixes. I took all the quizzes, added my Pinterest board, filled out my profile to describe what I was looking for to the best of my ability, and rated things regularly in the style shuffle. Sadly, I completely agree with another reviewer who stated that her fixes seemed to be styled for someone 20 years older and 20 lbs. heavier, with looks straight out of Dress Barn. I received similarly bland, frumpy clothes in drab tones and ugly prints, despite making my preferences for fitted looks and bold colors as clear as possible. It seemed like all my preferences were either completely ignored or they made a point to send opposite things. Overall, it left me wondering if they just send the same things to everyone based on an age group, or if maybe this service is meant for older women than me at 37.
In my style profile, I asked specifically for styles that are fitted at the waist because I'm an hourglass size 8 with a large bust. Billowy tops make me look enormous or even pregnant. Still, I got all loose, billowy tops and long, boxy cardigans designed to hide the whole body as much as possible. Specified that I wanted to downplay my arms and highlight my cleavage, and got tons of sleeveless, high-neck items (which were also oversized.) Noted that I didn't like wedges, and to never send those, but the only pair of shoes they ever sent me were wedges. Noted that I'm done with skinny jeans, got sent skinny jeans only. I could go on and on this way, but you get the point.
I tried revising my preferences each time, sent them kindly-worded constructive criticism because I'm not going to be rude to anyone ever, but their picks kept getting worse until they eventually sent me a fix of 5 things I just totally hated and then I was done with Stitch Fix. They got a second star added because Stitch Fix customer service was great to me when one of my boxes got stolen, and because I did find a few items that I liked well enough to keep, even though I wasn't really wild about anything they sent.
Reviewed June 23, 2021
I signed up hoping to refresh my clothes as well as my daughter's. I was charged two stylings fees almost immediately. I tried signing into my account to track the boxes about a week later, only to find out my account had been deactivated! No explanation whatsoever, & they charged me for something I won't even be receiving now! I have called, sent emails, & dm's with NO answer. My account was charged styling fees for two boxes then closed with no explanation.??? THIS IS NOT HOW YOU TREAT CUSTOMERS - the reviews on Facebook show they have a history of charging customers for items they haven't received, so this company definitely needs to be looked into further! Stealing from people right now after a global pandemic is just sickening!
Stitch Fix Company Information
Company Name:

Stitch Fix

Website:

www.stitchfix.com
You're signed up
We'll start sending you the news you need delivered straight to you. We value your privacy. Unsubscribe easily.