Legislation would mandate and enforce minimum staffing levels
03/07/2019
|
ConsumerAffairs

By Mark Huffman
Mark Huffman has been a consumer news reporter for ConsumerAffairs ... Read Full Bio→
Illinois is considering legislation to mandate and enforce minimum staffing requirements at nursing homes operating within the state.
The measure, the Nursing Home Residents' Quality of Care Initiative (SB 1510, SA #1), is the state's latest response to complaints about the care elderly residents are receiving. It's not a new issue. In 2016, the governor of Illinois signed a law allowing families to install electronic monitoring systems in residents' rooms.
At the time, t...
More
A study shows neglect can take many forms
10/17/2018
|
ConsumerAffairs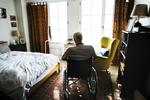 With nearly 1.5 million Americans residing in nursing homes, residents receiving the proper care should be the primary concern.
However, a new study conducted by researchers at the University of Illinois at Chicago compared the experiences of residents at for-profit nursing homes compared with those in not-for-profit nursing homes, and according to lead researcher Lee Friedman, the differences were significant.
The researchers found that those in for-profit nursing homes ...
More
Sort By