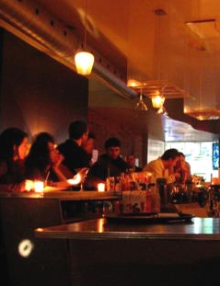 I was in an internet caf in Thailand last year, trying to work out which continent I should fly to next, when my attention was entirely absorbed by an attractive Thai girl who sat down next to me and logged in. She gave me one of those Thai smiles that could mean anything at all and then concentrated on her correspondence. I was beginning to wonder if Thailand had its merits after all and couldnt help stealing repeated glances at her.
She was totally absorbed in her online conversations with four messenger windows going at once, however, and in each of them I could see the photo of a Western guy. The youngest had to be 45 at least.
I miss you.
When you coming back?
I wait for you but I no have money for my rent.
I looked at her again and realized she was wearing too much makeup and revealing clothes for the average Thai girl. She almost certainly worked in a bar as a hostess for Western guys looking for Eastern romance and now that their holidays were over, her "boyfriends" were back home at work, dreaming of the month or two theyd spent in Thai heaven. Theyd be coming back as soon as they could afford it — if their "girlfriend" didnt drain their bank accounts dry in the meantime.
Thailand, like Brazil or the Philippines, is full of Western guys trying their luck with women half their age. With terrible dress sense that betrays the serious lack of a womans touch, it can be pitiful to watch them trying to mend their hearts under flashing neon signs, sharing a common vocabulary of maybe 500 words with the women they meet.
Its not easy getting old. Along with worrying about balding, beer guts and prostate cancer, many American men suffer the flip side of the national individualistic character — they end up feeling quite alone.
As school friends move away and get married, opportunities to make new social contacts tend to diminish with age. And our modern lifestyles often dictate that we work alone in front of a computer, shop alone in a supermarket and go home alone to apartments where neighbors dont talk to one another.
Until the Internet came along, the natural desire to meet the opposite sex did much to boost the attendance at bars and evening classes in the hope of meeting that special someone. Drinking too much beer and pretending to be interested in learning Italian were the only options left open to the millions of Americans who simply didnt know how else to meet anyone new.
Out of the bars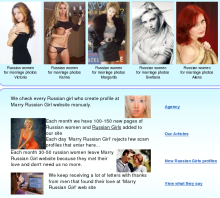 But then the advent of online dating sites meant the American guy could go hunting without having to get out of his dressing gown. Unshaven and unwashed he could woo any number of women by complimenting them on their profile photo and including the right kind of charismatic emoticon in the message to show his sensitive side. It made the first step in dating safe, voyeuristic and cheaper than buying drinks all night while searching for the courage to approach the blonde on the other side of the bar.
Which explains why some 40 million American men logged onto dating sites last year.
Yet there remained the fact that most of the women on American dating sites were well, American.
Theyve lost their femininity! an American expat once told me when explaining his choice to move south to Mexico. American women these days dress like men, talk like men and call you a chauvinist if you ask them to make you a cup of coffee.
I thought of the aggressive, sexless look of the supermodels and the passing of the days when men tipped their hats to women in the street. Then the expat's Mexican wife came in, brought us each another beer, wiped the table and went off to calm the crying children and prepare lunch.
Talk to American men who have married foreign women and 90 percent of them will have been attracted to the old-fashioned values of another culture. Dinner on the table, clean clothes in the cupboard and strong maternal instincts.
Western women have been campaigning for equality for so long that happiness went out of the picture long ago. another friend married to a Thai wife told me.
I initially thought this was a bit over the top until I learned that even complimenting a female co-worker can be considered grounds for sexual harassment. Have feminism and political correctness taken all the fun out of American love?
Well maybe. But theres also the fact that, for many, exotic is erotic and theres nothing like a foreign accent or complexion to hide the personality faults that stop domestic relationships getting off the ground.
Where to look?
So, where are the most beautiful girls in the world?
I get asked this all the time by guys everywhere I go when they hear that Im always on the road. Surely by now I must have found that paradise where sultry babes spend all day topless on the beach, ready to trade their bodies for a cocktail and a cheap pick-up line.
In fact, guys tend to be such suckers for this fantasy that Russian scam artists send out millions of emails allegedly from hot girls called Tanya or Olga. Accompanied by alluring photos, the messages promise eternal friendship, physical relationships or marriage.
In realilty, the people sending out these snares are often hairy Mafioso guys in their dressing gowns who know just how to talk to the average male libido. Should they convince someone that they really have found love, an actress is employed to turn on the emotional blackmail by phone and initiate the first in a series of requests for money to arrange her visa/buy a flight ticket/pay off kidnappers or any number of absurd pretexts. Naturally, she never gets on the plane.
But can true love be found abroad?
According to the senators who sponsored the recently-enacted International Marriage Broker Regulation Act designed to protect foreign women from stealthy male American predators, some 8,000 to 12,000 U.S. men marry foreign wives each year. The divorce rate of such couples is up to three times lower than the national average and hundreds of agencies exist to introduce American men to these Russian, Colombian or Filipina beauties. I just typed Russian girls into Google and 9 of the first 10 results turned up mail order bride or dating services.
Introduction agencies can serve a valid role. The honest ones can put you in touch with women in the destination country looking for long-term relationships. They can arrange tours and help with translation and bureaucratic difficulties. Surfing around some of the sites I had to wonder about the motives of some of the women involved, however.
My name is Ludmila and I am student of psychology. I am looking for man to care about me, care about our children and make my dream come true.
Her script might have been a little more convincing if the accompanying video hadnt shown her walking down a main shopping street in the Ukraine in lingerie. Other videos showed Russian student girls in bikinis, draping themselves around national monuments while they talked about their hobbies. I was somehow reminded of Miss World contestants talking about world peace. Then of course my girlfriend walked in and point blank refused to believe it was all part of my journalistic research
Gold diggers?
So were these beautiful girls really looking for true love or were they just in it for the money?
Any American guy looking to marry a woman from a poorer country is always going to have the doubt at the back of his mind that shes only going through the whole ordeal to get her hands on his bank account. And even if hes too enamoured with the hobbies of his new love to think about it, the social stigma of a mail order bride can make him the laughing stock of the community.
Thanks to the Beatles, we all know the money cant buy you love and why else would a young woman choose to leave home and marry a stranger?
Before I left Thailand last year I found an interesting guide on the shelf of the airport bookshop that was a manual for foreign men and their Thai wives. On the left hand side of the book the text was in English and opposite the same content was written in Thai. The idea being that couples could read the book together and navigate their way through the cultural minefield which can sink mixed marriages before they get started.
Particularly enlightening was the section on money. Thai women were informed that love and money are seen as separate and distinct concepts in Western society and that if their husbands seem stingy it doesnt mean that he doesnt care.
The men, on the other hand, were encouraged to understand that husbands in Thailand are expected to take care of the families of their brides. Its simply a form of gratitude for having raised the wonderful woman they have now married.
It seems that sometimes we get so caught up in looking for ulterior motives that we forget some of the basics of human nature.
Since the beginning of time marriage has had a strong economic aspect in cultures all over the world. How long ago was it in the West that a young mans suitability was based on his "prospects" and his ability to keep his bride "in the manner to which she has become accustomed?"
Many of us announce our wealth every day in the cars we drive, the clothes we wear, the places we frequent. And its not unreasonable to suppose that most women would prefer their partners to be reasonably solvent. Naturally, try to buy a feminist a drink and you might receive a knee to the groin but these are strange times
Asking for trouble
Many Americans who marry foreign wives do end up getting scammed, cheated or abandoned once her visa comes through but theyve usually invited trouble on themselves.
After years of loneliness they often step right off the plane into a bar in Bangkok and start dating the first girl who approaches them. Or else they choose a woman half their age who fulfills all their fantasies but who doesnt speak English and who sees them only as a walking wallet.
Finding love abroad is mostly about common sense. For a start, youre unlikely to find the woman of your dreams in a bar with girls doing pole dances in the corner.
Whether in Colombia, Russia or Thailand, respectable women with serious intentions live normal lives and it takes time to get to know them. You need to be able to speak at least some of the same language and have something in common. And if you expect her to emigrate, you might first want to live for a while in her country to appreciate what kind of culture she comes from.
And if you get to know her first on an Internet dating site, remember that no one whos honest will ever ask you to send money upfront. Period. And if the first couple of telephone calls go well, jump on a plane and go to meet her — if you discover she has a bad drinking habit and she cant stand your body odor well, at least youll have found out in time.
Finding love abroad can be thrilling. Hell, its one of the things that keeps me on the road all the time.
But while the average Vietnamese girl might be half the weight of her American counterpart, she may not be able to get your jokes and a festival like Christmas probably wont mean anything to her. She may cook food youre not used to and hate the weather but hey, at least you probably wont be able to understand what your mother-in-law says.
And lastly, before you go running overseas to look for love, ask a female friend if theres any way you could make yourself more attractive before you go. Terrible body odor, drinking before noon and an inability to listen are turn-offs to women anywhere you go.
---
Tom Glaister is the author of children's books www.bozoandthestoryteller.com and is also the founder and editor of www.roadjunky.com - The Online Travel Guide for the Free and Funky Traveller.