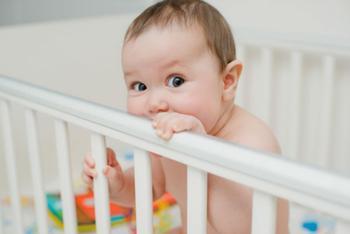 Finding out you're going to have a little girl or boy is an exciting moment that may send you rushing to the hardware store to select a paint color for the nursery.
If you're like many soon-to-be parents, your baby room fantasies are tinted in shades of light pink or baby blue. But experts say it may not be wise to go color crazy during a baby's first months.
Research shows that newborn babies see primarily in shades of black, white, and gray. For this reason, parents may want to reign in their desire to splash color on the walls — at least during a baby's first three months.
Visual stimulation
According to Essential Baby, "A monochrome color scheme filled with contrasting patterns and shapes provides a newborn with the best form of visual stimulation."
Shades of black and white send the strongest signals to a baby's brain, explains the Dr Sears Wellness Institute. These strong signals can help stimulate brain growth and aid in visual development.  
When it comes to creating a visually stimulating black and white nursery, the possibilities are endless. For a monochrome nursery that's anything but bland, consider incorporating these patterns and styles:
Introducing color
After three months, babies begin to see colors. To keep a baby's brain stimulated and growing, try adding some color to your monochrome nursery.
Too tired to break out the paint rollers or embark on a complicated DIY project? No problem. Simple art, furniture, toys, and even books can be a means of incorporating color.  
When your baby reaches the 12-month milestone, even more colors can be brought in. Colorful cushions, curtains, or wall prints may be helpful as babies grow and learn to differentiate between colors.