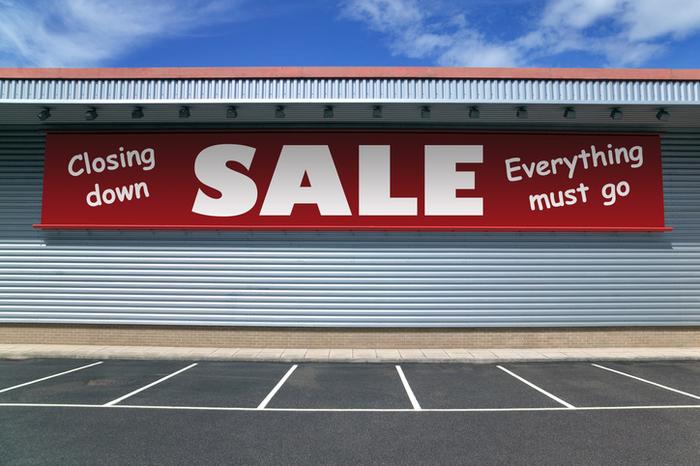 Retail stores come and go. Just ask Toys R Us, Blockbuster, Radio Shack, and Stein Mart. Now there are two more chains on their deathbeds – Tuesday Morning and Bed Bath & Beyond.
Not to turn someone's financial misery into a consumer's benefit in a mean-spirited way, DealNews.com tells ConsumerAffairs that there are several ways consumers can navigate store closings – what bargains they can expect and when is the best time to pounce.
What consumers should know about shopping store closing sales
"Early discounts are typically pretty minuscule. When a store closes, it's typically related to filing for bankruptcy so the businesses are still interested in making money where they can," Julie Ramhold, consumer analyst with DealNews.com, shared.
Because of that, initial discounts after the announcement tend to be rather lackluster.
"Think 10%-13% off at most. Those discounts can linger for a couple of weeks before they start to get better, so shopping a store closing sale early usually isn't a good money-saving move," she said.
Ramhold says that one key element in this roll of the dice is that the best items probably won't hang around long enough to hit the 50% off mark.
"Unfortunately, while early discounts might be on the smaller side, it may still be the best time to shop for really popular items," she said. "That's just because these will be the products that sell out first, which means they probably won't hang around long enough to see the deeper discounts that come later in these sales."
What about online? 
ConsumerAffairs asked Ramhold if shoppers can shop store closings online? Her short answer was "kind of."
"That is, you can typically shop a store's wares online, even if they're going out of business, but that may mean the same promotions aren't available, or even at all," she said, noting that the riskiest part of shopping sales online is that the website may also shut down before stores physically close which means a shopper probably has a very small window of opportunity shopping online. 
"And if you run into delivery issues, you may not be able to contact online customer service. That could mean having to go to your local store and if you can't get the help you need there, you may just be out of luck," she warned.
What's a good deal and what's not?
The first thing shoppers do when they see a closing sale is like a shark smelling blood. An item might seem like it's a deal of a lifetime, but how does one know?
"The easiest way to know if you're getting a good deal is to comparison shop," Ramhold urges, suggesting these methods – one for local shopping, the other for online:
Look at competitors that aren't going out of business and see what they're charging for the same or at least comparable products. If the store closing sale is offering a decent discount, jump on it; if it's the same price as elsewhere, or full price in general, it's probably better to skip. 

Check online while you're browsing a store closing sale to see if somewhere else has a better deal, or if the store closing promotion is basically the same as what everyone else is charging. It also helps to check prices early on during the sale as that'll give a good indication of where they're sitting and how far they can potentially fall.
Ramhold emphasized a couple of other points: For one, if anyone has coupons, gift cards, or rewards points, they need to use them as soon as absolutely possible because those options dry up quickly in a closing sale.
Another warning is that shoppers should assume that all sales are final – meaning there are probably no returns.
"If there are signs posted saying that all sales are final, great. But if you don't see anything stating that, don't assume purchases can be returned. If there's a chance that you'll want to return something, be sure to ask about the policy before making your purchase," she said in closing.