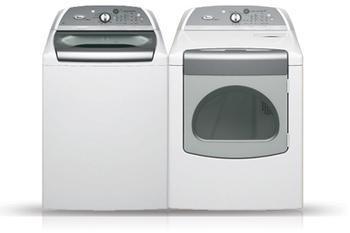 Nothing lasts forever, but surely a new washing machine or dryer should last more than a year or two before falling apart? Unfortunately, numerous readers who bought Cabrio-model washers from Whirlpool have written us to mention that exact problem. With over a week left in September, consider this sampling of reports we've received just since the turn of the month:
Larry H. of Madison, Ohio, wrote us on Sept. 21 to say that when he and his wife bought a new washer last year, "[W]e thought we would spend the money and buy top of the line." They decided to buy a Cabrio.
 "Within the first year the control board went bad, replaced under warranty," Larry told us. "Now, no matter how little or much of a load the wife puts in this piece of crap, it goes off balance! ... customer service doesn't give a crap because we also saw no need for an extended warranty having made such a large investment in a washing machine that we thought was built with a high standard of quality."
Larry ended his review with the admonishment: "SHAME ON YOU, WHIRLPOOL! You have lost a customer who has been buying your products for a long time but will never buy another, and will be warning everyone we can to do the same."
Off-balance
Sue E. of Elizabethtown, Illinois, also owns a Cabrio prone to going off-balance. On Sept. 20 she told us: "This Cabrio washing machine is really frustrating...It goes off-balance all the time, it does not matter if you have a full load or partial load. ... I try to put the clothes in evenly but it doesn't matter, it goes off balance ... The lid lock is a pain also; if you forget to put something in the machine, you hit the pause button, then you have to waaaitttttt forever until it unlocks, and wait forever to unlock when it goes off-balance.
Sue said she would not recommend a Cabrio to anyone seeking to buy new laundry equipment: "I would recommend a different washer, and check the reviews, which I didn't do :( "
Jim A. of Bridgeter, New Jersey, wouldn't recommend a Cabrio either. He wrote us on Sept. 23 to say, "Please do yourself a favor and stay away from both Whirlpool and this unit. I purchased it from a local dealership and paid $881, which included tax and delivery cost. In less than 2 years, it broke … After having a Whirlpool repair person come out, at a cost of $75, I was informed that the parts to replace would cost $800, not counting additional labor cost which was TBD."
He contacted Whirlpool and was bounced from agent to supervisor to manager, but "the best offer I was given was to buy the parts at a discount of $400 which did not include tax, delivery or labor ... it would have run approx. $550 to over $600 to fix a $771 washer ... The next Whirlpool item I buy will be never ... Whirlpool will not support you once the sale has been completed."
Heating element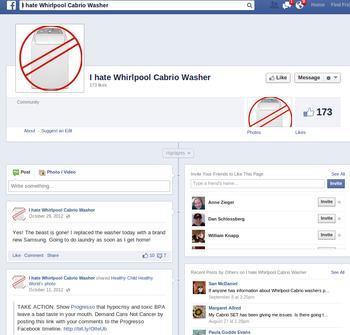 John H., Russellville, Arkansas, also had a new Cabrio crap out a year after he bought it. On Sept. 11, he told us about his problems with his Cabrio washer and dryer set: "The heating element went out on the dryer when it was less than a year old. I purchased the set at Lowes; they sent out a repair person, who called and told them it was the heating element, and he replaced it. Two weeks went by, and I could smell something burning."
When a Lowes repairman inspected the dryer, he blamed the problem on a faulty control panel. "Lowes replaced my dryer and I have not had any further issues with it. Lowes gets an A+," John said, but Whirlpool does not. After Lowes replaced the faulty dryer, "my washer went out about a year later; it was making the loudest noise on the spin cycle. The repair person ... told me that the washer was basically worthless, that the repair would cost more than the washer would to replace."
John tried getting the machine repaired anyway, though the repairman's pessimistic cost prediction soon proved right. "I found a repair/used appliance place; they repaired it for $235 and it ran for about 4 months. Then the noise returned. I have had it repaired again. Now [it] stops running with 27 minutes left in the wash cycle. I have had nothing but problems with this machine. I would not recommend Whirlpool to anyone. I'm going to have to replace this machine and it has cost me lots of $$. Junk!!"
Jim M. of Jeannette, Pennsylvania, had a slightly better experience with his Cabrio washer, which lasted four or five years before it started breaking down. He told us on Sept, 10 that "My 4-5 year old Whirlpool Cabrio 6300 began to display errors recently. F1 was the 1st error code I encountered. After giving the washer a hard shove and rocking, it began to work properly again...for a while." Other times, when he tried using the machine, he'd see an "LD" (long drain) error. "I could hear the pump running but with little water flow. Eventually it would time out."
Jim called a service technician, who concluded that the water pump was defective. "After spending $225 for the service call, the LD error resurfaced about an hour after the tech left," he told us. "Tonight I got the F1 error again, and once again the washer responded to a sharp rap. The replacement control board, which the F1 error code involves, is $220 plus labor. $440+ for a repair to a $600 or $700 washer? ...  I'm not sure what to do next...probably try to re-sell the new pump that was installed to recoup some of the money I paid for a non-working Cabrio."
Not many stars
Our readers aren't the only ones reporting bad experiences with various Cabrio models; a brief online search yields multiple one-star ratings among readers at Consumer Reports.
Reviewers on Amazon.com gave another Cabrio model three reviews with five-star ratings ... and forty-three reviews with one star. The one-star review voted "most helpful" warned consumers "Manufacturer's flaw leads to continuous repair."
There's even a Facebook page titled "I hate Whirlpool Cabrio Washer" with 173 "likes"—though nobody's updated the page since October of last year.