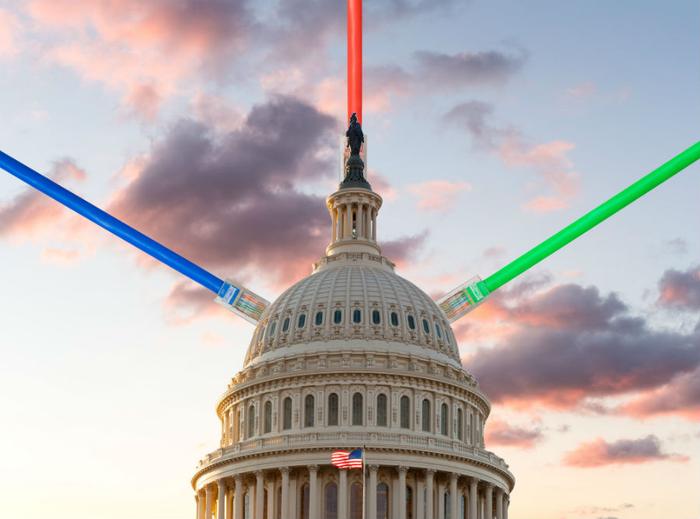 The Supreme Court decided on Monday that it will not consider a series of challenges from telecom companies to Obama-era net neutrality rules designed to bar internet service providers from manipulating loading speeds for specific websites or apps.
The ruling is significant because it allows a previous ruling upholding the constitutionality of the regulations to stand, which may be used as a precedent in the future by another administration.
For proponents of net neutrality, Monday's Supreme Court decision represents a victory. It means that the D.C. Circuit court's 2016 decision to uphold "both the FCC's classification of broadband as a telecommunications service, and its rules prohibiting broadband providers from blocking or degrading Internet content, remains in place," senior counsel John Bergmayer of consumer advocacy group Public Knowledge said.
"Much of the current FCC's argument [against net neutrality] depends on ignoring or contradicting the DC Circuit's earlier findings, but now that these are firmly established as binding law, the Pai FCC's case is on even weaker ground than before," Bergmayer said.
Two justices recused themselves
Two conservative justices -- Chief Justice John Roberts and Justice Brett Kavanaugh -- "took no part in the consideration or decision of these petitions," the court announced.
Amy Howe of SCOTUSBlog explained that Kavanaugh was "expected to recuse himself from voting on the petitions because he had participated in the cases while on the D.C. Circuit, and he did. But Chief Justice John Roberts also recused himself – presumably (although there is no way to know for sure) because he owns stock in one of the companies challenging the rules."
By a 4-3 ruling, the Supreme Court denied petitions brought by AT&T and broadband lobby groups NCTA, CTIA, USTelecom, and the American Cable Association.
The Trump administration overturned net neutrality regulations last year. They have not been in effect since June.
Jessica Rosenworcel, the Federal Communication Commission's only Democratic Commissioner, noted that the FCC had argued that because the Trump-era FCC had repealed the 2015 rules, the 2016 decision was moot and should be wiped from the books.
"It wasn't enough for this @FCC to roll back #NetNeutrality. It actually petitioned the Supreme Court to erase history and wipe out an earlier court decision upholding open internet policies. But today the Supreme Court refused to do so," Rosenworcel tweeted.
"Let's call this interesting," she added.