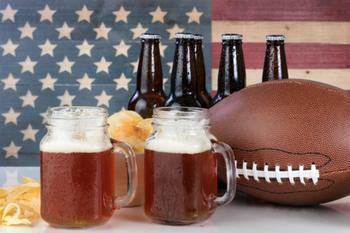 The 51st Super Bowl will be played on February 5, with the game becoming almost a national holiday in recent years.
And as friends gather to watch the game, large amounts of beer and other alcoholic beverages are consumed. For people in recovery, or who have embraced sobriety, going to a Super Bowl party can be something of a challenge.
In a growing backlash against excessive alcohol consumption, American Addiction Centers (AAC) (an Authorized Partner), a chain of treatment centers, is pushing a sober movement for Super Bowl LI. It's challenging the idea that the game and alcohol have to go together.
"I think it's almost a stigma in this country that in order to have a good time, you have to be under the influence and that is just not true," said Nicole Vasquez, National Alumni Manager, American Addiction Centers (an Authorized Partner). "That is why our alumni team exists because it is so important, particularly for young people who get sober, to know you don't need substances to have fun in recovery."
The Sober Bowl
For people who have gone through AAC's treatment programs, the company is sponsoring the "Sober Bowl" concept. It's promoting various sober Super Bowl celebrations on social media. People are being encouraged to host their own sober Super Bowl parties and post pictures online.
Former NFL players who have gone through recovery programs are applauding the move. Former quarterback Ryan Leaf of the San Diego Chargers says the movement gives everyone the chance "to have a safe and sober alternative to the status quo of what a Super Bowl party is."
Tips for hosting
If you are hosting a Super Bowl gathering where some of your friends may be in recovery, some simple courtesies are all that are necessary to ensure everyone has an enjoyable evening.
According to Sunrise Detox, there should be plenty of non-alcoholic beverages available for guests. Guests should not be offered specific beverages, which might put them on the spot or cause embarrassment.
"Don't, whatever you do, commit some gaffe like passing around a pitcher of daiquiris and making some comment like, 'Oh ho, none of this for you!' You may be challenging the person at a particularly weak moment," the center advises on its website.
Morningside Recovery, another treatment center, offers advice for throwing a sober party that people will want to attend. To make the event special, it advises to focus on the food instead of the beverages.