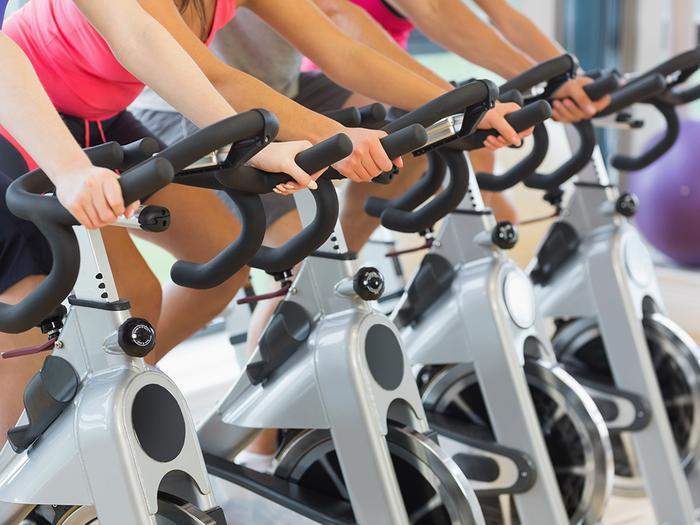 A woman who participated in a SoulCycle class in Beverly Hills last year claims that she was impaled by the equipment. Court papers obtained by the New York Post describe the horrific leg injury that 42-year-old Donna Wood claims was the fault of a SoulCycle stationary bicycle. According to the report, Wood somehow caught her right leg on a support beam when she was attempting to dismount the bike. 
"She was left dangling by her right leg, which she could not dislodge," the suit reportedly says. "Though she screamed for assistance, because the class was in cool down mode and music was still playing loudly and the room still dark, she was not heard or seen for several minutes."
It was a classmate who eventually freed Wood, her suit says. Wood then took an Uber to Cedars-Sinai Medical Center and received 50 surgical staples. She developed an infection while recovering at the Hotel Palomar in Westwood and now lives with "a deep and permanent scar." A SoulCycle spokesperson has not yet returned an interview request from ConsumerAffairs. 
Intense indoor cycling at a steep price
SoulCycle is a New York-based chain whose cycling classes have gained a cult-like following among the thin and the rich. At about $30 per session, a single, 45-minute SoulCycle class costs more than some gym memberships would cost for an entire month. Yet the classes are so popular in some areas that fanatics even report getting "wait-listed" when space runs out. Once finally inside the coveted cycling class, instructors lead students on a high-intensity, dimly-lit, and loud workout. A Vanity Fair reporter who attended a SoulCycle class in the Hamptons describes the exercise in detail:
"SoulCycle rooms are hot and sweaty. The music is deafening, and it's almost pitch-black. Spinning may sound easy—it's only riding a bike, after all—but you rarely get to sit in the seat, or 'saddle,' as they call it; your body hovers over the bike like a jockey on a horse. After 45 minutes of this, things start to get weird. It's like a Native American sweat lodge: everyone is in a stunned, near-hallucinatory state…"
Whether it's that they are in such a "stunned, near-hallucinatory state," or they just aren't used to cycling, a few participants have made reports similar to Donna Wood's about SoulCycle classes.
Riding fixed
Participants in SoulCycle classes are instructed to wear shoes that "clip-in" or attach to the pedals, with cycling shoes available on loan for riders who don't have their own. The stationary bike itself, called a spin cycle, is fixed gear, meaning that the pedals move with the wheel and there is no freewheel to allow for coasting. A fixed stationary bike is more physically and technically challenging to ride than a traditional stationary bicycle, according to testimony that several SoulCycle instructors gave in a 2012 trial.
"Unlike a regular stationary bike, each pedal will result in one revolution of the wheel," says court papers, describing the testimony of SoulCycle instructors during a 2012 trial. "A rider cannot keep both feet still and let the wheel spin. Just pushing with your feet to attempt to stop the wheel is futile 'unless you have very strong legs.'" The only way to stop the bike is to make resistance higher or apply the brake. 
 A waiver that new customers are asked to sign describes what could go wrong if a student doesn't come to a stop properly. "The SOULCYCLE bike has a weighted flywheel and a fixed gear," the waiver explains. "This means that in order to stop, you must gradually slow your pedal strokes rather than stopping abruptly. Do not dismount the bike or remove your feet from the pedals until both the pedals and the flywheel have stopped completely. Failure to comply may lead to loss of control and serious injury."
Previous lawsuits filed by new students 
That theoretical accident caused by a "loss of control" is similar to actual SoulCycle accidents described in news reports and court papers. In 2009, Wolf Scheck was taking his first SoulCycle class in Manhattan and struggled to keep the same fast pace as the rest of the class. When the instructor then told the group to stand up, Scheck says in the lawsuit, "the machine grabbed my [right] leg and pulled it around...'' The pedals kept revolving, "almost on their own," with his feet still clipped in, his suit says.
After seeing him struggle and hearing a popping sound, people in the class helped remove him from the bike and get him into an ambulance. At the hospital, doctors discovered that he had torn the quadricep muscle in his right leg, the suit says. 
In another lawsuit, filed last year, customer Carmen Farias alleges that she was not properly taught how to use the bike before class. During the session, Farias wanted to slow down but felt "bullied" by her teacher to keep going, she said in court papers. She then describes falling off the bicycle: "Fatigue and disorientation overcame Carmen and she fell to her right and off of the saddle of the spinning cycle."
But Farias' feet remained clipped into the pedals as she lay on the ground: "Although her head and torso were now lying to the right side of the spinning cycle, Carmen's left and right foot remained locked to the pedals," the report says. With the pedals continuing to turn with her feet attached, her ankle was dislocated multiple times, causing Farias to become what the court papers described as "catastrophically injured." 
Donna Wood, meanwhile, is accusing SoulCycle of "negligence by using unsafe stationary bikes." She is seeking unspecified damages.