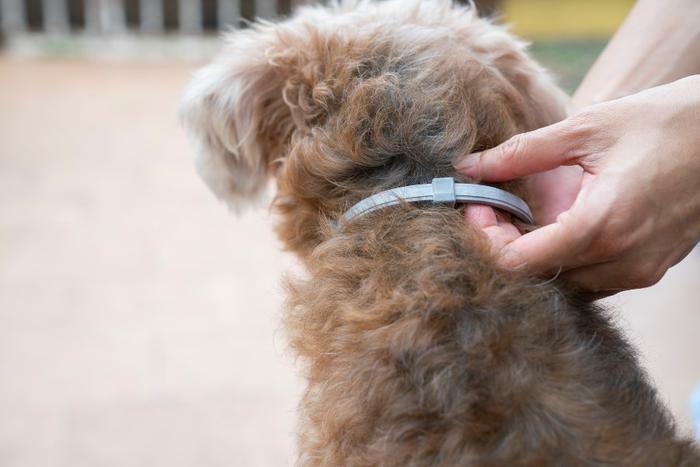 A top-selling flea and tick collar has reportedly been linked to nearly 1,700 pet deaths and 1,000 incidents involving harm to humans, according to the Midwest Center for Investigative Reporting. 
The group says Seresto pet collars have been named in approximately 75,000 incident reports with the Environmental Protection Agency (EPA), but the agency has yet to issue an official warning about the apparent risks of the collars. 
"The EPA appears to be turning a blind eye to this problem, and after seven years of an increasing number of incidents, they are telling the public that they are continuing to monitor the situation," Karen McCormack, a former EPA official, said of the agency, according to the report. "But I think this is a significant problem that needs to be addressed sooner rather than later."
McCormack added that Seresto collars, which are developed by Bayer and manufactured by Elenco, "has the most incidents of any pesticide pet product" she's ever seen. 
EPA responds
Seresto's pet collar works by slowly releasing chemicals into the pet's body over time. The active ingredients are imidacloprid and flumethrin. The former affects the central nervous system of fleas, and the latter repels and kills ticks. 
In the report, an EPA spokesperson was quoted as saying that no pesticide "is completely without harm." 
"EPA ensures that there are measures on the product label that reduce risk," the spokesperson said. "Some pets, however, like some humans, are more sensitive than others and may experience adverse symptoms after treatment."
In another statement, the agency appeared to place some of the blame for its inaction on the Trump administration 
"Under the Biden-Harris Administration EPA has returned to its core mission, which includes protecting our pets' health," the statement said. "We take every incident reported seriously and review these data to see whether action is necessary." 
The agency said it "encourages pet owners to read the entire label before using the pesticide product and follow all directions carefully, including monitoring your pet after application to see if side effects occur. If side effects develop, the label tells the consumer to consult the pet's veterinarian immediately."
Consumer reviews
As of June 2020, the collars have been linked to numerous incidents involving both pet and human harm, according to EPA documents. 
Consumers reviewing the product on Amazon have said they noticed changes in their pet's behavior that appeared to crop up in connection with the use of the collar. Others have claimed the collar caused skin rashes or neurological issues in their pets. 
"Put this collar on my 10 pound Maltese and 14 pound Shih Tzu in May 2016," one reviewer said. "Within 3 days the Shih Tzu was laying in his bed all day whining and every time I picked him up he would cry out, as if he was in pain…. take the collar off, bathe him AND by the next morning he is back to normal!!!! Called my Vet and Bayer and was told he must be allergic to an ingredient in the collar."
Although the number of reported incidents may be far fewer than the number of incidents that have actually occurred, the sheer volume should be a cause for concern for pet owners. Nathan Donley, a senior scientist at the Center for Biological Diversity and an expert on U.S. pesticide regulation, told USA Today that the reported incidents are "just the tip of the iceberg."
"My God, if this doesn't trigger a concern, that's a fundamental problem with the process," Donley said in the report. "The fact that EPA has not done anything to alert the public that there might be an issue here, it strikes me as bordering on criminal. The EPA has this system in place to compile information and it's just collecting dust in some database."