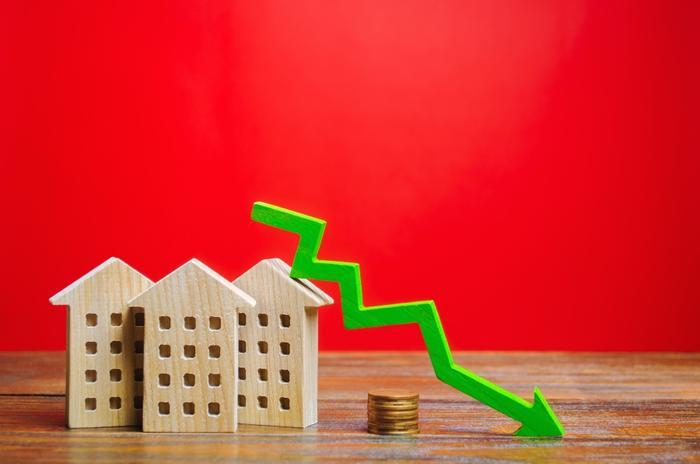 Photo (c) Andrii Yalanskyi - Getty Images
The rise in mortgage rates to more than 7% brought the housing market to a screeching halt earlier this year. But now rates are dropping.
The Mortgage Bankers Association (MBA) reports the average 30-year fixed-rate mortgage is now well below the 7% mark. The rate is falling for a number of reasons, including the fact that fewer people are buying homes.
"Mortgage applications decreased 2% compared to the Thanksgiving holiday-adjusted results from the previous week, even as mortgage rates continued to trend lower, "said Joel Kan, MBA's vice president and deputy chief economist. "Rates decreased for most loan products, with the 30-year fixed declining 8 basis points to 6.41% after reaching 7.16% in October."  
With fewer people applying for loans, lenders must be more competitive. They got a boost recently when investors began buying up mortgage-backed securities, locking in that 7% rate. The increase in Wall Street's demand for mortgages also helped bring down rates.

More money is available
MBA also reports there is more money available for mortgage loans, helping to ease rates even more.
"Credit availability increased slightly in November, the first increase in nine months as lenders continued to navigate a challenging environment brought on by higher rates and a much slower housing market," Kan said. 
Finally, the yield on the Treasury's 10-year bond has been going down over the last six weeks. From its recent high of 4.3%, the interest on the 10-year bond is now down to about 3.5%. The yield has a direct bearing on mortgage rates and the lower the yield goes, the lower mortgage rates can go.
How low?
The question would-be homebuyers are probably asking is, "will rates keep going down enough to make homes more affordable?" Kan notes that the average mortgage rate has fallen nearly three-quarters of a percentage point in just one month. However, it's about 3% higher than it was last December.
Housing market experts have different predictions for 2023 mortgage rates. Rick Sharga, ATTOM's executive vice president of market intelligence, has among the most hopeful outlooks.
Sharga tells Forbes that if the Federal Reserve is able to bring inflation under control next year with its series of rate hikes, it can be expected to back off and allow the market to return to normal. His "best case" assessment is an average rate of between 5.5% and 6% by this time next year.