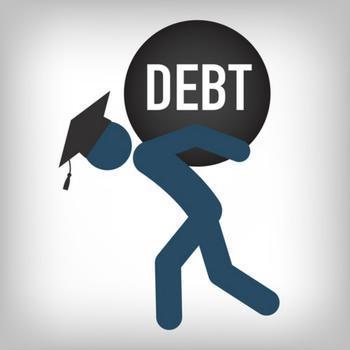 Here's some good news for recent college graduates: if you're entering the job market with student loan debt, chances are improving that you can find an employer that will help you pay it off.
Companies often spend millions of dollars on incentives to attract the best young talent. In recent years, with student loan debt emerging as a major burden for young people just entering the workplace, firms have tried to set themselves apart by applying some of that incentive money to student loan debt. The idea seems to be catching on.
Outplacement firm Challenger, Gray & Christmas reports nearly 73% of the firms it surveyed either offer, or plan to offer, a student loan assistance package.
Opportunity to recruit
"With the average student loan borrower from the class of 2016 facing about $37,172 in debt according to Forbes, - and those with advanced degrees likely have much higher debt - it's no wonder employers have begun to see this as an opportunity to recruit young workers," said Andrew Challenger, the firm's vice president.
Part of the reason may be the makeup of the workforce. Baby Boomers are retiring every day, and must be replaced by younger workers. When an employee is bogged down with overwhelming debt, he or she may become less productive.
Challenger's numbers show 33% of companies reported between 26% and 50% of their workforce is now made up of Millennials. A huge majority of companies are zeroing in on that age group in their recruitment efforts.
Most plans are set for the future
The challenge for jobseekers is finding one of the companies that is planning to offer student loan assistance in the future because, according to Challenger, most have yet to put their plans into practice. Only 22% of companies currently offer that assistance, the outplacement firm says.
"It's likely we'll see an increase in this kind of offering from companies, especially as companies in industries like tech and financial services continue to see labor shortages," said Challenger.
According to the Society for Human Resource Management (SHRM), some companies will pony up as much as $5,000 or $6,000 a year. In some cases, the repayment packages are a replacement for tuition reimbursement. Some companies are offering student loan repayment in lieu of sign-on bonuses, and others offer loan repayment funds as incentives.
As of last August, Forbes listed more than a dozen companies offering some kind of student loan repayment. They include CommonBond, NVidia, Aetna, Pricewaterhouse Coopers, Fidelity Investments, SoFi, Natixis Global Asset Management, LendEDU, Chegg, ChowNow, Kronos, and Gradifi.
Each company offers varying level of support.