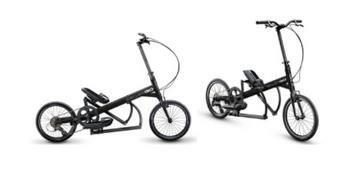 ElliptiGO of Solana Beach, Calif., is recalling about 3,800 ElliptiGO Arc bicycles sold in the U.S. and Canada.
The bicycle frame can break while riding, posing fall and injury hazards to the user.
The firm has received 12 reports of broken frames and 11 reports of cracked frames. Six minor injuries resulting from falls have been reported, including lacerations, abrasions, road rash, and a broken helmet.
This recall involves the three models of ElliptiGO Arc bicycles: ElliptiGO Arc 3, ElliptiGO Arc 8, and ElliptiGO Arc 24.
The Arc 3 model has three gears, the Arc 8 model has eight gears, and the Arc 24 model has 24 gears.
ElliptiGO Arc bicycles are composed of an aluminum frame with the words "ElliptiGO" and "Arc" displayed on each side, a front fork, a steering column attached to handlebars, foot platforms situated on drive arms that are attached to swing arms, a front wheel and a rear wheel, front and rear brakes, and a variety of other components.
The bikes, manufactured in Taiwan, were sold at specialty bicycle and fitness stores nationwide and online at www.elliptigo.com and Amazon.com from November 2015, through December 2020, for between $500 and $1,500.
What to do
Consumers should immediately stop using the recalled ElliptiGO Arc bicycles and contact ElliptiGO Inc. for a replacement bike, credit, or refund. The amount of credit or refund will be prorated based on the age of the bike.
Consumers may contact ElliptiGO toll-free at (888) 551-0117 from 9 a.m. to 4:30 p.m. (PST) Monday through Friday, by email at info@elliptigo.com, or online at www.elliptigo.com. Consumers can click on "Arc Recall" at the bottom of the page for more information.