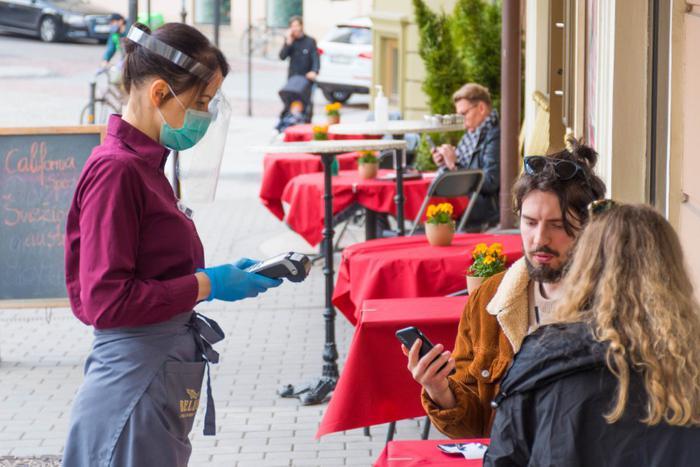 Consumer dining priorities seem to be going through a major shift. 
A whopping 64 percent of the consumers who like to dine out say the most important thing to them is that restaurant staff are wearing personal protective equipment (PPE), according to a recent survey. Interestingly enough, that's a more important aspect than food quality.
A new study fielded by Toast, a restaurant marketing/engagement firm, suggests that diners are taking pandemic-related precautions seriously. On top of the PPE metric, another 52 percent of the 700 survey respondents say that the cleanliness of the establishment -- particularly menus, tables, and surfaces -- are a major factor in deciding where to sit down and have a meal. 
Restaurants had to reinvent themselves
Restaurants were left to their own devices at the apex of the original response to the coronavirus. Many have retooled, focusing on take-out or prepare-at-home meals. And with Americans spending more than half of their food budget eating outside the home, many consumers are anxious to eat out again and satisfy their foodie fancies.
"Generally … sales are starting to trend upwards again, but things remain, and will remain, different," said Kelly Esten, Toast's VP of Product Marketing. "Restaurateurs are now faced with figuring out how to overhaul how they operate their businesses in this new world."
Instinctively, consumers want to get back to their favorite spots -- restaurants where they love the food, service, or atmosphere. Esten agrees, but she believes that many diners are wary and will stick to takeout and delivery for now. 
"Everyone is navigating the new normal with a new perspective: changed expectations of restaurants, how they choose whether and where to eat out, and what great hospitality looks like to them," she wrote.
The new consumer expectations that came out of Toast's study break down like this:
Drive-thru availability is the most important technology-oriented shift, pointed out by 37 percent of the respondents.

Contactless or mobile payment options came in as the second-most important aspect, with 34 percent of the respondents giving it the nod. As ConsumerAffairs found out recently, contactless payments might perform better if consumers were better informed about the option.

Pay-at-table technology and online ordering were each preferred by 33 percent of respondents.
The importance of safety
Toast's survey certainly went deep in trying to find out the minutiae of what diners want in their post-COVID-19 world.
Following staff wearing PPE as the most wanted change, items like hand sanitizers at each table (49 percent), single-use menus (40 percent), and single-use utensils (37 percent) led the way as the changes that restaurateurs are going to have to make to stay in business.
The high-level takeaway here, Toast says, is simple: restaurateurs need to keep safety, cleanliness, and health top of mind.