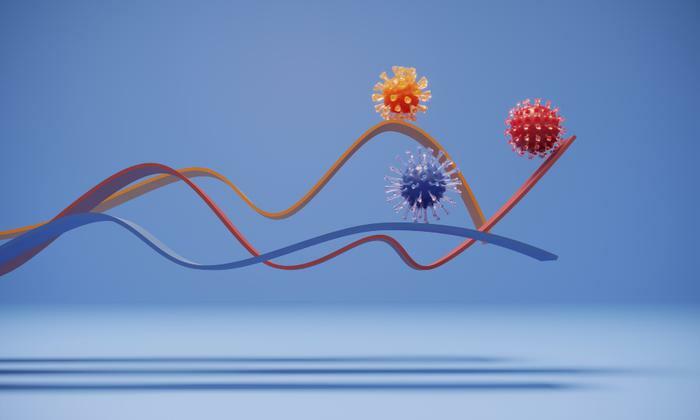 COVID-19 ‌tally‌ ‌as‌ ‌‌compiled‌‌ ‌by‌ ‌Johns‌ ‌Hopkins‌ ‌University.‌ ‌(Previous‌ ‌numbers‌ ‌in‌ ‌parentheses.)‌
Total‌ ‌U.S.‌ ‌confirmed‌ ‌cases:‌ 81,458,536 (81,377,661)
Total‌ ‌U.S.‌ ‌deaths:‌ 994,136 (993,744)
Total‌ ‌global‌ ‌cases:‌ 514,488,542 (513,434,187)
Total ‌global‌ ‌deaths:‌ 6,239,016 (6,237,914)‌
Scientists find new COVID-19 variants
Cases of COVID-19, which fell sharply in March, are rising once again in the U.S. as scientists identify new mutations. So far, these subvariants appear to be milder than the original virus.
The two new subvariants have been given the names BA.4 and BA.5. They first appeared in South Africa, where the Omicron variant was first identified. But scientists say they aren't sure if the new subvariants are responsible for a sizable uptick in South African cases.
The Washington Post recently cited a study that suggested the new subvariants have the potential to set off a new wave of the virus. Cases in the U.S. have been steadily rising over the last two weeks.
The worst could be ahead, says Bill Gates
All around the country cases of the coronavirus are near pandemic lows and life is getting back to normal. But Bill Gates, co-founder of the Bill and Melinda Gates Foundation, is worried that the virus could make a comeback.
"We're still at risk of this pandemic generating a variant that would be even more transmissive and even more fatal," Gates told the Financial Times. "It's not likely, I don't want to be a voice of doom and gloom, but it's way above a 5% risk that this pandemic, we haven't even seen the worst of it."
Cases of COVID-19, caused by the BA.2 subvariant, are spreading across the U.S. However, hospitalizations have remained low because BA.2 doesn't appear to be causing severe symptoms in most patients.
Study finds UV dosage to kill COVID-19
At the beginning of the pandemic, there was heightened concern about the spread of the virus from contaminated surfaces. There was a run on hand sanitizer and Clorox Wipes. 
Ultraviolet (UV) radiation was also seen as a way to kill the virus, but no one knew what dosage would be effective without harming people. Now, researchers at Binghamton University may have figured it out, possibly clearing the way for ultraviolet light to be used in large capacity public spaces.
The researchers say their work answers many of the questions about UV's properties and lays the foundation for health standards about what offers true disinfection.
Around the nation