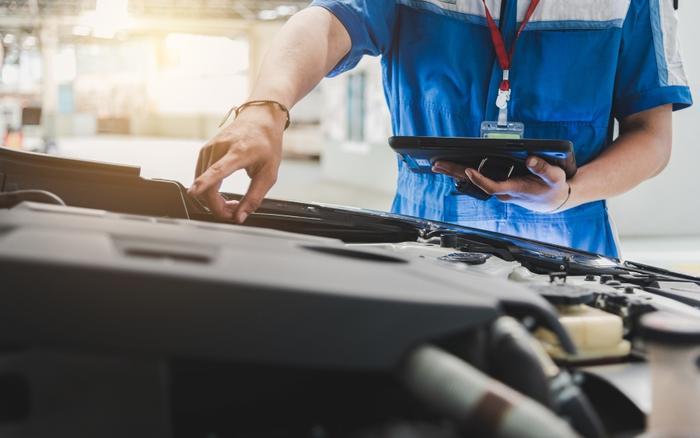 At the 2020 Consumer Electronics Show in Las Vegas, there were lots of things that played to the "connected car" category. But there were also some things that ConsumerAffairs thought were important beyond just connecting things.
Here's a few of the things that impressed us.
Lock'er Down
Even though many states offer gun owners the right to carry a weapon and put it in the glove compartment or on the backseat, children who have access to them might wind up hurting or killing themselves or someone else.
To address the issue, Lock'er Down -- a family-owned business out of San Antonio, Texas -- has built a secure gun safe that fits in the consoles of Dodge, Chevrolet, Toyota, and other brands of pick-up trucks. 
The Matrix Wand
Is the Matrix Wand a new David Copperfield toy he designed with Keanu Reeves? Nope, the Matrix Wand is a device that vehicle collision repair shops can use to diagnose a vehicle after an accident so they can make sure they fix any and all electronic features in the car that may have been affected.
More than 90 percent of all consumer vehicles produced these days include at least one Advanced Driver Assistance System (ADAS) feature. When a crash occurs, any number of a vehicle's electronic parts can be impacted. The Matrix Wand integrates something called the Mitchell Reference Database -- a cross-reference guide for everything on a vehicle -- that can help a repair shop make sure any ADAS feature they replace is done within a millimeter of accuracy.
When's the last time your TPMS was checked?
There aren't any statistics to support this, but is there one person on the planet who gets their jollies off of fixing flat tires? We don't think so...
What's worse is that a flat tire isn't always just a flat tire. There can be blowouts that can damage a vehicle or cause it to lose control, putting the driver's and passengers' lives in jeopardy.
Some 12 years ago, a U.S. law grew out of the Ford Explorer / Firestone Tire tire failures which mandated that all passenger vehicles were required to have warning systems as they relate to tires. It's called TPMS -- tire-pressure monitoring system --  and it's an electronic system designed to monitor the air pressure inside the pneumatic tires on various types of vehicles.
TPMS isn't exactly a household word, but the ConsumerAffairs recalls section shows that TPMS problems occur often, and on lots of different models of vehicles.
Nonetheless, like most anything else in the tech world, TPMS can fail or malfunction, and many consumers simply aren't aware of that. According to Andy Tseng, a project manager who oversees TMPS for automotive aftermarket parts manufacturer Cub Elecparts, Inc., a vehicle's TMPS "should be replaced every three years and are recommended to be replaced before they fail." 
Fail? Yep. Cub claims that every TPMS sensor will eventually fail due to a dead battery and, at best, the battery life in a TPMS sensor is approximately 5-7 years and is not serviceable. 
In Cub's estimation, there's over 150 million sensors on the road with batteries over 3 years old, and that number is growing. The word of warning to consumers is pretty simple: the next time you're having your vehicle serviced, asked that the TPMS is checked. Tseng said a perfect time is when a car owner is having their tires changed so the additional labor cost is minimal.