The motor housing can overheat, posing a fire hazard
10/25/2017
|
ConsumerAffairs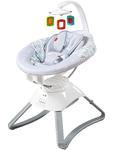 Fisher-Price of East Aurora, N.Y., is recalling about 65,000 Soothing Motions Seats sold in the U.S., and Canada.
The motor housing can overheat, posing a fire hazard.
The company has received 36 reports of the product overheating, including one report of a fire contained within the motor housing. No injuries have been reported.
This recall involves Fisher-Price Soothing Motions Seats with model numbers CMR35, CMR36, CMR37, and DYH22 and Smart Connect Soothing Motions Seat...
More
A center tab on the chest clip may break, posing a choking hazard
06/21/2017
|
ConsumerAffairs


Britax Child Safety is recalling 207,037 B-Safe 35, B-Safe 35 Travel Systems, B-Safe 35 Elite, B-Safe 35 Elite Travel Systems and BOB B-Safe rear-facing infant child safety seats, model numbers E1A183F, E1A185M, E1A185P, E1A186R, E1A203F, E1A205M, E1A205P, E1A206X, E1A206Z, E1A207E, E9LU65V, E9LU66X, E9LU66Z, E9LU67D, E9LU67E, EXA185M, S02063600, S02063700, S03803400, S03803500, S03803700, S03803800, S03803900, S04144400, S04144500, S04144600, S04145000, S04402800, S048...
More
Sort By