Kenmore Gas Grill
Recognized as a top appliance brand for 100 years, Kenmore brings a new level of performance with appliances that deliver time savings, convenience and great results. From quickly cooling drinks to laundry loads completed in less time, Kenmore is the most awarded brand in the industry.
The Kenmore brand understands its customers' wants and needs. Being in the lives of over 100 million Americans, performance innovations are a top priority of Kenmore product development. Ongoing engagement with our customers before, during and after purchases will help us maintain the honor of industry leader.
Consumer Complaints and Reviews

I purchased a Kenmore 5 burner grill about 5 years ago (model 148.16656011) thinking that it would be a brand that would last. I always cover when not in use. The fire pit has corroded which is an extremely hazardous condition as the fire pit separated the burner section from the propane compartment. Looked online and I saw Sears was replacing the fire pits on certain models due to a manufacturing defect. Called customer support to be told mine was not on their list of models with the issue (even though my description is exactly the known issue) and that I would need to pay a tech to come to the house to quote a price on the replacement part. Escalated several times, but to no avail. I was transferred from dept to dept and was disconnected several time. Very poor customer service.

When searching Kenmore grill, Kenmore claims to care about its consumers and the wants and needs. Clearly it's all fluff and has no real meat to that statement. This BBQ model 146.16191822 is of poor quality. The BBQ spent each winter in the garage. Covered whenever not used. Still the burners are rusted and cracked. The diffuser plates are rusted and falling apart. The drip pan is about to fall apart. Burners are under a 5 yr warranty, but they won't honor it. They want to charge for a tech to come out and look at them. And the cost to replace these parts cost more than the BBQ. I will spend more money for a better Brand to avoid such poor quality and customer service. I'm guessing most people don't buy these twice. Repeat customers are the best customers. They need to realize this. Just lost a customer and I will convince others not to buy Kenmore.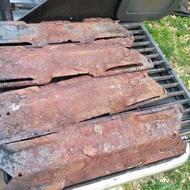 I have to let you know how disappointed I am in your Kenmore Gas Grill (Model # 146.34461410) that I purchased in Sept 2014. When I bought this grill I also purchased a cover for the grill - so anytime the grill is not being used - the cover is on to protect it. Just 2 weeks ago - we were using the grill and while it was on - the tray underneath to catch the grease fell - apparently from being completely rusted thru. Now this could have turned out horribly by starting a fire - but luckily it didn't. So, I stopped at my local Sears to see about ordering a new tray - they instructed that I needed the model number and that I could order it online myself.
So, I went home - found the model number - and looked online. Much to my shock - my grand total for a new tray was $38 - $38 for another tray that will more than likely rust thru like the original. And this is not the only problem - the whole rest of the inside of the grill is rusting completely out. The burners covers are junk. The clips that hold them in place on the back of the grill have rusted completely off. And even the grill trays (where you put your food) are rusting.
A grill that I spent good money on should not be falling apart after only 2.5 yrs. I am going to have to buy another grill this spring - and you can be sure I will not be buying another Sears/Kenmore product. If I bought all new replacement parts for everything that is rusted on mine - it would cost me more than buying a new grill. I cannot believe how cheaply made your products have become. I have always been a believer in Sears and their products - until now!!! I am a very unhappy former customer. I have attached pictures for your viewing pleasure.

I purchased a Kenmore Stainless gas grill Model 148.16154211 three years ago for over $400. All worked great until I looked at the panel below the burners and it was completely rusted through. Why would Sears make a stainless grill and use regular steel where the grease falls to be collected. The main tip off in the warranty should have been rust is only covered for ONE year except for the burners. I assume all Sears grills are made this way - show stainless steel only where it shows. The other problem is this panel is riveted on and not included in the parts list - great thinking on Sears part. I would not recommend any Sears grill due to poor design. However, this seems to be the typical products that are bought today - poor design and do not supply repair parts so it will get thrown away. No wonder the landfills are overloaded.

Purchased Kenmore propane gas grill from Sears model 146.16132110 and firebox rusted out and hanging from bottom of grill. Called customer service and they said it wasn't covered under warranty or model under the recall. The charge for the firebox was roughly $100 with shipping. My searing burner stopped working also and part was covered, but they wanted to charge me to send a technician out? WTH!? I asked if they could just sent the part and I would take care of it and they said no, a technician would need to come out and there would be a charge.
Also, all the flame Tamers were rusting away... Those were around $22 each X3. I can buy a new grill for what they want to replace a few parts. Rusting began the first summer I was using it. A few years later and the grill is unusable. What a garbage product and a terrible company that does not stand behind their products. Could have sent me the firebox replacement free because this is a known flaw with these crappy grills. Needless to say, I will Never purchase another Sears or Kenmore product again and make it a point to let everyone know of my experience to stay away from this brand. Shame on you Sears.
How do I know I can trust these reviews about Kenmore Appliances?
762,878 reviews on ConsumerAffairs are verified.
We require contact information to ensure our reviewers are real.
We use intelligent software that helps us maintain the integrity of reviews.
Our moderators read all reviews to verify quality and helpfulness.
For more information about reviews on ConsumerAffairs.com please visit our FAQ.

I purchased a Kenmore Gas Grill (model #16154210) in February, 2014 and noticed the drip pan in the burner box had rusted out by the summer of 2016. After doing some searching online I found out that Sears was taking responsibility for this defective part on various models of Kenmore gas grills, including my model. I called Sears Parts Direct and they forwarded my call to the department that handles this problem. I was told that my model was indeed part of the voluntary recall and they said they would send me the part free of charge. They also said once I received the part, to call them to make an appointment for a technician to come out and remove the defective part and install the new one. I was told the installation would be of no cost to me. I asked twice if I would incur any costs for this repair and they stated "no".
I received the part in just a few days and made the appointment for the technician. I decided to remove all of the components myself to save the technician some time. By the time he got to my home all he had to do was drill out two rivets, remove the old drip pan, install the new drip pan and use two screws to secure it... 10 minutes max. I told him I would put the rest back together. He then proceeded to print out an invoice from his handheld printer and asked me to sign it. After looking it over, I noticed it was a bill for $198.00. I told him this was a recalled item and the parts and labor were to be paid by Sears. He told me I needed to pay him. I refused to sign the invoice and told him to take it up with Sears.
I thought all was good until I received an invoice from "National Claims Center" in late December, 2016. I called the number on the invoice from "National Claims Center" and it was an automated system that was for payments only. There were no other phone numbers or contact information on the invoice other than 10 paragraphs telling me how to dispute the charges. I called Sears about this and they said "You need to write a formal letter stating why you are being wrongly charged." I gave the person on the phone my service order number and he assured me that I am not responsible for any payments associated with this repair. I asked him why I needed to write a letter when it is Sears who is at fault for billing me in the first place? He just repeated that I need to write a letter to "National Claims Center". No matter what I said to this man, he just kept repeating the same thing about writing the letter.
I didn't write the letter but I did send an email to Randy Mac who is part of the NBC4 Investigative Team. They got back to me in one day and asked for me to contact them with my story. I decided to see if Sears would make this right without me having to go that route since Sears has been a part of my life for 55+ years. Well I got another invoice today with late charges added so I will now get the NBC Investigative Team involved. I am not the only one who has had this happen to. I have read many peoples' horror stories about Sears and their broken promises.
Sears Statement: "We are aware that a limited number of Kenmore grills have firebox trays that are rusting prematurely. Most importantly, we are taking care of these customers at no cost. Customers who are experiencing this issue with their Kenmore grill should call 1-800-4-MYHOME / (800) 469- 4663 to request a complete firebox tray replacement. Both the firebox tray kit and installation will be provided at no charge to the customer. In addition, to address this issue, the Kenmore brand is improving the materials that comprise the firebox tray - so it will be manufactured from aluminized steel (rather than galvanized steel) for longer life."
"Sears and Kenmore are providing a complete firebox tray replacement only for affected grill models 16154, 34176, 34178, 34308 and 23683. The affected grill models were determined based on customer and member feedback via online reviews. Any other complaints regarding any brand of grill purchased at Sears will be handled through our normal customer care process, on a case-by-case basis."
Here is another website that makes the same statement, the only difference is that this one has a name at the end. "We are aware that a limited number of Kenmore grills have firebox trays that are rusting prematurely. Most importantly, we are taking care of these customers at no cost. Customers who are experiencing this issue with their Kenmore grill should call 1-800-4-MYHOME / (800) 469- 4663 to request a complete firebox tray replacement. Both the firebox tray kit and installation will be provided at no charge to the customer. In addition, to address this issue, the Kenmore brand is improving the materials that comprise the firebox tray - so it will be manufactured from aluminized steel (rather than galvanized steel) for longer life." --Larry Costello for Sears
I hope this helps other Sears' customers that are experiencing similar problems. It's sad to see a company such as this go down because of poor upper management that has trickled down to the lower level employees.

I purchased a Kenmore BBQ Grill in 2013 along with a cover. Within 3 years the firebox is completely rusted out. Kenmore knows about the problem but my model is not covered so I am completely out of luck. My model number is 148.23683310. I will NEVER shop at Sears again if I can help it. They know about this problem but they are not willing to fix it. Does someone have to have one blow up before they fix them all that need it. So sad. Sears used to care. I guess not anymore.

Kenmore Grill Model 141.163291 firebox tray rusting and falling apart prematurely. Sears and Kenmore are not backing up its products and have the worst customer service. These are billion dollars companies. I had to call multiple times to find out that they will not support or recall my grill model. These grills are of worst quality. The lighters go bad pretty quickly too and the tray will disappear completely. Will never buy another Kenmore or Sears product again. They are so lucky none has died from a gas grill explosion.

4 years old, model 146.16198. Not covered under the recall, but should be. Tray on bottom of grill is rusting and crumbling---propane tank is directly underneath! My grill is covered.

Kenmore Grill firebox tray rusting and falling apart prematurely. Sears is not backing up its products and have the worst customer service. I had to call multiple times to find out that they will not support the fix and they will send someone to inspect the grill on my cost and then they will let me know how much it will cost to fix it. These grills are of worst quality... the lighters go bad pretty quickly too. The searing one doesn't work anymore. Never buy Sears products.

I am a heavy grill user. I live in Florida so I grill year round at least once per week and usually more often. Kenmore grills are obviously not going to hold up long term. The welds that hold the burners in place are pretty weak. I've had mine about a year and a half, but it bit the dust yesterday. While grilling hamburgers, it basically caught on fire. After getting the fire out and breaking the grill down I discovered that the weld points on all four burners had broken and the two middle burners were making contact with the grease pan. This ignited my fire. To be fair, this grill cooked great while I owned it and for the price, I think it's what you would expect. Just don't buy this grill and expect it to last like a weber.

There is a class action lawsuit over the grills for defective construction and pre-mature rusting of the grills. DO NOT BUY a SEARS KENMORE GRILL. The customer service will not help. After purchasing a grill in June in 2015 we used it a couple of times. We do not live in West Palm Beach full time. When we returned, the grill had rusted in less than a year. Despite a one year full warranty and a 3 hour series of phone calls to Sears, we have been told "Too bad, your warranty is now out and there is nothing we can do." The national Sears hotline customer service rep "Trinity" basically accused us of lying and causing damage to the unit ourselves. We have spent over 15k at Sears for appliances in the past couple of years, yet we were accused of lying, even though there is a CLASS ACTION LAWSUIT!!
The lawsuit alleges inferior metals advertised as more durable metals in the manufacturing process. Our grill is a terrible purchase, buyer beware. You will have NO resolution if you purchase a Kenmore grill... The warranty clearly states ONE YEAR full warranty, yet the representatives claim rust is not covered. No wonder Sears is closing stores. They have lost the confidence of customers, and they are now selling inferior products. Take your business elsewhere.

Bought a natural gas Kenmore grill about 3 years ago. Leakage occurred and fire broke out. Got fire out with water from garden hose then shut gas off. Fire was too big to get to shut off first. It looked like the gas hose that came with the grill leaked. It looks like the gas hose came apart. Sending pictures. Called Sears. They told me there's nothing they can do.

Purchased a Kenmore stainless steel grill 3 years ago. In ten months, the igniter stopped working and there was a malfunction in the gas hose where leakage occurred and the outside of the hose caught on fire. I was lucky to be outside and turned the gas off immediately. A Sears technician came out to replace the defective parts and could not understand how the leak and fire started. Also - the firebox has completely rusted out. How can the firebox rust/disintegrate when it is completely enclosed in the grill, and never has contact with outside weather rain/etc. This is the most poorly constructed grill I have ever owned and Sears has not stood behind this product. I will never purchase a Kenmore product again.

Two side shelves, utensil hooks. Grills adequately.

$199. Regular accessories. Strong and temperature adaptable. Strong and cost worthy. Long enough. It cooks good. Wonderful.

4 burner with extra burner on the side, stainless steel. It was a gift. I like it. It cooks well but I had an unexpected flare up the other day. Warranty company says it was a grill failure. I have grilled burgers, steaks, ribs and cedar planked fish on this grill. I have used even in the winter and I have been very happy. But since this flare up last week (the cover and front of the grill is now discolored) I am a bit apprehensive to use it.

Sear burner is awesome, as is the rotisserie burner. The rotisserie spit was a challenge to find. Got one at Home Depot finally. My 9-year-old Kenmore grill rusted too badly. The new one is not as sturdy as the old one but it cost 1/3 the price of the old grill. Perfection on low or higher temps, great when grilling multiple items at multiple temperatures, and the sear is great with grilled items or to sear a sous vide steak or chicken breast. I'm the envy of the street.

Grease tray completely rotted out and collapsed after just 2.5 years of service. Had the grill covered when not in use so there's no excuse. Ordered a replacement tray (41100016) and they sent me the wrong part; about 1.5 inches too wide. Adding insult, their shipping department used a box not fitted for the part so they simply bent the tray and tossed it in the box with no packing material to protect it. If I returned the tray for a correct one, Sears said they'd charge shipping (again) which is the same amount as the part. Knowing Sears, they'd probably ship the wrong part again. I took a pair of sheet metal cutters and resized it to fit my grill. I'll never buy another Kenmore grill again!

We have purchased Sears kenmore products for years. Very disappointed with the stainless steel gas grill model 148.16154211 we purchased 2 years ago. The
firebox bottom rotted out. Sears personnel not helpful at all! Question! Not sure ever going to buy Sears again!!!

My Kenmore gas grill model 146.23673310 has been used approximately 40 times. It looks brand new, but the bottom is completely rusted out!!! File this with all of the other complaints that have been given. Another rip off. What's new. So unfair to those of us who saved up to buy a grill made by a reputable company so we could enjoy a good bbq. Geez.

So we bought our Kenmore liquid propane gas grill - model #146.34461410 in June 2014. We kept it covered, had a really nice OSU cover for it. We cleaned it regularly. But guess what? Just like so many other reports I've read on here, the burners started to disintegrate. The bottom metal of the firebox began to rust out and crumble away. How does it rust without being wet?
Thinking we could order replacement parts, we looked online. Couldn't find anything. We were getting ready to grill steaks one night, and realized the whole underside was on fire! (No steaks on it yet, so, no grease to blame!) The raging inferno inside melted the siding on our house, caught my nearby cooler on fire... The bottom of the firebox completely ablaze, fully collapsed at that moment! It landed all over the propane tank! And my deck! My husband burned his hands trying to quickly shut off the propane tank and move it away from the flames. This all happened so fast we barely had time to react.
Never in my life have a seen a grill burn itself up without anything else to catch fire! My parents' grill (of another brand) is nearly 10 years old and looks newer inside than ours did after 1 summer and it has certainly NEVER caught fire like that! So, we called customer service, Sears, claims dept, etc. And for all the extensive damage suffered... They will do NOTHING. Not so much as replace the grill. Let alone my siding, my cooler, my deck, and my husband's injured hands!
They don't care about their customers. They could care less as long they keep bringing in money. Well, please be sure to share this far and wide so other people don't have to suffer from their negligence! Their products are defective, they clearly KNOW it, and yet they refuse to do ANYTHING about it. They place unjustified blame on customers to try to cover their own butts! For such a "reputable" company, I am completely appalled at their complete lack of care for their customers. Lawsuit anyone?

The firebox of my Kenmore 3 burner propane gas grill disintegrated after only two summer seasons. Model 146.23673310 was purchased on 5/28/2013 and the bottom of the firebox was completely rusted through when I opened the grill on 5/30/2016. Five other Kenmore gas grill models experienced this same defect in materials and were provided with a new firebox free of charge. Although my model experienced the same problem and uses the same materials, Sears will not cover the replacement for this model number. After 44 minutes with various Sears representatives starting with phone number 1-800-469-4663, transferring to consumer solutions, and ending with the warranty department, no one offered any replacements, solutions, or compensation. I tried to reconnect with consumer solutions but after 10 minutes of silence I think my call was not transferred to them.
I was told by the complaint department that I could hire a Sears technician for $96 to see the problem. Then the tech would decide whether the part would be covered. If not, then I would have to buy a new firebox and pay for installation. The original $96 would be used toward this cost. I did not want to risk paying more for the replacement than I would for a new grill.
I have been a loyal Kenmore customer for many years. I owned my first grill from 2002-2013. There was never an issue with the firebox. However, in this newer model grill which I purchased in May 2013, it is obvious that there is a defect in materials. The rotting firebox and the resulting hole the size of a softball is a potential danger for fire and explosion since it is the metal separation between the burners and the propane tank. Realizing that I was not going to persuade Sears to bear responsibility for their product I wanted them to assure me that my complaint and model number would stay on file so as others complained they could re-evaluate their policy on replacement. No one would commit to this request. That is why I wrote this ConsumerAffairs report. If you have a similar problem please do the same.

Just like all the other customers who purchased this grill we too experienced the upsetting rust of the grill guts. We purchased this grill and was able to grill on it for only two summers before it rusted out inside. We cleaned it regularly and kept it covered at all times when not in use. The bottom line is this was an expensive grill to have rust out and only last such a short time. Very dissatisfied with the quality.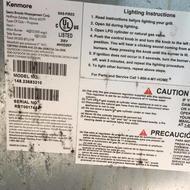 I purchased a Kenmore grill (model 148.23683310) in May of 2014. At the time of purchase I was asked by the sales associate about purchasing a protection agreement for the grill. This is my 3rd Kenmore grill. The previous 2 did not have protection agreements and rusted out and became unusable. So with that said I asked a very important question to the sales associate. "Does the protection agreement cover rust?" I was told "yes it covers any problems that you have in the time frame of the agreement including rust." With that information I purchased the protection agreement for 3 years. 2 years later (May 2016) after winter I opened my grill to find the entire bottom of the firebox was rusted to dust. Literally there was no piece bigger than the palm of my hand left.
I then went online and did an online chat with Sears to find what part I needed, either the whole firebox or just the bottom part. The person I spoke to on chat was helpful and I double checked with them that my problem of rust was covered and they replied with "yes you are covered but I'm sorry you need to call in to book the service appointment." They gave me the number and I called immediately after. I re-explained everything and asked the same questions, including if rust was covered, and got the same answers and that it was covered. I booked the appointment and a few days later the service guy came to my house, walked out back to the grill, opened it and said "yeah this is not covered under the protection agreement." I explained to him what I was told by everyone else and he protested that it's not covered under the protection agreement but he would take pictures and see what the service department says about it.
15 minutes later he comes back inside and says they will not cover it. The best they can do is give me 20% off the part or transfer my protection agreement to another grill. He then left. I immediately called the protection agreement department back, talked to more than 5 people including the manager, all telling me the same thing, that rust is not covered. The explanation they gave as to why I was told differently in the first place is because they like to get the service guy there to determine if rust is actually the problem... which I think is a insult to the customer and a disclaimer should be said when rust is brought up in the initial request for service.
The manager and a few of the people before him also stated that it was my fault for poor care of the grill and customer neglect was also not covered, which I also found very insulting because I worked in retail and customer service before... you NEVER tell the customer it's their fault. He was very rude to me and wanted to do nothing to help me. Even after explaining to him that this can't be caused by customer neglect unless I purposely corroded the metal, which I did not. He went on to tell me that if I covered my grill this would not have happened and at that point I was so fed up I just ended the conversation and hung up. I then was going to take action and write a review on ConsumerAffairs, but I wanted to do some research first and see how common this problem was.
After a short amount of time I came across a news article about my exact grill and my exact problem. To briefly explain the article, they covered their grill and kept it in mint condition and still experienced the same problem I was having with the firebox bottom rusting out. Also in that article is a quote from a Sears representative saying to call this number and they will replace the firebox for free, parts and service included. I called that number (different from the protection agreement department) and the person who answered was very helpful and ordered the part for me with no charge. I declined to have it installed by a service tech because I did not want to deal with the same service guy I had before. I did however want to talk to the protection agreement people again and find out why I was not informed of this in the first place and why covering the cost of the part was not done to begin with.
After talked to a handful of people in the department who were not helpful and eventually circling back to the original manager I talked to a few days before no compensation or apologies were made. The manager was again rude and just kept stating that the protection agreement does not cover rust. He claimed to not know anything about issue with that model grill and said I would have had to call the manufacturer about the problem. They would be the only ones who would cover the defect, which if you read that article is not true. As you can see that is from NBC news, not some discount or non-reputable news outlet... NBC News.
In the end I am getting the new part (not through the protection agreement) but I am extremely unhappy on how Sears handled this situation. Once I called the 8004myhome number all they needed was the serial number of the grill and they instantly knew it was a problem and helped... the protection agreement people should have done the same thing. They never asked for my serial number. I am very unhappy with them at the moment, which is disappointing because my whole family is loyal to Sears as I was. I have a garage full of craftsman tools, I mean full, power tools, automotive tools, hand tools, woodworking tools, I have 4 TVs from Sears, every appliance I have in my kitchen is from them, clothes, jewelry, you name it I always went to them first to purchase it. I can't say that will be the case anymore after this situation.

Model 146.1613310 - Im so surprised to read all of these bad reviews! I was going online to order new flame covers and bottom tray, which have all rusted out after just two years. I stumbled across this review thread. I thought I was all rusted out because I live near the ocean. I guess not! Seems to be a recurring theme. The outside still looks great, but everything is all rusted out, including the grates, but after seeing how expensive they are, I thought I'd just use foil. I thought buying a Kenmore was buying quality. How disappointing! No wonder Sears is going under! Extremely disappointing.

I totally concur with the other reviewer about Kenmore Gas BBQ. I have been hunting for over three weeks now trying to find somewhere, IN CANADA!!! Because, DARN IT, this is where I live & purchased this top line BBQ from Sears. This darn BBQ Drip Tray, part # 4090029 has been disintegrating for over 6 months & has fallen to pieces. Now, please just find me the darn part IN CANADA so that I can use this BBQ & get on with it. The only way (SO FAR) that I can find this part is Stateside: 1-888-287-0735: 1-800-361-6665. Cost of part: $20.00 (US Dollars); Shipping: $30.00 (US Dollars); Duties & Taxes: "Sorry, we don't know, you will have to wait & see if they charge you..." Seriously? I will definitely think about buying Kenmore again. This is just not worth it. Time to 'scrap' my 2 year old $650.00 Natural Gas BBQ & try someone else's brand.

We bought this new in 2013 and saw the first hole end of fall 2015. When we went to take a look a few weeks ago after getting ready to grill this spring, the first touch at the hole caused 50% of the bottom to start falling apart. Huge gaping hole, which continued to fall away. It is mostly fallen in. Found out this is not a replaceable part (the newer ones they sell, as well as older ones were separate replaceable grease pans) and got on the phone to Sears, as well as online to see what is going on. That is how I found this place, and that Sears was replacing some. Sears gave me a two-day run-around, including saying there was no record of my buying it, and then that they never heard of this issue, I had to have bought a warranty on it, and some character saying that there is no guarantee on rust - all grills rust.
They also told me that Sears is not the manufacturer - Kenmore is a different company. WHAT?!! These guys rely on you being uninformed and it appears that they think you are a moron if you would buy from them. He told me that unless there was a specific recall on my specific model, then they could do nothing. Every different color, every different side burner, or whatever variation, is a different model number - so they are aware that they can screw you over. Finally they found the record of my purchase. Again. Then they told me I had to pay to have someone come out and determine what happened.
Then they said I had already scheduled a service call, which I never did. I told the guy to cancel the call, and we got an email within seconds cancelling it but we never got one confirming it. That is because we never made it - someone of the several people I spoke with did. A service guy would come, I would have no idea what they were there for or maybe even not be home, and they'd leave and record everything as good. Nice. They do not want to fix the firebox issue.
Let's call it out: Sears imported a few thousand of these things, and their slave-labor Chinese factory pulled a fast one and made the bottom plate out of junk slag metal, and riveted it in to save on screws and labor. Now they are coaching their staff on how to get people like me and others to get sick of calling and maybe they can avoid a class action suit. One of these grills is going to blow up and KILL someone. I advise all of you to contact your state's Attorney General's office as soon as possible.

I went to clean my grill my Kenmore propane grill May 15th, 2016. I started to clean up some of the debris on the bottom of the fire box, when suddenly a large portion of the box fell down to the propane tank. I purchased the grill in 2014. I contacted Sears, was told I could buy a complete fire box for $344.00 and also pay $97.00 for a service tech. It seems that hot grease dripping on a propane tank would not be very safe.

I purchased a Kenmore 4 burner grill 14616142210 and warranty, 6/2013 and I purchased the "Worry-Free" warranty for $110, almost 1/3 of the price of the grill as I was assured everything would be covered. I found this year that my burners are hanging by only the tubing and called for service. It looks to me like the metal the brackets are made of was defective as they are the only parts that are rusted or burned out; Sears says it's rust and even if it's defective materials, they will not cover.
After calling customer service and being transferred multiple times, the "Corporate Service" representative that I was transferred to started by raising her voice and rolled into she could not talk to me since my partner's name is on the grill purchase (though mine is on the credit card that paid for it). This is called planned obsolescence: a policy of producing consumer goods that rapidly become obsolete and so require replacing, achieved by frequent changes in design, termination of the supply of spare parts, and the use of non-durable materials.

ConsumerAffairs Research Team
The ConsumerAffairs Research Team believes everyone deserves to make smart decisions. We aim to provide readers with the most up-to-date information available about today's consumer products and services.
A household name for over 100 years, Kenmore has been improving the lives of people across the country with their innovative technology. Their grills range in size from small space/patio to five burner, many with added features such as fold-down shelves, back lights, built-in refrigerators and side burners.
Availability: Order your Kenmore grill online or from one of the many Sears locations nationwide. Customers who order online can opt to pay a little extra to have their old grill hauled away when the new one is delivered to make the transition from old to new grill even easier.
Warranty: All Kenmore gas grills come with a one-year limited warranty that protects the homeowner and covers costs associated with defective parts. A defective grill can either be replaced completely or the defective parts can be replaced, depending on the situation.
Innovation: Kenmore's line of gas grills have innovative features for both large and small grills. Smaller grills have space-saving features such as fold-down shelves, while three, four and five burner grills have features such as a large cooking space, steamer and rotisserie set.
Variety: Kenmore doesn't specialize in just one size grill. They have something for every grilling space and every budget. From small patios to large outdoor living spaces, Kenmore has something for everyone.
Accessories: Buy everything you need for your grill in one place. Kenmore sells all the accessories you need to complete your grilling experience, including covers, cooking utensils, grill brushes and more.
Best for Kenmore grills are best for homeowners with either a large or small outdoor living space to grill.
Kenmore Gas Grill Company Profile
Company Name:

Kenmore Appliances

Year Founded:

1913

Country:

United States

Website:

http://www.kenmore.com/