Home warranty misconceptions
Separate fact from fiction in these 10 home warranty myths



Written by

Edited by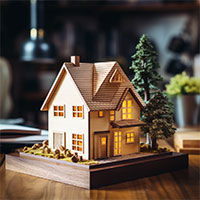 Most people are familiar with a homeowners insurance policy that covers expenses caused by theft, fire or natural disasters, but they may be less familiar with what a home warranty does. There are many misconceptions about how home warranties work, what they do and do not cover, and whether they're ultimately worth the price. Below, we examine 10 of the most common misconceptions and reveal the truth.
---
Key insights
A home warranty is a service contract that covers most common household appliances and systems.
All home warranties come with certain exclusions, rules and coverage limits.
While there are some bad players in the industry, there are plenty of reputable home warranty companies to work with.
10 myths about home warranties
Not every homeowner will want or need a home warranty, but before deciding what's right for you, take time to learn about the facts. Like any investment you make in your home, there are trade-offs with the amount you spend upfront and what the payoff is. Even so, many people find a home warranty is worth the investment.
1. All systems and appliances will be fully covered.
No home warranty covers every single appliance or home system. What's more, this would be unrealistic because most homeowners don't need such extensive coverage. A standard warranty covers major appliances and home systems while giving you the option to add on coverage for components not included. Warranties also don't cover the structural elements of your home, such as windows, doors, foundation or roofing.
Systems
Ductwork
Electrical
Heating and cooling
Plumbing
Water heater.
Appliances
Built-in microwave
Dishwasher
Garbage disposal
Oven/range/cooktop
Refrigerator
Washer and dryer
All policies come with coverage limits, too. For example, nearly all home warranties cover your plumbing system, which includes pipes, faucets, shower heads, valves, stoppages and hot water heaters, but won't automatically cover spa or pool equipment. If you want these components covered, you can add them for an additional charge.
» MORE: What does a home warranty cover?
2. Home warranties have too many exclusions and don't cover anything.
It's true that all home warranties come with certain exclusions,, but most systems and appliances are covered under a standard plan. This includes appliances like refrigerators, stoves/ranges, washers and dryers, built-in microwaves, garbage disposals and garage door openers. Major home systems like your HVAC, plumbing, electrical, water heater and ceiling fans will also be covered.
Typical exclusions in a warranty are often connected to the circumstances of damage rather than the component itself. For instance, a warranty only offers repair or replacement for damage due to normal wear and tear and excludes damage due to neglect, improper installation, lack of maintenance or natural disasters.
3. Home warranties are the same as home insurance.
Home warranties and home insurance policies are often confused with one another. In fact, each policy is unique, and both can be used to complement the other, providing different coverage options for needed home repairs.
Adrian Pedraza, the owner of The California Home Buyer, a real estate investment company, finds many of his clients make this common mistake. "Many folks mix up home warranties with home insurance," he said. "Here's the difference: While insurance steps in for damage from sudden events (like fires or storms), a home warranty covers you when essential appliances or systems break down."
While Pedraza sees the benefits of a warranty, he advises his clients to be smart about any policy they purchase. "A heads up: Warranties typically don't cover things like structural issues, commercial equipment, or some preexisting conditions. And those little clauses — like exclusions for rust or code violations? Those are worth a close read to avoid surprises down the line," he said.
| | Home warranty | Home insurance |
| --- | --- | --- |
| Coverage | Repairs and replacements for appliances and major systems | Damages to and loss of your house's structure and personal property, liability |
| Costs | $450-$1,400 per year | $846-$1,654 per year |
| Claims accepted | If failure is caused by normal wear and tear | If damage is caused by natural disasters or accidents |
| Requirement | Always optional | Mandatory with mortgage |
» COMPARE: Home warranty vs. home insurance
4. You don't have to maintain any items covered by a home warranty.
Simply purchasing a home warranty doesn't absolve you of your responsibility as a homeowner to perform regular maintenance. In fact, warranties only cover repairs due to normal wear and tear and specifically exclude those that occur due to a lack of maintenance. To ensure your warranty actually covers the included appliances and home systems, you must keep up with the maintenance.
This could include regularly replacing and cleaning filters in your furnace, keeping your dryer's lint filter clear, cleaning your fridge's condenser coils or hiring a professional to perform regular inspections of larger home systems. Be sure to keep all records and invoices to use as documentation.
5. Home warranties only cover newer systems and appliances.
The age of a home system or appliance is generally not considered when getting coverage under a home warranty. This means whether your water heater is three or 10 years old, the policy will still cover repairs.
That said, most warranties will include exclusions for preexisting conditions, which apply more frequently to older appliances. And if you can't produce documentation to prove you've regularly maintained your older appliances, this could also affect your coverage.
» LEARN: Is a home warranty worth it?
6. You can usually select your own contractor for repairs.
Even if you're allowed to pick your contractor, get preapproval in writing first to avoid any misunderstandings later.
In most cases, you do not get to choose your own contractor for repairs when you make a service request through your home warranty provider. Home warranty companies use in-network contractors since they're able to negotiate lower rates for parts and labor in exchange for the guaranteed business.
In some cases, your warranty contract may allow you to select your own contractor if another can't be found in a timely manner, but this will vary from policy to policy. Regardless, in almost all cases, you'll need preapproval before using an out-of-network contractor.
7. You will get the same make and model if an item needs to be replaced.
Home warranties cover the repair or replacement of appliances or home systems, but almost none of them will guarantee the same make and model. They will, however, guarantee a replacement of similar quality, and this is for a couple of reasons.
The current appliance that needs to be replaced may be an older model that's not available anymore. Or home warranty companies have their own preferred brands and suppliers, and as long as the new model is comparable to the old one, they can use it per the terms of your contract. For example, an air conditioning unit with the same or better seasonal energy efficiency ratio (SEER) and British thermal units may be used regardless if it's the same brand as your last one.
8. Filing a claim is difficult and time-consuming.
While there is some legwork involved in filing a claim, for the most part the process is fairly straightforward. However, before you do anything, ensure you fully understand your policy limits and make sure the problem you're facing is covered.
You'll start by making a service request for a professional to come and investigate the problem. This request can usually be made online or over the phone, and many companies have a 24/7 claims number to call. If you do submit a claim by phone, it's always a good idea to follow up in writing to create a paper trail for documentation.
If the issue is covered by your warranty, the repair or replacement will be done for free — minus the deductible. The timeline for this depends on the scope of the problem, the availability of the contractor and whether they need to order parts.
» LEARN: How to file a home warranty claim
9. Home warranties are expensive.
Home warranties cost an average of $450 to $600 a year for most homeowners. That said, if you want more comprehensive coverage, you could pay upward of $1,200. In addition, you need to pay a service fee every time the warranty company sends someone to your home to investigate a problem, which can range from $55 to $150.
Beyond this, if the problem is covered, you won't be responsible for paying further (up to the covered limit). For most homeowners, these expenses total less than they'd end up paying to repair or replace items without a warranty.
| | Starting cost | Average combo plan cost | Service fee | Roof leak add-on |
| --- | --- | --- | --- | --- |
| First American Home Warranty | $42 per month | $48.50 per month | $75 to $125 | Add-on |
| ARW Home | $34.99 per month | $60 per month | $55 | Add-on |
| HomeServe | $7.99 per month | $58.33 per month | $100 | - |
| Choice Home Warranty | $46.83 per month | $54.75 per month | $85 | Add-on |
| American Home Shield | $29.99 a month | $60 a month | $75, $100 or $125 | Add-on |
» SAVE MONEY: Cheapest home warranties
10. Home warranty companies are a scam.
Home warranties often get unfairly labeled as scams, but this is largely inaccurate. Jim Olenbush, a Texas real estate professional with over 25 years of experience, said: "While there are dubious players in every industry, not all home warranty providers are out to scam customers. Many are legitimate, transparent, and provide valuable service. As always, it's essential to be vigilant and to avoid any red flags when choosing a provider."
To ensure your warranty company is legitimate, vet them thoroughly and do your research. Read ratings and reviews, ask friends and neighbors for their recommendations, and always get the details of your warranty in writing before you sign a contract.
» HOW TO AVOID: Worst home warranty companies and scams
How to pick a home warranty company
Olenbush says it all boils down to proper research and planning. This starts by understanding what you're looking for in a policy and what appliances and systems in your home need coverage.
"Once you have a clear picture, compare coverages, research different providers and find a price point that offers good value," he said. "Also, be on the lookout for add-on coverage options that might be suitable for specific items in your home, like hot tubs or security systems."
Don't be afraid to reach out for help, either. If you're considering purchasing a home warranty for a home you're selling or one you've just bought, your real estate will be a reliable source to consult with about coverage options.
» PICK THE BEST: Best home warranty companies
Bottom line
Nobody likes to spend money on their home unnecessarily, and ultimately the decision whether to purchase a home warranty should be based on your budget, your needs and the facts. A home warranty is a useful tool to pay for home repairs, but many people don't fully understand how they work. When researching your options, don't let common misconceptions get in the way of making an informed decision.
---
Article sources

ConsumerAffairs writers primarily rely on government data, industry experts and original research from other reputable publications to inform their work. Specific sources for this article include:

Arizona Department of Insurance and Financial Institutions, " Consumer Guide Home Warranty Service Contracts ." Accessed Oct. 17, 2023.
Federal Trade Commission, " Warranties for New Homes ." Accessed Oct. 17, 2023.
Did you find this article helpful?
|
You're signed up
We'll start sending you the news you need delivered straight to you. We value your privacy. Unsubscribe easily.