Cost to replace a garage door
Expect to pay at least $750 to replace the door



Written by

Edited by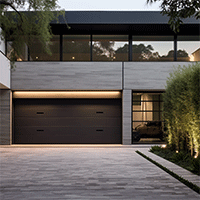 When it comes to essential maintenance tasks around the home, your garage door may not be at the top of your list. But if the garage door stops working, it could keep you from being able to access your vehicle.
Just like your other systems and major appliances, garage doors also have limited life spans. Once the door stops functioning properly, it may be time to consider replacing it. Take a look at the average costs to replace the garage door, what can affect those prices and when it's time to replace rather than repair.
---
Key insights
The average garage door replacement cost is between $748 to $1,644.
While wood may be one of the most expensive materials used, it can also be one of the most durable and energy-efficient.
The average life span of a garage door is between 15 and 30 years, depending on the materials used and other factors. You can lengthen this time frame with routine maintenance and care.
What factors affect garage door replacement costs?
Homeowners have a lot of choices when it comes to picking out a garage door. In addition to the door size you need, the type of door, the material and the brand will all affect the overall costs.
Door type
Standard panel and tilt-up garage doors are some of the most affordable garage doors to choose from. On the other hand, glass, carriage and French doors land on the more expensive side for garage doors.
Take a look at the design differences among the most common garage doors:
Standard panel: This is the most common type of garage door used in homes today. A standard panel has a set of horizontal panels that move on a track overhead. There's a variety of materials available to choose from, like aluminum, steel or wood.
Roll-up: A roll-up door uses horizontal pieces of steel that coil up at the top in the interior when the garage door is raised. It doesn't run on a horizontal track system like other garage doors do. You may see a roll-up garage door on a storage unit or a detached garage.
Glass roll-up: A glass roll-up door has aluminum and glass panels that run on a horizontal track system. It's more often used to open up an indoor living space to the outside.
Tilt-up: This type consists of one solid door panel that utilizes a pivoting hinge mechanism to open and close. It may be used in garages with lower ceilings.
French doors: This style appears to be double doors (French doors) from the outside, but it functions like a standard garage door. It may include windows and door handles, among other features. It can also be opened and closed with a remote.
Carriage: The carriage style mimics the look of a barn door but with a more elegant touch. It may have windows at the top and rustic handles in the center. You can get carriage doors that open by swinging outward or that open and close like a standard garage door (on a horizontal track).
Walk-through: A walk-through door is a traditional garage door with a pedestrian door attached. It may be used in residential settings for homes with a basement garage or in commercial settings for businesses needing both access points (like an auto repair shop).
| Garage Door Type | Average Cost |
| --- | --- |
| Standard panel | $500 - $1,800 |
| Roll-up | $600 - $3,000 |
| Glass roll-up | $1,000 - $7,000 |
| Tilt-up | $400 - $1,600 |
| French doors | $2,000 - $6,000 |
| Carriage | $1,200 - $8,000 |
| Walk-through | $700 - $6,000 |
Door size
Garage doors can come in various sizes, but the typical size for a single-car garage door is 7 or 8 feet high and 8 to 9 feet wide. Double garage doors are usually 7 or 8 feet high and 16 feet wide.
While a double door is less expensive than purchasing two single-car garage doors, your home may not be outfitted for that type of configuration. Some garages have a separating wall between the two doors. However, if possible, it may be beneficial to have a double door, as it runs on a single track and uses one remote instead of needing a track and a remote for each door.
| Garage Size | Average Cost |
| --- | --- |
| 1-car garage | $500 - $3,000 |
| 2-car garage (1 double door) | $800 - $5,000 |
| 2-car garage (2 single doors) | $1,200 - $4,900 |
| 3-car garage (1 single and 1 double door) | $1,400 - $7,000 |
| 3-car garage (3 single doors) | $1,700 - $7,200 |
Material
Garage doors can be made of several different types of materials, each with its own benefits and setbacks.
Tommy Mello, home service expert and Founder of A1 Garage Door Service, told us that wooden garage doors are "more durable, never go out of style, are energy efficient and they will reduce the load on your HVAC system." The added cost upfront could be a good long-term investment because "you can save money on your energy bills over time because of how well they naturally use energy," Mello said.
Other popular materials include aluminum and steel. Mello said steel is affordable and can be used in any weather conditions while aluminum is "a good choice for modern or contemporary homes" because it's "sleek and [isn't] too hard to take care of."
| Type | Average Cost |
| --- | --- |
| Aluminum | $600 - $2,900 |
| Fiberglass | $800 - $2,700 |
| Steel | $650 - $3,200 |
| Wood | $900 - $4,500 |
| Wood Composite | $650 - $4,800 |
| Vinyl | $800 - $2,500 |
Brand
Popular brands today include "Northwest [now owned by Hormann], Clopay, Amarr, Wayne Dalton, C.H.I., and Martin," Mello said.
C.H.I. Overhead Doors, Amarr and Clopay may offer more cost-affordable options, while Wayne Dalton, Martin and Hormann provide luxury options at higher prices.
Additional cost factors
You'll need to factor in several other considerations to get the full scope of a garage door project. Repairs will almost always be cheaper than replacement, but you'll also pay more for automatic doors, insulation and any customizations you want.
Repair vs. replacement
Garage door repairs, like fixing the door track or replacing a glass panel, generally cost between $151 and $359 on average. Some common repair costs include:
Cable: $90 to $350
Track: $125 to $400
Spring: $150 to $350
Opener: $125 to $350
You can compare that to the average cost of door replacements, which is around $748 to $1,645.
Manual vs. automatic
Installation costs are generally higher with automatic garage doors. You can expect to pay between $600 and $2,150 to install a manual garage door, but add on another $200 to $1,300 for an automatic garage door.
Garage door opener
Automatic garage doors require a remote opener to operate the door. Some garage doors can even be opened and closed from your phone using a mobile app. Remote opener costs are usually included in installation costs but can start at $150 if purchased separately.
Insulation
Insulation is an added feature but can help keep your garage at a more consistent temperature, especially if you use it to store food or other weather-sensitive items. You'll need to look for garage doors specially designed with insulation, which costs between $600 and $3,000. Keep in mind that not all styles of garage doors are available in insulated options.
Customizations
You can customize your garage door to fit your style or needs. Choose from a wide selection of stains, finishes or hardware. There are also options available for glass panels, like mirror, frosted or tinted glass. Technological updates include keypad access and safety sensors (to prevent the door from closing on an object in its way).
Customization costs can vary greatly. Partially customized garage doors, where you select colors and designs from a list predetermined by the manufacturer, can cost anywhere between $800 and $2,500. However, fully customized doors (e.g., upgraded finishes, materials, panels) can get quite pricey, on average around $1,500 to over $10,000.
» GET FINANCING: Best Personal Loan Companies
Signs you should replace your garage door
There are a few signs to notice when it may be time to replace your garage door. Before you start getting replacement quotes, consider hiring a specialized door technician to look at your garage door and make recommendations. Some of these issues may be an easy fix, while others may require a new door altogether. These few telling signs include:
Garage doors can last anywhere from 15 to 30 years, so repairs may be best if the door isn't that old or badly damaged.
Age: If the door is around 15 years old or older, you should start exploring your options. However, this will also depend on the materials it's made of, as some can last even longer, like steel.
Appearance: If there are noticeable dents, cracks, rot or other damage to the door that can't easily be fixed, it may be better in the long run to replace it. Also, if the style seems outdated, you can boost your home's appearance with a new door.
Sound: While the door will make some noise, the sound shouldn't become louder over time as it opens or closes. Also, if you hear the sound of gears grinding or other new noises, get it checked out. You may need new tracks, springs or cables for the door to function properly.
Speed: If the door is opening and closing slower than it used to, first get the tracks and opener inspected. Otherwise, it may be best to replace the whole system.
Repairs: If your door needs frequent repairs or the repair costs are about half the cost of a new door, it's often better to replace it.
» ARE YOU READY FOR REPAIRS? Holding off on home repairs
FAQ
How long does it take to install a garage door?

It could take between four and seven hours for a professional technician to install your garage door, as long as the replacement is similar to what you had before. Keep in mind that some door tracks are unique to a specific manufacturer's door models, so replacing your door could also mean you'll need to replace the tracks as well. This could add a few more hours to the installation time.
How long do garage doors last?

The average life span of a garage door is between 15 and 30 years. Several factors can affect how long your garage door will last, including weather conditions and materials used. For example, steel is one of the most durable materials and could add years to the life of your garage door. You could also lengthen the door's life span with routine maintenance and cleaning, like washing the exterior with mild soap and water.
Can I replace a garage door myself?

It's not generally recommended to replace a door yourself without professional help. If you decide to do it yourself, you'll need to follow the owner's manual carefully for installation instructions. This task can be dangerous and may take you twice as long as it would a professional to complete.

Also, garage doors are quite heavy, some weighing 150 pounds or more. You'll likely need some extra manpower to help lift the door onto the tracks.
How can I save money on a garage door replacement?

Keep customizations to a minimum and stick with the manufacturer's stock options to save money on the door itself. Manufacturers will sometimes offer rebates, which can help reduce replacement costs. Tax credits may be available if you upgrade to an energy-efficient door, but check Energy.gov for applicable programs.

Make sure to get quotes from several companies before you make a decision. Ask for installation costs upfront with those quotes, and don't be shy about negotiating a lower cost for labor. While it may seem like a good idea to install the door yourself to save money, keep in mind that you'll need a special set of tools to do the job.

» SAVE MONEY: Tax deductions for homeowners
Do home warranties cover garage doors?

No, home warranties don't typically cover garage doors. Any repair or replacement costs will need to come out of pocket. Instead, most home warranty companies will cover the garage door opener. These plans typically exclude the tracks and spring assembly as well, but always speak to the provider for full details.

However, if your garage door is damaged as a result of a peril covered by your insurance policy (e.g., fire, hail), you may be able to file a claim to get it replaced. Check with your insurance company for your plan details.

» MORE INFO: Does a home warranty cover garage doors?
Bottom line
Garage doors come in many different styles and are made of a variety of materials. Some doors may come with higher price tags initially but also offer a set of benefits that could offset costs in the long run. Materials like wood and steel are often more expensive but also last longer, while fiberglass and aluminum may be more affordable for most consumers.
As you shop around, consider those added features, like insulation, that could also save you money each month in utilities. Your investment in a quality garage door may pay off in other ways in the future.
---
Article sources

ConsumerAffairs writers primarily rely on government data, industry experts and original research from other reputable publications to inform their work. Specific sources for this article include:
Did you find this article helpful?
|
You're signed up
We'll start sending you the news you need delivered straight to you. We value your privacy. Unsubscribe easily.