Cost to replace a garage door spring
Costs generally range from $160 to $350



Written by

Edited by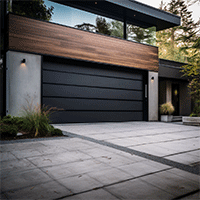 A loud and noisy garage door can be one of the first signs that it's time to replace the springs. New springs aren't as costly to replace as the garage door itself and may even help prolong the door's life span in general.
Replacement costs can vary depending on the type of spring you need for your door (torsion or extension). We spoke with 18 garage door companies around the U.S. and found that you'll pay at least $160 for parts and labor to install new springs.
---
Key insights
The average cost to replace a garage door spring is between $160 and $350, including labor and installation.
Torsion springs are generally preferred by professionals over extension springs because they have a longer life span.
Replacing a garage door spring can pose safety risks, so leave it to the professionals to complete this project.
What affects the cost of replacing a garage door spring?
The type of spring in the garage door plays the largest factor when it comes to price. But you can expect the price to go up depending on the number of garage doors you have and the type of door, as well as regional labor costs.
Number of doors
Each garage door uses two springs. So, if you have more than one door, you'll need at least two springs for each door. The cost of a single spring replacement can range between $30 to $250 each, not including installation costs. If you add in labor, you're looking at paying between $160 and $350 in replacement costs for a single garage door. Some companies we spoke with may even charge as much as $400 to $500 to replace both springs in a single door, which factors in labor and a service call fee.
Have a double garage door? The price per spring increases between $15 to $30 each.
Type of garage door
Most homes with garages have one of two types of doors: tilt-up or roll-up doors. Replacing springs for a tilt-up door may be cheaper because it likely uses extension springs, which are less expensive than torsion springs. On the other hand, roll-up doors use torsion springs.
Type of spring
Torsion springs are more durable and last longer than extension springs. For that reason, torsion springs are often more expensive upfront, at around $75 to $100 per spring including installation costs. You can expect to pay between $50 and $100 per extension spring with materials and labor.
Converting the springs
Switching from extension springs to torsion springs will cost between $400 and $800, which includes labor. Home improvement stores sell torsion conversion kits that include the torsion spring, mounting brackets, torsion tube and coupler, among other items needed for installation. Kit prices start at around $220 and are used for specific garage door sizes and weights.
Labor
You may spend more in labor than on the springs themselves, but that's because it takes a highly skilled individual to repair garage door springs safely. There are a great deal of moving parts that must be in sync for the door to operate effectively. You can expect to pay between $75 to $150 for a garage door technician to take care of this job for you.
» LEARN: How to finance home renovations
What's the difference between torsion and extension springs?
Torsion springs and extension springs operate differently. Torsion springs use a twisting force (called torque), whereas extension springs stretch (or extend) to lift the garage door. Torsion springs are considered the safer choice among garage door repair technicians because they are much less likely to cause injury if they break. An extension spring could more easily snap while extended.
Torsion springs last longer and require less maintenance than extension springs. They're also safer to use.
Besides safety, there are other benefits to using a torsion spring. Matt Bruso, owner of Four Seasons Garage Doors in Virginia Beach, Virginia, told ConsumerAffairs: "Torsion springs provide a smoother and quieter operation, as the force is applied more evenly. They also tend to last longer and require less maintenance." Bruso also says that "Torsion springs are generally considered a better choice due to their superior performance and longer life span."
Jon Russell, director of systems at Precision Door Service, a Neighborly company, added: "Torsion springs typically last 10,000 to 30,000 cycles. Extension springs usually only last 5,000 to 10,000 cycles … [and] also cause more wear and tear on the door's moving parts due to the independent tension in relation to their design features."
If your door currently uses an extension spring, switching to a torsion spring is possible. A technician can use a conversion kit to change out the springs for you.
Signs you need to replace a garage door spring
Start by visually examining the springs and look for "visible signs of wear and tear, such as rust or fraying," according to Bruso, the owner of Four Seasons Garage Doors. Torsion springs are located just above the garage door; extension springs can be found near the track.
Also, take note of the sounds coming from the door as you open and close the unit. Bruso advises to look for "difficulty in opening or closing the door, excessive noise during operation, or the door not staying in place when partially open."
If you still aren't sure whether it's time to replace or not, you can always schedule an inspection with a trusted garage door technician for peace of mind. It's their job to make recommendations based on their findings, so you may not need a replacement anytime soon if the springs appear to be working properly.
An inspection could be especially helpful, though, if you recently purchased your home and want to ensure all parts of the system are in good shape.
» LEARN: Annual home maintenance checklist
Spring replacement vs. whole garage door replacement
It may be time to consider replacing your garage door as opposed to buying a new spring, especially if your door is at least 15 years old. Garage doors typically have an average life span of between 15 and 30 years. Older doors may begin to experience issues with functionality and safety aside from the need for a new spring.
Bruso of Four Seasons Garage Doors said: "If the rest of the door is in good condition, replacing the springs may be sufficient. However, if the door itself is old, damaged, or lacks safety features, it may be more cost-effective and safer to invest in a new garage door. The owner may want updated features or want to get any remaining time out of the door that they can."
Before you decide, assess the overall costs of a door replacement and a new spring. Keep in mind that a spring replacement could help extend the useful life of your door. In addition, door replacements cost more, so the added expense may not be feasible for your current budget.
Not only are you paying for more materials with a door replacement, but more for labor as well. The average cost of a garage door replacement is between $500 and $2,000, compared with a spring replacement at $160 to $350.
» COMPARE: Best garage door repair companies
FAQ
How long does it take to replace a garage door spring?

It usually takes a professional garage door technician 30 minutes to an hour to replace the two springs on a door. The process may take longer if you have multiple doors or if you convert from an extension spring to a torsion spring.

The technician will carefully remove the old spring by loosening the hardware holding it in place. Then, they will install the new springs, reinstall hardware and unwind the spring. Finally, they will check for door balance and reconnect the opener.
How long does a garage door spring last?

A spring's life span is measured in cycles, which is the number of times the door is both opened and closed (one cycle). Extension springs last 5,000 to 10,000 cycles. Torsion springs have longer life spans, between 10,000 to 30,000 cycles. Since garage doors are typically opened and closed about three to five times daily, this means springs could last six to 10 years on average.
Can I replace a garage door spring myself?

Hiring a professional to replace the springs is highly recommended because the task can be dangerous if you don't have the training or experience. Springs carry hundreds of pounds of force that, if not installed properly, could cause injury or even death. Paying a technician $150 or so is well worth the cost to stay safe and injury-free.
Should I get a garage door spring tuneup?

Garage doors are similar to appliances you may have in your home. If you perform regular maintenance on it, you can keep it functioning properly for much longer and ultimately delay a replacement.

For that reason, you should get your garage door spring inspected by a professional at least once a year. Some repair companies offer tuneup programs where a technician will inspect not only the springs but other parts of the door as well. Tuneups can start at $100, including lubrication for door parts and a door balance test.
Do home warranties cover garage door springs?

A home warranty does not cover the components of a garage door, including the springs and the track. These policies generally cover repairs and replacements on major appliances and systems, like plumbing or HVAC. However, most companies will cover the garage door opener.

Manufacturers usually offer their own warranties on the springs they sell, ranging from 90 days to lifetime warranties. These warranties cover replacements but usually don't include labor costs, which the homeowner must pay separately.

» MORE INSIGHT: Does a home warranty cover garage doors?
Bottom line
Garage door springs need to be replaced when they become worn and frayed. If your springs are at least six years old, it may be time to get them inspected and consider replacing them. Torsion springs are more durable than extension springs and may be less noisy in operation.
When it comes time to buy new springs, plan on hiring a professional to install them for you. Many people are injured yearly from mishandling garage door parts, so stay safe and leave it to the trained technicians to do it for you.
---
Article sources

ConsumerAffairs writers primarily rely on government data, industry experts and original research from other reputable publications to inform their work. Specific sources for this article include:
Did you find this article helpful?
|
You're signed up
We'll start sending you the news you need delivered straight to you. We value your privacy. Unsubscribe easily.