Cost to replace a garage door opener
Replacing an opener costs between $217 and $537, depending on a few factors



Written by

Edited by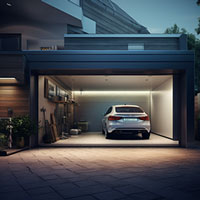 Your garage door plays a big role in your home, both in terms of looks and convenience. And when it's broken, it can be pretty frustrating. Luckily, the cost to replace it may not be as high as you think.
The average cost to replace a garage door opener is about $375. But that price can vary depending on a few factors, like how big your garage door is, what type of opener you prefer and the cost of labor in your area.
Learn more about what impacts the cost of your opener replacement and how to find the right one for your needs.
---
Key insights
Homeowners pay an average of about $376 to install a garage door opener.
Belt and chain drive openers are the most affordable types of garage door openers.
You should expect your garage door opener to last about 15 years before you need to replace it.
What factors affect garage door opener costs?
Gabrielle Quinn, a garage specialist and designer for Value Garage Door Service in Battle Ground, Washington, said the most important factors a homeowner should consider when picking a door opener are noise level, durability and price.
Obviously, the louder and less durable it is, the cheaper it will be. But price should be one of the last factors to consider, Quinn said, because sometimes a door requires a specific type of opener based on its weight or horsepower needs. In most cases, your best bet is to get professional support during the purchasing process.
"When considering a replacement, it's essential to consult with a professional garage door technician or installer who can assess your specific situation and recommend the best opener for your needs and budget," Quinn said.
Horsepower
Your garage door is heavier than you think — and it needs the right amount of horsepower to operate safely. Too little horsepower and it won't open all the way or could fall accidentally; too much horsepower and it could lift it too high and break your tracks and door.
Most homeowners will be fine with ½ horsepower, but it depends on the size and weight of the garage door.
Lighter doors up to 150 pounds: ⅓ horsepower
Average-weight single or double doors: ½ horsepower
Oversize or heavier doors: ¾ to 1 ¼ horsepower
Brand
Each company has its own price range to consider. Higher-end models, like Hormann, could run you upward of $700, while cheaper brands like Chamberlain or Genie could be as low as $160. When comparing brands, consider their products, reviews and warranties.
| Garage door opener brand | Average cost |
| --- | --- |
| Genie | $160-$450 |
| LiftMaster | $225-$425 |
| Chamberlain | $160-$500 |
| Craftsman | $140-$325 |
| Sommer | $175-$280 |
| Guardian | $165-$230 |
| Hormann | $235-$690 |
| Linear | $210-$375 |
Type of garage door opener
Your costs also depend on the type of opener: belt drive, chain drive, direct drive or screw drive.
| Garage door opener type | Average cost |
| --- | --- |
| Belt drive | $160-$450 |
| Chain drive | $150-$250 |
| Direct drive | $275-$450 |
| Screw drive | $200-$500 |
Belt drive cost factors
Belt drive openers range in price from pretty affordable to more expensive, depending on whether they include additional features like Bluetooth capabilities or battery backup. These systems use steel-reinforced rubber belts to move the door up and down rather than a chain, so they're much quieter and offer a smoother ride.
However, the rubber material isn't ideal for all types of weather and climates. If you live in an area with high humidity or extreme temperatures, a belt drive opener may wear out faster and lower your return on investment (ROI).
Chain drive cost factors
Chain drive garage door openers are often the cheapest on the market because the design and operation are simpler compared to the other types. They're not the most efficient and don't typically come with many bells and whistles, but they're reliable and get the job done.
Their affordability does come with a price: They're pretty noisy and require more maintenance, like frequent lubrication. Unless you're willing to put in the extra work, choosing a different type of opener may be more worthwhile.
Direct drive cost factors
If you want a quiet garage door opener, choose a belt or direct drive mechanism. If you care more about affordability than noise, choose a chain drive.
Unlike belt or chain drive openers, direct drive garage door openers don't require any additional parts to open and shut. The simplistic design equates to less maintenance, more straightforward repairs, and quieter operation. Plus, they're well suited for all types of climates and garage doors.
These benefits come at a decently higher starting cost. That being said, if you consider the cost of repairing an opener, you may come out ahead by investing in one of these for the long run.
Screw drive cost factors
Screw drive openers use a threaded bar that rotates to open and shut the garage door. The best way to visually imagine this opener is to picture a screw: rotating it in one direction opens the door, while rotating it in the other direction shuts it.
Originally designed as a quieter alternative to a chain drive opener, screw drive openers are slowly decreasing in popularity as users favor belt drive or direct drive openers (if they can afford them).
Labor
If you decide to pay a contractor to do this job, labor will play a big cost in your final price. Most garage door installers charge between $65 and $85 per hour for work. Assuming this job takes about four hours, that means you could pay between $260 and $340 for the labor alone. Some companies may also charge a removal fee if they have to get rid of your old system for you.
» FINANCE: How to finance home renovations
Additional cost factors
In some cases, you may face additional costs not listed above, like if you need new tracks or want to add extra features.
New vs. replacement
If you're installing a completely new garage door opener, there are quite a few extra costs to consider. The labor prices above are based on already having a track and door in place, but if you need to add those items, your hourly rates will likely double alongside the actual cost of purchasing those items — which could be as high as $10,000 for higher-end models.
Plus, you'll likely have to hire an electrician to wire your garage and make sure it's up to code, which is typically another $100 to $140.
Accessories
Most openers come with one keypad and remote. If you want more of these accessories, you'll have to pay somewhere between $15 and $60 out of pocket for each one.
Other optional accessories include lighting systems ($50 to $150), battery backup ($100) and additional sensors ($50 to $100 each). If your ceiling is taller than 7 feet, you'll also need to purchase an extension kit for about $50.
Added features
You may want to consider other unique features or technologies. In garage door specialist Quinn's experience, smart locks, connection to outdoor technology (like smart gardening tools) and smart lighting are some of the most popular added features. And if you already have a smart home security system, opting for openers with built-in Wi-Fi and cameras can be a great way to extend the ROI of both systems, she said.
Prices range by type of opener and brand, but in general you should expect these features to come with a higher price tag.
Signs you should replace your garage door opener
According to Quinn, these are a few telltale signs that your garage door opener is on its last legs and needs to be replaced:
Excessive noise: Don't ignore any new sounds your garage door starts making. If it's loud and happens out of the blue one day, the motor or chain could be worn out or damaged.
Inconsistent operation: If your garage door opener occasionally fails to open or close properly, the opener may be broken, or there may be electrical issues with your system.
Slow response: If your opener takes longer than usual to respond to your commands, the system's electronics could be busted.
Frequent repairs: If you find yourself repairing your opener more often — and paying the high costs of each one-off repair — you may have a bigger problem at hand. By replacing the opener, you can avoid any future repairs and protect your investment with a warranty.
High energy costs: Even if your system works appropriately, you may consider replacing it with an energy-efficient model to lower your utility bills. These systems can also help make your garage an extension of your home during summer or winter months with increased insulation.
» LEARN: Best garage door repair companies
FAQ
How long does it take to replace a garage door opener?

If you're replacing an old opener with a new one that's wired the same, the replacement should only take about four hours.
How long do garage door openers last?

Garage door openers last between 10 to 15 years, on average. Like most electronics, it wears out based on how often it's used. So, if your garage is a common entry and exit point for multiple individuals in your home, you should expect it to last closer to 10 years.

That being said, if you take steps to maintain it properly, it may last up to 15 to 20 years.

» MAINTAIN: Annual home maintenance checklist
Can I replace a garage door opener myself?

If you're simply swapping out an electric opener with a similar make and model and have some basic electrical knowledge, you should be able to replace your garage door opener yourself. But if you have to start messing with the tracks, springs or the door, consider hiring a professional.

Garage doors weigh at least 130 pounds but could be as heavy as 400-plus pounds, depending on the size and material, so this job isn't something you should take lightly.
How can I save money on a garage door opener installation?

You can save the most money on installation by doing it yourself, bringing your labor costs down to $0.

But if that's unrealistic for you based on your skills or availability, the next best thing you can do is to make the job as easy and fast for the professional as possible in hopes of decreasing the number of labor hours.

One way to do that is to remove and dispose of your old garage door opener yourself before the contractors arrive. This gives them a clean slate to work from and could take as much as an hour off your labor costs. Also, making sure you buy the right type of garage door opener to begin with will help save time and headaches.
Do home warranties cover garage door openers?

Most home warranty companies cover the garage door opener but not the door itself, tracks or springs. Depending on the company, the opener may be included in basic plans. Otherwise, you may be able to choose it from add-on coverage.

Depending on the add-on cost, paying for the monthly additional fee plus your deductible may not offset the cost of replacing it without using a home warranty. A home warranty may be worth it if the garage door opener is part of the basic plan and you need to cover other items.

A reviewer from California said: "My garage door didn't open or close recently, and I requested repair service. ... The technician came right away and sent the estimate, and it was approved in a couple of days." The opener had to be replaced, which would have otherwise cost $640.
Bottom line
There's no way around it: Replacing a garage door opener is an extensive task with many factors to consider. Luckily, you'll likely only have to do it once — if at all — while you own your house.
Make sure you replace the opener with the right type and the horsepower necessary for your garage door and setup. When in doubt, it's best to rely on a garage door specialist to choose the best replacement. Plus, some brands you'll need to get directly from a dealer or installer. With the right research beforehand, you can get your garage door back on track in no time with as little headache and out-of-pocket cost as possible.
Did you find this article helpful?
|
You're signed up
We'll start sending you the news you need delivered straight to you. We value your privacy. Unsubscribe easily.