Cost to replace a bathroom sink
The type of sink, material and labor create a wide range of costs



Written by

Edited by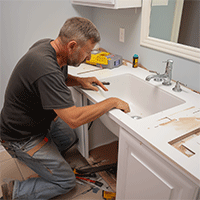 A new sink is one way homeowners can spruce up an outdated bathroom without breaking the bank. Sinks are sold in all sizes and styles, ranging from $40 to over $1,800. In fact, if you aren't ready for a full bathroom renovation project, changing out the sink could be a quick solution to refresh any space.
However, there are a lot of factors that influence the price — from the type of sink and material to adding a faucet and labor. We talked with several plumbing companies, and they quoted costs between $500 and $600 just for installation. Read on for what else you can expect when replacing a bathroom sink.
---
Key insights
A new bathroom sink can cost between $40 and $1,800, depending on the style and the material.
Plan on budgeting extra for installation costs and a new faucet, which usually aren't included in the price of a sink.
Expect to pay between $100 and $600 for a licensed plumber to install a new bathroom sink.
Cost of a new bathroom sink
The type of sink plays a large role in overall pricing. For some, you're literally dropping in just the sink to an existing cabinet, while a pedestal sink is a much larger structure that props up the actual sink. You might be limited by the size of the bathroom, but there are still quite a lot of options to consider.
| Type | Average cost |
| --- | --- |
| Console | $200-$1,800 |
| Drop-in | $50-$800 |
| Pedestal | $150-$1,500 |
| Undermount | $50-$700 |
| Vessel | $40-$1,200 |
| Wall mount | $50-$1,200 |
*Costs do not include installation or additional items, like faucets.
Console
Console sinks are wall-mounted and attached to a pedestal beneath the sink basin. Since the sink doesn't rest on a cabinet, the plumbing is exposed underneath, which can give the bathroom a more industrial and modern look.
Console sinks tend to be pricier than other sink options, likely because of the additional materials needed to construct the console. Most are mounted on chrome or brass stands. Costs typically range from $200 to $1,800, not including installation or labor costs.
Drop-in
A drop-in sink is installed on top of an existing cabinet and may include a small counter space area. It's the most common type of bathroom sink today because it's versatile and can be easily updated without having to demolish any built-in cabinets.
Drop-in sinks come in a wide range of shapes and sizes. Costs can range from $50 to over $800, depending on the type of material used and the size of the sink.
Pedestal
A pedestal sink is a free-standing base (or pedestal) with the sink basin attached. It's sold as one piece, usually made of porcelain or ceramic materials. Pedestal sinks are used most often in small bathrooms where space is limited.
Pedestal and wall mount sinks are good choices for small bathrooms, but both lack extra storage space.
As with console sinks, pedestal sinks tend to be more expensive than drop-in sinks because additional material is needed to construct both the sink basin and the pedestal. Prices can range from $150 to $1,500.
Undermount
An undermount sink is installed from underneath the countertop instead of on top of it like a drop-in sink. Undermount sinks give a smooth and seamless appearance because the outer edges are hidden beneath the counters, which can also offer more usable counter space.
When choosing an undermount sink, you may be limited by your existing counter configuration (if you don't currently plan on replacing it). Costs for undermount sinks typically range from as low as $50 to $700 or higher. Keep in mind that these prices are only for the sink basin — counters or faucets are not included.
Vessel
A vessel sink sits on top of the bathroom counter. Sink basins are available in varying shapes aside from the typical round-shaped bowl, like rectangular or oval.
There's also a wide range of price points available. You can find vessel sinks between $40 and $1,200 at most home improvement stores.
Wall mount
A wall-mount sink is attached to the wall with no supporting legs or pedestals. The plumbing is usually exposed underneath. Wall-mount sinks, like pedestal sinks, are a popular choice for use in small bathrooms.
You can find wall-mount sinks in all sizes and shapes. Some may include a small counter area, which may be helpful if storage space is limited. Costs typically range from $50 to $1,200.
» WAYS TO PAY: How to finance home renovations
Cost of bathroom sinks by material
Acrylic and porcelain are popular choices for cost-conscious consumers. However, porcelain may be more durable over time. Mike Grijalva, a journeyman plumber and owner of Sacramento Plumbing Solutions in Sacramento, California, told ConsumerAffairs: "I don't recommend acrylic. It just isn't durable enough. It stains, cracks, and ages too quickly compared to other materials."
Copper, natural stone and quartz may offer a more elegant and unique design but are priced higher than alternatives. "Copper also requires more upkeep than other materials. I'd only recommend these if you have specific design preferences and can afford a more expensive option," Grijalva said. While stainless steel is long-lasting and easy to clean, it's not as popular for bathroom sinks as it is for kitchen sinks.
| Sink material | Average cost | Pros | Cons |
| --- | --- | --- | --- |
| Acrylic | $145-$1,600 | Easy to install; antibacterial and antimicrobial | Not as durable; can crack as it ages; not as heat-resistant |
| Copper | $100-$1,100 | Can last longer than other materials; gives an elegant look to the room | Requires more upkeep; expensive; susceptible to damage from hard water |
| Glass | $70-$1,000 | Inexpensive; easy to clean | Shows water stains; prone to chipping |
| Natural stone (granite, marble) | $300-$1,300 | Durable and long-lasting; offers unique patterns and design details | Expensive; requires resealing; needs special cleaning solutions |
| Porcelain | $45-$800 | Least expensive; available in many different sizes and styles; low maintenance | Can chip or crack easily; heavy; difficult to install |
| Quartz | $270-$1,600 | Scratch- and stain-resistant; provides a smooth and nonporous surface | Sensitive to heat and chemicals; expensive |
| Stainless steel | $120-$850 | Affordable; long life span; simple to clean and polish | May not blend with other design elements; dents and scratches could be more visible |
Additional bathroom sink replacement costs
Once you've chosen the type of sink you need, you'll need to factor in the cost of the faucet, which doesn't come with the sink. If you're renovating the rest of the bathroom or switching the style of sink, like from a pedestal sink to a drop-in with a vanity, that can add to the material and labor costs. Take a look at how these extras can add up.
Faucet
As you shop for new sinks, you'll need to pick out a new faucet as well. Bathroom sink faucets come in a variety of styles and finishes. You can choose from single-handle, centerset and widespread faucets. Finish choices include nickel, bronze, chrome, matte black, gold, brass and stainless steel.
Faucets with a WaterSense label use a maximum of 1.5 gallons per minute, reducing a sink's water flow by 30% or more.
Centerset faucets tend to be cheaper than other types of faucets. Prices range from $15 to $750 for a centerset compared with $25 to $1,300 or more for a single-handle. Widespread faucets start at $40 and can be priced as high as $1,600.
Plumbing
A new bathroom sink may be part of a bigger home renovation project. It will cost extra if you plan to update or move the plumbing.
Grijalva from Sacramento Plumbing Solution told ConsumerAffairs: "Moving plumbing is more expensive … $300 to $1,000 depending on the job. The best way to figure out the cost would be a complimentary consultation with your local plumber. It won't cost you anything and you'll know exactly what to expect once they're done."
Additional renovations
As you consider replacing the bathroom sink, it may be time to think about updating other aspects of the bathroom, like cabinets and countertops. The cost of a new prefabricated bathroom vanity (the cabinet and the countertop) can range from $100 to $2,600.
You may also want to add some new technology to your bathroom. "I always recommend my customers take advantage of the smart products that are available these days," Grijalva said. "Smart faucets and leak detectors will conserve water and can potentially save you thousands in leak repair and water damage costs by catching problems long before your water company." Smart faucet prices usually start at around $100.
» PLAN RENOVATIONS: Best bathroom remodeling companies
Labor
You can expect to pay a licensed plumber between $100 and $600 to install your new bathroom sink and set up the water lines properly. Most plumbing companies charge between $50 and $200 an hour. Bathroom sink installations take two to three hours to complete, on average.
Permits
Permits aren't required for new sink replacements as long as there aren't any major changes to the home's structure or plumbing system. If you do need a plumbing permit, expect to spend from $50 to $500.
FAQ
How much does it cost to install a new bathroom sink?

You could pay a plumber anywhere from $100 to $600 to install your new bathroom sink. Plumbers generally charge a rate per hour, ranging from $50 to $200.

It's best to get an estimate from a reputable plumber, especially if the job requires more than just replacing the sink.
Can I install a bathroom sink myself?

You may be able to install a sink yourself if the new sink setup is similar to the existing one. Replacing a drop-in sink, for example, with a new one of the same size could be a task you complete yourself without hiring a plumber. Make sure you follow a detailed, step-by-step guide.

However, if a new sink is part of a more complicated bathroom renovation project, it may be best to leave the installation to an experienced plumber.
How long does it take to install a bathroom sink?

It can take a professional two to three hours to complete the installation as long as there aren't any complications with the existing plumbing. Certain types of sinks, like wall mounts and pedestals, may take longer to install. Drop-in sinks are usually the easiest to install.
Do home warranties cover plumbing systems?

Yes, home warranty policies generally cover plumbing systems. This includes repairs to leaky pipes or drains. Home warranties may also cover faucet replacements; these items are considered part of the plumbing system. We recommend reviewing your plan carefully for plumbing coverage details, including what parts and components are covered and coverage maximums.

» COMPARE: Best home warranty for plumbing
Bottom line
As you weigh the options for a new bathroom sink, consider the material's durability and ease of maintenance, along with price and design. Keep in mind the size and the purpose of the bathroom space so you find a style that best fits your needs. A pedestal sink, for instance, may work in a small guest bathroom, but it doesn't offer additional storage space.
Remember to add the cost of installation and other materials to your budget. Those added expenses could easily amount to double your anticipated costs.
---
Article sources

ConsumerAffairs writers primarily rely on government data, industry experts and original research from other reputable publications to inform their work. Specific sources for this article include:
Did you find this article helpful?
|
You're signed up
We'll start sending you the news you need delivered straight to you. We value your privacy. Unsubscribe easily.