How to read a home warranty sample contract
Prevent surprises by carefully reading the contract



Written by

Edited by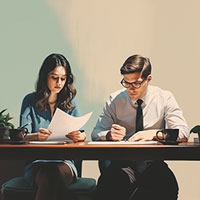 A home warranty can help you cover the cost of repairs and replacements for your major appliances and systems. Similar to an insurance policy, a home warranty provider charges a monthly or annual fee. When a covered item breaks down, you'll pay a deductible and a service technician will fix the item, with the company paying the bill.
As with an insurance policy, you'll want to understand exactly what is and isn't covered. Most companies offer sample contracts on their website so that potential customers can see what the company offers. Reading sample contracts and understanding coverages, exclusions and fees is important when it comes to comparing companies and knowing what you're getting into before you sign up.
---
Key insights
Look for when policy coverage begins, what's covered, exemptions and caps.
Make sure you know how to cancel a policy and when it renews.
Check if any state-specific terms may be applicable to your policy.
Why you should read your home warranty contract
Claim denial is often a top complaint when it comes to home warranty problems, so it's important to know exactly what your contract covers to avoid disputes. Understanding your contract can also prevent extra fees and gaps in coverage.
Here are some things to look for when reading your contract and why:
Understand when coverage begins. Many companies don't start coverage until 30 days after the policy is set up, so you may miss out on a claim if something breaks during this time.
Check for exclusions. You know the refrigerator is covered, but is your ice maker? Some contracts exclude certain parts of appliances and systems, so you may not be completely covered.
Is renewal automatic? If not, make sure you renew by the time specified in the contract so you don't have a lapse in coverage.
Look for fees. Make sure you know what your deductible is, and check if there are any other fees, such as a restocking or cancellation fee. You don't want any surprise costs.
Review the claims process. Do you need to call customer service? Can you fill out a form online? How soon will your claim be processed? Knowing the claims process can help you get your items fixed faster with less runaround.
Check for caps. Most companies won't offer unlimited funds to fix an item. "Some warranties have limits on repair or replacement costs. Ask yourself whether your expectations and potential repair costs align or not," says Brady Bridges of Reside Real Estate.
» LEARN: What does a home warranty cover?
How to read a home warranty contract
Every home warranty company has a different way of laying out their contracts, but they all cover the same topics. Keep an eye out for these terms and sections as you read through your contract.
Coverage
This portion lists the systems and appliances covered, along with which parts and components are and aren't covered. The contract will also outline what add-ons are available for each plan.
For example, the plan you want to sign up for may state that heating systems are covered. You'll need to go to the heating system section of the contract to see exactly what that means. In the contract, the section will list what's covered, what's not and the limits to the coverage.
Here's an example from an American Home Shield contract on what isn't covered and special limits for heating systems:
What is not covered

(i) All parts and components of geothermal systems located outside or under the Covered Home's main foundation; (ii) Fuel storage tanks; (iii) Window or portable heating units; (iv) Humidifiers; dehumidifiers; radiant cable heat; fireplaces; grain, pellet, coal, or wood heating units; ultraviolet lights; home purification systems.

Special limits

1. The Covered Item Limit is $5,000. However, the Covered Item Limit for the following types of Heating Systems is $1,500: glycol, hot water or steam circulating heating system, any water heater which supplies heated water to such system(s), geothermal and/or water source heat pumps.
In this example, there are several items not covered, but the "special limits" section is particularly important to note. In this sample contract, heating systems are covered for up to $5,000. That means if your repair or replacement costs more than $5,000, you'll need to pay the difference out of pocket.
There's also an exception to this cap. If you have a glycol, hot water or steam-circulating heating system, then the cap is only $1,500.
Exclusions
Another important section to watch out for is the exclusions section. In this section, you'll find what the home warranty won't cover. Some common things you'll find that companies won't cover include cosmetic damage, misuse, damage caused by repairs not authorized by the company and known preexisting conditions.
The company may also outline coverage caps here if it wasn't already listed in the coverage section.
Here's an example from the exclusions section of a Blue Ribbon Home Warranty sample contract:
The Company has the sole right to select the technician to perform service, is not liable for service performed without its approval and will not reimburse the policy owner for unauthorized repairs.
Company has the sole right to determine whether to correct a malfunction by repair or replacement. Parts and replacements will be with similar quality and efficiency, except as noted in contract. Company is not responsible for matching dimensions, brand or color of covered items or for repairs arising from manufacturer's recall of covered items or any items while still under an existing manufacturer's, distributor's or other warranty. Company is not responsible for the disposal of any items, including any haul-away fees.
Just about all providers will refuse to reimburse you if you use your own technician without the company's approval.
In the second example, it's up to the company to decide when to replace an item. Even if an item is nearing the end of its life span, the company may think repairs are still the better choice. You'll also notice that you may incur a haul-away fee if an item is replaced according to this contract.
Filing a claim
This section may seem worth skipping since filing a claim can't be that hard, right? Don't skip over anything. Here, you'll learn about service fees, if your deductible is refundable and any limitations to the repairs or replacements that are not covered in other sections.
There may be rules about how long you can wait before making a claim. If you wait too long, your claim may be automatically rejected.
» LEARN MORE: How to file a home warranty claim
Contractor network
There might not be a section dedicated to a provider's contract network, or it may be woven into another section in the contract. Either way, make sure you see what requirements might be listed here for the provider's network of technicians.
Also, see if you can pick your own technicians. Some companies may let you if they don't have anyone available within a reasonable timeframe. However, always make sure you have written approval from the company before choosing your own.
Plan length, renewals and cancellations
The Terms of Coverage and Cancellation sections typically include how your policy starts and how it ends. Look for these key bits of information:
Is there a waiting period before coverage begins?
When does a plan renew and is it automatic?
How do you cancel and is there a fee?
How long does the policy last?
When do you need to renew your policy to prevent a gap in coverage?
How to read the fine print
There will be some areas of your contract that seem like legal jargon. Again, don't skip over any section of the contract. Here's a rundown of some of the terms you'll see and what they mean to you.
The fine print contains important information regarding the obligations of both the homeowner and the home warranty provider.
Terms and conditions
Reading the terms and conditions section isn't the most exciting part of the contract, but there are several areas you need to pay particular attention to.
Arbitration
Arbitration is often included in home warranty contracts as a means to resolve disputes efficiently and cost-effectively, avoiding the need for lengthy and expensive court proceedings. However, arbitration terms outlined in your contract may limit your legal rights and access to the court system in certain situations.
When there is a disagreement or dispute between the homeowner and the warranty company regarding the terms, coverage or any other aspect of the contract, arbitration is a method used to resolve this disagreement outside of a traditional court setting.
Typically, the arbitration process involves the homeowner and the company presenting their case to a neutral third-party arbitrator, who then makes a legally binding decision on the matter.
Class action waiver
A class-action waiver, as referred to in a home warranty contract, is a clause that prohibits the homeowner from participating in a class-action lawsuit against the warranty company. Essentially, it prevents the homeowner from joining forces with other customers who may have similar grievances and filing a collective lawsuit.
Liabilities
In a home warranty contract, the Liabilities section is where you'll find the responsibilities and obligations of both the homeowner and the warranty company. These are outlined to clarify who is responsible for what under the terms of the contract.
Here is a breakdown of what you may find in this section and what it means:
Payment of premiums: The homeowner's primary liability is to pay the premiums or fees associated with the home warranty coverage. This is typically paid on a regular basis, such as monthly or annually.
Maintenance and care: Homeowners are generally responsible for routine maintenance and proper care of their home systems and appliances. Neglect or misuse may not be covered under the warranty, so homeowners must fulfill this part to keep the warranty valid.
Timely reporting: If a covered system or appliance experiences a problem, it's the homeowner's responsibility to report the issue to the warranty company promptly. Failure to do so may result in a denial of coverage.
Coverage: The warranty company's main liability is to provide coverage for the specified home systems and appliances outlined in the contract. This coverage may include repair or replacement of covered items if they fail due to normal wear and tear.
Service timeliness: The warranty company is typically liable for providing timely service when a covered item breaks down. This may involve arranging for a qualified technician to perform repairs or replacements within a reasonable timeframe.
Costs of covered repairs: The warranty company is responsible for covering the costs associated with approved repairs or replacements, other than the deductible.
Resolution of disputes: If there is a dispute between the homeowner and the warranty company regarding coverage or repairs, the warranty company may be liable for resolving the dispute through arbitration or claim denial repeals.
State provisions
The laws governing home warranty companies change from state to state. Your sample contract will have a section covering some amendments to the contract specific to your state.
For example, your state may have certain rules about how much of a cancellation fee the company can charge you or how the company can determine preexisting conditions. There may also be specific information about how long the company can wait before servicing your claim or who to contact if you have a problem with the company.
FAQ
How do I choose a home warranty company?

You first want to look at companies with plans that match up with your needs. For instance, do you prefer an appliances-only or systems-only plan?

Next, compare costs and coverage caps. Even if a plan covers all the items you need, it won't be of much use if the limits barely cover the average cost of repairs. You'll have to read the fine print, as outlined above, to make sure you fully understand what's covered by the company.

According to real estate broker Brady Bridges, there are also some red flags to look out for:

Beware of vague or ambiguous language in the contract. The terms and conditions should be clearly defined.
Watch out for high cancellation fees if you decide to terminate the contract early.
Be wary of hidden costs or additional charges that are not stated in the contract.
Check if the warranty provider is licensed in your state. For accountability issues, you should avoid dealing with unregulated companies.

Lastly, check out real customer reviews on our website to see how the competition stacks up. Pass on companies that seem quick to deny claims or use inexperienced repair technicians.

» MORE: How to buy a home warranty
How can I prevent the company from denying my claim?

In addition to fully understanding the contract, getting a home inspection before signing up may be worthwhile. With an inspection, you'll know there are no known preexisting conditions and have a record of it in case there is a dispute. Also, it's best to keep a record of maintenance services performed to prevent claim denials over proper maintenance.

» ADVICE: Is a home warranty inspection worth it?
What should I do if my claim is denied?

File an appeal with the company and provide any documentation to back up why you think the denial was wrong. This can include screenshots of the sections of your contact that pertain to the issue.
Is a home warranty worth it?

If you want the reassurance that you won't have to pay a large repair bill sometime in the future, a home warranty can be worth it. People who benefit most from home warranties are those with older appliances and systems that are more likely to break down in the near future.

» FIND OUT: Is a home warranty worth it?
Bottom line
Sample home warranty contracts are like a roadmap for what to expect from the company and what it expects from you. These contracts make it easier to compare companies and avoid ones with bad terms. Be sure you check what's covered, what isn't, fees, how to cancel and file a claim, and any location-specific rules.
Although a tedious task, reading the contract from start to finish will help you avoid any surprises and potential disputes down the road.
Did you find this article helpful?
|
You're signed up
We'll start sending you the news you need delivered straight to you. We value your privacy. Unsubscribe easily.