Consumer Complaints and Reviews

I scheduled a service 3 weeks and had to wait a week for a technician. They came and said they had to replace a control board for auto-defrost on my refrigerator. They charged $350 to my credit card and that evening my refrigerator was still not working and had another error code. I immediately called and asked for a technician. The earliest date they could give was yet another week away. Today I waited all day for the technician and they never came. I called and they said there was a problem with the technician, which they didn't know what, but that the earliest they could come again was next Thursday. I complained and they started a case file, but no results or appointments until next Thursday. Never use this company. They are not trustworthy. They have committed billing fraud by charging me with no services delivered, though they promised it was fixed.

We have Home Shield warranty on our appliances. Our microwave door needed to be replaced, tech comes out, has door shipped to us. Now 1 week goes by time to be here between 10 and 2 - no show, no call. Finally I call them at 6:30. Tech shows up they ordered wrong door!!! Customer service is awful and they are not in this country which A&E advertises and All-American company BS!!! No one speaks proper English now. Door was to be delivered next day. No door and guess what, they got my money - they take the check and leave!!! Please we are changing co. because Sears only uses these morons!!!

This is a tacky ass repair company. Were suppose arrive between 1-5 pm. ** never showed up or called. When I called at 5:30 they said "oh there's a second 2 hour window", which meant 7:30. 7:30 came and went. I called again and they said "can we reschedule". I told them "Hell No." People please listen. NEVER EVER USE THIS COMPANY. A&E Factory Service. Zero stars. Should not run a business. Very unprofessional.

This is the worst company. This is my 3rd time in 15 months for the same repair, not to mention we have been out a refrigerator 3 weeks each time. Here is how the run their business - takes techs a week to come out without parts even though you give customer service the error code then wait a week for the parts to be delivered then another week to 10 days before they come out to put the parts in, they state they are out that far and have no opening. Obviously Sears has an issue with their appliances and A&E doesn't know how to fix them right the first time. A&E shouldn't be in business. They are a joke. I had to give them 1 star to post this otherwise they do deserve any - they suck.

I have gone 6 days without hot water. The tech who came to my house said that he will have to be back Monday with the part to fix my water heater. After playing phone tags over the weekend and this morning I called the A&E number to check the status of the tech coming to my house to fix the water heater. They keep saying that they do not have an answer and I would have to call back to speak with someone who has the info. I asked today "Where are you located?" And they located in the Philippines not even in our country. THIS IS BS. My wife was told that the Tech would be back to my house today to fix it and the call center keeps saying they have no answers to my questions. I do recommend that you or your friends not to buy a household equipment that deals with this company. Waste of time and money.
How do I know I can trust these reviews about A&E Factory Service?
611,030 reviews on ConsumerAffairs are verified.
We require contact information to ensure our reviewers are real.
We use intelligent software that helps us maintain the integrity of reviews.
Our moderators read all reviews to verify quality and helpfulness.
For more information about reviews on ConsumerAffairs.com please visit our FAQ.

Tech was supposed to be at my house between 1-5. Never came and they wanted to reschedule for the following week. The tech called me and said he would be here at 3:30. At 4:45 call A&E, didn't know anything.

Repairman didn't replace stacking bracket when he done repair on washer of a stacked set. Called and got the runaround and was told it would have to be handled by warranty dept, back to beginning of run around. Repairman didn't do job and I'm being punished for it.

Have a GE profile dryer that is not working try and find a technician to fix was my first nightmare. Took forever for A&E to come out. They gave me the wrong day. Guy finally comes and diagnoses it as the motor the price he gave me was outrageous. I went online and found the motor for more than half off myself. Had it installed for 2/3 cheaper and guess what it wasn't the problem and they want to charge me to come back out. Will not make good on their mistake. Can't believe they have not been shut down and that GE is suggesting them. Don't use, run for the hills. Almost criminal.

Bottom freezer keeps icing up and we called service and they showed up. First guy says it's the seal and orders. Next guy comes to install and states it's not the seal but rail. He heads home and orders rails and still freezer icing up. He returns and installs and 3 weeks later it starts icing again so I call back and take the day off work. NO SHOW and excuses for why they no showed. Again guy shows up Monday and states it's fine to have ice and it's user error. WTF you open and close a freezer, how is that human error. They have no clue and no idea what they're doing, stay away and save your sanity and money. This is exactly why Sears is going out of business.

I have a Samsung washer that needs repair. This is the only company Samsung contracts with and they are horrible. First after sitting and waiting for them in my 4 hour window they call at the last minute to tell me there are still 3 people ahead of me and it would be several more hours. On the next appointment when they actually show up the technician didn't know anything and recorded the awful grinding sound with his phone and said someone would get back to me. He said it with little confidence and followed by saying if it gets worse just call back.
So after a couple weeks of nobody calling me I called A&E back and was given a runaround. I was told I would have to pay for someone to come out again. I disagreed and then they told me to call Samsung to set up and appointment through them. After calling back and forth to A&E and Samsung several times (over 90 minutes) I was finally given an appointment but could not be guaranteed a different technician would come out to service the washing machine. I asked to speak to a supervisor so I could get some of my questions answered and the operator at A&E hung up on me. I do not recommend their service and I do not recommend a Samsung washer as mine has been broken twice in 15 mos. and the horrible company A&E is the only service option.

Let me begin by saying this is the absolute worst service I have ever had. They scheduled it for the wrong address and when I called to confirm two days prior I changed my address to the right one and they confirmed the appointment time and day will not change. I took off work to be here and I received a call from the technician (automated message) saying they were on their way. I noticed the number and called A&E and was told they were still coming and not worry. I received another call saying they messed up and just rescheduled me the following Monday. First off, who can take Friday and Monday off to sit around for hours waiting for someone to show up. I called back and told them that doesn't work and they didn't care at all. I called Home Depot where the protection plan is and she supposedly called and said they will be here today but unsure the time.
When I called at 3 pm to see what time they will be here they said they weren't coming today. I was informed they are not even in the United States but didn't have a number for anyone here. When I complained to them they just cancelled the appointment for Monday and didn't tell me. I wouldn't of found out have I been so frustrated and called another number. That would've been two days of sitting here and over a week with no washing machine with five people's clothes stacking up. This company is complete garbage and should have to pay us for wasting our time. How are they still in business? How can Home Depot use them? Right now I wouldn't use them or purchase anything from Home Depot again. Please listen to my review and avoid them!

They still owe money to us. They require you to buy a contract and then gave us the run around as to when they will send out a service-man. Waited for weeks! Still trying to get money back on parts for the 8 month old LG refrigerator they said we need. The refrigerator is now in the dump. Do NOT CALL THEM!

Technician came to do an assessment on my range. He turned the gas off to the stove, but did not turn it back on. I couldn't move the stove to figure out how to turn it back on. I called A&E, they said they would send a request for the technician to call me back. He did not call. I called again, they said they would have another technician come back out, however it would cost $89.00 to have them come out and turn the gas back on. After further discussion, they offered a 30% discount, then a 50% discount on the service charge. When the supervisor came on the line, there was no more discount. The central call service center is located in Republic of Columbia. The referrals given to me by the service technician for new products were all directed to Sears. Therefore the true problem. Never again will I call A&E, and I will continue to avoid Sears.

I'm in total agreement with most of these reviews. I can't believe with this many complaints you're still in business and you haven't improved. I'm waiting on your tech to repair my dryer for the 3rd visit to install a part that was diagnosed on first visit but was never ordered, so like most of the customers I've waited a week to 10 days in between calls. My water valve was leaking on this Samsung dryer, it has saturated everything in it. The 1st tech left it setting here with water in drum area. She did turn off the water and unhooked the hose. 2nd tech nice but couldn't finish the job because 1st tech ordered 1/2 the parts needed to complete. He at least managed to get it drying again, so now parts have been here for a week and waiting for tech on third time visit.
Purchased mine at hhgregg and I had no better results from local and corporate on resolving this problem. Told to let extended warranty do its thing. So almost a month later, hopefully today will be the last time I deal with these people. Looks like as consumers we don't have much choice. I can furnish purchase and all receipts involved with this complaint.

I purchased a dishwasher from Lowes in 2014. The problem started in about 7 months after purchase. Lowes sent out a company and he fixed the problem. About 6 months later or less, the same problem. This time Lowes used A&E Services. It took a week for them to come out. The technician did not know what he was doing and he was calling his manager. I explained to him what the last tech did but he ignored me. In about 30 mins or so, he said I need a new part ( which was a latch). I'm not a technician but I knew this was not the problem but anyway, he said he would order the part and would be back in two weeks. The part came in a few days but I had to wait two weeks.
He came back in two weeks, put the part on, turned the machine on, and left. Needless to say, it didn't work. I called them back the same day and told them that it was not working and could the tech come back. They claimed that he would, but it has been over 2 weeks again and supposedly he will be out today between 8 and 12. Now they are saying I'm the last appointment of the day. I told customer service that my appointment was for a.m. She stated that the tech had a high escalation. Now Lowes is telling us that they will buy us out at 40%. This is a bunch of baloney as well. This dishwasher has not been used a lot. I had to buy another dishwasher that will be close to $600.00 and they are only willing to give a little over $200. I will not buy insurance from Lowes again.

We bought a Kenmore dryer 7 months ago. It quit. 6 weeks later still doesn't work! My wife waited all day on 2 occasions and a repairman never showed. When one finally did he diagnosed the circuit board. Got another appointment to get it installed. Different tech shows up, installs circuit board, dryer not fixed (can you say mis-diagnosis?). That tech orders a motor (let's throw another part at it!!), it comes in, we get an appointment for install, same tech comes out and says the stack kit for dryer is not factory and he can't take it apart (per his boss). Funny I bought the stack kit from Sears when I picked up the dryer and Sears has a record of it.
So after 6 weeks of hanging our laundry on the front porch we will go to a LOCAL appliance store and buy a new dryer. We are tired of living 3rd world and we deserve a working dryer. Sears and their incompetent friends at A&E are incapable of fixing this one so we will have to spend our money on their broken promise of a warranty and hope they will refund the purchase price of their failure or we will have to donate more time to their sad operation in small claims court.
When Sears goes out of business I will fully understand why. They do not honor their word and customer service is totally sorry! This has impacted our lives for 6 weeks and I refuse to let Sears and A&E ruin any more of my life. They suck and I am done with them. Do yourself a favor and steer clear of these 2 incompetent entities, find a store that employs their own repairman, because if their repairman is an idiot (like A&E's) they will fire him and get a better one. Both of these companies are not worth your trouble.

Technician rescheduled the fixing of our refrigerator again. I guess he didn't feel confident that he could get it done so he scheduled for someone else to come in the morning. This is like the seventh time they will come to fix same appliance. If we call, the Sears people are in the Philippines and A & E people are in Columbia. We can never get a straight answer. No more Sears products for me. No more warranties with them either.

For the life of me, I do not know why any company would use this place to service their appliances. I have had a problem since July 4th with my stove not working. A&E sent a technician who knew NOTHING about the stove. He was asking me if I thought this would work, or that would work. I kept saying "how do I know, you're the technician". He left without fixing problem. We called Lowe's to tell them we did NOT want that company sending us technicians... so they arranged to have another guy come out from another company. He fixed problem in five minutes. A week later, when I tried to use the self cleaning feature, it did not work. Lowe's said I had to schedule another service call. This time I had no choice but to use A&E. They scheduled an appointment between 8-12. At 11:30 I get a call from A&E saying the technician called in sick. Really? And they just now are telling me?
I called Lowe's, who promised to have it taken care of, and scheduled me yet another appointment. I called A&E to confirm, and was told, there was NO REPAIR scheduled! What!? I spoke to a supervisor and said Lowe's told me I had an appointment. Were they lying... and he said..."well its possible!" Really? Called Lowe's again, they assured me I was scheduled. They put me on a conference call with A&E and I was assured someone would be there. Yeah right. Shame on them and shame on Lowe's for dealing with such a horrible company.

The serviceman diagnosed my problem then charged my credit card and when I asked for a receipt would not send one by email. I contacted Sears, who contracted with A&E for the service call and they refused to send me a receipt or tell me who I could contact. When I called A&E they played games, gave me the runaround and would not send information as to why they charged my credit card twice. If I could give a zero star rating I would.

I have a 3 year old GE profile that is having trouble. I called GE and I am out of their service area so I was told to call A&E. To say the least they are as friendly as a rattlesnake ready to strike. My fridge is not working freezing the meat and over 60 inside the rest. I was told that they could come and fix it in 9 days. "9 days?" I ask. "What I should do with the food inside?" She said "I don't know." I have no choice but to use them or pay for a repair myself which is covered by the 5 year warranty. Heck of a choice. Hey I would never use them if didn't have to.

I signed up with Sears Home Services. They sent a jolly guy out who looked at the dryer and knew what had to be done. He went out, got the part, replaced it and voila the dryer worked. Except, it did not when I tried my first load. What follows is a customer service horror story. I could not get the guy to come back same day to fix because he was already here once. Ridiculous. Next two days Sears nationwide outage on their systems causes zero ability to schedule anything. When I do get someone online, the soonest they can get someone out is 14 days later who may or may not be able to fix it. If a part is required another 14 days of waiting. Meanwhile, I am out of dryer, my $195, and stewing on the phone with Sears who cannot find their own managers. This is the perfect example of how to lose customer. Take a bow A&E and Sears.

I totally agree with previous negative comments! No excuses for such poor services! I have had same experience with A&E here in CA as all customers that shared their experience on this page, late show up (2-3 hours delay), not show up at all without courtesy call, unprofessional techs that unable to perform services, unacceptably rude personnel and their manager, overpriced labor, overpriced parts (better deal was to get it online from Sears for at least 30% off). Most terrible Sears Home Warranty experience ever! Rude and unprofessional technical personnel left me with not fixed fridge even the task was simple, to replace worn out parts with new ordered from Sears for Kenmore Elite fridge.
Fresno's, CA, A&E Manager Ricardo was acting like a king of England or at least as a main owner of Sears that with his "royal" decision ruled out sending a new tech to finished the job, leaving me with broken parts that were supposed to replace worn out parts on my fridge. I tried to explain my reasons for cancellation of my recently purchased home warranty from Sears to Sears customer solutions multiple times, not to mentioning multiple e-mails that I've sent to management regarding my horrible experience with Manager Ricardo and his worthless technicians from A&E Fresno, CA (that managed my area).
NO response, from A&E management or Sears management. The emails that I've sent to A&E and Sears customer solutions to describe my experience with absolutely RUDE fourth (last) technician that also failed to replace and damaged re-ordered (second time) left and right refrigerator door gaskets (that were broken by previous tech) were left with no response. After a month of struggling and requesting a refund at least for labor, I received a refund check... with my name slightly changed!!! SOAP OPERA not service. :(

I am a relative new appliance service technician for A&E Factory Service. I spent Saturday looking up the company I now work for on the internet to see what reviews have been said about A&E Factory Service. Needless to say, I was floored. I could not believe all the complaints. Every company has employees who can give the company a black eye when it comes to company service. A&E is no exception. The customer satisfaction field is one of the hardest to maintain a high standard of excellence but not impossible. An A&E technician must keep up on every make and model of home appliance made as we may have to work on any other them on any given day. That is a lot of pressure to put on the technician. Most appliances within their own categories are made very similar and also have issues specific to themselves.
If a dishwasher has a drain issue, no matter what brand or year made, it probably is one of a couple of things. Same thing with ovens, ranges, refrigerators, washers and dryers. What we come up against is the ever more use of electronics by manufacturers. SO many issues can be attributed to the power control board (PCB) on any appliance. With the use of so many sensors on each appliance, used at different times during the time the appliance is running, it is very difficult to determine what is causing the problem with the appliance. No factory makes or supplies our technicians with computers where we can plug in the various boards or sensors to determine if they are bad or not. We have to rely on our technical knowledge, service and technical manuals, and experience. Yes, sometimes we get it wrong.
An appliance is like a human body. The brain is the body's computer and the various parts of the body/appliance are the sensors and hardware. As we all know, doctors also misdiagnose illnesses all the time. Sensors can give false readings and may not be the cause of the problem with the appliance or the human body. We try to narrow the issue down best we can, and then make a decision on what part to repair or replace. We try to keep the most widely utilized parts on our vans but there is no way to keep every part we may need. We have the option to either find the part locally, go get it, schedule a return trip for that day to install it, or order the part(s) wait for them to be shipped to you. When the part is ordered, our computers generate return dates that we can schedule around your busy schedule. Parts ordered usually take 4-6 days to arrive so the computer generates dates to return 7-10 days out.
I realize this can be very inconvenient since we all need our appliances in our everyday lives. I personally hate to tell a customer that a part has to be ordered when it is a stove, refrigerator or washer. If the part is not available locally and or we just are so booked up we can not leave, go get the part and return, we have no option other than to order it. Most technicians will tell you they would be more than happy to come back in the next day or two if the part was available, but our appointments are set days or weeks in advance which makes its nearly impossible to return so quickly. I tell my customers that when the part arrives at their house, call into their warranty company or A&E Factory Service and try to obtain a sooner return date. Most time it works. The return trip is usually a short visit as we already know what the problem is and we just install the part and are on our way. This is pretty much how the technical side of A&E works.
The one thing almost every complaint I read had to do with scheduling. We are assigned by computer each day, our assigned route. It can be as little a four calls to as many as ten. The number of calls usually depends on what the repair has been reported and the time it usually takes to complete it. It also takes into account the distances between calls. Our calls are routed for us by address so we may work in the most efficient way and plan our day. One thing we do not have control over is the calls that take a lot of time to diagnose, tear completely apart or just flat are very labor intensive. When we have to wait for the customer to remove dishes from the dishwasher, clothes from the washer or dryer, food from the refrigerator, these small things take up time.
Also, having to try to remove the appliance from its location so that we may have access to properly repair it takes a lot of time. These unforeseen issues are what causes a chain reaction of running late on our calls that have been preset. A technician hates more than anything to call a customer and tell them it will be another hour before he/she can arrive when they have already been waiting for hours. We just don't have control sometimes when we run late.
The thing I read that I found appalling is the lack of contact with each customer. Something that we have complete control over is calling our customers ahead of time and try to give a reasonable estimation time of arrival. I am just as guilty of not keeping my customers in the loop. I know as a customer myself, I want the repair technician who is assigned to help me, to arrive when he/she said they would, or call me and keep me informed when they will arrive. I/we at A&E Factory Service are in the customer service field and need to conduct ourselves accordingly.
What is very obvious is if the technicians who fail to keep in contact with their customers, provide the repair service required, and do so in a timely manner, would be out of business if they owned their own company. We as technicians must change for the better. We need to provide the simple things that we ourselves want from people when we need them. I plan to share these hundreds of complaints with supervisors and other technicians in hopes we provide better customer service experiences.

They had to send 2 different techs to solve the problem. Second one thinks he knows what it is and orders a part. Part comes in and I set up appointment. Sat for 4 hours waiting and finally called and they said 10 minutes. 45 minutes later he shows up. I ask why he didnt call and he said he was too busy and overbooked and said because I had a bad attitude (after waiting 4 1/2 hrs) he was leaving. I called customer no service and they set up a new appointment for the next day. Again waited 3 hours and called to see when he was coming and they said the appointment wasnt for 2 more days. DO NOT USE THESE PEOPLE. They are rude, slow and have outsourced their customer no service.

Excellent experience!! Repairman was at my home as promised and my oven was repaired within one hour. Shannon is a great representative for A&E. If I have future needs with my appliances, I will request a Monday appointment so Shannon will be sent to my home.

I called on my brand new range to get it converted over from Gas to LP. I was told by no less than 2 customer service reps AND the technician who I spoke with in route that this work could be completed by them. When the SAME TECH arrived he tells my husband he can't do the work!! We were waiting for 2 days for them to basically do nothing. SO furious!!!

I have an extended warranty so there are only two companies in the St. Louis area where I can get service. One was in IL so I chose A&E Factory direct. What a mistake! It took close to a week to get an appointment and after they showed up they did not have the parts. He ordered the parts and asked me when he could come back. I scheduled the appointment for Monday 7/18 as I was out of town on vacation the week prior 7/11 - 7/15. A day or so later I get an email that they have (without consulting with me) rescheduled my appointment to 7/13 while I was out of town. Keep in mind they NEVER consulted with me. I immediately called them and told them I was not available that week and asked for my 7/18 appointment back and they told me it was not available. In other words they changed it without asking me and gave my appointment to someone else. After all of this they wanted to push my appointment into the next week!
At this point I asked for a supervisor and he said they would come on Saturday between 10 and 2. This is the only attempt they made at customer service. However, guess what? After waiting all day on Saturday 2 rolls around and not phone call or technician so I called and they announced he was not coming until 4. Well so much for a promised time window. I had a family engagement that afternoon so I requested that they reschedule the following Monday since once again they failed to honor their commitment. They said that they would come next Wednesday and when I got the email it turns out it was 1 1/2 weeks later the following Wed. I took off work on Wed and called and they told me all of this and would do nothing to accommodate me.
Everything I requested was the answer was "Not gonna happen". I opened up a formal complaint, however I do not expect anything to happen as this is the least customer service oriented company I have ever encountered. At this point it has been ONE MONTH since my dishwasher broke and and I am not confident they will show up this coming Wednesday either. I was so upset this morning over this. I am sure I had high blood pressure. What a horrible experience!!!

A&E came to my house 13 times in a 5 month period to fix my Kenmore refrigerator. After 3 compressors and 2 condensers it still wasn't fixed. The last tech that came out no personality found that the tube between the compressor and condenser was plugged. We sued and won judgement, now we have to find out what bank they use to get our money. I will never use them again, and on the contrary I have seen Sears repair trucks. I thought they just myths.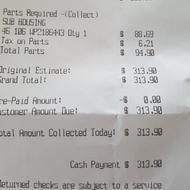 Rep was very out of shape, could not get off the floor. Took it upon himself to use my delicate dishes (glass) to clear cloudy water coming from the door dispenser instead of asking for my help. Did not have proper equipment on hand and wanted to go to nearest hardware store, but chanced using what he did have on hand to work (rig) so not sure it won't leak again in the near future. Total cost was nowhere near the estimate I was quoted online, $100 more. Rep. said the reg guy was on vacation (really). Will not be going with Sears ever again or recommending them to anyone! The rep. gave me this scratched card!

I have been dealing with A&E for over 3 months trying to get my dishwasher fixed. The original appointment was supposed to be 4/15. I was given a 5 hour window for them to show up. I was home the entire time and no one ever showed up. I called to find out why no one ever came and the "customer service" rep claimed they had been there and no one was home. I told them that was a lie and they needed to get me a new appointment. New appointment was made for the following Tuesday afternoon. Was "assured" that I would be the last appointment of the day so I wouldn't have to take more time off of work. Technician came without calling and just left a note on my door that they were there at 2 pm. So a third appointment was made. Again was assured I would be the last appointment of the day. This time the technician actually called but again showed up earlier than I was told.
So finally made an appointment for a Saturday through my home warranty company. Technician never showed at all, even though they had a separate appointment for my sister who lives in the lower unit of our duplex. Yet again, another appointment was made for 2 weeks later on a Saturday. Finally a technician is able to just diagnose the problem and of course they need to order parts. Another week goes by and the parts arrive 2 days before my appointment. The technician comes out and tells me the part is bad. I can understand this. Sometimes there's just a bad part. So he orders another one and we make an appointment for the next week. That part arrives and someone shows up to replace and now that part is bad. I was told they would need to order another part. But they can't make an appointment because their system is down. He tells me to call when the part arrives and make an appointment.
Problem is he never ordered the part, so it never comes. 10 days go by, I call my home warranty company to help and we talk to A&E who claims to have now ordered the part. Another week goes by with the part not arriving. So I call A&E to find out where this part is. Their incompetent customer service rep first told me that the part arrived on 6/26 (that's a Sunday) and that it arrived via UPS (all other parts delivered via USPS). I told her that's impossible, UPS doesn't deliver on Sundays. She then directs me to Parts Recovery who then tells me that they have no record of the part ever being ordered again and they can't order the part, only technicians can do that. I spend an hour on the phone with a "supervisor" who did nothing to help other than schedule yet another appointment for a tech to come out. Made sure they had all the proper numbers to call so I could leave work to deal with this again.
Tech is supposed to come the next day and called the wrong phone number so I missed my appointment again. Finally I call and raise hell with "customer service" who hangs up on me the first time I call demanding to speak to a supervisor immediately. When I finally get on the line with someone 20 minutes later, all they can apparently do is reschedule the appointment again for Tuesday 7/5. Again give them all the phone numbers to call that morning. Get 2 confirmation calls over the weekend. Tuesday morning comes, they didn't call yet again and showed up. Luckily I had arranged for someone to be there. And "miraculously" they can suddenly use one of the old parts to fix my dishwasher. Except that it only works for a week and now my dishwasher has stopped working yet again.
Called my home warranty company to tell them at this point they need to replace it because A&E has proven incompetent and unreliable. But they have no record of A&E ever even showing up. So it's going to be at least another week before this is resolved. I have never in my life dealt with such poor customer service and just blatant disrespect of people's time. They have proven time and time again that they couldn't care less about people. They only do the minimum amount to collect a check and to hopefully buy enough time that the warranties run out and it's no longer their problem. It's clear they don't care because they get paid either way through the company providing the warranty.
They go out of their way to give poor experiences. You can't understand anyone you ever talk to and every single person I've dealt with has different information. The last rep I talked to from there has even admitted that he's heard this is a problem with their techs not showing or not calling when they're on their way. There is no consistency and even their managers have no knowledge and do nothing to help.
A&E Factory Service Company Profile
Company Name:

A&E Factory Service

Website:

https://www.aefactoryservice.com/