Quest Diagnostics
Madison, NJ
Consumer Complaints and Reviews

I've used Quest Labs at numerous times. Each time they photo my 2 insurance cards. I have gotten my third notice on a late payment. Bill only shows 1 insurance billed. Lab tells me they don't handle billing and I must call 800 #. Get told 20-40 min. waiting time to talk to someone. Went online and created a Lab account. Have noticed secondary ins. never shows up even after I've submitted it twice now. I should not have to do their work for them.

I went in w/ an appointment; waited over an hour in a waiting room way too small and there were 15 other people there in a room for no more than 10. The staff were just ignorant, she called my name and when I came to the counter, the other girl said she did not call my name even though everyone heard it. Did not try taking blood from my left arm, only my right because then she would have had to have walked around the chair and put the armrest down so she took it from my right hand, 3 vials, hurt like crazy. I signed up for online results.
Nothing for 10 days and then an email that they can't find my lab results. I call and finally get through and am told they did not take enough blood to do the tests and I would have to come back in. The blood work is required to be done by a certain date so my carrier, Aetna, will not charge me a $600 surcharge in next year's premium. I had already waited until the last minute and now I am being charged the $600 because of these lazy and uneducated people. Quest Diagnostics, Boynton Beach, FL.

I was awaiting a result of my CBC. After eight days, nothing. Contacted them by e-mail, still nothing. Called them, was on hold 30 minutes. Was told by the clerk that they entered my name in wrong. This causes a delay in care.

For exactly a year I've been battling with Quest Diagnostics. I'm billed $482.39 for a standard, routine laboratory test that was absolutely covered under my former insurance (Blue Cross, Blue Shield of Kansas City). Initially, the doctor's office had in fact submitted the wrong coding but corrected it numerous times but the one and only "corrected" claim that Quest Diagnostics re-submitted to the insurance was actually not corrected at all: they simply re-submitted the same claim with the same, wrong coding.
At this point, I have lost count of how many times I've called Quest only to hear "there's nothing we can do", or "your doctor's office has to correct this mistake and re-submit this claim" which again, has been corrected and re-submitted. To make matters worse, the doctor's practice has permanently closed. It seems absolutely ridiculous to have to pay almost $500 when having one of the best insurances in the country because Quest can't correct four letters. Literally, four letters! The absurdity of this situation is incredible considering that the same exact test was successfully covered less than a year before, for the exactly same amount of $482.39.
I'm not entirely sure that this battle is worth fighting any further as I've spent countless hours on the phone between my insurance, my doctor's office and Quest Diagnostics when it's beyond clear that Quest are the ones who have dropped the ball. I suppose that for the sake of my mental health I should probably pay the bill which on principle seems absolutely wrong. Lastly, I've been receiving calls from what seems to be their collection department. They call, leave no voice message and when returning their call, they do not identify themselves and ask for personal information. If you have a choice, DO NOT work with Quest Diagnostics. You will waste so much of your time, energy and ironically, your wellness.

The workers are lazy, rude, and do not explain anything to you! Specifically the one in Rochester, MI has the worst employees that do not know what they are doing. They make you feel uncomfortable especially the lady that worked there 9-6-16 at 8 am. She is a big, rude, nasty, big mouthed lady that should be fired. I DO NOT RECOMMEND COMING HERE AT ALL!!! RATING: -10000000000. VERY FRUSTRATED. I will let everyone know that this is not the place to go to and make them lose consumer business.
How do I know I can trust these reviews about Quest Diagnostics?
608,728 reviews on ConsumerAffairs are verified.
We require contact information to ensure our reviewers are real.
We use intelligent software that helps us maintain the integrity of reviews.
Our moderators read all reviews to verify quality and helpfulness.
For more information about reviews on ConsumerAffairs.com please visit our FAQ.

Wife has different insurance than me. Quest billed my insurance for her tests, of course rejected. Then sent bills to me. Called them and explained. Tried to give them correct policy, they wouldn't take it, said it had to come from doctor's office. Verified with office that correct information was sent to Quest. They kept billing me, could not get through to their billing. They just repeated every time that it had to come from the doctor. Now they've turned me over to collection agency. Agency they use is bottom feeder that is harassing, refuse to identify themselves (too stupid to realize the phone number show as on caller ID) when they call. Told doctor we'll leave him if he ever sends our lab work to Quest again.

Lab test were considered needed by my doctor, but not covered by Medicare because the incorrect code was used by Quest. Hours on the phone with my doctor's assistant who reportedly informed Quest of the proper code. No luck. They refused to change code, which if they would have been reimbursed by Medicare (a fraction of what they had charged). Out of desperation I offered to pay Quest what they would have received from Medicare. "No, they do not bargain with clients." Their charge was $194, which I decided to simply pay and get them out of my life. Tried to pay using my Visa with their online service. Wanted a zip code, but my zip code was "not valid"? Tried to call them. Estimated wait, 55 minutes!

I tried for a week to get completed lab results put into my account and could never get the customer service people to answer the phone. I was on hold at least 5 times for 30 minutes or more for the people that had the authority to do this without an answer. I am retired from working with service industry companies and Quest is absolutely horrible. They are the poorest managed, customer unfriendly company I have ever dealt with. Unfortunately, my insurance company requires us to use them. It is a good insurance company (Aetna) but Quest gives them a black eye. They are absolutely horrible.

I have had so many problems with these people. Their billing dept. can't seem to read numbers so they always try to Hargrove me instead of my insurance co... Then they treat you like a Nazi treated the Jews, only with me it didn't work. Then they lose my blood sample taken by my doctor and they have no idea what happen to it or most likely they are lying to get even with me. Totally unprofessional set up and immature workers at that place (this is the one in Ocala, FL on SR 200). No positives whatsoever.

I had been at the Venice office. Had my blood drawn but could not give a urine sample. I was given a sterile cup and told I could bring it back. When I did bring it back which was 45 min later I encounter this lab tech with an accent. She told me I had to sign in like everyone else. At that point there was about 15 people there. She refuse to take my sample. This will probably keep me from returning to your clinic.

The location on Caring Way in Port Charlotte has the rudest clerk. I was there with an appt. on the day before a holiday when they were open only a half day. The woman at the desk, who is never nice anyway, was particularly ugly that day. She obviously did not want to be there. She was rude, abrupt and slammed down everything including papers for signature. It was extremely uncomfortable. Fast forward 7 months. Same woman same attitude. She was so rude I thought the waiting room was going to root. It got ugly.
At 12:45 a client went to the desk to complain that walk in were being taken over her 11:30 appt. The clerk said, "get back here!" No apology. Don't care if it was not her fault. She's the front desk face of the company. She's the Comcast version of phlebotomy. She also drew my husband's blood and he came out with bandages on both arms. He said she really slammed the needle in and did it in both arms. I said, "she's mad and took it out on you." His arm is bruised and swelling!

Absolutely the worst attitude of a young ** woman with no customer service skills or understanding of where she is in the medical field. I was there on 7/27/2016 at 9:30am for blood work. Very rude girl. Very disrespectful--very ghetto. She will never draw blood from me again.

Quest used to mail results to you in the mail. But, now they require that you create an account and will charge you extra $$ if you want access to the results after 60 days. But, creating an account is NOT easy because it doesn't get created the same day you register. And then when I finally remembered to go back, it was 62 days later... So now what do I do? NO RESULTS to review prior to going to my annual physical!!! What a Scam.

Our doctor wanted a well known urinalysis to be sent for testing but it had to be frozen. No Quest lab provided for this kind of testing. Although, even the Draconian NYS law allows for this test. The people at the labs are poorly informed. Often, with little education. We had to contact the head of Quest Labs and they told us how to do it ourselves. Why is it that NYS has such stranglehold on testing? Why do we have to use such an archaic, poorly educated system Quest. What is the NYS sweetheart deal with Quest labs? Many of their lab techs cannot even pronounce typical metabolic terms.

Service at the lab is fine, but their billing dept is totally inept. I was billed for services over a year later. Another visit I received the bill 6 months later - returned statement with my Visa information 3 times. Quest sent a new bill 3 more times and then sent me to collection with threatening notices for bills that were paid 3 times!!! I will never use this company again! LabCorp is the way to go!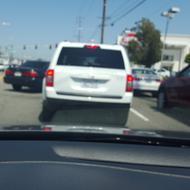 On 6/22/2016 at approximately 2:56 pm Pacific Time, I was driving westbound on West 120th Street near Inglewood Ave in Hawthorne when a Quest Diagnostics driver in a Jeep labeled "Quest Diagnostics 49" (CA License plate# **) narrowly hit my car by swerving over into my lane in order to pass someone who was turning right in his lane. For clarification, he WAS NOT trying to avoid hitting that person as a result of a sudden stop. He was simply too impatient to wait for the person to complete the turn so he swerved into my lane for the purpose of driving around the car to continue to go straight.
About a quarter of a mile down the road, he swerved into my lane AGAIN, this time cutting me off and causing me to slam on my brakes with other drivers close behind me who also had to slam on their brakes to avoid hitting me. He continued to drive recklessly, weaving in and out of traffic for 2 miles before turning left onto South Van Ness Ave. I find it ironic that your company claims to positively "touch patients' lives" yet your drivers are careless about possibly harming or even taking the lives of others through their reckless driving. Something must be done about that.

So, I had to go take an employment drug test, no problem, so I thought. I've never used drugs and have done this many times. I go into the N. Florida Ave location in Tampa and my nightmare began. First, I get there and it's 3pm, they close at 3:30 and it's about 8 people in there and I was told to come back the next day, Friday. I ask what time they open, 7:30am. Ok I'll be there. Well, there is a Quest office about 1 mile from my home so instead I try to there but they are no longer open so I go back to the original one. I sign in and sit. I was told there were a lot of appointments that day so it will be a bit of a wait. A bit of a wait, I'm thinking 2hrs max, NOT 7HRS!
Then I ask, "Why is it taking so long?" It's a urine test. I can't keep holding it and holding it. I had to go a couple times and then drink more water to try and fill up again, but nothing. More and more "appointments" kept coming in. About 12pm I asked, "how much longer" when I was told Thursday and Friday are the worst days for walk ins and I'll just have to wait. It's now 3:30, closing time and I sat there the whole time. I did go out to my car a few times and needed to walk around a bit but, still there.
I cannot believe that they left me sitting there and then at the end of the day, hand me a card and say go online and make an appt... Really!? I asked, "How can you do this to someone?" He never really answered me, or looked at me and started speaking Spanish to his Co worker. I just took the card and left. Now, I'm the one in jeopardy of losing a darn good job that I've put so much effort into getting all because of them. This is unacceptable. Especially knowing I've never taken an illegal drug in my entire life but, may lose this excellent opportunity over something out of my control. It isn't like it was blood. It's a 2 minute urine test!

I took my daughter to a doctor who told her she had to get her blood drawn today, before she went away for the weekend. We went to the first office on 61 Lincoln Street, which closed at 4 pm (we arrived at 3:45). We were told that the office on Waverly Street, Framingham would do it because they are opened until 8 pm on Tuesdays and Thursdays (she handed us a Quest Diagnostics sheet with the addresses and hours for each location). We came in and the lady at the front desk said they were closing at 4 pm. I said, "no, you are open until 8 pm because your other facility just told us, and my daughter needs her blood drawn and sent out via FedEx." She said that she was only part time and she would have to check with the nurse.
After submitting the paperwork, I was told that they were open until 5 pm, however, they couldn't do it because the blood had to sit for 30 minutes and then get sent out to FedEx. They said they close at 5 pm and they would not wait until FedEx came. I told them I would take the blood to FedEx. They said they couldn't let me do that. My daughter was not able to get her blood taken today and now she has to wait over a week to come back. I completely felt like we were inconveniencing this lab because these labs required a little more work. I know that in my business when a client is paying for my service, no matter what it is, that I have to deliver that service to the best of my ability. Please shed some light on this because Im a mother who wants her child to get better and getting these tests will help in that processes, and we were turned away because these technicians couldn't make it work.

I got billed for a drug test in March 2016. Also, I was told by my doctor I tested positive for marijuana. I never took a drug test in March. My last drug test was in December 2015. I haven't smoke pot since 1974. I'm trying to find out what's going on. Getting information from Quest is very difficult. Trying to get my doctor's office to show the video of my visit just is not going to happen. I feel like a victim. They should just allow me to go into a local Quest office and get the information I need. Medical care in Florida sucks.

Despite receiving my insurance information two times, Quest didn't bother submitting the claim to them. They just kept billing me for the full amount and threatening to turn the account over to collections.

I have blood work done routinely because I am on Warfarin. The woman who worked there for the past year or so left for another job and the subs are awful: long waits, bad attitude for first sub who told me when I asked why there were 6 people waiting and I was not taken at my designated time but... a walk-in was taken ahead of me. She said, "That's the difference between First World and Third World people. Third World people are worried about food and First World are worried about waiting in line."
Afterwards I went out to my car and saw blood running down my arm. She had neglected to put enough band-aids over the site. Two weeks later a sub went right through my vein. I had to yell out in pain. The site was swollen, raised, and painful. I called Stacy at Quest, emailed her, and sent pictures. Never heard a word. STAY AWAY! Have since found out that if you are on blood thinners, you can have your cardiologist order a home kit and you can do your own blood by pricking your finger. A nurse trainer comes to your house and gives a lesson. Perfect! No more attitude, lines, and incompetence.

I had a saliva drug test done where it was sent to Quest Diagnostics to be done. It came back positive for Marijuana even though I know for a 100% fact this is mistake. Guess what? You don't like their results and don't agree with it? Well guess what? You have to PAY THEM $150 to have them do further testing when it's CLEARLY THEIR MISTAKE. They messed up my results and I have to pay THEM? WHAT? How absurd is that? I'm lucky I'm only 20 years old and don't have a family to feed. Imagine being someone who has a low paying job, living paycheck to paycheck, and gets a false positive on a drug test. This person living paycheck to paycheck isn't able to shell out $150 to prove their innocence when this company messes up. Like how freaking absurd.
Honestly, this place is horrible. I hope this place gets put out of business one day. I've had labs done here plenty and it too is an absolute pain. Get your stuff together Quest. No company should have that much power where they can decide whether or not you have a job by messing up your drug test results and forcing you to pay $150 to fix their mistake. Get out of here.

On March 14, 2016 I entered a Quest Diagnostics lab. My lab cost upfront was $147.00 of which I paid ASSUMING that that's what the COMPLETE cost was ONLY to get billed for a second test. What the **?? DO NOT ENTER a QUEST.

I am filing this review after numerous attempts to discuss this episode with representatives from the company. Full disclosure I am an emergency physician and I accompanied my (80+) mother to an appointment for lab work. When the technician was about to draw her blood I watched to determine if she would wash her hands. She began to put on her gloves and I asked her to wash or sanitize her hands. She told me that in her Quest training she was told that she did not need to wash her hands. She told me that she did question the Quest trainers because in her technical school they were trained to wash/sanitize their hands before each encounter. She also told me that she sanitized her hands prior to bringing us back to the procedure area. This is not helpful as she touched multiple sites such as computers, doorknobs pens etc.
It takes an enormous effort for my mother to get ready to go to an area for a blood draw. To reschedule would have been very difficult. My mother hates conflict so she allowed the tech to draw her blood. She did not want to complain because she was worried about burning a bridge in her healthcare world. She is her own health care decision maker so I respected this decision.
These are the World Healthcare Organization best practice recommendations for blood draw: "Perform hand hygiene and put on gloves. Perform hand hygiene; wash hands with soap and water, and dry with single-use towels; or if hands are not visibly contaminated, clean with alcohol rub. Use 3 ml of alcohol rub on the palm of the hand, and rub it into fingertips, back of hands and all over the hands until dry. After performing hand hygiene, put on well-fitting, non-sterile gloves."
Quest Diagnostics Incorporated (DGX), the world's leading provider of diagnostic information services, announced today that for the first quarter ended March 31, 2016, adjusted net income was $147 million. Based on this direct quote, Quest appears to have the resources to develop, train and perform quality management of their processes to make sure patient safety is a priority and adherence to state, federal and world health regulations are upheld.

Arrived 10 minutes before they opened at 8 a.m. for routine blood work and waited in a line of at least 50 people. Waited two and a half more hours after doors opened at 8. Staff not very friendly. Probably not their fault since they have to deal with irate customers because their employer is too greedy to hire another couple of employees. Inconvenience customers and have employees take the brunt of complaints - great way to run a business! My out of pocket cost is around $100 and I'm sure my insurance is paying a lot more (of my premiums). Good way to treat those who pay for your services and the people who actually do the work.

Me and my husband had to go for routine blood work, so I made appointments online for both of us. We got to the lab and they were extremely busy. When they called us to the back I asked if my husband can go with me since I have severe anxiety. I went first. The woman began taking my blood, which wasn't as bad as my last blood work where my arm hurt the whole day and the following. Next up was my husband. His went well. No problems there.
A week later my doctor calls and tells me I need to go for another set of blood work because the test results showed a level of 247. I freaked out. After being so upset about this and making all the appointments to do more blood work, which again is very hard for me to do, I asked my husband to test my sugar in the morning. Let me add my husband is diabetic. I am not. He tested my sugar the next morning after fasting and I was at 100. I was happy and starting to wonder, "Did they mix up our blood?" I had my husband call his doctor. The purpose for his blood work was to test to see if he can begin a new medication for his MS. They said his blood work came back normal. When he asked about the blood sugar -- know full well he is always high -- they said his BG was 97. At that I knew they must've mixed us up. The only thing my blood work ever produced was an elevated triglyceride level.
What upsets me the most is what if this blood work result showed a more terminal illness? Not to mention the medication my husband needs depends on his accurate blood results. Everyone kept telling me they don't make mistakes or there is a margin of error. Why is this acceptable? How many people have had their test results mixed up? Not to mention I have to pay the co-pay for blood work that resulted in a mix-up!! I am beyond angry!

Administration and billing - these are the most unprofessional, disgusting, uncooperative office with phone lines that are busy or not working. What a pathetic excuse for a so called professional company. Onsite service are fair to good.

This "business" by far the worst lab company in the United States. My doctor's office no longer uses this lab, due to the lack of customer service they provide, the answers/information they give, and their inconvenient timing when they send out an invoice. I was sent an invoice for $500 in April of 2016 when my date of service was October of 2015! Mind you that this invoice was sent after I had already filled out a hardship form as well as sending in all required documents and making a payment after my balance was adjusted.
When I called in to ask why I was then being sent another invoice, they told me they had no record or documentation of my payment or the documentation I sent in. So then I had to request the hardship forms to be sent out AGAIN (!) only to wait over a week to receive nothing. Then called them, only to be told that they had no control over the US postal office, when I know damn well it has nothing to do with the postal office when I get my mail everyday in a timely fashion at 10:30 am everyday. I am beyond pissed and hope this business tarnishes and that NO ONE use them. If your doctor's office uses this LAB, you as the patient have EVERY RIGHT TO REQUEST IT TO BE SENT SOMEWHERE ELSE AND I HIGHLY SUGGEST YOU DO SO!!

My employer paid their bill in Oct 2015 and here in April 2016 I am still having to prove to them that it's been paid even after my employer faxing them proof again in Feb 2016. I requested to speak with a supervisor (Vicky) who refused to help.

My experience with Quest Diagnostics is horrible. I had lab tests done in October of 2015, and they didn't bill me for them until March 17th. I just turned 26 and my insurance under my parents just ended at the end of February. For about 2 weeks (March 17th included) I was uninsured. I am now insured through my current job. I would LOVE to know how they just so happened to decide to invoice me within the 2 weeks out of the entire 6 months that I didn't have insurance. They claimed they tried to contact my insurance company but that I am no longer covered. YEAH because you took 6 months to contact them and I wasn't insured under them anymore! They are trying to bill me for $100 and I will not pay it. I got lab tests done while I was still under my parents' state health care plan for a reason!
Quest Diagnostics Company Profile
Company Name:

Quest Diagnostics

Website:

http://www.questdiagnostics.com/home.html