9 benefits of respite care
Take a look at respite care benefits, types and pricing



Written by

Edited by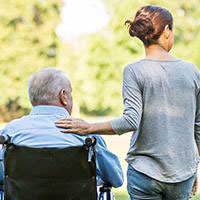 According to AARP, more than 53 million adults in the United States provide unpaid care to someone over the age of 50. Long-term caregiving comes with a fairly heavy physical, emotional and economic burden. If you're a primary caregiver for an aging parent or loved one, you may experience exhaustion, stress, depression and sickness. Your health and well-being are important, and giving yourself a break from those responsibilities can be critical. This is where respite care can help.
---
The basics
More than 53 million adults in the U.S. provide unpaid care to someone over the age of 50.
Respite care can provide a much-needed break for full-time caregivers.
Respite care is also a great way for older adults to meet new people or test out a new living situation.
Costs for respite care range from $70 to $235 a day, depending on the facility and level of care needed.
What is respite care?
Respite care is a type of short-term senior care that fills in the gaps when a full-time caregiver isn't available. It can be for a few hours, a few days or even a few weeks, and it usually involves either in-home care or a short stay in a care facility, depending on your needs.
Benefits of respite care for caregivers
Caring for an older adult or a person with disabilities can be a full-time job with little to no time for personal activities. Generally speaking, respite care provides breaks for caregivers, whether they need a few hours of personal time or a few days for a vacation. Here are six ways respite care can help you if you're a caregiver.
You get to relax
When caring for someone who needs constant support, there can be little time to relax or do something for yourself. Respite care can provide a necessary break during the day. You can use this time how you see fit, doing whatever it is that makes you feel refreshed. This could include walking in the park, visiting a museum or even taking an uninterrupted nap.
You get social engagement
Depending on the mental and physical capabilities of the person you're caring for, you might get limited social interaction throughout your day as a caregiver. Finding time to meet up with friends, family or other loved ones is very important to your overall happiness.
Whether it's for a lunch meetup or a date night out, respite care offers opportunities to be with people your age who share similar interests.
You get to re-energize
Finding the energy to approach each day as a caregiver can be difficult, so respite care is there when a break is needed. Taking time to recharge is a critical part of being a caregiver, so you may need to utilize respite care when you feel drained or emotionally unavailable.
You get peace of mind
When caring for someone, your brain is always on alert for a problem. This can lead to overstimulation and never feeling at ease throughout the day. With respite care, someone else is taking care of your loved one for you, which can give you some much-needed peace of mind.
You get to rediscover your sense of self
It can be hard to feel like a "normal person" when taking care of someone all day, every day. However, caregivers are people too. Many people utilize respite care to get the personal space they need to live a full life and pursue their hobbies and interests while still caring for their loved ones.
You get a vacation
As a caregiver, it can feel like taking a vacation is out of the question. Knowing your loved one is safe while you're gone can make a vacation feel more achievable, though.
Respite care gives you the freedom to still do the things you love with the people you love without feeling restricted by your duties. The more time you take to do the things you love, the easier it is to provide care when you're on duty.
Benefits of respite care for seniors
In addition to helping caregivers, respite care also provides several benefits for their loved ones.
They get to meet new people
Just as respite care offers caregivers the time and space to be with other people, it gives their loved ones the benefit of interacting with others. They can meet new caregivers and people in similar situations, which can lead to new friendships.
Social interaction is good for mental health, and the more friendships seniors and people with disabilities build, the more they may want to get out of the house.
They can test out senior living facilities
In many cases, respite care happens inside a senior living facility. This allows older adults and people with disabilities the opportunity to see if they would enjoy this type of living arrangement in the long term.
Many people have a flawed perception of senior living facilities because they don't understand exactly how they work. Getting to test one without any commitment may make the experience more enjoyable.
They get a fun change of pace
Your loved one's life may be monotonous if they only interact with the same people in the same places. While some may enjoy this consistency, others might enjoy a change of lifestyle and seeing new things. This might even lead to them asking for more similar opportunities, meaning more opportunities for you to take a break too.
How much does respite care cost?
Respite care is priced based on how long someone stays in respite care and what type of respite care they're receiving. Adult day care services average $70 per day, while a day in an assisted living facility costs about $123. If you book at a weekly or monthly rate, prices may be cheaper.
These costs may also change based on your loved one's care needs. Generally, the more support someone needs, the more expensive respite care for them will be. A stay in a skilled nursing facility costs about $235 per day for a semiprivate room, which is significantly more than the $123 fee for a day at an assisted living facility.
Unfortunately, most respite care is not covered by health insurance. However, Medicare will cover up to five days of respite care for someone in hospice. There are a few programs that pay out a certain amount to caregivers, which could be used to afford respite care.
How to find respite care
There are a few ways to get respite care, but you must first figure out what type of respite care you need. Options range from medical professionals to someone willing to hang out with your loved one for a few hours.
If your loved one doesn't need a lot of medical attention and you only plan on being gone for a limited amount of time, you could ask a friend or family member to care for them.
If this isn't an option, look into the ARCH National Respite Locator, the Eldercare Locator (a government-sponsored program), local volunteer groups or local churches. These agencies may be affordable, but they may also have more limited options and benefits.
Finally, you can reach out directly to an assisted living facility or nursing home to find out what options they offer. This will probably be the most expensive choice, but it will likely offer a bit more flexibility if you're crunched for time or need more services.
Bottom line: Should I consider respite care?
All caregivers may benefit from respite care, but finding an affordable solution that both caregivers and their loved ones enjoy may be difficult. Even if you don't currently need respite care, take the time to research your options and identify a few solutions as soon as you have the chance. When you do need a break, respite care professionals will be there to help.
Article sources

ConsumerAffairs writers primarily rely on government data, industry experts and original research from other reputable publications to inform their work. Specific sources for this article include:
Did you find this article helpful?
|
You're signed up
We'll start sending you the news you need delivered straight to you. We value your privacy. Unsubscribe easily.